Lieutenant Colonel William C. Walker
Lieutenant Colonel William Clay Walker
(August 4, 1820–January 3, 1864)
While on sick leave at home in Murphy, Cherokee County, North Carolina, with his loving family and in hopes of recovering during the cold hour on January 3, 1864, Lt. Col. William C. Walker was awakened and murdered by common citizens turned outlaws – miscreants and cowardly men who knew Walker from before the war and had now used the four year conflict for their own bloodletting. The cold-blooded murder of the commanding officer of Walker's Battalion was merely another senseless act that was born of Civil War in the rugged region known as
Western North Carolina
. While it was the setting of lawlessness, this was the region that became host to a war within a war, an
Uncivil War
, and it was filled with such disenchanted men who had fled the Conscription Act, another term for draft, and those of the baser sort, men who would use chaos as the ultimate diversion while they unleashed punishing blows on communities that just a few years ago were known for being calm yet charming Southern locales.
Walker's Battalion History
Walker's Battalion, Thomas' Legion
Walker's Battalion
William C. Walker Gravesite
(Left) William Clay Walker grave at Walker Family Cemetery, Panther Top Rd., Cherokee County, N.C. Photo Courtesy Carolyn Ellertson. (Right) Robert A. Aiken, former Captain of Company H, Walker's Battalion, wrote the history, or sketch, of Walker's Battalion for Clark's Regiments in 1901. On page 122, Aiken emphasized the enormous task assigned to the battalion as it strived to defend the great swath known as western North Carolina. Although Walker's Battalion would remain part of the Thomas Legion and never attain regimental status during the conflict, postwar many soldiers, including Aiken, would call it the 80th North Carolina Regiment. Clark, Walter ed. (1901). Histories of the Several Regiments and Battalions in the Great War 1861-1865, Volume IV. Goldsboro, North Carolina: Nash Brothers.
William C. Walker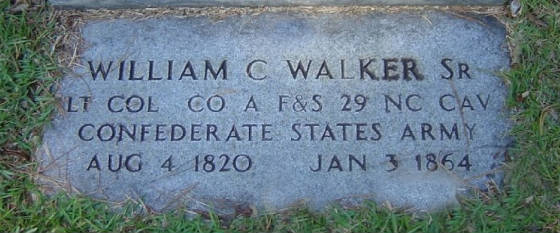 William Clay Walker, Father, Husband, Friend
While it was an era of lawlessness and of settling both old and new feuds, many born during the conflict, the wartime tentacles would extend and result in the calculated murders of many good folks. If battle or disease didn't kill a man, and if the soldier survived roving bushwhackers, pillaging deserters, and blood thirsty guerrilla groups, it may have been the soft knock on the door from none other than a neighbor who would arrive cloaked as the grim reaper himself.
Prior to hostilities, a conflict now generally known as the
American Civil War
or the
War of Northern Aggression
, Mr. William Walker was a well-liked gentleman who had represented his constituents in the North Carolina legislature during 1857-58. He would raise the first company of soldiers from Cherokee County before being elected lieutenant colonel of the
29th North Carolina Troops
. Whereas ailing health would soon force Walker to resign from the 29th, and though not yet fully recovered, he would promptly assist his old friend, William Holland Thomas, in forming the Thomas Legion. War is hell, it has been coined, and Walker would soon return to Murphy in December of 1863 with hopes of recovering from his lagging wartime health.
History of Walker's Battalion

William C.Walker, commanding Walker's Battalion
(Right) This final report showing Lt. Col. William C. Walker commanding the battalion on January 31, 1864, was made in error. Maj. James A. McKamy had been temporarily commanding the battalion since September 11, 1863, but, following Walker's death, he would assume command until his capture at the Third Battle of Winchester on September 19, 1864. And although Walker had been killed on January 3, 1864, it would not be noted until after this return dated January 31. McKamy, subsequently promoted to lieutenant colonel, was also noted as commanding the battalion on two previous reports dated December 31, 1863, and January 8, 1864, respectively. (Official Records, Series 1, Volume 29, part 2, pp. 908-909; and Official Records, Series 1, Volume 32, part 2, pp. 535-536.) Notice that Thomas' Legion composed Jackson's entire brigade as stated in this January 31, 1864, return for the Organization of troops in the Department of East Tennessee. Official Records of the Union and Confederate Armies, Series 1, Volume 32, part 2, p. 642.
His wife,
Mrs. Elmira Walker
, would always remember that calm and casual knock on the door just days following the ushering in of the sober New Year of 1864. Now a widow, Walker would raise her children alone before her passing nearly 35 years later on November 4, 1898. Lt. Col. Walker's murder also altered
Col. William H. Thomas'
view of the conflict and it served to reinforce his initial position and pleas to Confederate authorities to protect and defend North Carolina's western counties. Thomas had retained the
Cherokee Life Guard
in part because of Walker's death, and the Indians of this formation would remain close to him for the duration of the war.
When Walker was "shot down like a dog" during the winter of 1863-64, according to Robert A. Aiken, the battalion historian, Thomas and the Cherokee Battalion were fighting bands of deserters and bushwhackers in the North Carolina mountains, and Walker's Battalion was performing provost duties while engaging guerrillas and outliers in
East Tennessee
. The regiment of the command would be detached and pushed into the Shenandoah Valley in May 1864 before rejoining the Thomas Legion in Western North Carolina during December 1864. (
Official Records of the Union and Confederate Armies, Series 1, Volume 32, part II, p. 611
.) The unified organization would end the conflict after its final action against Union troops in May 1865.
It has been said that when a man is under immense pressure, that is when you really find out the character of a man, that is when you actually find out what a man is made of. While many in these parts would be seen under pressure by lending helping hands to hurting hearts, there was the fraction that openly extravasated raw hatred toward their fellow man. The war had brought out the best and it had brought out the worst in everyone. See also
Shelton Laurel Massacre
,
O.R., IV, pt. 2, pp. 732-734
,
O.R., 1, 53, pp. 324-336
,
O.R., 1, 32, pt. II, pp. 610-611
.
Map of Cherokee County, North Carolina
High Resolution Map of Cherokee County, North Carolina
80th North Carolina Regiment
Walker's Battalion
(Right) Robert A. Aiken, page 125 of Clark's Regiments, stated that after Confederate conscription passed, it created an atmosphere which he referred to as uncivil war.
William C. Walker, commanding, July 18, 1862–September 11, 1863*
When the unit mustered at Knoxville it had 7 companies, including 3 of Tennessee cavalry. The mounted units were all transferred from the Battalion in December 1862, so that during most of the unit's service it only had 5 infantry companies.
**Lt. Col. McKamy commanded the battalion following the death of Lt. Col. Walker, but when McKamy was captured at
3rd Winchester
, Lt James A. Robinson assumed command of the Battalion for the remainder of the
Shenandoah Valley Campaign
, from September 19, 1864 until its return to North Carolina with
Special Order 267
. Lt. Col. William Stringfield would then assume commandership, with Captain Whitaker leading the unit at war's end.
(Sources and Related Reading listed below.)
Recommended Reading: Storm in the Mountains: Thomas' Confederate Legion of Cherokee Indians and Mountaineers (Thomas' Legion: The Sixty-ninth North Carolina Regiment). Description: Vernon H. Crow, Storm in the Mountains, dedicated an unprecedented 10 years of his life to this first yet detailed history of the Thomas Legion. But it must be said that this priceless addition has placed into our hands the rich story of an otherwise forgotten era of the Eastern Cherokee Indians and the mountain men of both East Tennessee and western North Carolina who would fill the ranks of the Thomas Legion during the four year Civil War. Crow sought out every available primary and secondary source by traveling to several states and visiting from ancestors of the Thomas Legion to special collections, libraries, universities, museums, including the Museum of the Cherokee, to various state archives and a host of other locales for any material on the unit in order to preserve and present the most accurate and thorough record of the legion. Crow, during his exhaustive fact-finding, was granted access to rare manuscripts, special collections, privately held diaries, and never before seen nor published photos and facts of this only legion from North Carolina. Crow remains absent from the text as he gives a readable account of each unit within the legion's organization, and he includes a full-length roster detailing each of the men who served in its ranks, including dates of service to some interesting lesser known facts.
Storm in the Mountains, Thomas' Confederate Legion of Cherokee Indians and Mountaineers is presented in a readable manner that is attractive to any student and reader of American history, Civil War, North Carolina studies, Cherokee Indians, ideologies and sectionalism, and I would be remiss without including the lay and professional genealogist since the work contains facts from ancestors, including grandchildren, some of which Crow spent days and overnights with, that further complement the legion's roster with the many names, dates, commendations, transfers, battle reports, with those wounded, captured, and killed, to lesser yet interesting facts for some of the men. Crow was motivated with the desire to preserve history that had long since been overlooked and forgotten and by each passing decade it only sank deeper into the annals of obscurity. Crow had spent and dedicated a 10 year span of his life to full-time research of the Thomas Legion, and this fine work discusses much more than the unit's formation, its Cherokee Indians, fighting history, and staff member narratives, including the legion's commander, Cherokee chief and Confederate colonel, William Holland Thomas. Numerous maps and photos also allow the reader to better understand and relate to the subjects. Storm in the Mountains, Thomas' Confederate Legion of Cherokee Indians and Mountaineers is highly commended, absolutely recommended, and to think that over the span of a decade Crow, for us, would meticulously research the unit and present the most factual and precise story of the men, the soldiers who formed, served, and died in the famed Thomas Legion.
Recommended Reading: North Carolina Troops, 1861-1865: A Roster (Volume XVI: Thomas's Legion) (Hardcover, 537 pages), North Carolina Office of Archives and History. Description: The volume begins with an authoritative 246-page history of Thomas's Legion. The history, including Civil War battles and campaigns, is followed by a complete roster and service records of the field officers, staff, and troops that served in the legion. A thorough index completes the volume. Continued...
Volume XVI of North Carolina Troops: A Roster contains the history and roster of the most unusual North Carolina Confederate Civil War unit, significant because of the large number of Cherokee Indians who served in its ranks. Thomas's Legion was the creation of William Holland Thomas, an influential businessman, state legislator, and Cherokee chief. He initially raised a small battalion of Cherokees in April 1862, and gradually expanded his command with companies of white soldiers raised in western North Carolina, eastern Tennessee, and Virginia. By the end of 1862, Thomas's Legion comprised an infantry regiment and a battalion of infantry and cavalry. An artillery battery was added in April 1863. Furthermore, in General Early's Army of the Valley, the Thomas Legion was well-known for its fighting prowess. It is also known for its pivotal role in the last Civil War battle east of the Mississippi River. The Thomas Legion mustered more than 2,500 soldiers and it closely resembled a brigade. With troop roster, muster records, and Compiled Military Service Records (CMSR) this volume is also a must have for anyone interested in genealogy and researching Civil War ancestors. Simply stated, it is an outstanding source for genealogists.
Walker Genealogy:
Bushwhackers (Civil War in North Carolina)
Western North Carolina: American Civil War
Recommended Reading: Bushwhackers, The Civil War in North Carolina: The Mountains (338 pages). Description: T
rotter's book (which could have been titled "Murder, Mayhem, and Mountain Madness") is an epic backdrop for the most horrific murdering, plundering and pillaging of the mountain communities of western North Carolina during the state's darkest hour—the American Civil War. Commonly referred to as Southern Appalachia, the North Carolina and East Tennessee mountains witnessed divided loyalties in its bushwhackers and guerrilla units. These so-called "bushwhackers" even used the conflict to settle old feuds and scores, which, in some cases, continued well after the war ended. Continued below.
Some bushwhackers were highly organized 'fighting guerrilla units' while others were a motley group of deserters and outliers, and, since most of them were residents of the region, they were familiar with the terrain and made for a "very formidable foe." In this work, Trotter does a great job on covering the many facets of the bushwhackers, including their: battles, skirmishes, raids, activities, motives, the outcome, and even the aftermath. This book is also a great source for tracing ancestors during the Civil War; a must have for the family researcher of Southern Appalachia.
Recommended Reading:
Hardtack & Coffee or The Unwritten Story of Army Life. Description: Most histories of the Civil War focus on battles and top brass. Hardtack and Coffee is one of the few to give a vivid, detailed picture of what ordinary soldiers endured every day—in camp, on the march, at the edge of a booming, smoking hell. John D. Billings of Massachusetts enlisted in the Army of the Potomac and survived the hellish conditions as a "common foot soldier" of the American Civil War. "Billings describes an insightful account of the conflict – the experiences of every day life as a common foot-soldier – and a view of the war that is sure to score with every buff." Continued below...
The authenticity of his book is heightened by the many drawings that a comrade, Charles W. Reed, made while in the field. This is the story of how the Civil War soldier was recruited, provisioned, and disciplined. Described here are the types of men found in any outfit; their not very uniform uniforms; crowded tents and makeshift shelters; difficulties in keeping clean, warm, and dry; their pleasure in a cup of coffee; food rations, dominated by salt pork and the versatile cracker or hardtack; their brave pastimes in the face of death; punishments for various offenses; treatment in sick bay; firearms and signals and modes of transportation. Comprehensive and anecdotal, Hardtack and Coffee is striking for the pulse of life that runs through it.
Sources:
National Archives and Records Administration; Walker's Service Record; Stringfield's Service Record; McKamy's Service Record; Parker's Service Record; Robinson's Service Record; W. H. Thomas's Service Record; Moore's Roster; Hunter Library, Western Carolina University; Official Records of the Union and Confederate Armies; Vernon H. Crow, Storm in the Mountains: Thomas' Confederate Legion of Cherokee Indians and Mountaineers; Walter Clark, Histories of the Several Regiments and Battalions from North Carolina in the Great War 1861-1865; National Park Service: American Civil War; Weymouth T. Jordan and Louis H. Manarin, North Carolina Troops, 1861-1865; D. H. Hill, Confederate Military History Of North Carolina: North Carolina In The Civil War, 1861-1865; Christopher M. Watford, The Civil War in North Carolina: Soldiers' and Civilians' Letters and Diaries, 1861-1865. Volume 2: The Mountains; Library of Congress; National Archives and Records Administration; State Library of North Carolina; North Carolina Office of Archives and History; North Carolina Museum of History; E. Stanly Godbolt, Jr. and Mattie U. Russell, Confederate Colonel and Cherokee Chief: The Life of William
Holland
Thomas; Paul A. Thomsen, Rebel Chief: The Motley Life of Colonel William
Holland
Thomas C.S.A.