Captain Goldman Bryson's Union Volunteers
A.K.A. Captain Goldman Bryson's Mounted Company; First Tennessee National Guard
Tennessee Civil War Map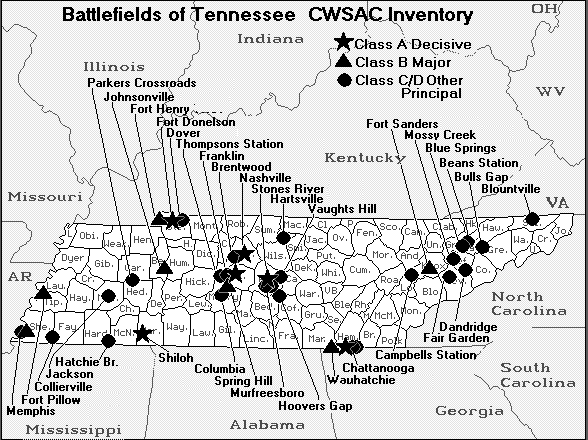 Tennessee Civil War Battlefield Map
It is indeed a garden of recuperation. All the conditions seem favorable. If there is any one who is so constituted that enjoyment can be had in life, and can't find it here, rest assured such a person will not be able to find enjoyment in heaven when he gets there. What more can one ask for than healthful climate, pure air, good water, unsurpassed scenery, and congenial people?1
Yet, Talmadge's picturesque memoirs were a far cry from the desperation that would later ensue the outbreak of Civil War. Those were days when the Unaka Mountain's scenic beauty grew deceptive, was transformed into a place of foreboding, of dread. For a time in these hills, terror reigned. If R. N. Price concluded rightly that "the character of a people depends largely upon their physical environment,"2 then perhaps this untamed wilderness fomented savagery in men who were usurping its untrespassed sanctity. "Outliers" these intruders were called because they were dissidents "lying-out" in forested seclusion as war invaded the valleys.
The Appalachian Mountains between North Carolina and Tennessee were said to teem with outliers and Confederate draft dodgers. East Tennessee with its pro-Unionists had "dragged its feet" about secession making the state last to secede, while North Carolina was next to the last. In fact, only six of the eastern counties in Tennessee had voted for secession. East Tennesseans were so distraught by prospects of severing ties to the Union that a movement, led by Henry Clay, was initiated to organize a new state comprised of East Tennessee and Western North Carolina with either Knoxville or Asheville as state capital. Following West Virginia's precedent set in 1861, this region as well could have remained Union territory. Only cannon fire from Fort Sumter in South Carolina and war breaking out could have silenced Clay's ardent bid. War raged with unexpected immediacy, and consequently this plan for another new state was doomed.
Even though the last hope for Tennessee remaining in the United States collapsed along with this proposal, loyalty to the Union did not perish. Loyalists braced for an onslaught and determined to wait it out. In 1862, however, pockets of dissenters were infiltrated by Confederate agents and conscripted forcefully.3 Some who had been ferreted out fled to remote mountain hide-outs, sheds, and caves as soon as an opportunity arose.
From woodland lairs high in the rugged Unakas, these fugitives reasoned that safety lay in numbers. Fear, desperation, and loneliness bonded men of all ages into comradery.
These mountains were full of "outliers" as they were called, and they had to live somehow. They did not belong especially to either side; they simply wanted to keep out of war. It was a great temptation to cold and hungry men on foot to steal horses, food, bedding, and clothing, and many of them yielded to the desire. Raiding parties went into Tennessee from North Carolina and vice versa.4
Thus, bands of outliers became known by the derogatory term "raiders." Getting even, an eye for an eye, and revenge killing were common tactics. Such vicious cycles resulted in feuds persisting more than a decade after the close of the Civil War.
That there were many outrages committed on and along the Tennessee line during the Civil War is too well known to doubt. That all the blame does not rest on one side alone is equally certain.5
Among southwestern bands running the ridges between Monroe and Polk Counties in Tennessee and Cherokee County in North Carolina was Goldman Bryson's company, sometimes called "Bryson's Boys." During the Indian Removal of 1838, Bryson had gained military experience at twenty-one years of age, for he had served as private in Company N under Captain Nathaniel Kelsey.6 According to Robert Barker who did extensive research on the Civil War in this region, Bryson also served as a foot soldier in a North Carolina regiment during the Mexican War of 1848; however, there was some dispute in this regard.7
Without doubt, Bryson's was a familiar face to residents of Upper Beaver Dan, Hooper Gap, and Coker Creek communities, for he had married about 1861 to Susannah A. Payne, daughter of John C. and Jane (Walls) Payne, established citizens of the Tellico area in Monroe County, Tennessee.8 Thereafter, he farmed land at Six Mile inside the Monroe County border but lying near Cherokee County. That he customarily spent time in Cherokee County and traveled back and forth not only during the conflict but previously was also known because his parents, John and Margaret Bryson, and several siblings resided just across the state line in the Beaver Dam section of Cherokee County.9 Certainly the Unaka Mountain passes, especially one near Evans' Mill at Beaver Dam, were familiar turf to this local farmer.
Having sworn allegiance to and having served the United States Army previously, Bryson was not easily persuaded to throw caution to the wind and join a fledgling Confederate Army. Perhaps, he decided that he had already had enough of "soldiering" or felt himself too old to volunteer in a young man's war. Since he was already middle-aged by 1860, the possibility of a land grant or military pension for services previously rendered might have been considered as a tantalizing prospect. His family, farm, and their future were all at stake. Why jeopardize such viable prospects by abandoning his country and then aligning himself with a new, shaky government? What hill country folks may have lacked in formal education, they compensated for in old-fashioned common sense. Therefore, remaining neutral probably seemed the more sensible course of action.
Destiny, however, would not abide his merely "waiting out" the war as a spectator.
Greatly alarmed by the obvious disaffection in the mountains, the North Carolina General Assembly originated legislation on July 7, 1863 to establish the "Guard for Home Defense, commonly called Home Guard, which was to consist of all males 18-50 not in the Confederate Army".10
Consequently, prime candidates like Goldman Bryson were rooted out and conscripted. Thus, probably for numerous reasons, he subsequently chose to become an "outlier."
At forty-four years mature in 1861 and with military expertise, his was a voice frightened young men and deserters listened to -- if not feared -- and then obeyed. Whether he chose to assume leadership or whether the lot were cast upon him remains uncertain; nevertheless, by the summer of 1863, there revolved around him a whirlwind of followers. Other outliers and Confederate dissidents, one after another, had crept into his den; and if face and name were trusted, these desperate men were accepted into the ranks of "Bryson's Boys."
In the last years of the Civil War, Eastern Kentucky, East Tennessee, Western North Carolina and North Georgia were infested with various bands of horse thieves, robbers, and bushwhackers. Others chose a leader and acted independently. Often they claimed to affiliate with one or the other side in the civil contest. The Union bushwhackers claimed that they did not rob and kill Union men and the Rebel bushwhackers that they did not rob and kill Southern sympathizers. As notable examples we might mention Tinker Dave Beattie and Champ Ferguson in the Cumberlands and Goldman Bryson and Lyons in the Smokies.11
In the midst of such civil strife, anarchy, and madness, who could judge whether Bryson were a Union sympathizer or whether merely a desperado? Die-hard Confederates and Southern sympathizers, of course, concluded for certain that he was "the head of a band of banditti."12 On the other hand, loyal Unionists always referred to him using the title "Captain," for this ex-soldier organized the dissenters into what was referred to as an "independent company," Company A, 1st Tennessee Scouts and Guides.
Soldiers of once independent companies such as Bryson's Boys were not entitled to the same privileges and advantages as official Union soldiers until four years after war ended. A letter from the Records and Pension Division of the War Department found in Mrs. Thomas (Louisa Smith) Stiles' pension file reveals that
Captain Goldman Bryson's Company of Tennessee scouts and guides, was not mustered into the military service of the United States, but was recognized for pay, bounty, and pension, by an Act of Congress, approved March 1, 1869.13
The Confederate Home Guards did not prevent these Union volunteers from infiltrating and capturing strongholds in North Carolina. By mid 1863, soldiers in gray were routed in Tennessee; and by September 1863, General Ambrose Burnside led Union forces into Knoxville where he established headquarters. Tennessee had fallen to an occupying Union Army, and Confederate soldiers who had not surrendered completely evacuated Tennessee by winter
14
and were routed into the Appalachian Mountains. The next offensive then lay beyond the Unakas to a Confederate bastion at
Camp Vance
in North Carolina.
"General Scofield at Knoxville encouraged Colonel [George W.] Kirk to organize the enemies of Jeff Davis in Western North Carolina rather than undertake such hazardous expeditions."15 Thus, the term "Kirk's Raiders" referred to fugitives and dissidents like Bryson's Boys -- virtually anyone brave or foolhardy enough to launch military offensives for Colonel Kirk into the ominous Unaka Mountains. Goldman Bryson accepted this challenge and was subsequently known as Captain in the Union Army of Volunteers.16
Guarding against such Union raids by Kirk of Laurel was only one hundred Confederates under Brigadier General John W. McElroy who wrote to Governor Vance of North Carolina saying that it was
. . . impossible to get any man out there unless he is dragged out, with but few exceptions. . . . to call out any more home guards at this time is only certain destruction to the country eventually. In fact, it seems to me, that there is a determination of the people in the country to do no more service for the cause. If something is not done immediately for this country, we will all be ruined, and the homeguards now are not to be depended on.17
A complete route of the remaining steadfast Confederates was accomplished only by savage bloodletting. Guerrilla warfare in the fall of 1863 took a great toll not only in actual lives sacrificed but also in wreaking havoc in the lives of survivors and in precipitating generations of grief and anguish. Only four months following a trip to Knoxville to join Union forces and only a month after official commission, Goldman Bryson lay dead like scores of others.
M. T. Williams related one vivid encounter with Bryson during the war. In October 1863 just after the Battle of Philadelphia, Tennessee, Williams notified Confederate General John Crawford Vaughn of Monroe County, Tennessee that a gang of "bushwhackers" had just passed his home and headed toward the Tellico River. Vaughn took Williams and a small squadron in rapid pursuit. After having rested part of the night near Coco [Coker] Creek, Williams dressed as a Yankee soldier and scouted toward the North Carolina line ahead of General Vaughn. The company overtook Bryson's Boys at Evans' Mill on Beaver Dam Creek in Cherokee County, North Carolina. Two of Bryson's Boys were verified as killed and supposedly seventeen captured; only one of Vaughn's squad was killed. Bryson escaped this siege since he was mounted on a swifter steed.18 The seventeen captured men forever disappeared into oblivion. Tradition has it that they were executed on the shoals of the Tellico River in Monroe County, Tennessee.
Vaughn's squadron was later chastised in a Confederate inspection report dated May 6, 1864. "The report was very critical of the condition of the brigade, and especially of the commander, General Vaughn, calling it little more than a band of marauders."19 Again, which were the bushwhackers; which, the banditti? This depended, of course, on one's perspective. Objectivity might be attained by means of distance not only in place but in time as well.
Bryson's Boys had camped near Evans' Mill in Beaver Dam Township near John B. and Mary "Polly" (Miller) Evans' one-hundred-acre farm. The Evanses and the Brysons had long-standing relationships because of some intermarriages between their families. Whether Bryson's Boys were actually the trespassers whom Williams had pursued and whether he had identified the correct band mattered not: they were enemy warriors to be expunged.
M. T. Williams said that even though Bryson escaped that morning he was trailed by Captain Jim Taylor, with a squad of Indians, and killed a day or two later on Coco [Coker] Creek where he lived.20 However, Paul J. Long's and Robert Barker's research revealed that
Goldman Bryson was not killed by "Bushwhackers" as some people have suggested, but by a squad of Confederate Cherokee Indians under the command of a part-Indian officer, Lt. Campbell H. Taylor, son of David Taylor of Cherokee County, N. C. The squad of Indians were in Company B, Walker's Battalion of Colonel William H. Thomas' Confederate Legion. 21
In 1862, Colonel Thomas had recruited 2800 men, among which Cherokee Indians numbered four hundred or about every able-bodied man in the tribe.22 His plan was to make the Indians home guards and scouts along the border between North Carolina and Tennessee.23 The Cherokee Indians still believed in the old "blood law" of the tribe which dictated blood for blood and a life for a life; and, for this reason, recruits proved to be much more difficult to control by the military regulations of the day than had been anticipated. Raging with a desire for revenge, some Cherokees had even resorted to scalping for vengeance in the heat of battle at Baptist Gap, Tennessee.24 Thus, reckoning with the Indians became a deadly hazard.
Both James and Campbell Harrison Taylor, better known locally as "Jim" and "Cam" Taylor, were part-Indian, and each was practiced in guerrilla warfare. Both were sons of David Taylor (ca.1791-1877) and Mary Ann "Polly" Bigby, a fourth Cherokee Indian, and both were Confederate soldiers in Thomas' Confederate Legion of Home Guards.
Of Bryson's Boys taken prisoner, one was John Ledford, whom Captain Taylor killed by hanging to a tree in the Murphy Courthouse square. According to Vernon H. Crowe's research Colonel Thomas sent Cam Taylor and a squad of Cherokees to track down Bryson.
"Taylor tract [sic] them till he saw where two horses had left the main forces in the direction where Bryson lived. He followed the tracks till he found Bryson and a man by the name of Ledford at or near Bryson's own house. Taylor halted Bryson but he would not stop and Capt. [sic] Taylor shot him and Bryson stil [sic] ran and was shot several times while running. . . . Brittan was amused to see the Indians wearing Bryson's bloody uniform on the streets of Murphy the next day. 'I found in his possession,' reported Taylor, 'his orders from General Burnside and his roll and other papers. My men all acted nobly; marched two days and without anything to eat.' "25
North Carolina Civil War Map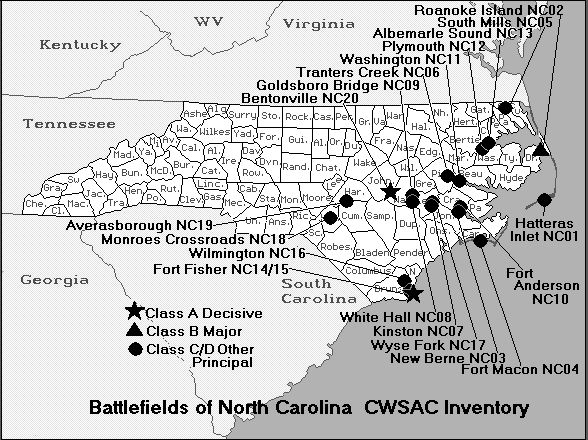 North Carolina Civil War Battlefield Map
Campbell Taylor was later indicted for murder in the case of sixteen-year-old Columbus Moss from Marble, North Carolina who was murdered for a pair of brass-toed shoes he had tied around his neck. "Although this murder case stayed on the docket of Superior Court at Murphy for many years, the indicted defendants were never found or brought to trial."26 Taylor and his accomplice, Baker Welch, fled to Indian Territory in Oklahoma to escape charges.27
At only forty-six years of age, Captain Goldman Bryson was laid to rest near his home at Six Mile. His grave stone stands alone today across the creek from the Atlas Davis' old homeplace in the Coker Creek Community of Monroe County, Tennessee.28 His death on October 28, 1863 did not deter the Union forays throughout the Unakas or lessen the threat of Kirk's raiders, who were said to have destroyed Murphy Courthouse by fire in 1865.29
On June 13, 1864, Kirk's 130 volunteers successfully routed Confederates at Camp Vance, where 279 Rebels surrendered as prisoners of war and forty soldiers were recruited into the Union regiment.30 By mid 1864, the remnants of Bryson's Boys were gathered by their friend, Enoch "Pete" Voyles of Persimmon Creek Community in Cherokee County, North Carolina, and led to Knoxville, Tennessee training camps where they were officially mustered into the Union Army on October 1, 1864. Voyles, who had formerly served in Hugh Harvey Davidson's Company C,31 39th N. C. Regiment in the Confederacy, was appointed Captain of Company G to be comprised mostly of men from Monroe County, Tennessee and Cherokee County, North Carolina.32 These volunteers enlisted in one of eight companies of Tennessee's Third Mounted Infantry Regiment for one hundred days' service, but most fell into the ranks of Captain Voyles' Company G. Thus, these soldiers were commonly referred to as "the 100 day volunteers." See also Civil War Cavalry Weapons, Battles, Uniforms, Role, Tactics, and Organization.
(Footnotes and related reading located at bottom of page)
Recommended Reading: Bushwhackers, The Civil War in North Carolina: The Mountains (338 pages). Description: Trotter's book (which could have been titled "Murder, Mayhem, and Mountain Madness") is an epic backdrop for the most horrific murdering, plundering and pillaging of the mountain communities of western North Carolina during the state's darkest hour—the American Civil War. Commonly referred to as Southern Appalachia, the North Carolina and East Tennessee mountains witnessed divided loyalties in its bushwhackers and guerrilla units. These so-called "bushwhackers" even used the conflict to settle old feuds and scores, which, in some cases, continued well after the war ended. Continued below...
Some bushwhackers were highly organized 'fighting guerrilla units' while others were a motley group of deserters and outliers, and, since most of them were residents of the region, they were familiar with the terrain and made for a "very formidable foe." In this work, Trotter does a great job on covering the many facets of the bushwhackers, including their: battles, skirmishes, raids, activities, motives, the outcome, and even the aftermath. This book is also a great source for tracing ancestors during the Civil War; a must have for the family researcher of Southern Appalachia.
Advance to:
Recommended Reading: East Tennessee and the Civil War (Hardcover) (588 pages). Description: A solid social, political, and military history, this work gives light to the rise of the pro-Union and pro-Confederacy factions. It explores the political developments and recounts in fine detail the military maneuvering and conflicts that occurred. Beginning with a history of the state's first settlers, the author lays a strong foundation for understanding the values and beliefs of East Tennesseans. He examines the rise of abolition and secession, and then advances into the Civil War. Continued below...
Early in the conflict, Union sympathizers burned a number of railroad bridges, resulting in occupation by Confederate troops and abuses upon the Unionists and their families. The author also documents in detail the 'siege and relief' of Knoxville. Although authored by a Unionist, the work is objective in nature and fair in its treatment of the South and the Confederate cause, and, complete with a comprehensive index, this work should be in every Civil War library.
Recommended Reading:
Mountain Myth: Unionism in Western North Carolina
(Hardcover), by Terrell T. Garren.
Description:
Civil War historian Terrell T. Garren and author of acclaimed
The Secret of War: A Dramatic History of Civil War Crime in Western North Carolina
, delivers another masterpiece and challenges previous 'historical assumptions' regarding Unionism in Western North Carolina. Garren says that readers of his new book "may be surprised to learn that Western North Carolina citizens of that day were as much or more dedicated to the Confederate cause than the people of any other area in the entire South." It is RATED 5 STARS, the highest rating, by thomaslegion.net
Editor's Pick: The Secret of War: A Dramatic History of Civil War Crime in Western North Carolina, by Terrell T. Garren. Description: Civil War crime in western North Carolina is the subject of The Secret of War, by Terrell T. Garren. Based on the true-life experience of Delia Russell Youngblood, the great-grandmother of the author, the book "captures what the Civil War was like in the mountains and throughout the south." After hearing his great-grandmother's story, Garren spent nearly fifteen years researching this story in particular and the Civil War history of western North Carolina in general. It is the story of Joseph Youngblood and Delia Russell of Hoopers Creek in Henderson County, North Carolina. Continued below…
The reader will follow Joseph through his enlistment as a part of Company H, the "Cane Creek Rifles," of the 25th North Carolina Infantry Regiment to the Battle of Malvern Hill, Virginia, and to battle in Sharpsburg, Maryland, where he was captured. Taken to the Union Camp Morton in Indianapolis, Indiana, he finally escapes and makes his way down the Ohio and Mississippi rivers into Mississippi. Attempting to make his way back to North Carolina, he is in Dalton, Georgia, in May of 1864 when fourteen Confederate soldiers, including a brother, are executed for "desertion." Ultimately, being recaptured, he goes back to Camp Morton until the end of the war. Told with historical accuracy, names, battles, and places in this story are true to fact. Readers will recognize place names in Henderson, Jackson, Haywood, Cherokee, Transylvania, Clay, Macon, and Buncombe Counties in North Carolina. Family names mentioned include Fletcher, Carland, Lewis, Bishop, Bryson, Freeman, Henderson, Fowler, Whitaker, Wheeler, Summey, Russell, Barnwell, Ward, Lanning, Hammond, Garren, Youngblood, and Blake. What sets this book apart from many, however, is the story of what happened to the women left behind at home. The story reveals how the lowest criminal element found its way into the Union Army. Many mountain men motivated by greed and an awareness of the demise of Confederate authority signed up with no interest in any cause but their own. Union officers who enter the picture include Generals George Stoneman, Alavan C. Gillem, and William J. Palmer. Palmer enters the story late but emerges as a man of genuine integrity and selfless bravery opposed to and fighting this element in his own army. About the Author: Terrell T. Garren is an eighth generation western North Carolinian. He was born in Asheville, North Carolina, in 1951. He earned his B.S. and M.A. degrees from Western Carolina University in Cullowhee, North Carolina. A resident of Henderson County, North Carolina, he has been a commercial writer for twenty years.
Dr. Newton Smith of Western Carolina University says, "The Secret of War" is that rare historical novel that captures both the romance and the grit and gore of war on the home front without distorting the history. It is about time someone did the story of the Civil War in the southern mountains right."
Rob Neufeld, writing in the Asheville (NC) Citizen-Times, has said the book "is a must read" and "as a contribution to our understanding of the most disturbing passage in our history, it is indelible." He further writes, "Fiction? It really happened; and, if it hadn't, the author wouldn't be around to tell it....Although Garren has written fiction, he wants you to treat it as history. After all, at the back of his book, he provides an index."
Recommended Reading: A History of the North Carolina Third Mounted Infantry Volunteers: March 1864 to August 1865. Description: A History of the North Carolina Third Mounted Infantry Volunteers: March 1864 to August 1865 - Ron V. Killian. For years preceding the Civil War, the mountain people of western North Carolina lived under very different social and economic conditions than their plantation farming counterparts in other parts of the state. The mountain people did not generally own slaves, making them reluctant to contribute soldiers when North Carolina seceded from the Union. Many of these pro-Union Carolinians took up arms as Federal troops and engaged in guerrilla raids to disrupt Confederate operations within their home state. Unlike neighboring East Tennessee's Goldman Bryson Gang that was comprised mainly of murderers, thieves, and bushwhackers, the Third Mounted North Carolina, commonly referred to as Kirk's Raiders, was composed of troops, principally disaffected men, bound by the common bonds of mountain living that enjoyed plundering and mayhem for both survival and personal gain. Continued below…
The Third Mounted Infantry was one such unit, organized under Col. George Washington Kirk in February 1864. Ron V. Killian's history discusses the brief but sensational career of the Third Mounted Infantry from its inception up to the occupation of Asheville, NC in 1865. Until now, little material has been published on the role of the Third Mounted Infantry in the pacification of the Tennessee/North Carolina mountain region. Often erroneously referred to as "bushwhackers" or "Tories," the patriotic fathers, sons and brothers that composed this regiment rendered commendable service in the Camp Vance Raid, Stoneman's Raid against Confederate positions in both Tennessee and North Carolina, and various skirmishes at Morristown, Russellville, Waynesville and Asheville. Detailed accounts of engagements involving the regiment are supplemented by extensive rosters noting full name, month, year, and place of enlistment, and age at time of enlistment for officers, staff, private soldiers and musicians. A biographical sketch of Col. Kirk is also included.
FOOTNOTES
1. R. N. Price, Holston Methodism from Its Origin to the Present Time, Vol. I, (Nashville, Tennessee, 1903), p. 33.
2. Ibid., p. 51.
3. John Preston Arthur, Western North Carolina - A History 1730-1913, (Spartanburg, South Carolina, 1973-4), pp. 603-604.
4. Ibid., p. 600.
5. Ibid.
6. Nathaniel C. Browder, The Cherokee Indians and Those Who Came After, (Hayesville, North Carolina, 1973), pp. 322-323.
7. Paul J. Long, Our Hill Country Heritage, Vol. II, (Oak Ridge, Tennessee), p. 83.
8. Ibid., p. 154.
9. Browder, p. 338.
10. Arthur, pp. 603-604.
11. William Ballard Lenoir, A History of Sweetwater Valley, (Baltimore, Maryland, 1976), p. 391.
12. Arthur, pp. 187-188.
13. Louisa Stiles' pension application as widow of Union soldier, Thomas Stiles, found in the National Archives, GSA Office of Records and Pensions, Washington, D.C.
14. Arthur, p. 586.
15. Ibid., p. 605.
16. Long, p. 83.
17. Arthur, pp. 603-604.
18. Lenoir, p. 403.
19. Civil War Centennial Commission, Tennesseans in the Civil War, Vol. I, (Nashville, Tennessee, 1964), pp. 298-299.
20. Lenoir, p. 403.
21. Long, p. 83.
22. Arthur, p. 584.
23. Ibid., p. 585.
24. Ibid.
25. Vernon H. Crow, Storm in the Mountains, (Cherokee, North Carolina, 1982), p. 51.
26. Paul J. Long, "Bushwhacking Is a Part of Our History," Monroe County Democrat, November 12, 1969.
27. Ibid. and Columbus Moss' tombstone inscription at Moss Cemetery, Marble, Cherokee County, North Carolina.
28. Long, Our Hill Country Heritage, p. 83.
29. God's Country, (Murphy, North Carolina, 1982: Cherokee County Chamber of Commerce), p. 27.
30. Arthur, p. 605.
31. Walter Clark, editor, North Carolina Regiments 1861 - 1865, (Goldsboro, North Carolina), p. 706.
32. Civil War Centennial Commission, pp. 356-357.
Keywords: Captain Goldman Bryson's Union Volunteers, Goldman Bryson Federal Mounted Company, 1st First Tennessee National Guard Troops History Civil War Goldman Bryson Army North Carolina East Tennessee Details