Women Civil War Soldiers
Women Soldiers of the Civil War, Part II
By DeAnne Blanton
© 1993 by DeAnne Blanton
Sarah Edmonds Seelye
State Archives of Michigan
The Union CMSR for John Williams of the Seventeenth Missouri Infantry, Company H, shows that the nineteen-year-old soldier enlisted as a private on October 3, 1861, in St. Louis and was mustered into the regiment on the seventh. Later that month, Williams was discharged on the grounds: "proved to be a woman."(8) The Confederate CMSR for Mrs. S. M. Blaylock, Twenty-sixth North Carolina Infantry, Company F, states:
This lady dressed in men's clothes, Volunteered [sic], received bounty and for two weeks did all the duties of a soldier before she was found out, but her husband being discharged, she disclosed the fact, returned the bounty, and was immediately discharged April 20, 1862.(9)
Another woman documented in the records held by the AGO was Mary Scaberry, alias Charles Freeman, Fifty-second Ohio Infantry. Scaberry enlisted as a private in the summer of 1862 at the age of seventeen. On November 7 she was admitted to the General Hospital in Lebanon, Kentucky, suffering from a serious fever. She was transferred to a hospital in Louisville, and on the tenth, hospital personnel discovered "sexual incompatibility [sic]." In other words, the feverish soldier was female. Like John Williams, Scaberry was discharged from Union service.(10)
Sarah Edmonds Seelye
State Archives of Michigan
Not all of the women soldiers of the Civil War were discharged so quickly. Some women served for years, like Sarah Emma Edmonds Seelye, and others served the entire war, like Albert D. J. Cashier. These two women are the best known and most fully documented of all the women combatants.
Sarah Edmonds Seelye served two years in the Second Michigan Infantry as Franklin Thompson. In 1886, she received a military pension.
Records from the AGO show that Sarah Edmonds, a Canadian by birth, assumed the alias of Franklin Thompson and enlisted as a private in the Second Michigan Infantry in Detroit on May 25, 1861. Her duties while in the Union army included regimental nurse and mail and dispatch carrier. Her regiment participated in the Peninsula campaign and the battles of First Manassas, Fredericksburg, and Antietam. On April 19, 1863, Edmonds deserted because she acquired malaria, and she feared that hospitalization would reveal her gender. In 1867, she married L. H. Seelye, a Canadian mechanic. They raised three children. In 1886 she received a government pension based upon her military service. A letter from the secretary of war, dated June 30 of that year, acknowledged her as "a female soldier who . . . served as a private . . . rendering faithful service in the ranks." Sarah Edmonds Seelye died September 5, 1898, in Texas.(11)
Albert D. J. Cashier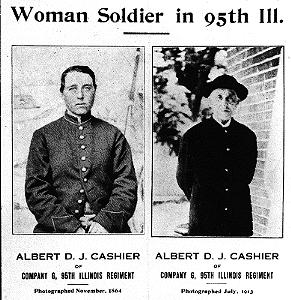 Illinois State Historical Library
AGO records also reveal that on August 3, 1862, a nineteen-year-old Irish immigrant named Albert D. J. Cashier, described as having a light complexion, blue eyes, and auburn hair, enlisted in the Ninety-fifth Illinois Infantry. Cashier served steadily until August 17, 1865, when the regiment was mustered out of the Federal army. Cashier participated in approximately forty battles and skirmishes in those long, hard four years.
After the war, Cashier worked as a laborer, eventually drew a pension, and finally went to live in the Quincy, Illinois, Soldiers' Home. In 1913 a surgeon at the home discovered that Albert D. J. Cashier was a woman. A public disclosure of the finding touched off a storm of sensational newspaper stories, for Cashier had lived her entire adult life as a man. None of Cashier's former comrades-in-arms ever suspected that he was a she. Apparently, neither did the commandant at the Soldiers' Home. She died October 11, 1914, in an insane asylum.(12) [A deposition from a fellow soldier taken in 1915 revealed that her deception was quite complete.]
Recommended Reading: She Went to the Field: Women Soldiers of the Civil War. Description: Women Soldiers of the Civil War profiles several substantiated cases of female soldiers during the American Civil War, including Sarah Rosetta Wakeman (aka Private Lyons Wakeman, Union); Sarah Emma Edmonds (aka Private Frank Thompson, Union); Loreta Janeta Velazquez (aka Lieutenant Harry T. Buford, Confederate); and Jennie Hodgers (aka Private Albert D. J. Cashier, Union). Continued below…
Also featured are those women who may not have posed as male soldiers but who nonetheless pushed gender boundaries to act boldly in related military capacities, as spies, nurses, and vivandieres ("daughters of the regiment") who bore the flag in battle, rallied troops, and cared for the wounded.
Recommended Reading: Women on the Civil War Battlefront (Modern War Studies) (Hardcover). Description: During the Civil War women did a lot more than keep the home fires burning. Expanding on his pioneering Patriots in Disguise, Richard Hall has now produced the most accurate and up-to-date survey available of women who were determined to serve their nation in that time of crisis. Drawing on a wealth of regimental histories, newspaper archives, and a host of previously unreported accounts, Hall shows that women served in more capacities and in greater number-perhaps several thousand-than has previously been known. Continued below…
They served in the infantry, cavalry, and artillery and as spies, scouts, saboteurs, smugglers, and frontline nurses. From all walks of life, they followed husbands and lovers into battle, often in male disguise that remained undiscovered until they were wounded (or gave birth), and endured the same hardships and dangers as did their male counterparts. Hall presents the most complete portrait yet available of these courageous women-including Sarah Bradbury, Lizzie Compton, Frances Hook, and Confederate spy Loreta Janeta Velazquez-many of whom earned the praise of the male soldiers they served with and rose through the ranks to become sergeants, even officers. Through his investigation of specific case histories, he has authenticated many previously undocumented reports while debunking myths and exposing previously published errors about the subject. The book also includes a biographical directory of nearly 400 women participants and dozens of Civil War documents attesting to women's role in the war. As a new synthesis and critical appraisal, Women on the Civil War Battlefront is a richly anecdotal work that unearths a hidden history and opens a new window on women's lives in the nineteenth century. These women were determined to serve, and Hall's research confirms that they did so in significant numbers-and with distinction.
Recommended Reading: A Woman's Civil War: A Diary with Reminiscences of the War, from March 1862 (Wisconsin Studies in Autobiography). From Publishers Weekly: At the urging of her husband, a Confederate Army soldier, McDonald began keeping a diary of life on the home front in Winchester, a town in northwestern Virginia. As Gwin, a professor of English at the University of New Mexico, points out in her thorough but academic introduction, this diary is a piece of domestic history, about the defense of family and household, unlike journals such as that of Mary Chestnut, which describe the public experience of the war. McDonald's daily entries can wax tedious to those who aren't buffs, but she writes with vigorous language and biblical cadences: "I had a heart for sorrow, and it ached with a ceaseless pang for the country as well as for my own griefs." Her story spans numerous experiences: fighting to keep her house from being occupied by the invading Yankees; the death of her child; using a homemade, fast-burning "Confederate candle" for light; finding her husband's corpse. McDonald rewrote a lost portion of the diary after the war, also added recollections of the years before and after the war, and copied the journal eight times for her children. Continued below…
From Library Journal: McDonald kept a diary at the request of her husband, who wanted a reckoning of his family's life while he was off fighting. There was plenty to relate, since they lived in Winchester, Virginia, which was constantly occupied by troops. Covering both public and private activities, McDonald offers a refreshingly feminine perspective on an age heretofore described primarily by men. After she lost part of the diary while moving, she went back and reconstructed events, aided by an astonishing memory, then copied the entire volume by hand for each of her eight surviving children, so they would have a record of their heritage. This intriguing account of daily life during the chaos of the Civil War is recommended for all libraries on the basis of its unique historical content.
Recommended Reading: Woman of Valor: Clara Barton and the Civil War (527 pages). From Library Journal: Before her name became synonymous with the Red Cross, Barton organized drives at the outbreak of the Civil War for badly needed supplies for an army that had almost no idea of the carnage that lay ahead. At the urging of her father, she cast off her qualms about being the only "lady" near so many soldiers and worked on the battlefield to try and save literally fields full of wounded men. Continued below…
By the end of the war she was an honored and loved veteran and a feminist. Although this work brings to light Barton's affair with a married officer, it is not a salacious or even vaguely sensational biography. Like Oates's previous biographies of Lincoln ( Abraham Lincoln , LJ 3/15/84) and John Brown (To Purge This Land with Blood , Univ. of Mass., 1984), this is a carefully written and researched work that brings to life both the Civil War and a period of Barton's life that was to affect her forever. Since this is the first biography to do so in any depth, it deserves consideration by most libraries. Katherine Gillen, Mesa P.L., Ariz.
Recommended Reading: Kate: The Journal of a Confederate Nurse. Customer Review: Kate's journal is amazingly well-written, and, as I said in my title, it is obvious from reading it that she is a true Southern lady. When I consider how I write any old thing, any old way, in my own journals, I am impressed by the way Kate kept all the wartime news- both on the battlefield and in her private life- so nicely organized. Don't let the word "organized" fool you, though, into thinking it is boring. This journal is anything but dull. Kate's writing style is intelligent, personal, detailed, and extremely interesting; the amazing part is that most of it is written whenever she can snatch a moment to herself from her nursing duties. Continued below…
From reading Kate's journal one quickly sees her devotion to the South and its "cause" for freedom. She was not a nurse before the war, but when the war began she volunteered to become one. As a nurse, she showed great compassion for the soldiers, doing everything in her power to alleviate their suffering and to make their stay in the hospital as pleasant as possible, under the terrible circumstances in which she worked. Sometimes her burden would seem too heavy, and she would almost make up her mind to quit, but her determination to be patriotic and her compassion for her patients would change her mind. Kate Cumming was a true lady, and this fact also made her journal enjoyable. She is well-mannered; for instance, when she does dislike someone she exercises reserve in writing about them, even though she is writing in her private journal. She does greatly dislike "Yankees", but instead of simply raving bitterly about them, she relates the incidents that cause her to dislike them. Overall, Kate is quiet and observant, and likes to write about the better things that occur in her life (something as simple as meeting a friend on the train, or having something extra nice for dinner) rather than dwell negatively on the hardships that she was experiencing. I highly recommend this wartime journal for anyone interested in a truly personal account of a nurse during the Civil War. The fact that Kate was a Southerner makes it even more interesting, because on the whole she went through more than her Northern counterparts did. She was a patriotic lady, and her attitude throughout the war makes her journal a pleasure to read.
Recommended Reading: They Fought Like Demons: Women Soldiers in the Civil War. Publishers Weekly: At least 250 women served-disguised as men-in the ranks of both North and South during the Civil War. Although works about female Civil War soldiers have appeared over the past several years, this volume, by National Archives archivist Blanton and Cook, a Fayetteville State University employee in North Carolina, makes a nice summation. After covering the major combat actions in which women served (and in which several were killed), the authors reconstruct the reasons why women entered the armed forces: many were simply patriotic, while others followed their husbands or lovers and yet others yearned to break free from the constraints that Victorian society had laid on them as women. Continued below…
Blanton and Cook detail women soldiers in combat, on the march, in camp and in the hospital, where many were discovered after getting sick. Some even wound up in grim prisons kept by both sides, while a few hid pregnancies and were only discovered after giving birth. Many times the rank and file hid them from officers, who were duty-bound to discharge women if they were found out. Some remained in disguise for years after the war; Albert D.J. Cashier (nee Jennie Hodgers) of the 95th Illinois Infantry was only unmasked in 1911, when she suffered a fractured leg in an automobile accident. The authors make a strong case that the controversial Loreta Janeta Velazquez (alias Lt. Harry T. Buford, C.S.A.) actually did perform most of the deeds she wrote about in her 1876 memoir, which has previously been discounted as fiction by most Civil War historians. Solid research by the authors, including a look at the careers of a few women soldiers after the war, makes this a compelling book that belongs in every Civil War library.
Recommended Viewing: The Full Metal Corset: Secret Soldiers of the Civil War (The History Channel). Description: In April 1861, the newly inaugurated President Lincoln calls for 75,000 men to fight for the Federal cause. What he does not anticipate is the shared desire by hundreds of women to fight for their country. Forbidden by laws of society, these determined women become the "Secret Soldiers of the Civil War." Continued below…
Travel back in time and hear the story of two of the Civil War's most interesting female soldiers--Sarah Emma Edmonds and Loreta Janeta Velazquez. Hear their tales of passion, recounting the sacrifice of identity, fear of discovery, and constant need for duplicity...even under fire.