David Taylor Sr.
David Taylor Sr.
(Photograph Courtesy Keith Lowrey and Carolyn Ellertson)
Murphy, Cherokee County, North Carolina
Inscription
DAVID TAYLOR SR. BORN
ORANGE CO VA 1791
DIED 1877 CITIZEN OF
CHEROKEE NATION
BEFORE REMOVAL,
CONGRESS IN 1852
PAID HIM FOR LAND
HE LOST BY TREATY
NEW ECHOTA DEC
29, 1835, HIS SONS
JAMES-CAMPBELL H
WERE CAPTAINS \
THOMAS CONFEDERATE
LEGION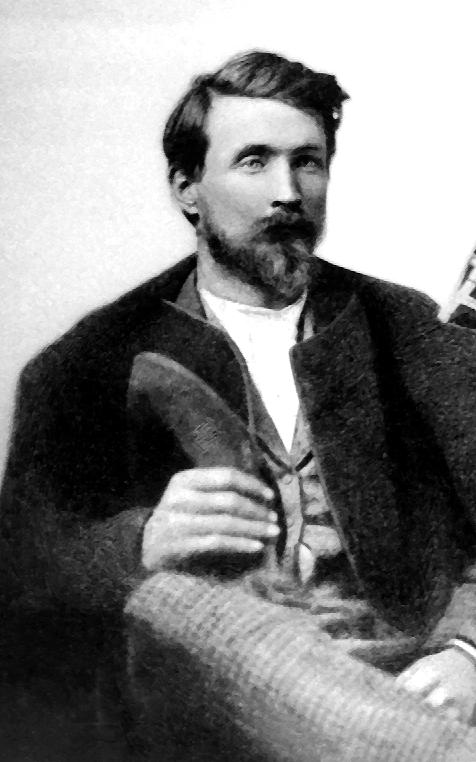 Lieutenant Campbell "Cam" Harrison Taylor
(Picture courtesy Keith Lowrey)
Born March 1, 1839, North Carolina; Died October 9, 1914, Coffeyville, Oklahoma
James* and Campbell** H. Taylor served in Company B, Infantry Regiment,
Thomas' Legion
. On May 18, 1862, Colonel Thomas split his Indian company into two groups. James Taylor commanded the original unit, and Gideon M. Hanks was elected captain of the second. When Hanks was killed in 1863, James Taylor was promoted to captain. Prior to the reorganization in 1863 it was known as Company D. Campbell H. Taylor was personally recommended for his gallantry to General Braxton Bragg during the
Skirmish in Cherokee County North Carolina - October 27-28, 1863
, with
Captain Goldman Bryson
. It was rare to be recommended by name to one of the eight generals in the Confederate States Army, and Lt. Campbell H. Taylor received that honor when he was commended to General Braxton Bragg. There were four general grades in the Confederate States Army: brigadier-general, major-general, lieutenant-general, and general being the highest attainable rank. However, during informal communication each may be addressed as general.
*Captain James Taylor enlisted on April 9, 1862; residence Murphy, Cherokee County, North Carolina; commissioned 1st Lt. May 18, 1862; commissioned captain November 1862, according to
Lt. Colonel William Stringfield
in Walter Clark's, North Carolina Regiments 1861-1865, Volume III, p. 730. However, Vernon H. Crow, Storm in the Mountains, pp. 161 and 259, states James was most likely promoted to captain (1863?). Vernon's reason is that Hanks commanded the company until the summer of 1863.
Campbell Harrison and Stacy E. (Welch) Taylor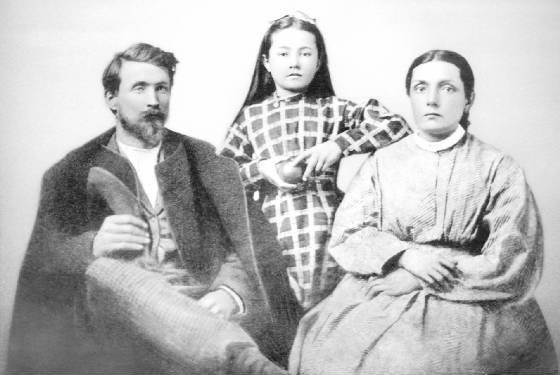 (ca. 1869)
Campbell "Cam" Harrison Taylor
Born: March 1, 1839, North Carolina; Died: October 9, 1914, Coffeyville, Kansas
Stacy E. (Welch) Taylor
Born: 1841 Cherokee Co., North Carolina; Died: July 19, 1888, Coffeyville, Kansas
Seated from left to right are Campbell "Cam" Harrison Taylor and first wife Stacy E. (Welch) Taylor. Standing between them is their oldest child, Elizabeth "Bettie" Haseltine (Taylor) Keys. Many thanks to Keith Lowrey of Glen Allan, VA, for the photo of Cam and Stacy (Welch) Taylor and data on his ancestor, Campbell Harrison Taylor! Keith said, "The photo was taken from the tintype and touched up. The tintype has quite a few smudges that were removed and I think it came out pretty well."
VINITA CHIEFTAIN, (KANSAS) JULY 19, 1888
"Mrs. Campbell Taylor passed away at her home, near Coffeyville. Just a few days after her daughter, Polly, was killed. The shock of the death didn't help."
The Coffeyville (KS) Daily Journal, Fri. evening, Oct. 9, 1914
"Campbell H. Taylor, a Pioneer Indain [sic] Lawyer of this city, died at his home, 504 East Fourth Street, this afternoon shortly before 3 O'clock. He had been in poor health foe [sic] some time and had not been in the active practice of law for a number of years. He was the father of Mrs. Shelly Keys."
About Coffeyville
Coffeyville is located on the Kansas Oklahoma line and about 70 miles north of Tulsa and 70 miles west of Joplin, Missouri. Many Western North Carolinians relocated to northeast Oklahoma and northwest Arkansas areas after the Civil War and resided among the Cherokee, many of which had relocated to this area from the North Carolina mountains during the 1838 Trail of Tears. Being far removed from any semblance of the defeated Confederacy, being in or near the Ozarks was a pleasant place to reestablish the homestead. This settlement was founded in 1869 as an Indian trading post by Col. James A. Coffey, serving the population across the border in what was then the Indian Territory, commonly abbreviated as IT. The town began to flourish in 1871 when it was chosen as a stop on the Leavenworth, Lawrence & Galveston Railroad, which connected it to other markets and developments. The town was a quiet whistle stop, but it changed abruptly on October 5, 1892, when four members of the Dalton Gang were killed in a shootout during a botched bank robbery.
Notes Courtesy of Ms. Carolyn Ellertson:
James and Campbell were my uncles, brothers to my great great grandmother Elizabeth Taylor Whitaker (wife of
Captain Stephen Whitaker
). David Taylor, Sr. (not to be confused with son David Taylor, Jr.) was married to Mary Ann(a) Bigby/daughter of Catherine Foreman and James Bigby.
Recommended Reading: Bushwhackers, The Civil War in North Carolina: The Mountains (338 pages). Description: Trotter's book (which could have been titled "Murder, Mayhem, and Mountain Madness") is an epic backdrop for the most horrific murdering, plundering and pillaging of the mountain communities of western North Carolina during the state's darkest hour—the American Civil War. Commonly referred to as Southern Appalachia, the North Carolina and East Tennessee mountains witnessed divided loyalties in its bushwhackers and guerrilla units. These so-called "bushwhackers" even used the conflict to settle old feuds and scores, which, in some cases, continued well after the war ended. Continued below...
Some bushwhackers were highly organized guerrilla units while others were just a motley group of deserters and outliers bound by the bonds of disenchantment, and since most were residents of the region prior to the war, they were familiar with the terrain and knew how to use it to their advantage. Old and new scores alike were being settled under the guise of bushwhacking, and as a general rule these men murdered and robbed merely for personal gain. In this work, Trotter conveys lively histories and exciting prose as we delve into the bushwhackers who roamed and sought out prey in the mountains during the Civil War. The study could have also been titled murder and mayhem in the mountains, as Trotter sheds light on the bloodletting groups of the well-known and otherwise lesser known bushwhackers and the hell they unleashed during the four year conflict. This book is also a great source for tracing ancestors during of the era, and it is recommended for Civil War buffs, lovers of Southern Appalachia, American history, and students of tactics and warfare.
Editor's Recommended Reading: Western North Carolina: A History from 1730 to 1913 (Hardcover: 679 pages). Description: From the introduction to the appendix, this volume is filled with interesting information. Covering seventeen counties—Alleghany, Ashe, Avery, Buncombe, Cherokee, Clay, Graham, Haywood, Henderson, Jackson, Macon, Madison, Mitchell, Swain, Transylvania, Watauga, and Yancey—the author conducted about ten years searching and gathering materials. Continued below...
About the Author: John Preston Arthur was born in 1851 in Columbia, South Carolina. After relocating to Asheville, North Carolina, in 1887, he was appointed Secretary of the Street Railway Company, and subsequently the Manager and Superintendent until 1894. Later, after becoming a lawyer, he was encouraged by the Daughters of the American Revolution (D.A.R.) to write a history of western North Carolina.
Recommended Reading:
Cherokee Proud
, Second Edition, by Tony Mack McClure. Description: Absolutely the "Bible" of Cherokee Genealogy. New, 336 pages, 2nd Edition. If the information in this remarkable new book doesn't lead a person to proof of their Cherokee roots, nothing can! "It is an A-to-Z on organizing and locating the requirements / qualifications for membership." Continued below...
Are you Cherokee? Are you the individual that has always been told that you are a Cherokee, but have no facts or records to prove it? To claim Cherokee membership means that you must prove it – you must have the facts, so toss the doubt away, get the facts, and claim what is rightfully your heritage by blood quantum. Now, are you ready to prove that you are a Cherokee? It's not difficult if you take the time to locate the facts. Included are proven resources for tracing your family genealogy, the family tree, roots, bloodline, and for researching your ancestors to prove that you meet the blood requirements (qualifications) for Cherokee membership and tribal enrollment. Those that qualify as "American Indians are American Indians" and are entitled to the rights and benefits of the tribe! Also includes a proven "how to dos" written by the foremost expert in Cherokee history, genealogy and heritage. Cherokee membership is not like joining a gym or paying dues, it's your blood, so claim it. Are you remotely interested in knowing that you are a "Cherokee Indian" or are you the individual that enjoys genealogy? Do you want to locate and preserve your Native American ancestry? Finding information about ancestors for genealogy and heritage is also a lot of fun. Moreover, you are preserving your own family history and heritage with your relatives and loved ones for generations and generations… Take a look at exactly what is required to locate and organize and present your information to prove that you meet the qualifications as a member of the Cherokee tribe. Cherokee Proud, by Tony McClure, is referred to as the "Bible for Cherokee Genealogy." Cherokee Proud has also been rated a SOLID FIVE STARS by every person that has read and rated it. To see if you meet the 'Cherokee qualification and requirement for membership', then look no further -- purchase Cherokee Proud. Read the reviews and see what people and organizations are saying about it.
Reviews
"Cherokee Proud is the very best book I have ever seen on tracing Cherokee genealogy." -- RICHARD PANGBURN, acclaimed author of Indian Blood, Vol. I & II found in most libraries
"McClure unabashedly loosens his journalistic standards for portions of this book which reach him too emotionally. Understood. Fascinating and enlightening."
BACK COVER: Among the people of this country are individuals in whose blood runs the proud heritage of a noble and resilient people whose ways and talents rank with the finest civilizations the world has known. They are the " Tsalagi ". . . the Cherokee. This book will help you learn if you are one of them. -- BOOK READER
"The contents of Cherokee Proud are exceptional - valuable information that can be used by so many readers and researchers who have Native American (Cherokee) ancestry." -- DON SHADBURN, Famous Georgia historian and noted author of Unhallowed Intrusion and Cherokee Planters of Georgia
"This Cherokee guide is the best yet!" -- LAWTON CONSTITUTION
About the Author: Well known and acclaimed Cherokee author Dr. Tony Mack McClure, a native of Tennessee, is a certified member of the Native American Journalists Association, Wordcraft Circle of Native Writers and Storytellers, and Committeeman for the Tennessee Chapter of the National Trail of Tears Association. His work has appeared in numerous magazines, over 250 newspapers, on all major television networks and many cable systems.
Recommended Reading: Touring the Western North Carolina Backroads (Touring the Backroads). Review: This guidebook, unlike most, is so encyclopedic in scope that I give it as a gift to newcomers to the area. It is also an invaluable reference for the visitor who wants to see more than the fabulous Biltmore Estate. Even though I am a native of the area, I learned nearly everything I know about Western North Carolina from this book alone and it is my primary reference. I am still amazed at how much fact, history and folklore [just enough to bring alive the curve of the road, the odd landmark, the abandoned building] is packed in its 300 pages. The author, who must have collapsed from exhaustion when she finished it, takes you on a detailed tour, laid out by the tenth of the mile, of carefully drawn sections of backroads that you can follow leisurely without getting lost. Continued below...
The author is completely absent from the text. The lucid style will please readers who want the facts, not editorial comment. This book, as well as the others in this publisher's backroads series, makes an excellent gift for anyone, especially the many seniors who have relocated, or are considering relocating to this fascinating region. It is also a valuable reference for natives, like me, who didn't know how much they didn't know.
Recommended Reading: Complete Idiot's Guide to Genealogy, 2nd Edition. Description: A very helpful genealogy reference! It is extremely helpful if you're in the "I want to trace my roots, ancestors, family tree and heritage. How do I begin, where do I start, and how do I go about doing it?" situation. It contains numerous helpful common sense tips that will prevent future headaches and a lot of well thought out suggestions and tips too. One helpful hint: "Talk with your extended family and interview them for genealogy information, be patient with them, and let them tell their stories....document everything." There are plenty of well-mannered tips like these that elevate this book to excellence. A lot of the confusing aspects of genealogical research such as document requests and providing proof and evidence are well covered. Continued below.
Customer's Review: I bought this book when I hadn't yet done any research at all about my family history. A year and a half later, I have a file drawer full of information, and I have needed no other reference. I also bought a book called "The Source", which is supposed to be the 'genealogist's bible', and it has been a giant paperweight in comparison. Idiot's genealogy is full of the kind of practical information that can carry you through years of research. Happy hunting!!!