Regiments in Action at Cumberland Gap, Tennessee
Sep. 8, 1863 -- Sep. 10, 1863
Union Army invades Cumberland Gap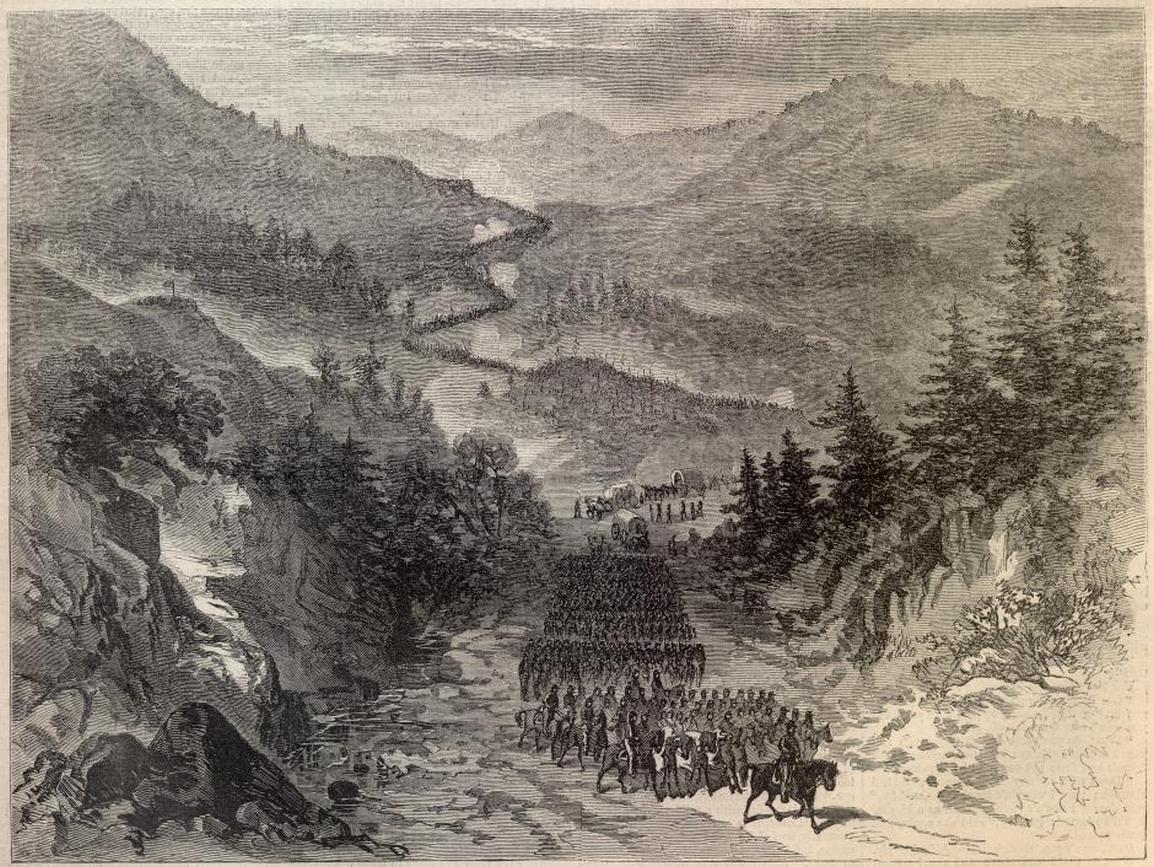 General Burnside's Army Occupying the Cumberland Gap, Harper's Weekly, October 10, 1863
Cumberland Gap was a contest of wills in Civil War
Civil War battles for Cumberland Gap tell us it was very important to both sides
41st Georgia Infantry Regiment
47th Georgia Infantry Regiment
52nd Georgia Infantry Regiment
55th Georgia Infantry Regiment
58th North Carolina Infantry Regiment
62nd North Carolina Infantry Regiment
64th North Carolina Infantry Regiment
13th Virginia Infantry Regiment
21st Virginia Infantry Battalion
48th Virginia Infantry Regiment
64th Virginia Cavalry Regiment
"The winter [1862-63] was spent in outpost duty, picketing this and neighboring passes in the Cumberland mountains, and making several expeditions into Kentucky. The details for guard duty in this service were excessive, and the command suffered greatly from privation and exposure. The loss by death from disease was appalling, camp fever and an epidemic of measles being extremely fatal, the natural death of inexperience and a deplorable lack of hospital accommodations and facilities." Captain Isaac H. Bailey, Company B, Fifty-eighth North Carolina Regiment, while stationed in the Cumberland Gap. (Later, Captain Isaac Bailey was severely wounded at the Battle of Chickamauga.)
Facts for Cumberland Gap and Civil War
Civil War History of the Cumberland Gap
(See related reading below.)
Recommended Reading: East Tennessee and the Civil War (Hardcover: 588 pages). Description: A solid social, political, and military history, this work gives light to the rise of the pro-Union and pro-Confederacy factions. It explores the political developments and recounts in fine detail the military maneuvering and conflicts that occurred. Beginning with a history of the state's first settlers, the author lays a strong foundation for understanding the values and beliefs of East Tennesseans. He examines the rise of abolition and secession, and then advances into the Civil War. Continued below...
Early in the conflict, Union sympathizers burned a number of railroad bridges, resulting in occupation by Confederate troops and abuses upon the Unionists and their families. The author also documents in detail the 'siege and relief' of Knoxville. Although authored by a Unionist, the work is objective in nature and fair in its treatment of the South and the Confederate cause, and, complete with a comprehensive index, this work should be in every Civil War library.
Recommended Reading:
Mountain Rebels: East Tennessee Confederates and the Civil War, 1860-1870 (240 pages) (University of Tennessee Press).

Description:

In this fine study, Groce points out that the Confederates in East Tennessee suffered more for the 'Southern Cause' than did most other southerners. From the first rumblings of secession to the redemption of Tennessee in 1870, Groce introduces his readers to numerous men and women from this region who gave their all for Southern Independence. Continued below...
He also points out that
East Tennesseans
were divided in their loyalties and that slavery played only a small role. Groce goes to great lengths to expose the vile treatment of the Region's defeated Confederates during the Reconstruction. Numerous maps, pictures, and tables underscore the research.
Recommended Reading: The Loyal Mountaineers Of Tennessee (1888) (Hardcover) (426 pages) (Kessinger Publishing, LLC) (June 2, 2008). Description: This book defines the importance of East Tennessee and its residents to the Union cause during the Civil War. The author begins with early history of East Tennessee and the events which led to the War Between the States. He continues by describing local people and events that contributed to the decision to remain loyal to the United States. Continued below...
The events of the War as they involve East Tennessee are detailed, including important meetings and battles such as Carter's Raid and the siege of
Knoxville
. The text is enhanced with illustrated portraits of
East Tennessee
individuals who contributed to the Civil War effort. Originally written and published in 1888, this reprinted edition is accompanied by a complete index. This book is a valuable addition to both the
Tennessee
historian and the Civil War buff.
Recommended Viewing: The Civil War - A Film by Ken Burns. Review: The Civil War - A Film by Ken Burns is the most successful public-television miniseries in American history. The 11-hour Civil War didn't just captivate a nation, reteaching to us our history in narrative terms; it actually also invented a new film language taken from its creator. When people describe documentaries using the "Ken Burns approach," its style is understood: voice-over narrators reading letters and documents dramatically and stating the writer's name at their conclusion, fresh live footage of places juxtaposed with still images (photographs, paintings, maps, prints), anecdotal interviews, and romantic musical scores taken from the era he depicts. Continued below...
The Civil War uses all of these devices to evoke atmosphere and resurrect an event that many knew only from stale history books. While Burns is a historian, a researcher, and a documentarian, he's above all a gifted storyteller, and it's his narrative powers that give this chronicle its beauty, overwhelming emotion, and devastating horror. Using the words of old letters, eloquently read by a variety of celebrities, the stories of historians like Shelby Foote and rare, stained photos, Burns allows us not only to relearn and finally understand our history, but also to feel and experience it. "Hailed as a film masterpiece and landmark in historical storytelling." "[S]hould be a requirement for every student."
Highly Recommended Viewing: Hillbilly: The Real Story (2008) (The History Channel). Description: Join host Billy Ray Cyrus on a journey into the hollers and runs of Appalachia to discover the proud legacy of the region's mountain folk. Learn how hillbillies, long misunderstood and maligned as isolated and backward, actually have a 300-year history of achievement and success that has contributed significantly to our national identity. In this two-hour special you'll meet outcast immigrants, war heroes, isolated backwoodsmen, hard working miners, fast moving moon shiners, religious warriors, musicians and statesmen. Continued below...
You'll learn of their contributions, which include establishing the first labor unions, battling the British, and spawning some of the most popular aspects of American culture today, like NASCAR and country music. And you'll see them in a whole new light. "The numerous candid interviews highlight this outstanding addition."
For related studies, try the search engine with the following: Cumberland Gap Civil War History, Cumberland Gap Surrender of Confederate Army Forces, Union Army Record and Account to Capture of Cumberland Gap, List of Captured Regiments and Soldiers in the Cumberland Gap, Tennessee Cumberland Gap Map.