QUANTRILL'S RAIDERS HISTORY
Quantrill's Raiders
Quantrill's Raiders Reunion*
William Clarke Quantrill (1837-1865), aka Charley Hart, Charles William Quantrill and Billy Quantrill, earned fame and infamy during the Civil War for his atrocities against citizens and guerrilla warfare against Union soldiers. During the Civil War, Missouri was considered a border state under Union control; however, according to some sources, it recruited more soldiers to the Confederacy than it did to the Union. And when Union forces from Kansas, later known as Kansas Jayhawkers, raided, plundered and pillaged the Missouri border towns, Quantrill's Raiders, which included famed outlaws Frank and Jesse James, James and Cole Younger, and "Bloody Bill" Anderson, were allied with the Confederacy, as Partisan rangers, and sought retaliation and retribution.
The Civil War atrocities that transpired between Missouri and Kansas were a direct result of the Kansas-Missouri Border War (1854-1861), also known as Bleeding Kansas.
Quantrill strongly supported the Confederacy and perhaps hoped to secure high rank and recognition from its leaders. But Quantrill's activities, however, indicated that he also fought for revenge and plunder. Born in Ohio, Quantrill headed to Kansas Territory at age eighteen and became embroiled in hostilities between free-state and slave-state forces. After the firing on Fort Sumter, guerrilla warfare rocked the Kansas and Missouri border. See Missouri Civil War History.
Quantrill retreated to Missouri in early 1861 and lived with one Marcus Gill. When Gill left for Texas, Quantrill followed. Quantrill soon moved to Indian Territory where he befriended Joel B. Mayes, the future principal chief of the Cherokee Nation. Quantrill stayed with Mayes, learned Cherokee guerrilla tactics, and in August witnessed the Battle of Wilson's Creek in Missouri. He returned to the region around Jackson and Cass counties in Missouri and organized a group of irregulars. Because he could read and was an excellent shot and horseman, he became the gang's leader. Throughout 1862 Quantrill and his band of nearly four hundred men raided around Kansas City, Independence, and Olathe. They left Missouri and Kansas during the winter of 1862-63 to quarter in Indian Territory, Arkansas, and Texas.
Quantrill's Raiders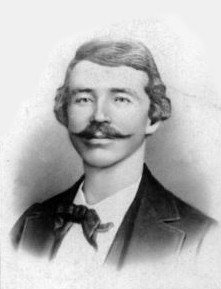 William Quantrill
General Joseph "Jo" Orville Shelby (December 12, 1830 – February 13, 1897) was a Confederate cavalry general in the Trans-Mississippi Theater of the American Civil War. Frank and Jesse James, and James and Cole Younger served with Quantrill's Raiders during the conflict and the famed raiders allegedly saved General Jo Shelby from capture on December 7, 1862, at the Battle of Prairie Grove. Well-known "Bloody Bill" Anderson would join Quantrill's Raiders in 1863.
In 1863, Quantrill undertook the raids that made his name feared in the region. On August 21 his band torched Lawrence, Kansas, where they murdered some 150 citizens (Kansas Civil War History). Afterward, he and his men retreated to Texas via the Texas Road. En route they surprised Union troops under Gen. James G. Blunt at Baxter Springs, Kansas, in early October, killed about eighty Federals, and wounded eighteen. Quantrill reached Fort Gibson in Indian Territory on October 10, and his men killed twelve Union soldiers there. His band then joined forces with Col. Daniel McIntosh and Gen. Douglas H. Cooper. Here, Quantrill wrote his only official report of the war. He claimed that he had killed 150 Negroes and Union Indians in the Cherokee Nation, and he signed the report "W. C. Quantrill, Colonel Commanding."
Quantrill and his men camped near Sherman, Texas, in late 1863 and plundered the inhabitants. Subsequently, Confederate Gen. Henry McCulloch ordered them into Indian Territory. In mid-December, Quantrill and his men joined with Gen. Stand Watie for an attack on Fort Gibson. This foray achieved little, and it is doubtful that the raiders saw combat. About one week later, Quantrill, Watie, and Col. William Penn Adair attempted to assault Fort Smith, Arkansas. Again, little action resulted, and Quantrill returned to Texas for the winter. While Quantrill's Raiders were in Texas, the residents of Grayson and Fannin counties became targets for raids. The acts of violence proliferated so much that regular Confederate forces had to be assigned to protect residents from the activities.
Finally, General McCulloch determined to rid North Texas of Quantrill's influence. On March 28, 1864, when Quantrill appeared at Bonham as requested, McCulloch had him arrested on the charge of ordering the murder of a Confederate major. Quantrill, however, escaped that day and returned to his camp near Sherman, and was pursued by over 300 state and Confederate troops. He and his men crossed the Red River into Indian Territory, where they resupplied from Confederate stores. They rejoined with General Cooper and plotted to capture Fort Smith. (Except for a brief return in May, Quantrill's activities in Texas were at an end.)
They arrived near Fort Smith on April 6, 1864, but had no intention of assisting Cooper. Quantrill moved toward Fort Gibson and ordered nine civilians killed at the Creek Agency. A Confederate force raided near Fort Gibson on April 17, but Quantrill did not participate; he later outmaneuvered Union troops and escaped into southwestern Missouri.
Quantrill made an excursion into Texas in May 1864, believing that Confederate charges against him had been dropped and that he might be given a formal command. But a command was not forthcoming and he returned to his band, whose leadership he had lost. He eventually took a small group of 39 men into Kentucky to engage in guerrilla activities. Quantrill was shot through the spine on May 10, 1865, near Taylorsville, Kentucky, and died in a Louisville prison on June 6, 1865. In August 1865 an action occurred above Fort Gibson between Federal troops and remnants of Quantrill's raiders. In this battle Jesse James was wounded and his outlaw career began.
Quantrill's reputation was made in the border war between Missouri and Kansas (Border State Civil War History). His Indian Territory operations lacked importance and exhibited none of the dash that he had showed in Kansas. The reasons are twofold. One, Quantrill and his men needed familiar surroundings to implement their guerrilla tactics. Indian Territory was alien to them, and they avoided conflict there. Second, Indian Territory did not have Unionist population centers that were ripe for his kind of terrorism. For Quantrill and his men, Indian Territory served as an escape route, not a field of action.
Even after his death, Quantrill and his followers remained almost folk heroes to their supporters in Missouri, and their celebrity status gripped several ex-Raiders, including Frank and Jesse James, and Cole and Jim Younger. They applied Quantrill's hit-and-run tactics to bank and train robberies, thus building on his legacy of bloodshed. This mythology of the Western outlaw remains fixed in the popular imagination. See also William Quantrill: A History.
Quantrill's Raiders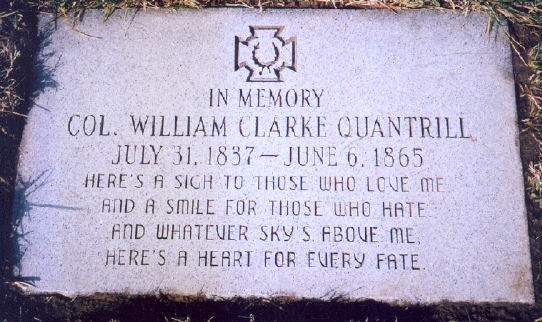 William Quantrill
*Quantrill's Raiders reunion circa 1875. The first official reunion, however, occurred in 1898, more than 30 years after Quantrill's death and the end of the Civil War. The name William Clarke Quantrill is still heralded by many while defamed by others, but most can agree on the fact that media and television have continued to recreate the likes of Quantrill and the men associated with his Partisan raiders.
(Bibliography and related reading below.)
Advance to:
A History of William Clarke Quantrill and Quantrill's Raiders.
BIBLIOGRAPHY: LeRoy H. Fischer and Lary C. Rampp, "Quantrill's Civil War Operations in Indian Territory," The Chronicles of Oklahoma 46 (Summer 1968); Albert Castel, William Clarke Quantrill: His Life and Times (Reprint ed.; Norman: University of Oklahoma Press, 1999); Official Records of the Union and Confederate Armies; National Archives and Records Administration; Library of Congress; James L. Huston, Oklahoma Historical Society; William Elsey Connelley, Quantrill and the Border Wars (New York: Pageant, 1909; rpt. 1956); Dictionary of American Biography. Patricia L. Faust, ed., Historical Times Illustrated Encyclopedia of the Civil War (New York: Harper and Row, 1986); Donald R. Hale, We Rode with Quantrill (Clinton, Missouri: Printery, 1975); Lary C. Rampp, "William C. Quantrill's Civil War Activities in Texas, 1861-1863," Texas Military History 8 (1970); David Paul Smith, Frontier Defense in Texas, 1861-1865 (Ph.D. dissertation, North Texas State University, 1987); Library of Congress; National Park Service; Official Records of the Union and Confederate Armies; National Archives; Oklahoma Historical Society.