Organization of Union and Confederate Armies
Introduction
When army is mentioned many think of infantry only, but the army organization is one branch of service, or one military service that consists of many components, mainly infantry, artillery, and cavalry, which are known for their fighting capabilities. Of course there were several other lesser known components and specialized units, such as "SS" meaning sharpshooters. It is important to understand how each component functioned and how it performed within the army organization. Today's U.S. Army is closely aligned and structured with the army that fought during the Civil War. For example, the army still refers to certain components as cavalry.
Civil War Army Organization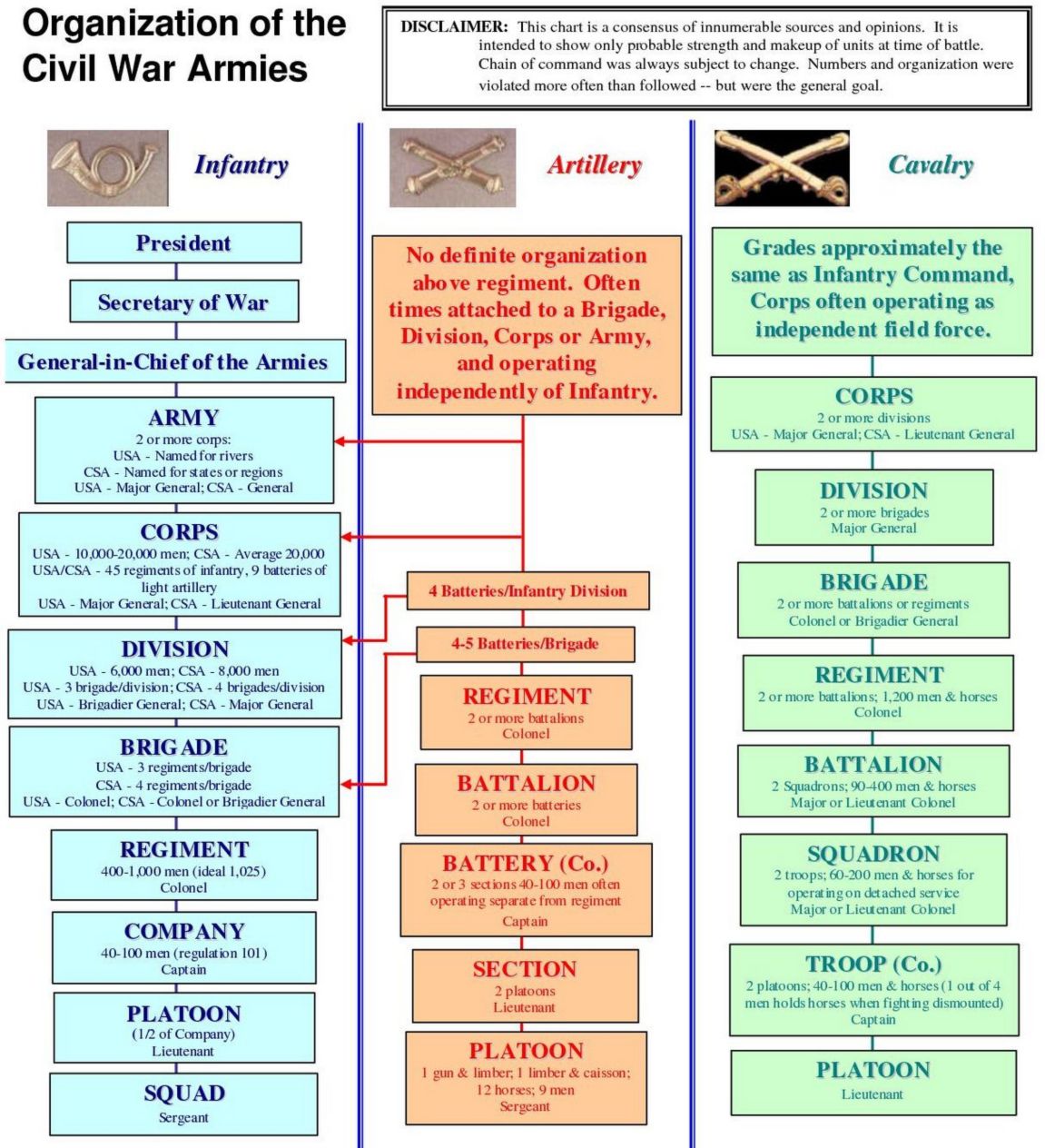 Organization of Union and Confederate Armies
History
The largest operational unit during the American Civil War was referred to as an "Army" (Army of Northern Virginia; Army of the Potomac, etc.) and it was named for the department in which it operated. A total of 16 separate armies were formed by the Union and 23 in the Confederacy.
By the summer of 1862, the armies of both sides were beginning to develop corps headquarters to control the divisions assigned to them (Union and Confederate Army Organizations at the Beginning of the American Civil War). In June 1862, General Lee divided his army into "wings" under Jackson and Longstreet, respectively. These were organized formally into corps in November of that year. An informal corps organization had existed among the Federal forces since late 1861. These were formally designated in July 1862, but first were numbered sequentially within their respective field armies, causing some confusion. Many of the corps were still forming at the time of the Second Manassas Campaign, hence they were not much better structured or coordinated than their Southern counterparts. There were usually two or three divisions in each corps (sometimes more). Normally three, occasionally four, brigades composed a division. Four or five regiments were assigned to a brigade. (Civil War Army: The Confederate and Union Infantry, Cavalry, and Artillery Organizations.)
Various manpower practices, plus battle losses, make it extremely difficult to calculate strength accurately by unit designation alone. Volunteer infantry regiments were composed of ten companies, with each authorized a maximum of 110 officers and men. A full regiment would have numbered about 1,100 officers and men. Regular U.S. Army Infantry regiments were organized into three battalions of three companies each and Federal heavy artillery regiments converted to infantry had three four-company battalions. As a result, they were slightly larger than the volunteer regiments. Federal regiments at Second Manassas had an average strength of 300 men, while similar Confederate units averaged 200 men. (American Civil War Infantry Organization.)
During the American Civil War, Northerners raised 1,696 infantry regiments, 272 cavalry regiments, 72 artillery regiments, and numerous independent and unattached units.
Organization of Union Army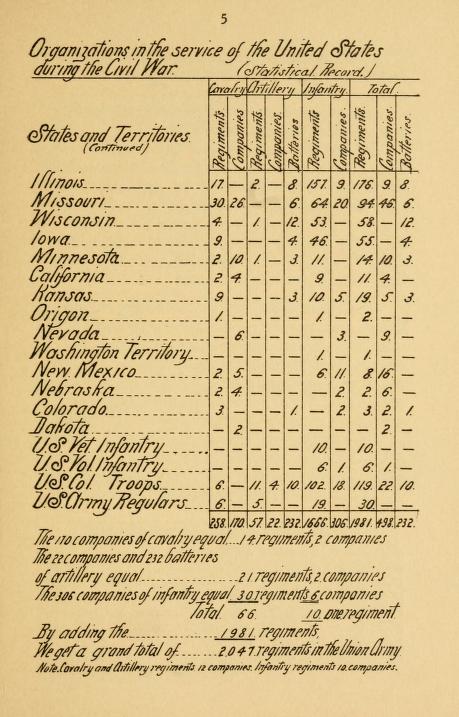 Total Union infantry regiments, artillery, and cavalry units
Organization of the Civil War Armies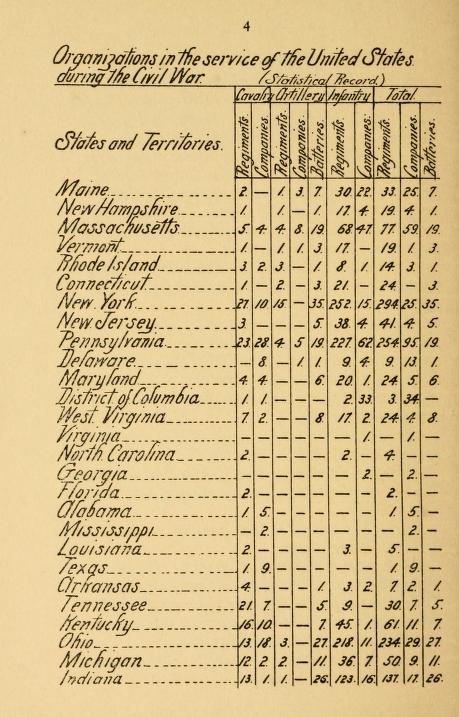 Total Union infantry, cavalry, and artillery units by state
Federal artillery batteries were standardized with six M1857 12-pounder Napoleon pieces. There were about 100 men in a full-strength Federal battery. Confederate batteries, on the other hand, ranged from six to two pieces and usually had various models of guns. This lack of uniformity was offset by a much better higher-level structure. Most Confederate artillery was grouped in battalions deployed under the orders of the wing commander. This arrangement allowed greater firepower to be brought to bear more responsively than on the Federal side. There, batteries were assigned to division, even brigade, levels, and often operated independently once the battle commenced. The Federals had 38 batteries with 182 guns at the
Battle of Second Manassas
(aka Second Bull Run), while the Confederates had 184 guns grouped in 45 batteries. (
American Civil War Artillery Organization
.)
During the Civil War, the North generally named a battle after the closest river, stream or creek, and the South tended to name battles after towns or railroad junctions. Hence the Confederate name Manassas after Manassas Junction, and the Union name Bull Run for the stream Bull Run.
The dissimilarities in centralization extended also to the cavalry. Confederate horse was organized in a single cavalry division, responsive to the needs of the army commander. It was used primarily to gather information. Federal practice assigned cavalry to corps and sometimes to as low as brigades. This deprived the army commander of any reconnaissance capability of his own. There was the probability (realized in the 1862 Manassas Campaign) that information would not get to him. This shortcoming was made worse by General Pope's philosophy of cavalry use. He caused his subordinates to push the cavalry mercilessly in deep raids and as hard-riding escorts and headquarters guards. Rarely was cavalry used by the Federals solely to obtain information. As a consequence, Pope frequently lost contact during critical changes, fatally hampering his planning. Concurrently, the cavalry became so debilitated it could not be a factor when it was needed the most or at the climax of the campaign. (American Civil War Cavalry Organization.)
Civil War Army Battlefield Formation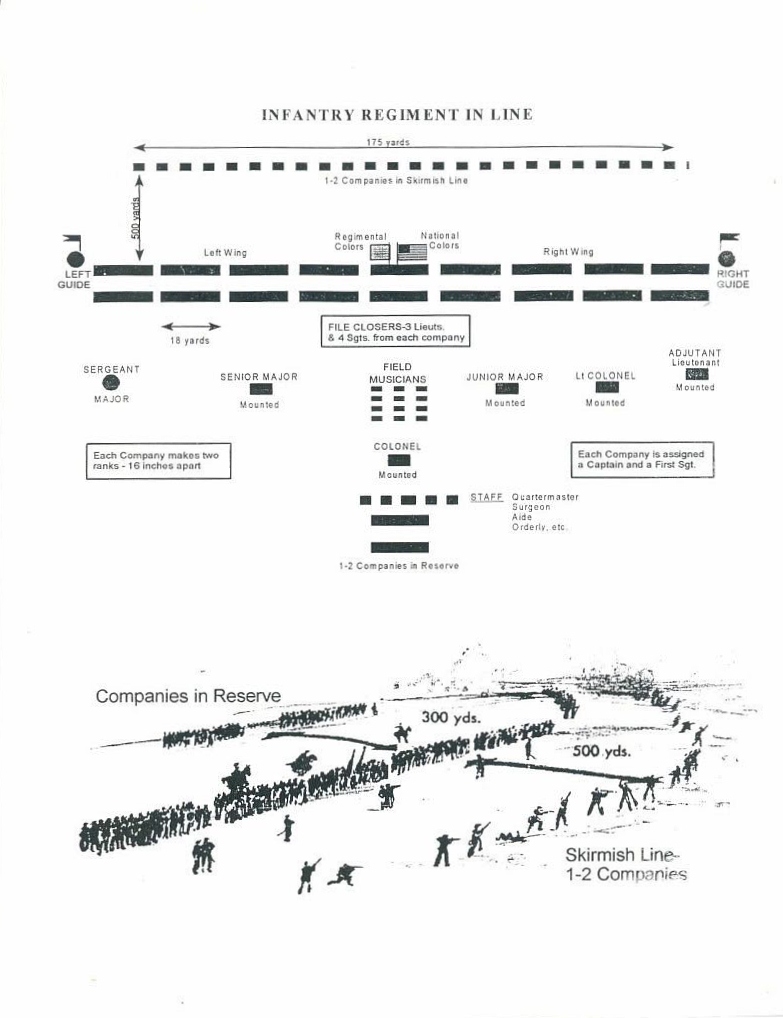 Civil War Infantry Formation, aka Battle Formation
(Related reading below.)
Sources: Official Records of the Union and Confederate Armies; National Park Service; National Archives; Library of Congress; The Union Army; Fox, William F. Regimental Losses in the American Civil War; United States Army Center of Military History; Hardesty, Jesse. Killed and died of wounds in the Union army during the Civil War (1915) Wright-Eley Co.
Recommended Reading: Brigades of Gettysburg: The Union and Confederate Brigades at the Battle of Gettysburg (Hardcover) (704 Pages). Description: While the battle of Gettysburg is certainly the most-studied battle in American history, a comprehensive treatment of the part played by each unit has been ignored. Brigades of Gettysburg fills this void by presenting a complete account of every brigade unit at Gettysburg and providing a fresh perspective of the battle. Continued below...
Using the words of enlisted men and officers, the author-well-known Civil War historian Bradley Gottfried-weaves a fascinating narrative of the role played by every brigade at the famous three-day battle, as well as a detailed description of each brigade unit. Organized by order of battle, each brigade is covered in complete and exhaustive detail: where it fought, who commanded, what constituted the unit, and how it performed in battle. Innovative in its approach and comprehensive in its coverage, Brigades of Gettysburg is certain to be a classic and indispensable reference for the battle of Gettysburg for years to come.
Advance to:
For Cause and Comrades: Why Men Fought in the Civil War
Recommended Reading: The Civil War: A Narrative, by Shelby Foote (3 Volumes Set) [BOX SET] (2960 pages) (9.2 pounds). Review: This beautifully written trilogy of books on the American Civil War is not only a piece of first-rate history, but also a marvelous work of literature. Shelby Foote brings a skilled novelist's narrative power to this great epic. Many know Foote for his prominent role as a commentator on Ken Burns's PBS series about the Civil War. These three books, however, are his legacy. His southern sympathies are apparent: the first volume opens by introducing Confederate President Jefferson Davis, rather than Abraham Lincoln. But they hardly get in the way of the great story Foote tells. This hefty three volume set should be on the bookshelf of any Civil War buff. --John Miller. Continued below.
Product Description:
Foote's comprehensive history of the Civil War includes three compelling volumes: Fort Sumter to Perryville, Fredericksburg to Meridian, and Red River to Appomattox. Collected together in a handsome boxed set, this is the perfect gift for any Civil War buff.
Fort Sumter to Perryville
"Here, for a certainty, is one of the great historical narratives of our century, a unique and brilliant achievement, one that must be firmly placed in the ranks of the masters." —Van Allen Bradley, Chicago Daily News
"Anyone who wants to relive the Civil War, as thousands of Americans apparently do, will go through this volume with pleasure.... Years from now, Foote's monumental narrative most likely will continue to be read and remembered as a classic of its kind." —New York Herald Tribune Book Review
Fredericksburg to Meridian
"This, then, is narrative history—a kind of history that goes back to an older literary tradition.... The writing is superb...one of the historical and literary achievements of our time." —The Washington Post Book World
"Gettysburg...is described with such meticulous attention to action, terrain, time, and the characters of the various commanders that I understand, at last, what happened in that battle.... Mr. Foote has an acute sense of the relative importance of events and a novelist's skill in directing the reader's attention to the men and the episodes that will influence the course of the whole war, without omitting items which are of momentary interest. His organization of facts could hardly be bettered." —Atlantic
Red River to Appomattox
"An unparalleled achievement, an American Iliad, a unique work uniting the scholarship of the historian and the high readability of the first-class novelist." —Walker Percy
"I have never read a better, more vivid, more understandable account of the savage battling between Grant's and Lee's armies.... Foote stays with the human strife and suffering, and unlike most Southern commentators, he does not take sides. In objectivity, in range, in mastery of detail in beauty of language and feeling for the people involved, this work surpasses anything else on the subject.... It stands alongside the work of the best of them." —New Republic
Recommended Reading: Arms and Equipment of the Civil War. Description: Enhanced with marvelous illustrations, the text describes what materiel was available to the armies and navies of both sides — from iron-clad gunboats, submarine torpedoes, and military balloons to pontoon bridges, percussion grenades, and siege artillery — with on-the-scene comments by Union and Confederate soldiers about equipment and camp life. Includes more than 500 black-and-white illustrations. RATED 5 STARS. Continued...
Recommended Reading: The 1863 U.S. Infantry Tactics: Infantry of the Line, Light Infantry, and Riflemen (Hardcover: 608 pages). Description: Written in 1861 at the direction of the War Department and copiously illustrated, this was the book used to train, lead, and maneuver U.S. Infantry units on Civil War battlefields. It contains the school of the soldier, the company, and battalion or fielded regiment, along with all-important instructions for skirmishers. Continued below...
More than 15 pages of field music, the articles of war in use at the time, and a dictionary of Civil War military terminology complete this extensive work. The work was authorized and adopted by the Secretary of War on May 1, 1861. This is the second edition issued in 1863.
Recommended Reading: Civil War Collector's Encyclopedia: Arms, Uniforms and Equipment of the Union and Confederacy. Description: This comprehensive and exhaustive reference identifies and describes the use and application of more than 800 items. Arranged alphabetically by topic, subjects range from artillery accouterments and boats to tools and patriotic sheet music. "Everything an interested reader would want to know . . . A must-have book." — Antiques & Auction News. Over 350 rare illustrations. Continued below...
The Civil War buff and even serious collector of Civil War arms, uniforms and equipment should purchase the Civil War Collector's Encyclopedia: Arms, Uniforms And Equipment Of The Union And Confederacy as an indispensable reference and core guide in this specialized area of military antiques and collectibles with noted authority Francis A. Lord covering almost everything to do with Civil War memorabilia--from equipment to Union and Confederate uniforms.
Recommended Viewing: The Civil War on DVD, A Film by Ken Burns. The Civil War, by Ken Burns, is an 11 hour mini-series and the most successful documentary in American history. Massive in scope and scale--including numerous scholars and Civil War historians--The Civil War has set a new standard for Civil War documentaries...
Recommended Reading: Battles and Leaders of the Civil War, Volume 6 (Battles & Leaders of the Civil War) (632 pages) (University of Illinois Press) (May 30, 2007). Description: Sifting carefully through reports from newspapers, magazines, personal memoirs, and letters, Peter Cozzens' Volume 6 brings readers more of the best first-person accounts of marches, encampments, skirmishes, and full-blown battles, as seen by participants on both sides of the conflict. Continued below...
Alongside the experiences of lower-ranking officers and enlisted men are accounts from key personalities including General John Gibbon, General John C. Lee, and seven prominent generals from both sides offering views on "why the Confederacy failed." This volume includes one hundred and twenty illustrations, including sixteen previously uncollected maps of battlefields, troop movements, and fortifications.
Recommended Reading: Rebels and Yankees: Commanders of the Civil War (Hardcover), by William C. Davis (Author), Russ A. Pritchard (Author). Description: Davis and Pritchard have created a wonderful work that is sure to become a hit with anyone who studies the Civil War. This book uses words and a generous amount of pictures and photographs to tell the story of the leaders, both talented and flawed, that held together the two struggling armies in a time of chaos and devastating loss. Continued below...
Although many of the stories have been told in one form or another.... Commanders compiles this study in a single book that makes it very easy to compare and contrast the styles and techniques employed by officers of both armies. I thoroughly enjoyed the book and highly recommend it.