The 3rd Battle of Winchester, part of Sheridan's Valley Campaign, was Grant's response to Early's relentless pressure throughout the Shenandoah Valley.
Sheridan's Valley Campaign [August-October 1864] witnessed the following battles: Guard Hill – Summit Point – Smithfield Crossing – Berryville – 3rd Winchester – Fisher's Hill – Tom's Brook – Cedar Creek.
3rd Battle of Winchester Map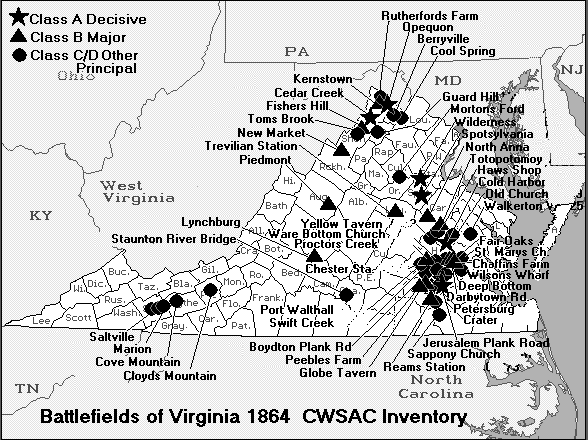 Confederate Officers and Men Captured
CAPTURED CONFEDERATE OFFICERS AS POSTED IN THE NORFOLK, VIRGINIA, NEWSPAPER "THE NEW REGIME" 1864

COL. R. T. BENNETT, 14TH NORTH CAROLINA.
1st LIEUT. N.B. FERRY, 51st VA.
1st LIEUT J.J. PORTER, 13TH VA
1st LIEUT J.A. JOHNst ON, 45TH VA
CAPT Z.T. ROSS, 13TH VIRGINIA.
CAPT. H.W. WINGFIELD, 58TH VA.
LIEUT COL H. W. CECKLEY, 44TH VA.
1st LIEUT J.E. WILLS, 51st VA.
2d LIEUT R.I. WALDRON, 58TH VA.
CAPT. F.M. WRIGHT, 58TH VA.
W.R. GILLETT, 52d VA
2nd LIEUT J.A.T. GROSSELOSE, 51st VA.
1st LIEUT WM. R. FISHER, 45TH VA.
CAPT. H.C. GROSSELOSE, 36TH VA.
CAPT C. BAUMGARDNER, 45TH VA.
2d LIEUT P.P. PECK, 26TH VA.
2d LIEUT N.C. REPASS, 51st VA.
1st LIEUT W.P. HOWARD, 51st VA.
3d LT. A. D. GROSSELOSE 51st VA.
2nd LIEUT JK.L. VASS, 36TH VA.
2nd LIEUT G.A. McGEE, 36TH VA.
2nd LIEUT E. BLACK, 36TH VA.
2nd LIEUT M. M. HINES, 36TH VA.
COL. I.T. HOOPER 21st GA.
LIEUT COL. G.M. EDGAR, 25TH VA.
2d LIEUT L.B. DUNN, 26TH VA
2d LIEUT J.J. GATLING, 5TH N.C.
1st LIEUT J.B. SAMUELS, 10TH VA
2d LIEUT A.B. KELLER, 23d VA
2d LIEUT. J.R. COX, 45TH VA.
2d LIEUT W. A. BIDDICK, 5TH N.C.
1st LIEUT J.D. IRWIN, 20TH N.C.
CAPT D. BENNER, 26TH VA
2d LIEUT W. A. BIDDICK, 5TH N.C.
1st LIEUT J.D. IRWIN, 20TH N.C.
CAPT D. BENNER, 26TH VA
2d LIEUT J.N. HANNA, 52d VA.
1st LIEUT C.T. GILLESPY, 45TH VA
2st LIEUT J.O. MAXWELL, 45TH VA.
3d LIEUT B.S. HICKS, 45TH VA.
1st LIEUT M.G. WEBB, 45TH N.C.
2d LIEUT J.C. SPANLER, 46TH VA.
3d LIEUT A.A. COX, 26TH VA.
3d LIEUT S.C. McNEIL 46TH VA.
3rd LIEUT J.S. PERRY, 45TH VA.
3d LIEUT J. HUDSON, 45TH VA.
CAPT. F.M. PERRY, 23d VA.
2d LIEUT. J. O. BUCHANAN, 23d VA.
3d LIEUT L.S. CAMPBELL, 23d VA
3d LIEUT D.F. BARNS 23d VA
2d LIEUT B.L. WATSON, 5TH N.C.
2d LIEUT H.H. SMITH, 5TH N.C.
2d LIEUT S.J. SKELTON, 28d VA
2d LIEUT J.J. HIGGINS, 60TH gA
1st LIEUT O.C. LIPSCOMB, , 52nd VA
2d LT. C.M. CAMPTON, 31st GA.
2d LT J.B. PECK, 26TH VA
2d LT A SUERTAUGH, 6OTH VA
LT COL G.A. GOODMAN, 16TH VA
1st LIEUT B.F. CURTRIGHT, 13TH GA
2d LT J.K. KINMAN, 12TH GA
CAPT J.N. SHANLAIN, 60TH VA
1st LIEUT A.B. SYDENst RICKER, 60TH VA
CAPT L.A. VAWLER, 30TH VA.
1st LIEUT J. A. DOUGLAS 30TH vA
CAPT E.H. LYON, 23d N.C.
CAPT. J. GOLLABAN, 23d VA
1st LIEUT J.R. BLACKWOOD, 45TH VA,
2d LIEUT J.T. JAMES, 23Nd VA
3d LIEUT B.F. COLE, 23d VA
1st LIEUT J.M. SCOTT, 23d VA
1st LIEUT J.F. HARRISON, 23d VA.
LIEUT COL. J.A. McKAMY, THOMAS' LEGION [Camp Morton: alive in January 1865]
CAPT J.M. SINGLETON, THOMAS' LEGION [Took "Oath of Allegiance" on June 17, 1865]
2d LIEUT L.R. YOUNG THOMAS' LEGION
MAJ. W.S. ROWAN, 60TH VA.
CAPT J.W. JOHNSON, 60TH VA
1st . LIEUT C.H. ACTON, 60TH VA
2nd LIEUT WILLIAM ADAIR, 30TH VA
5d LIEUT J.INGRAM 20TH N.C.
2st LIEUT H.M.WARREN, 4TH N.C.
2d LT. T. M. C. DAVIDSON, 4TH N.C.
CAPT N.H. CHADWICK, 2d N.C.
1st LT. T.W. LUFTWICK, 36TH VA
2d LT M.D. STONE, 36TH VA
2d J.A. BURNETT, 51 st . VA
2d LT. J.A. HALL, 53d N.C.
2d LT. J.N. SCOTT, do.
3d LT. C.P. NICKELL, 26TH VA
2d LT N.H. BAILY, 22Nd VA
3d LT C.P. NICKELL, 26TH VA
2d LT N.H. BAILY, 22Nd vA
3D. LT. J.D. MILLER, 22Nd VA
2d LT J.F. CAMPELL, do.
3d LT S.F. COUUIS, do,
LIEUT COL. NELLIGAN, 1st LOUSIANA INFANTRY,
LIEUT COL. C. DERMIT, 23d VA INFANTRY
LT. COL. EDGAR, EDGAR'S BATTALION
Recommended Reading: To Die in Chicago: Confederate Prisoners at Camp Douglas 1862-65 (Hardcover) (446 pages). Description: The author's research is exacting, methodical, and painstaking. He brought zero bias to the enterprise and the result is a stunning achievement that is both scholarly and readable. Douglas, the "accidental" prison camp, began as a training camp for Illinois volunteers. Donalson and Island #10 changed that. The long war that no one expected… combined with inclement weather – freezing temperatures - primitive medical care and the barbarity of the captors created in the author's own words "a death camp." Stanton's and Grant's policy of halting the prisoner exchange behind the pretense of Fort Pillow accelerated the suffering. Continued below...
In the latest edition, Levy found the long lost hospital records at the National Archives which prove conclusively that casualties were deliberately "under reported." Prisoners were tortured, brutality was tolerated and corruption was widespread. The handling of the dead rivals stories of Nazi Germany. The largest mass grave in the Western Hemisphere is filled with....the bodies of Camp Douglas dead, 4200 known and 1800 unknown. No one should be allowed to speak of Andersonville until they have absorbed the horror of Douglas, also known as "To Die in Chicago."
Recommended Reading: From Winchester to Cedar Creek: The Shenandoah Campaign of 1864. Amazon.com Review: Virginia's Shenandoah Valley was a crucial avenue for Confederate armies intending to invade Northern states during the Civil War. Running southwest to northeast, it "pointed, like a giant's lance, at the Union's heart, Washington, D.C.," writes Jeffry Wert. It was also "the granary of the Confederacy," supplying the food for much of Virginia. Both sides long understood its strategic importance, but not until the fall of 1864 did Union troops led by Napoleon-sized cavalry General Phil Sheridan (5'3", 120 lbs.) finally seize it for good. He defeated Confederate General Jubal Early at four key battles that autumn. Continued below…
In addition to a narrative of the campaign (featuring dozens of characters, including General George Custer and future president Rutherford B. Hayes), this book is a study of command. Both Sheridan and Early were capable military leaders, though each had flaws. Sheridan tended to make mistakes before battles, Early during them. Wert considers Early the better general, but admits that few could match the real-time decision-making and leadership skills of Sheridan once the bullets started flying: "When Little Phil rode onto the battlefield, he entered his element." Early was a bold fighter, but lacked the skills necessary to make up for his disadvantage in manpower. At Cedar Creek, the climactic battle of the 1864 Shenandoah campaign, Early "executed a masterful offensive against a numerically superior opponent, only to watch it result in ruin." With more Confederate troops on the scene, history might have been different. Wert relates the facts of what actually happened with his customary clarity and insightful analysis.
Recommended Reading: So Far from Dixie: Confederates in Yankee Prisons (Hardcover: 312 pages). Description: This book is the gripping history of five men who were sent to Elmira, New York's infamous POW camp, and survived to document their stories. You will hear and even envision the most stirring and gripping true stories of each soldier / prisoner that lived and survived the most horrible nightmares of the conflict while tortured and even starved as "THE PRISONER OF WAR."
Recommended Reading:
Portals to Hell: Military Prisons of the Civil War.
Description:
The military prisons of the Civil War, which held more than four hundred thousand soldiers and caused the deaths of fifty-six thousand men, have been nearly forgotten. Lonnie R. Speer has now brought to life the least-known men in the great struggle between the Union and the Confederacy, using their own words and observations as they endured a true "hell on earth." Continued below...
Drawing on scores of previously unpublished firsthand accounts, Portals to Hell presents the prisoners' experiences in great detail and from an impartial perspective. The first comprehensive study of all major prisons of both the North and the South, this chronicle analyzes the many complexities of the relationships among prisoners, guards, commandants, and government leaders. It is available in paperback and hardcover.
Recommended Reading: The Shenandoah Valley Campaign of 1864 (McFarland & Company). Description: A significant part of the Civil War was fought in the Shenandoah Valley of Virginia, especially in 1864. Books and articles have been written about the fighting that took place there, but they generally cover only a small period of time and focus on a particular battle or campaign. Continued below...
This work covers the entire year of 1864 so that readers can clearly see how one event led to another in the Shenandoah Valley and turned once-peaceful garden spots into gory battlefields. It tells the stories of the great leaders, ordinary men, innocent civilians, and armies large and small taking part in battles at New Market, Chambersburg, Winchester, Fisher's Hill and Cedar Creek, but it primarily tells the stories of the soldiers, Union and Confederate, who were willing to risk their lives for their beliefs. The author has made extensive use of memoirs, letters and reports written by the soldiers of both sides who fought in the Shenandoah Valley in 1864.
Recommended Reading: Hardtack & Coffee or The Unwritten Story of Army Life. Description: Most histories of the Civil War focus on battles and top brass. Hardtack and Coffee is one of the few to give a vivid, detailed picture of what ordinary soldiers endured every day—in camp, on the march, at the edge of a booming, smoking hell. John D. Billings of Massachusetts enlisted in the Army of the Potomac and survived the hellish conditions as a "common foot soldier" of the American Civil War. "Billings describes an insightful account of the conflict – the experiences of every day life as a common foot-soldier – and a view of the war that is sure to score with every buff." Continued below...
The authenticity of his book is heightened by the many drawings that a comrade, Charles W. Reed, made while in the field. This is the story of how the Civil War soldier was recruited, provisioned, and disciplined. Described here are the types of men found in any outfit; their not very uniform uniforms; crowded tents and makeshift shelters; difficulties in keeping clean, warm, and dry; their pleasure in a cup of coffee; food rations, dominated by salt pork and the versatile cracker or hardtack; their brave pastimes in the face of death; punishments for various offenses; treatment in sick bay; firearms and signals and modes of transportation. Comprehensive and anecdotal, Hardtack and Coffee is striking for the pulse of life that runs through it.
Recommended Reading: The Life of Johnny Reb: The Common Soldier of the Confederacy (444 pages) (Louisiana State University Press) (Updated edition: November 2007) Description: The Life of Johnny Reb does not merely describe the battles and skirmishes fought by the Confederate foot soldier. Rather, it provides an intimate history of a soldier's daily life--the songs he sang, the foods he ate, the hopes and fears he experienced, the reasons he fought. Wiley examined countless letters, diaries, newspaper accounts, and official records to construct this frequently poignant, sometimes humorous account of the life of Johnny Reb. In a new foreword for this updated edition, Civil War expert James I. Robertson, Jr., explores the exemplary career of Bell Irvin Wiley, who championed the common folk, whom he saw as ensnared in the great conflict of the 1860s. Continued below...
About Johnny Reb:
"A Civil War classic."--Florida Historical Quarterly
"This book deserves to be on the shelf of every Civil War modeler and enthusiast."--Model Retailer
"[Wiley] has painted with skill a picture of the life of the Confederate private. . . . It is a picture that is not only by far the most complete we have ever had but perhaps the best of its kind we ever shall have."--Saturday Review of Literature