Thomas' Legion
American Civil War HOMEPAGE
American Civil War
Causes of the Civil War : What Caused the Civil War
Organization of Union and Confederate Armies: Infantry, Cavalry, Artillery
Civil War Navy: Union Navy and Confederate Navy
American Civil War: The Soldier's Life
Civil War Turning Points
American Civil War: Casualties, Battles and Battlefields
Civil War Casualties, Fatalities & Statistics
Civil War Generals
American Civil War Desertion and Deserters: Union and Confederate
Civil War Prisoner of War: Union and Confederate Prison History
Civil War Reconstruction Era and Aftermath
American Civil War Genealogy and Research
Civil War
American Civil War Pictures - Photographs
African Americans and American Civil War History
American Civil War Store
American Civil War Polls
NORTH CAROLINA HISTORY
North Carolina Civil War History
North Carolina American Civil War Statistics, Battles, History
North Carolina Civil War History and Battles
North Carolina Civil War Regiments and Battles
North Carolina Coast: American Civil War
HISTORY OF WESTERN NORTH CAROLINA
Western North Carolina and the American Civil War
Western North Carolina: Civil War Troops, Regiments, Units
North Carolina: American Civil War Photos
Cherokee Chief William Holland Thomas
HISTORY OF THE CHEROKEE INDIANS
Cherokee Indian Heritage, History, Culture, Customs, Ceremonies, and Religion
Cherokee Indians: American Civil War
History of the Eastern Band of Cherokee Indian Nation
Cherokee War Rituals, Culture, Festivals, Government, and Beliefs
Researching your Cherokee Heritage
Civil War Diary, Memoirs, Letters, and Newspapers

Civil War Letters
North Carolina and the Confederate Army
John and Agatha Cloer are the parents to Private William M. Cloer of the 62nd North Carolina Infantry Regiment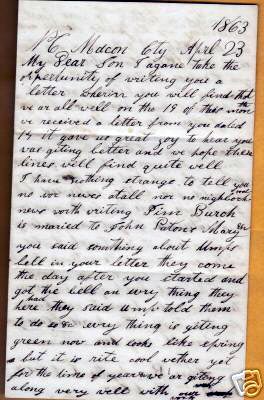 For authenticity, original spelling is intact for each transcription:
[John B. and Agatha S. Cloer to their son William M. Cloer]
Macon City [NC]
23 April 1863
My Dear Son,

I again take the opportunity of writing you a letter where in you will find that we are all well. On the 19th of this month we received a letter from you dated 14. It gave us great joy to hear you was getting better and we hope these lines will find [you] quite well.
I have nothing strange to tell you. No war news at all nor no neighborhood news worth writing. Jim Burch is married to John Paton's Mary. You said something about Ump's bell in your letter. They come the day after you started and got the bell and everything they had here. They said Ump told them to do so.
Everything is getting green now and looks like Spring but it is right cool weather yet for the time of year. We are getting along very well with our work. I started a letter to you last Saturday by Mr. Dills people and they forgot to take it to the office and they sent it to Ben Carpenter to take to you. I suppose he started last Monday morning. The neighbors are all well so far as I know. I was up at Picholase last Friday. They was all about.
Give my respects to all my acquaintance where you are. I think the time long to see you. If I knew you was doing well and had good fair I could be better satisfied but I want you to do the best you can. Be satisfied if you can as long as it is as it is. I wish I could write something interesting to you but trust in the Lord and he will help you in every time of need. I must conclude for this time. The Lord bless you. So farewell my son.
John B. and Agatha S. Cloer
Source: Private Collection
[John B. and Agatha S. Cloer to their son Wm M Cloer]
1 May 1863
Macon City, NC
My Dear Son,
I again take pleasure of writing a few lines to you informing you that we are in common health, all able to work and hope these lines will find you in good health and fairing well. I have nothing new to tell you. We don't get any news now. Some of Mr. Dill's people brought knapsack of things up to the Roan Mill and I am going to bring them home today I reckon.
Wallis started to camp yesterday or today. We sent a bottle of ink by Mr. Nickels to Wallis to take to you and I have not heard of him since. Tell Ump I heard from his family a few days ago and they was all well. The neighbors is all well as far as I know. John Hopkin's family was well yesterday. His wife says she ain't got but one letter from him since he left home and is very uneasy to hear from him and wants you to write something of him in your next letter.
We heard from some of the boys in Crawford's company not long ago and they was well. Thad Nickels was still at the hospital in Georgia but is better than he has been. I ain't heard from John nor Nick since I wrote to you last .
We still have right cool weather for the time of year but very fine seasons. It is said that wheat crops is promising.
James Franks was here yesterday and was good enough to give me 10 dollars. It is his duty to know whether the volunteers with families have support enough or not.
I want to see you. The time is long and lonesome but I hope there is a better day a coming. We got a letter from you dated April 20. We was glad to hear from you and hear you was in better health than you had been. Write to us every week. We have wrote to you every week since we got the first letter from you and intend to do so. We are sorry to think you are needy of anything and wish we could help you to everything you need.
I want you get along the best you can and live in hope of better times. Give my respects to the boys and tell them I wish them well. I must conclude this time and remain your Father and Mother until death. May the Lord bless you. So goodbye my son. I hope to see you again.
[John B. and Agatha S. Cloer to their son Wm M Cloer]
I hope you have got a letter from us before now
Source: Private Collection
Recommended Reading: The Civil War in North Carolina: Soldiers' and Civilians' Letters and Diaries, 1861-1865. Volume 2: The Mountains (Civil War in North Carolina) (Hardcover). Description: As with The Civil War in North Carolina: Soldiers' and Civilians' Letters and Diaries, 1861-1865. Vol. 1: The Piedmont, this work presents letters and diary entries (and a few other documents) that tell the experiences of soldiers and civilians from the mountain counties of North Carolina during the Civil War. The counties included are Alleghany, Ashe, Buncombe, Burke, Caldwell, Cherokee, Clay, Haywood, Henderson, Jackson, McDowell, Macon, Madison, Mitchell, Polk, Rutherford, Surry, Transylvania, Watauga, Wilkes, and Yancey. The book is arranged chronologically, 1861 through 1865. Before each letter or diary entry, background information is provided about the writer. Continued below.
The Civil War in North Carolina: Soldiers' and Civilians' Letters and Diaries, 1861-1865 (Volume 2): The Mountains, is the soldier's story. It is an A-to-Z compilation of what the "rank and file soldier" experienced during the American Civil War. The Western North Carolina soldiers express their hearts to their loved ones and friends, thus allowing the reader the most intimate and personal view of the war. From triumph to tragedy, the "soldiers' letters" express what few authors or writers can achieve--realism. According to cartographic and demographic studies, Southern Appalachia comprised a unique indigenous people, and by isolating these rare letters it allows the reader the most detailed insight to their experiences. The soldier experienced various traumatic stressors in the conflict: such as witnessing death or dismemberment, handling dead bodies, traumatic loss of comrades, realizing imminent death, killing others and being helpless to prevent others' deaths. Plain, raw and to the point: The reader will witness the most detailed insight to the so-called American Civil War. Intimate and personal: diseases, privation, wounds, loneliness, exhaustion, heartache, and death are all explored. This book includes a lot of information about: Western North Carolina Civil War History (North Carolina mountain troops), soldiers' photos (some tintype photographs too), and rare pictures. For example, on page 143, there is a photo of Gov. Zeb Vance's brother, Robert, at Fort Delaware Prisoner of War Camp; he had been captured by Pennsylvania cavalry in East Tennessee. You may see a rare photo or letter of an ancestor. The maps, which reflect the region, have keys which place each regiment to each western county (where the troops were raised). The soldiers - collectively - also present a detailed North Carolina Civil War History. By reading the letters, you will easily form a timeline that is filled with first-hand facts. To be very candid, it is not only filled with primary accounts of the war, but it is one of the best books to read about the war...Creates an indispensable historical timeline of events of the brave men from the Old North State.
Recommended Reading: Trace Your Roots with DNA: Using Genetic Tests to Explore Your Family Tree. Description: Written by two of the country's top genealogists, this authoritative book is the first to explain how new and groundbreaking genetic testing can help you research your ancestry. According to American Demographics, 113 million Americans have begun to trace their roots, making genealogy the second most popular hobby in the country (after gardening). Enthusiasts clamor for new information from dozens of subscription-based websites, email newsletters, and magazines devoted to the subject. For these eager roots-seekers looking to take their searches to the next level, DNA testing is the answer. After a brief introduction to genealogy and genetics fundamentals, the authors explain the types of available testing, what kind of information the tests can provide, how to interpret the results, and how the tests work (it doesn't involve digging up your dead relatives). It's in expensive, easy to do, and the results are accurate: It's as simple as swabbing the inside of your cheek and popping a sample in the mail. Continued below...
Family lore has it that a branch of our family emigrated to Argentina and now I've found some people there with our name. Can testing tell us whether we're from the same family? My mother was adopted and doesn't know her ethnicity. Are there any tests available to help her learn about her heritage? I just discovered someone else with my highly unusual surname. How can we find out if we have a common ancestor? These are just a few of the types of genealogical scenarios readers can pursue. The authors reveal exactly what is possible-and what is not possible-with genetic testing. They include case studies of both famous historical mysteries and examples of ordinary folks whose exploration of genetic genealogy has enabled them to trace their roots.
Related Reading:
Recommended Reading: Hardtack & Coffee or The Unwritten Story of Army Life. Description: Most histories of the Civil War focus on battles and top brass. Hardtack and Coffee is one of the few to give a vivid, detailed picture of what ordinary soldiers endured every day—in camp, on the march, at the edge of a booming, smoking hell. John D. Billings of Massachusetts enlisted in the Army of the Potomac and survived the hellish conditions as a "common foot soldier" of the American Civil War. "Billings describes an insightful account of the conflict – the experiences of every day life as a common foot-soldier – and a view of the war that is sure to score with every buff." Continued below.
The authenticity of his book is heightened by the many drawings that a comrade, Charles W. Reed, made while in the field. This is the story of how the Civil War soldier was recruited, provisioned, and disciplined. Described here are the types of men found in any outfit; their not very uniform uniforms; crowded tents and makeshift shelters; difficulties in keeping clean, warm, and dry; their pleasure in a cup of coffee; food rations, dominated by salt pork and the versatile cracker or hardtack; their brave pastimes in the face of death; punishments for various offenses; treatment in sick bay; firearms and signals and modes of transportation. Comprehensive and anecdotal, Hardtack and Coffee is striking for the pulse of life that runs through it.
Recommended Reading: Confederate Military History Of North Carolina: North Carolina In The Civil War, 1861-1865. Description: The author, Prof. D. H. Hill, Jr., was the son of Lieutenant General Daniel Harvey Hill (North Carolina produced only two lieutenant generals and it was the second highest rank in the army) and his mother was the sister to General "Stonewall" Jackson's wife. In Confederate Military History Of North Carolina, Hill discusses North Carolina's massive task of preparing and mobilizing for the conflict; the many regiments and battalions recruited from the Old North State; as well as the state's numerous contributions during the war. Continued below...
During Hill's
Tar
Heel
State
study, the reader begins with interesting and thought-provoking statistical data regarding the 125,000 "
Old
North
State
" soldiers that fought during the course of the war and the 40,000 that perished. Hill advances with the Tar Heels to the first battle at
Bethel
, through numerous bloody campaigns and battles--including
North Carolina
's contributions at the "High Watermark" at
Gettysburg
--and concludes with General Robert E. Lee's surrender at
Appomattox
.
Recommended Reading: The Civil War in North Carolina. Description: Numerous battles and skirmishes were fought in North Carolina during the Civil War, and the campaigns and battles themselves were crucial in the grand strategy of the conflict and involved some of the most famous generals of the war. John Barrett presents the complete story of military engagements across the state, including the classical pitched battle of Bentonville--involving Generals Joe Johnston and William Sherman--the siege of Fort Fisher, the amphibious campaigns on the coast, and cavalry sweeps such as General George Stoneman's Raid.