Colonel James Robert Love
(August 19, 1831 - November 10, 1885)
A Love Affair
James Robert Love II (Aug. 19, 1831 - Nov. 10, 1885), of the prominent North Carolina Love family, graduated from Emory and Henry College, studied law at Asheville, and was a statesman in both North Carolina and Tennessee. After the Civil War, he would become a member of the North Carolina Constitutional Convention (1868) and serve in the North Carolina State Senate. Like many of his family, Love acquired large land holdings and practiced law. Having moved to Sweetwater, Monroe County, Tennessee during his latter years, Love would be elected to the Tennessee House of Representatives in 1884, an office he would hold until the time of his death.
James R. Love
, also known as J.R. Love, was first cousin to Sarah Love, the wife of Confederate colonel and Cherokee chief William Holland Thomas. His grandfather was
Robert Love
, the patriarch of the city of Waynesville, a rural town nestled in the pristine mountains of North Carolina.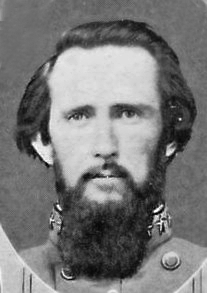 Colonel James Robert Love
(Right) James Robert Love while in his early 30s during the Civil War.
Postwar, James Love married Julia Reagan, in 1868, and they resided in western North Carolina before moving to her hometown of
Sweetwater, Tennessee
, the location where Love would continue to increase his landholdings and serve as a distinguished statesman. Julia's father was James Reagan, a 60-something year old serving as a brigadier general in the Tennessee militia, and late in the four year war he was arrested by Federals and imprisoned in Kn
oxville
, the location where he would die just six months before the conflict ended.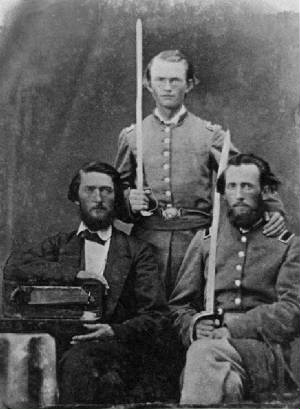 Love Brothers
Suffering from lingering wounds that he received while serving under Lee in the Army of Northern Virginia, Love was serving as a representative in the lower house of the Tennessee General Assembly when he died on Nov. 10, 1885, aged 54. He wife Julia would remain a widow and wait several years, 41 to be exact, before joining James in the hereafter as her body was laid to rest next to her late husband on January 1, 1926.
(Right) Love Brothers. A wartime photograph of James R. Love (seated right) and two of his brothers: Dr. John C. Love (seated left) and Dillard L. Love (standing). The three brothers posed for this picture while they were all members of the 16th North Carolina. Dr. Love later became Assist. Surgeon of Thomas' Regiment. Dillard Love, at the time of this photo, was Lieut. in Co. A, which was transferred to the 39th North Carolina after brief service with Thomas' Legion. Courtesy Clark's Regiments.
There were numerous Confederate veterans, including those of the Love and Reagan families, who have been interred in the
West
View
Cemetery
on
Monroe Street
,
in Sweetwater
,
TN
.
Civil War
For most of the Civil War, also called the Confederate War, Lieutenant Colonel James Robert Love was Commanding Colonel of the unit's infantry regiment, causing many to refer to it as Love's Regiment.
With its infantry, cavalry and artillery, the Thomas Legion was similar to the organization and size of any given brigade of the conflict. Early in the war the legion would occasionally place in the field some 2,500 men, including a fraction of the 400 Cherokee Indians that would eventually fill its ranks. The soldiers of the unit hailed mainly from the mountains of North Carolina, with a portion from just over the other side of the rugged terrain in nearby East Tennessee.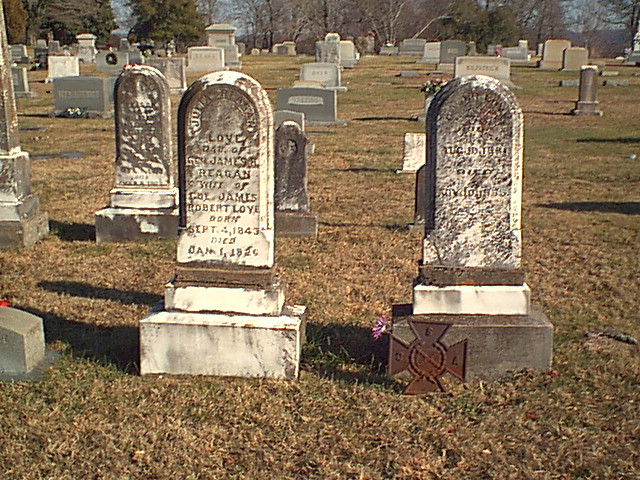 Rank
In respect to the highest rank attained by James Robert Love during his Civil War service, some assign Lieutenant Colonel and the other Colonel, commonly know as full-bird, but both can't be correct. The answer may be found in the official documents themselves, however.
Almost one month after Lee surrendered to Grant, we find in the
Official Records of the Union and Confederate Armies, 1, 49, part II, p. 669
, that on May 7, 1865, one Union Colonel C.G. Hawley, Commanding IV Brigade, IV Division, Department of the Cumberland, reported to headquarters that, "I have the honor to report that General Martin, Colonel Thomas, Lieutenant-Colonel Love surrendered to Lieutenant-Colonel Bartlett their forces with Department of West North Carolina."
In his "Memoirs of the Civil War," Lt. Col. W.W. Stringfield, pp. 40-41, wrote that in 1913 he had "secured from Mr. John S. Rice, who was present, the following statement regarding the historic incidents of the final surrender. Mr. Rice makes the following written report. I hereby make and subscribe to a statement of facts concerning the movements of troops of the 69th N.C. Regiment under its Colonel Wm. H. Thomas and its Lieutenant Colonel James R. Love." So even a half-century after the late rebellion, Love was stated as being a Lieutenant Colonel. It remains, however, common military custom to address any individual with the rank of Lieutenant Colonel as COLONEL; which was what Rice does during the rest of his statement. In order from junior to senior, the ranks are Major, Lieutenant Colonel, and Colonel. Above Colonel we find the four General ranks.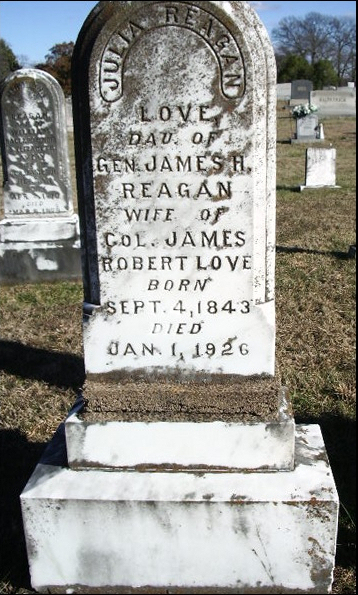 Julia Reagan Love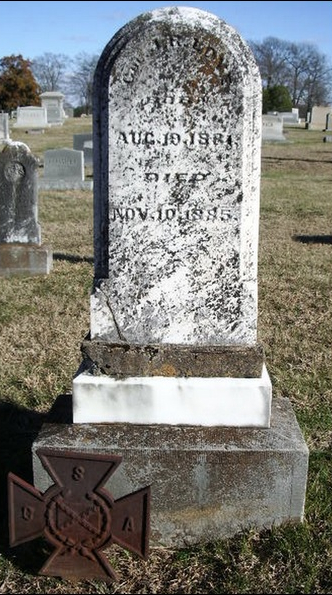 James Robert Love
(Left) Julia Reagan Love. Dau. of Gen. James H. Reagan. Wife of Col. James Robert Love. Born Sept. 4, 1843 - Died Jan. 1, 1926. (Right) Col. J. R. Love. Born Aug. 19, 1831 - Died Nov. 10, 1885.
While Brigadier General Martin was also referred to as GENERAL Martin at the surrender, which is an acceptable abbreviation, the rank GENERAL was held only by few, such as Robert E. Lee and Braxton Bragg. Brigadier General also remains the entry level or lowest ranking officer of the four General ranks: Brigadier General, Major General, Lieutenant General, and the most senior rank being known as General. Notwithstanding, in this report, Love was addressed by his formal rank of Lieutenant Colonel.
Vernon H. Crow,
Storm in the Mountains,
however, stated that Love was promoted to Colonel in March 1865, but Crow's sources were the Charlotte Western Democrat and Lt. Col.
William Stringfield's
diary. And Love was also recommended for promotion to Brigadier General according to Lt. Col. Stringfield's diary entry, dated
November 1, 1864
. In a conversation with Matthew Brown,
Editor, North Carolina Troops, 1861-1865: A Roster, Historical Publications Section, N.C. Office of Archives and History
, he stated that the only information indicating that Love was promoted to Colonel was a notice in the March 21, 1865,
Charlotte Western Democrat
(this was also Crow's source). While Brown said that an exact date of the promotion was not given, he believed that it would have been later than January 17, 1865, which was the last document to show Love as Lieutenant Colonel. Brown did concede that the accuracy of the notice remains unknown. Crow wrote in
Storm of the Mountains
, that Thomas had mentioned a desire to promote Love on at least one occasion according to a letter dated April 27, 1864.
In closing, Hawley got it right. The Charlotte Western Democrat and Stringfield's diary entry were simply hearsay and should not supersede primary sources, in this case the official records which indicate the exact rank that each of the three Confederate officers, themselves, would write down on the surrender documents, also called surrender papers, on May 7, 1865. But it should not be considered as demoting nor downplaying the stellar army record of James Robert Love, because, according to rank and responsibilities, Love had commanded the infantry regiment for much of the Civil War, a command position that was assigned to the rank of Colonel. In the final chapter of the conflict, Richmond had been burned to the ground, Jefferson Davis and cabinet were on the run, Lee had surrendered to Grant, many Rebel generals were fleeing to Canada, South America, Europe, and some to Mexico, and with the Confederacy now just another lost cause, there just was not much attention given to promotions.
Recommended Reading: Storm in the Mountains: Thomas' Confederate Legion of Cherokee Indians and Mountaineers (Thomas' Legion: The Sixty-ninth North Carolina Regiment). Description: Vernon H. Crow, Storm in the Mountains, dedicated an unprecedented 10 years of his life to this first yet detailed history of the Thomas Legion. But it must be said that this priceless addition has placed into our hands the rich story of an otherwise forgotten era of the Eastern Cherokee Indians and the mountain men of both East Tennessee and western North Carolina who would fill the ranks of the Thomas Legion during the four year Civil War. Crow sought out every available primary and secondary source by traveling to several states and visiting from ancestors of the Thomas Legion to special collections, libraries, universities, museums, including the Museum of the Cherokee, to various state archives and a host of other locales for any material on the unit in order to preserve and present the most accurate and thorough record of the legion. Crow, during his exhaustive fact-finding, was granted access to rare manuscripts, special collections, privately held diaries, and never before seen nor published photos and facts of this only legion from North Carolina. Crow remains absent from the text as he gives a readable account of each unit within the legion's organization, and he includes a full-length roster detailing each of the men who served in its ranks, including dates of service to some interesting lesser known facts. Continued below.
Storm in the Mountains, Thomas' Confederate Legion of Cherokee Indians and Mountaineers is presented in a readable manner that is attractive to any student and reader of American history, Civil War, North Carolina studies, Cherokee Indians, ideologies and sectionalism, and I would be remiss without including the lay and professional genealogist since the work contains facts from ancestors, including grandchildren, some of which Crow spent days and overnights with, that further complement the legion's roster with the many names, dates, commendations, transfers, battle reports, with those wounded, captured, and killed, to lesser yet interesting facts for some of the men. Crow was motivated with the desire to preserve history that had long since been overlooked and forgotten and by each passing decade it only sank deeper into the annals of obscurity. Crow had spent and dedicated a 10 year span of his life to full-time research of the Thomas Legion, and this fine work discusses much more than the unit's formation, its Cherokee Indians, fighting history, and staff member narratives, including the legion's commander, Cherokee chief and Confederate colonel, William Holland Thomas. Numerous maps and photos also allow the reader to better understand and relate to the subjects. Storm in the Mountains, Thomas' Confederate Legion of Cherokee Indians and Mountaineers is highly commended, absolutely recommended, and to think that over the span of a decade Crow, for us, would meticulously research the unit and present the most factual and precise story of the men, the soldiers who formed, served, and died in the famed Thomas Legion.
North Carolina Troops, 1861-1865: A Roster (Volume XVI: Thomas's Legion) (Hardcover, 537 pages), North Carolina Office of Archives and History. Description: The volume begins with an authoritative 246-page history of Thomas's Legion. The history, including Civil War battles and campaigns, is followed by a complete roster and service records of the field officers, staff, and troops that served in the legion. A thorough index completes the volume. Continued below.
Volume XVI of North Carolina Troops: A Roster contains the history and roster of the most unusual North Carolina Confederate Civil War unit, significant because of the large number of Cherokee Indians who served in its ranks. Thomas's Legion was the creation of William Holland Thomas, an influential businessman, state legislator, and Cherokee chief. He initially raised a small battalion of Cherokees in April 1862, and gradually expanded his command with companies of white soldiers raised in western North Carolina, eastern Tennessee, and Virginia. By the end of 1862, Thomas's Legion comprised an infantry regiment and a battalion of infantry and cavalry. An artillery battery was added in April 1863. Furthermore, in General Early's Army of the Valley, the Thomas Legion was well-known for its fighting prowess. It is also known for its pivotal role in the last Civil War battle east of the Mississippi River. The Thomas Legion mustered more than 2,500 soldiers and it closely resembled a brigade. With troop roster, muster records, and Compiled Military Service Records (CMSR) this volume is also a must have for anyone interested in genealogy and researching Civil War ancestors. Simply stated, it is an outstanding source for genealogists.
Recommended Reading: The Civil War in the Carolinas (Hardcover). Description: Dan Morrill relates the experience of two quite different states bound together in the defense of the Confederacy, using letters, diaries, memoirs, and reports. He shows how the innovative operations of the Union army and navy along the coast and in the bays and rivers of the Carolinas affected the general course of the war as well as the daily lives of all Carolinians. He demonstrates the "total war" for North Carolina's vital coastal railroads and ports. In the latter part of the war, he describes how Sherman's operation cut out the heart of the last stronghold of the South. Continued below.
The author offers fascinating sketches of major and minor personalities, including the new president and state governors, Generals Lee, Beauregard, Pickett, Sherman, D.H. Hill, and Joseph E. Johnston. Rebels and abolitionists, pacifists and unionists, slaves and freed men and women, all influential, all placed in their context with clear-eyed precision. If he were wielding a needle instead of a pen, his tapestry would offer us a complete picture of a people at war.
Midwest Book Review: The Civil War in the Carolinas by civil war expert and historian Dan Morrill (History Department, University of North Carolina at Charlotte, and Director of the Charlotte-Mecklenburg Historical Society) is a dramatically presented and extensively researched survey and analysis of the impact the American Civil War had upon the states of North Carolina and South Carolina, and the people who called these states their home. A meticulous, scholarly, and thoroughly engaging examination of the details of history and the sweeping change that the war wrought for everyone, The Civil War In The Carolinas is a welcome and informative addition to American Civil War Studies reference collections.
Recommended Reading: The Life of Johnny Reb: The Common Soldier of the Confederacy (444 pages) (Louisiana State University Press) (Updated edition: November 2007) Description: The Life of Johnny Reb does not merely describe the battles and skirmishes fought by the Confederate foot soldier. Rather, it provides an intimate history of a soldier's daily life--the songs he sang, the foods he ate, the hopes and fears he experienced, the reasons he fought. Wiley examined countless letters, diaries, newspaper accounts, and official records to construct this frequently poignant, sometimes humorous account of the life of Johnny Reb. In a new foreword for this updated edition, Civil War expert James I. Robertson, Jr., explores the exemplary career of Bell Irvin Wiley, who championed the common folk, whom he saw as ensnared in the great conflict of the 1860s. Continued below...
About Johnny Reb:
"A Civil War classic."--Florida Historical Quarterly
"This book deserves to be on the shelf of every Civil War modeler and enthusiast."--Model Retailer
"[Wiley] has painted with skill a picture of the life of the Confederate private. . . . It is a picture that is not only by far the most complete we have ever had but perhaps the best of its kind we ever shall have."--Saturday Review of Literature
Recommended Viewing: The Civil War, A Film by Ken Burns. Review: The Civil War, A Film by Ken Burns is the most successful public-television miniseries in American history. The 11-hour Civil War didn't just captivate a nation, reteaching to us our history in narrative terms; it actually also invented a new film language taken from its creator. When people describe documentaries using the "Ken Burns approach," its style is understood: voice-over narrators reading letters and documents dramatically and stating the writer's name at their conclusion, fresh live footage of places juxtaposed with still images (photographs, paintings, maps, prints), anecdotal interviews, and romantic musical scores taken from the era he depicts. Continued below...
The Civil War uses all of these devices to evoke atmosphere and resurrect an event that many knew only from stale history books. While Burns is a historian, a researcher, and a documentarian, he's above all a gifted storyteller, and it's his narrative powers that give this chronicle its beauty, overwhelming emotion, and devastating horror. Using the words of old letters, eloquently read by a variety of celebrities, the stories of historians like Shelby Foote and rare, stained photos, Burns allows us not only to relearn and finally understand our history, but also to feel and experience it. "Hailed as a film masterpiece and landmark in historical storytelling." "[S]hould be a requirement for every student."