Indian Citizenship Act of 1924 History
Indian Citizenship Act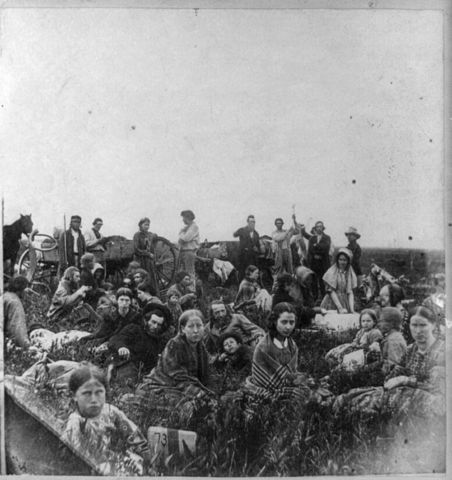 Native American Citizenship Act
Until the Indian Citizenship Act of 1924, there were no guaranteed rights for the original inhabitants and residents of present-day United States.
While African Americans received citizenship with the
14th Amendment to the U.S. Constitution
, American Indians, or Native Americans, on the other hand, were denied citizenship for more than another half-century. "Life, liberty, or property" was not guaranteed or applicable to the initial inhabitants of the land, and, without citizenship and protection of the 14th Amendment, Native Americans were herded onto reservations or hunted like wild animals. On June 2, 1924, however, with passage of the Indian Citizenship Act of 1924, America's indigenous peoples became United States citizens.
Prior to U.S. citizenship or voting rights, Native Americans had proudly worn the uniform and fought and died on bloody battlefields for a country that did not even recognize their existence.
Indian Citizenship Act of 1924
Native American Marine Corps Women in 1943
It is estimated that more than 12,000 American Indians served in the United States military in World War I (1914-1918). From Choctaw to Cherokee, America's indigenous peoples were assigned to US Army units throughout Europe and fought and died on battlefields from France to Belgium. While several Native American soldiers received recognition and awards from foreign governments for actions of heroism and gallantry in battle, many American Indian soldiers fought and died and were buried on foreign battlefields with unmarked graves. When many American Indians returned to the United States, including recipients of the Croix de Guerre (medal awarded by France for acts of heroism during battle) and the Church War Cross (medal awarded for gallantry), they were not United States citizens and had no voting rights.
(Photo) The Native American Marine Corps Women Reservists at Camp Lejeune, North Carolina, on October 16, 1943. The Women Marines, from left to right: Minnie Spotted Wolf (Blackfoot Tribe), Celia Mix (Potawatomi Tribe), and Viola Eastman (Chippewa Tribe). Just 20 years prior to this photograph, American Indians were not US citizens. Courtesy National Archives.
While all Native Americans became U.S. citizens in 1924, some Indians were already citizens of their respective state. For example, the Cherokee became citizens of North Carolina in 1866 and citizens of Oklahoma in 1907 (year of statehood).
Until the Indian Citizenship Act of 1924, Indians occupied an unusual status under federal law. Some had acquired citizenship by marrying white men. Others received citizenship through military service, by receipt of allotments, or through special treaties or special statutes. But most Native Americans were still not citizens, and they were barred from the ordinary processes of naturalization open to foreigners. Congress took what some saw as the final step on June 2, 1924, and granted citizenship to all Native Americans born in the United States.
Recommended Viewing:
500 Nations
(372 minutes).
Description:
500 Nations
is an eight-part documentary (more than 6 hours and that's not including its interactive CD-ROM filled with extra features) that explores the history of the indigenous peoples of North and Central America, from pre-Colombian times through the period of European contact and colonization, to the end of the 19th century and the subjugation of the Plains Indians of North America.

500 Nations

utilizes historical texts, eyewitness accounts, pictorial sources and computer graphic reconstructions to explore the magnificent civilizations which flourished prior to contact with Western civilization, and to tell the dramatic and tragic story of the Native American nations' desperate attempts to retain their way of life against overwhelming odds. Continued below...
Mention the word "Indian," and most will conjure up images inspired by myths and movies: teepees, headdresses, and war paint; Sitting Bull, Geronimo, Crazy Horse, and their battles (like Little Big Horn) with the U.S. Cavalry. Those stories of the so-called "horse nations" of the Great Plains are all here, but so is a great deal more. Using impressive computer imaging, photos, location film footage and breathtaking cinematography, interviews with present-day Indians, books and manuscripts, museum artifacts, and more, Leustig and his crew go back more than a millennium to present an fascinating account of Indians, including those (like the Maya and Aztecs in Mexico and the Anasazi in the Southwest) who were here long before white men ever reached these shores.
It was the arrival of Europeans like Columbus, Cortez, and DeSoto that marked the beginning of the end for the Indians. Considering the participation of host Kevin Costner, whose film Dances with Wolves was highly sympathetic to the Indians, it's no bulletin that 500 Nations also takes a compassionate view of the multitude of calamities--from alcohol and disease to the corruption of their culture and the depletion of their vast natural resources--visited on them by the white man in his quest for land and money, eventually leading to such horrific events as the Trail of Tears "forced march," the massacre at Wounded Knee, and other consequences of the effort to "relocate" Indians to the reservations where many of them still live. Along the way, we learn about the Indians' participation in such events as the American Revolution and the War of 1812, as well as popular legends like the first Thanksgiving (it really happened) and the rescue of Captain John Smith by Pocahontas (it probably didn't).
Recommended Reading: The Five Civilized Tribes: Cherokee, Chickasaw, Choctaw, Creek, Seminole (Civilization of the American Indian) (455 pages) (University of Oklahoma Press). Description: Fascinating and captivating study of the often referred to Five Civilized Tribes, with each tribe's: evolution, struggles, Indian removal, treaties, internal and external strife, and outlook...numerous maps and photographs compliment this research. By focusing on all 'Five Tribes' it also presents a better understanding of how the tribes interrelated in the Indian Territory (most of present-day Oklahoma). While most authors only focus on "a tribe" rather than "the tribes," Foreman, by interconnecting the tribes, conveys a more comprehensive understanding of the Five Nations.
Recommended Reading: The Cherokee Nation: A History. Description: Conley's book, "The Cherokee Nation: A History" is an eminently readable, concise but thoughtful account of the Cherokee people from prehistoric times to the present day. The book is formatted in such a way as to make it an ideal text for high school and college classes. At the end of each chapter is a source list and suggestions for further reading. Also at the end of each chapter is an unusual but helpful feature- a glossary of key terms. The book contains interesting maps, photographs and drawings, along with a list of chiefs for the various factions of the Cherokee tribe and nation. Continued below...
In addition to being easily understood, a principal strength of the book is that the author questions some traditional beliefs and sources about the Cherokee past without appearing to be a revisionist or an individual with an agenda in his writing. One such example is when Conley tells the story of Alexander Cuming, an Englishman who took seven Cherokee men with him to England in 1730. One of the Cherokee, Oukanekah, is recorded as having said to the King of England: "We look upon the Great King George as the Sun, and as our Father, and upon ourselves as his children. For though we are red, and you are white our hands and hearts are joined together..." Conley wonders if Oukanekah actually said those words and points out that the only version we have of this story is the English version. There is nothing to indicate if Oukanekah spoke in English or Cherokee, or if his words were recorded at the time they were spoken or were written down later. Conley also points out that in Cherokee culture, the Sun was considered female, so it is curious that King George would be looked upon as the Sun. The "redness" of Native American skin was a European perception. The Cherokee would have described themselves as brown. But Conley does not overly dwell on these things. He continues to tell the story using the sources available. The skill of Conley in communicating his ideas never diminishes. This book is highly recommended as a good place to start the study of Cherokee history. It serves as excellent reference material and belongs in the library of anyone serious about the study of Native Americans.
Recommended Viewing: The Trail of Tears: Cherokee Legacy (2006), Starring: James Earl Jones and Wes Studi; Director: Chip Richie, Steven R. Heape. Description: The Trail Of Tears: Cherokee Legacy is an engaging two hour documentary exploring one of America's darkest periods in which President Andrew Jackson's Indian Removal Act of 1830 consequently transported Native Americans of the Cherokee Nation to the bleak and unsupportive Oklahoma Territory in the year 1838. Deftly presented by the talents of Wes Studi, James Earl Jones, and James Garner, The Trail Of Tears: Cherokee Legacy also includes narrations of famed celebrities Crystal Gayle, Johnt Buttrum, Governor Douglas Wilder, and Steven R. Heape. Continued below...
Includes numerous Cherokee Nation members which add authenticity to the production… A welcome DVD addition to personal, school, and community library Native American history collections. The Trail Of Tears: Cherokee Legacy is strongly recommended for its informative and tactful presentation of such a tragic and controversial historical occurrence in 19th century American history.
Recommended Reading: Atlas of the North American Indian. Description: This unique resource covers the entire history, culture, tribal locations, languages, and lifeways of Native American groups across the United States, Canada, Central America, Mexico, and the Caribbean. Thoroughly updated, Atlas of the North American Indian combines clear and informative text with newly drawn maps to provide the most up-to-date political and cultural developments in Indian affairs, as well as the latest archaeological research findings on prehistoric peoples. The new edition features several revised and updated sections, such as "Self-Determination," "The Federal and Indian Trust Relationship and the Reservation System," "Urban Indians," "Indian Social Conditions," and "Indian Cultural Renewal." Continued below...
Other updated information includes: a revised section on Canada, including Nunavut, the first new Canadian territory created since 1949, with a population that is 85% Inuit; the latest statistics and new federal laws on tribal enterprises, including a new section on "Indian Gaming"; and current information on preferred names now in use by certain tribes and groups, such as the use of "Inuit" rather than "Eskimo."