Samuel Garland, VMI Class of 1849
Biographical Information
General Samuel Garland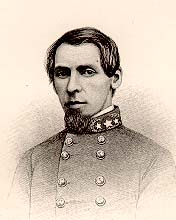 (Courtesy VMI)
Early Life
Samuel Garland, born December 16, 1830, at Lynchburg, Virginia. Parents: Maurice Garland, an attorney, and Caroline M. Garland. Maternal grandparents: Spottswood Garland and Lucinda Rose. Before enrolling at VMI Samuel attended Randolph Macon College.
VMI record
Matriculated on October 22, 1846, at age 16; was graduated on July 4, 1849, standing 3rd in a class of 24.
Marriage
Elizabeth Campbell Meem in 1856; she died on June 12, 1861; their only child, Samuel, died in August 1861.
Pre-Civil War
Studied law at University of Virginia; practiced in Lynchburg, VA. Following John Brown's raid at Harpers Ferry in 1859, Garland organized the Lynchburg Home Guard.
Civil War
Colonel, 11th Virginia Infantry Regiment; led his regiment 1st Manassas; wounded at Williamsburg but did not leave field; promoted to Brigadier General in May 1862 and commanded his brigade at Seven Pines, Gaines's Mill, and Malvern Hill; mortally wounded on Sept 14, 1862, at South Mountain during the Antietam Campaign; buried Lynchburg, VA.
General Samuel Garland of VMI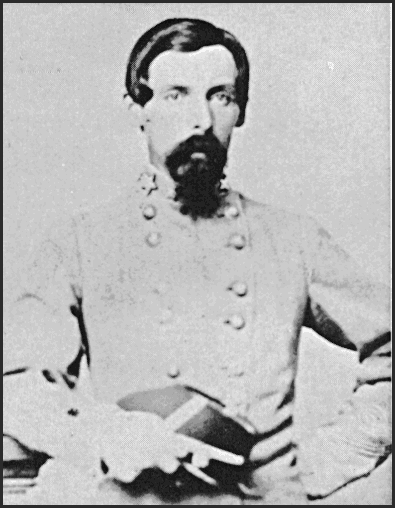 Brig, Gen. Samuel Garland. VMI.
Confederate General Samuel Garland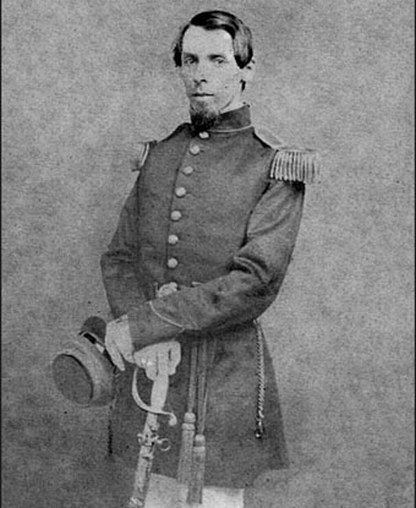 Samuel Garland, Jr. Virginia Military Institute
Summary: Samuel Garland, Jr. was born in Lynchburg, Virginia in 1830. He attended the Virginia Military Institute where he graduated third in his class before going on to law school at the University of Virginia. When Virginia seceded from the Union in the spring of 1861 Garland left his law practice to join the 11th Virginia Infantry as a Colonel.
Garland earned a reputation for bravery in battle and was promoted to Brigadier General. During the Maryland Campaign Garland's brigade was tasked with defending Fox's Gap during the Battle of South Mountain. This battle was a turning point in the Maryland Campaign, which had previously been met with Confederate victory. However, unbeknownst to the Confederates, Lee's battle plans had been discovered by Union forces and when Lee divided his army between Harpers Ferry and South Mountain the Union advanced. At the South Mountain gaps the Union met with a relatively small Confederate force, amongst this force was Garland's brigade. During the fighting Garland was killed. In his official record of the battle D.H. Hill called Garland a "pure, gallant, and accomplished Christian soldier."
General Samuel Garland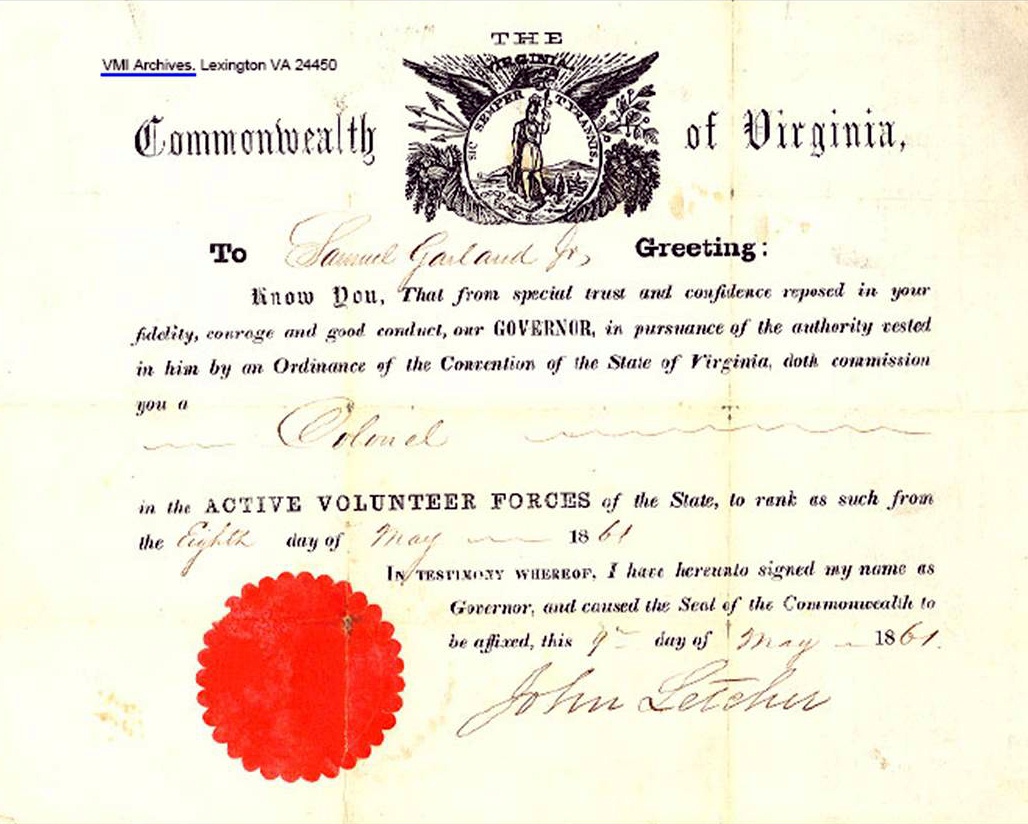 (Courtesy and Property of VMI)
Military: Samuel Garland, Jr., VMI Class of 1849, served as a Colonel in the 11th Virginia Infantry and led his regiment at
1st Manassas
. He was promoted to Brigadier General in May 1862 and commanded his brigade at Seven Pines, Gaines's Mill, and Malvern Hill. Garland was mortally wounded on Sept 14, 1862, at South Mountain and is buried at Lynchburg, Virginia.
Garland's commission was dated May 8, 1861, and reflects that he was appointed a Colonel in the Virginia Volunteer Forces. The document was signed by Governor John Letcher and there is an endorsement on the back by Lewis B. Butler, Justice of the Peace for Prince William County, certifying that Garland took various prescribed oaths.
Credit: Virginia Military Institute
Recommended Reading: The Antietam Campaign (Military Campaigns of the Civil War). Description: The Maryland campaign of September 1862 ranks among the most important military operations of the American Civil War. Crucial political, diplomatic, and military issues were at stake as Robert E. Lee and George B. McClellan maneuvered and fought in the western part of the state. The climactic clash came on September 17 at the battle of Antietam, where more than 23,000 men fell in the single bloodiest day of the war. Continued below...
Approaching topics related to Lee's and McClellan's operations from a variety of perspectives, numerous contributors to this volume explore questions regarding military leadership, strategy, and tactics, the impact of the fighting on officers and soldiers in both armies, and the ways in which participants and people behind the lines interpreted and remembered the campaign. They also discuss the performance of untried military units and offer a look at how the United States Army used the Antietam battlefield as an outdoor classroom for its officers in the early twentieth century. Also available in paperback: The Antietam Campaign (Military Campaigns of the Civil War)
Recommended Reading: Battles and Leaders of the Civil War, Volume 6 (Battles & Leaders of the Civil War) (632 pages) (University of Illinois Press). Description: Sifting carefully through reports from newspapers, magazines, personal memoirs, and letters, Peter Cozzens' Volume 6 brings readers more of the best first-person accounts of marches, encampments, skirmishes, and full-blown battles, as seen by participants on both sides of the conflict. Continued below.
Alongside the experiences of lower-ranking officers and enlisted men are accounts from key personalities including General John Gibbon, General John C. Lee, and seven prominent generals from both sides offering views on "why the Confederacy failed." This volume includes one hundred and twenty illustrations, including sixteen previously uncollected maps of battlefields, troop movements, and fortifications.
Recommended Reading: The Stonewall Brigade, by James I. Robertson (Author) (304 pages) (Louisiana State University Press). Description: Commanded by Thomas J. Jackson and comprised of the 2nd, 4th, 5th, 27th and 33rd Virginia Infantry Regiments, plus the Rockbridge Artillery Battery, the unit was officially Virginia's First Brigade. This changed forever at the Battle of First Manassas when in the face of a seemingly overwhelming Federal attack, General Bee, an adjacent Confederate brigade commander, reportedly said, "Yonder stands Jackson like a stone wall; let's go to his assistance. Rally behind the Virginians!" Continued below.
This book describes the Stonewall Brigade in combat from first mustering to bitter end, when only 210 ragged and footsore soldiers remained of the 6,000 that served through the war. Absolutely a must read for the Civil War buff!
Recommended Reading: Four Years in the Stonewall Brigade (American Civil War Classics) (412 pages) (University of South Carolina Press). Description: From his looting of farmhouses during the Gettysburg campaign and robbing of fallen Union soldiers as opportunity allowed to his five arrests for infractions of military discipline and numerous unapproved leaves, John O. Casler's actions during the Civil War made him as much a rogue as a Rebel. Though he was no model soldier, his forthright confessions of his service years in the Army of Northern Virginia stand among the most sought after and cited accounts by a Confederate soldier. First published in 1893 and significantly revised and expanded in 1906, Casler's Four Years in the Stonewall Brigade recounts the truths of camp life, marches, and combat. Moreover, Casler's recollections provide an unapologetic view of the effects of the harsh life in Stonewall's ranks on an average foot soldier and his fellows. Continued below.
A native of Gainesboro, Virginia, with an inherent wanderlust and thirst for adventure, Casler enlisted in June 1861 in what became Company A, 33rd Virginia Infantry, and participated in major campaigns throughout the conflict, including Chancellorsville and Gettysburg. Captured in February 1865, he spent the final months of the war as a prisoner at Fort McHenry, Maryland.
His postwar narrative recalls the realities of warfare for the private soldier, the moral ambiguities of thievery and survival at the front, and the deliberate cruelties of capture and imprisonment with the vivid detail, straightforward candor, and irreverent flair for storytelling that have earned Four Years in the Stonewall Brigade its place in the first rank of primary literature of the Confederacy. This edition features a new introduction by Robert K. Krick chronicling Casler's origins and his careers after the war as a writer and organizer of Confederate veterans groups. "A must have for researchers, buffs, and American historians...General "Stonewall" Jackson and his brigade shall forever have a place in the annals of world history."
Recommended Reading: Generals in Gray Lives of the Confederate Commanders. Description: When Generals in Gray was published in 1959, scholars and critics immediately hailed it as one of the few indispensable books on the American Civil War. Historian Stanley Horn, for example, wrote, "It is difficult for a reviewer to restrain his enthusiasm in recommending a monumental book of this high quality and value." Here at last is the paperback edition of Ezra J. Warner's magnum opus with its concise, detailed biographical sketches and—in an amazing feat of research—photographs of all 425 Confederate generals. Continued below.
The only exhaustive guide to the South's command, Generals in Gray belongs on the shelf of anyone interested in the Civil War. RATED 5 STARS!