General George S. Patton
George S. Patton, Jr., VMI Cadet, 1903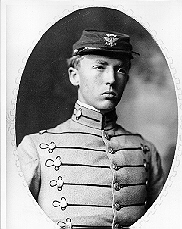 VMI Class of 1907 (Courtesy of VMI)
General George S. Patton
General George S. "Old Blood and Guts" Patton, Jr., VMI Class of 1907, was the third generation of his family to attend VMI.
His grandfather, Colonel George S. Patton*, Confederate States Army (CSA), VMI Class of 1852, and grand uncle, Colonel Waller Tazewell Patton** (CSA), VMI Class of 1855, had both died during the American Civil War. His father, George S. Patton, had graduated from VMI in 1877. Young Patton arrived at VMI to fulfill the family military legacy, but transferred to the United States Military Academy (West Point) after one year. Graduating from West Point would assure Patton of receiving a direct commission in the U.S. Army; a goal he could not have been assured by graduating from VMI.
*George S. "Old Blood and Guts" Patton's grandfather, Colonel George S. Patton, was killed in the
3rd Battle of Winchester
in September 1864.
Sources: Virginia Military Institute, Official Records of the Union and Confederate Armies
Recommended Viewing: Patton (Two-Disc Collector's Edition) (1970). Description (Essential Video Review): One of the greatest screen biographies ever produced, this monumental film runs nearly three hours, won seven Academy Awards, and gave George C. Scott the greatest role of his career. It was released in 1970 when protest against the Vietnam War still raged at home and abroad, and many critics and moviegoers struggled to reconcile current events with the movie's glorification of Gen. George S. Patton as a crazy-brave genius of World War II. Continued below.
How could a movie so huge in scope and so fascinated by its subject be considered an anti-war film? The simple truth is that it's not--Patton is less about World War II than about the rise and fall of a man whose life was literally defined by war, and who felt lost and lonely without the grand-scale pursuit of an enemy. George C. Scott embodies his role so fully, so convincingly, that we can't help but be drawn to and fascinated by Patton as a man who is simultaneously bound for hell and glory. The film's opening monologue alone is a masterful display of acting and character analysis, and everything that follows is sheer brilliance on the part of Scott and director Franklin J. Schaffner.
Filmed on an epic scale at literally dozens of European locations, Patton does not embrace war as a noble pursuit, nor does it deny the reality of war as a breeding ground for heroes. Through the awesome achievement of Scott's performance and the film's grand ambition, Patton shows all the complexities of a man who accepted his role in life and (like Scott) played it to the hilt. --Jeff Shannon
Recommended Reading: The Pattons: A Personal History of an American Family (The Warriors). Review: In writing this study of his family, General Patton's grandson has used much material not made available to previous biographers. Still, his focus is inevitably and properly on the general himself, who appears to have been an even more complex personality (to put it delicately) than previous studies have indicated. But the general was not the only exotic branch on the Patton family tree, which appears to have abounded in eccentrics such as an editor would find hard to accept in a fictional family saga. Continued below.
The present Patton tells the whole story with compassion and balance but makes harsh judgments where they are called for. He also shows such literary skill as to make one hope this will not be his last book.
Recommended Reading: Patton: A Genius for War (1024 pages). Review: Perhaps the most renowned and controversial American general of the 20th century, George Patton (1885-1945) remains a subject of intense interest. D'Este (Decision in Normandy) provides new information from family archives and other sources about Patton's ancestry, childhood and pre-WWII military career. This includes his student years at West Point, his experience as a tank officer in WWI and various interwar staff assignments. The author emphasizes Patton's lifelong study and preparation for war and his conviction that God not only chose him specifically to lead an army but also stood ready to intervene to assure him battlefield victories. D'Este has much to say about Patton's impulsiveness, impatience and tactlessness, showing how these qualities often got him in trouble with the public as well as with his superiors. Continued below.
The account of Patton's campaigns from North Africa through
Sicily
,
Normandy
and the
Ardennes
enables the reader to understand why the general is regarded as one of the great military leaders. This is a major biography of a major American military figure.
Recommended Viewing: America at War Megaset (History Channel) (Number of discs: 14) (Run Time: 1948 minutes). Description: From the first musket shots at Lexington and Concord to the precision-guided munitions in modern-day Baghdad. America's history has been forged in the heat of battle. AMERICA AT WAR presents twenty-five documentaries from THE HISTORY CHANNEL charting U.S. military conflict over two centuries. This "fourteen disc set" explores key moments of the American Revolution, the Alamo, Mexican American War, the Civil War, Spanish American War, World Wars I and II as well as the conflicts in Korea, Vietnam, the Persian Gulf, and Iraq. Continued below.
The chronological collection draws upon the expertise of noted historians, military authorities, engineers, and war correspondents to convey the personal side of conflict not often found in history books. A trove of archival footage and documents brings viewers closer than ever to the heated heart of combat. This is truly a one-of-a-kind collector's set!
Recommended Viewing: The History Channel - The Battle History of the United States Military (2005) (Number of discs: 5) (766 minutes). Description: A mighty compendium of America's five major military branches--Marines, Navy, Army, Air Force, and Coast Guard--THE BATTLE HISTORY OF THE UNITED STATES MILITARY trumpets the myriad strengths of one of the world's greatest military powers. Plunge headlong into the great battles fought on land, sea, and air. Marvel at the arc of musket to missile. Meet the key figures and lesser-known heroes who have shaped the organization, the strategy, and the future of the United States armed forces. Encompassing over two centuries of courage and conquest, THE BATTLE HISTORY OF THE UNITED STATES MILITARY marches through America's military development from its earliest Coast Guard days to the technological wonders of the Gulf War. Continued below.
With official government documents, extensive combat footage, and commentary by historians and decorated veterans, THE BATTLE HISTORY OF THE UNITED STATES MILITARY is a full-scale, full-dress salute to the men and women who give and have given to America's fight for freedom. DVD Features: Downloadable Historical Documents; Branch Heraldries; Bonus Film: "Pageantry of the Corps"; Interactive Menus; Scene Selection.
Recommended Viewing: The World at War (30th Anniversary Edition) (1357 minutes) (A&E). Description: Sir Jeremy Isaacs highly deserves the numerous awards for documentaries he has earned: the Royal Television Society's Desmond Davis Award, l'Ordre National du Mérit, an Emmy, and a knighthood from Queen Elizabeth II. His epic The World at War remains unsurpassed as the definitive visual history of World War II. Continued below.
The Second World War was different from other wars in thousands of ways, one of which was the unparalleled scope of visual documents kept by the Axis and Allies of all their activities. As a result, this war is understood as much through written histories as it is through its powerful images. The Nazis were particularly thorough in documenting even the most abhorrent of the atrocities they were committing--in a surprising amount of color footage. The World at War was one of the first television documentaries that exploited these resources so completely, giving viewers an unbelievable visual guide to the greatest event in the 20th century. This is to say nothing of the excellent, comprehensible narrative. Some highlights:
• A New Germany 1933-39: early German and Nazi documentation of Hitler's rise to power through the impending attack on Poland
• Whirlwind: the early British losses in the blitz in the skies over Britain and in North Africa
• Stalingrad: the turning point of the war and Germany's first defeat
• Inside the Reich--Germany 1940-44: one of the most fascinating documentaries that exists on life inside Nazi Germany, from Lebensborn to the Hitler Youth
• Morning: prior to Saving Private Ryan, one of the only unromanticized views of the Normandy invasion
• Genocide: this film is one of the most widely shown introductions to the Holocaust
• Japan 1941-45: although The World at War is decidedly focused more on the European theater, this is an important look into wartime Japan and its expansion--early 20th-century history that lead to Japan's role in World War II is superficial
• The bomb: another widely shown documentary of the Manhattan Project, the Enola Gay, Hiroshima, and Nagasaki
The World at War will remain the definitive visual history of World War II, analogous to Gibbon's Decline and Fall of the Roman Empire. No serious historian should be missing The World at War in a collection, and no student should leave school without having seen at least some of its salient episodes. Rarely is film so essential. --Erik J. Macki
The Civil War - A Film by Ken Burns. Review: The Civil War - A Film by Ken Burns is the most successful public-television miniseries in American history. The 11-hour Civil War didn't just captivate a nation, reteaching to us our history in narrative terms; it actually also invented a new film language taken from its creator. When people describe documentaries using the "Ken Burns approach," its style is understood: voice-over narrators reading letters and documents dramatically and stating the writer's name at their conclusion, fresh live footage of places juxtaposed with still images (photographs, paintings, maps, prints), anecdotal interviews, and romantic musical scores taken from the era he depicts. Continued below...
The Civil War uses all of these devices to evoke atmosphere and resurrect an event that many knew only from stale history books. While Burns is a historian, a researcher, and a documentarian, he's above all a gifted storyteller, and it's his narrative powers that give this chronicle its beauty, overwhelming emotion, and devastating horror. Using the words of old letters, eloquently read by a variety of celebrities, the stories of historians like Shelby Foote and rare, stained photos, Burns allows us not only to relearn and finally understand our history, but also to feel and experience it. "Hailed as a film masterpiece and landmark in historical storytelling." "[S]hould be a requirement for every student."
Try the Search Engine for Related Studies: General George S Patton History Photo Biography Family Photos Genealogy Picture West Point U S Military Academy VMI Virginia Military Institute American Civil War Confederate Officer Pictures Facts