Battle of Ream's Station
Virginia Civil War History
First Battle of Ream's Station
Petersburg Civil War History
Other names: Reams' Station. Battle of First Reams' Station
Date: June 29, 1864
Location: Dinwiddie County, Virginia
Result: Confederate victory

Commanders:
James H. Wilson, August Kautz [US] William Mahone, Fitzhugh Lee [CS]
Combatants:
Third Cavalry Division, Army of the Potomac [US]; 2nd, 5th, 6th, 15th VA; 2nd, 5th, 8th, 9th, 10th, 11th, FL; 8th, 9th, 10th, 11th, 13th, 14th AL Infantries; 3rd, 4th and 1st VA Cavalry; and Pegram's Artillery [CS]
1st Battle of Ream's Station Map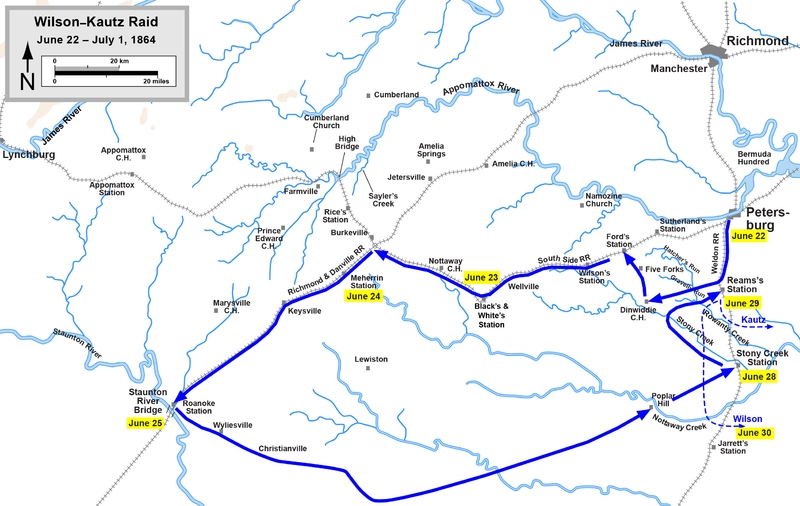 First Civil War Battle of Ream's Station Map
First Battle of Ream's Station was during the Richmond-Petersburg Campaign of the American Civil War. Confederate forces under Major General William Mahone and Brigadier General Fitzhugh Lee defeated Union forces raiding Confederate railways.
In June 1864, a Union division under the command of Brig. Gen. August V. Kautz moved into southern Virginia where they began destroying sections of the Weldon Railroad as part of the Richmond-Petersburg Campaign. On June 29 the division reached Ream's Station south of Petersburg on the Weldon Railroad, which was thought to be held by Union infantry. Instead, Kautz found the road barred by Mahone's Confederate infantry division. Wilson's division, fighting against elements of William H.F. "Rooney" Lee's cavalry, joined Kautz's near Ream's Station, where they were virtually surrounded.
Maj. Gen. James H. Wilson, fighting off an attack at Sappony Church by Confederate cavalry forces under General William H. F. "Rooney" Lee, joined Kautz near Ream's Station, where they were virtually surrounded.
Around noon, Mahone led Confederate infantry against the Union front while cavalry under Fitzhugh Lee attacked the Union left flank. The fierce assault split the Union forces. Wilson and Kautz were forced to withdraw quickly, burning their supply wagons and abandoning their artillery.
First Battle of Ream's Station Battlefield Map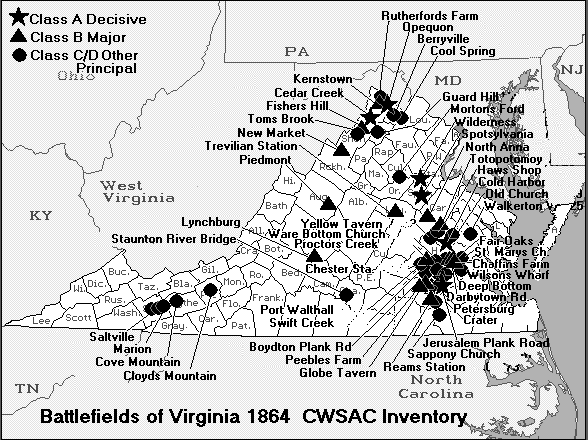 Virginia Battle of Ream's Station Civil War Map
Separated by the Confederate attacks, Wilson and his men cut their way through and retreated southwest on the Stage Road to cross the Nottoway River. Meanwhile, Kautz headed south and east cross-country, reaching Federal lines at Petersburg about dark. Wilson continued east to the Blackwater River before turning north, eventually reaching Union lines at Light House Point on July 2. The Wilson-Kautz raid tore up more than 60 miles of track, temporarily disrupting rail traffic into Petersburg, but at a great cost in men and mounts. See also
Battle of Reams Station
.
Source: Linedecker, Clifford L., ed. Civil War, A-Z: The Complete Handbook of America's Bloodiest Conflict. New York: Ballentine Books, 2002.
Tags: First Battle of Reams Station Richmond-Petersburg Campaign Siege Virginia History Confederate Union Army Forces General James H. Wilson August Kautz William Mahone Fitzhugh Lee Summary Pictures