Female Soldier of the 26th North Carolina Infantry Regiment
Confederate CMSR* for Mrs. S. M. Blaylock, Company F,
Twenty-sixth North Carolina Infantry Regiment
, states:
This lady dressed in men's clothes, Volunteered [sic], received bounty and for two weeks did all the duties of a soldier before she was found out, but her husband being discharged, she disclosed the fact, returned the bounty, and was immediately discharged April 20, 1862.
*Compiled Military Service Record
Source: CMSR for Mrs. S.M. Blaylock, Twenty-sixth North Carolina Infantry, War Department Collection of Confederate Records, RG 109, NA.
26th North Carolina Infantry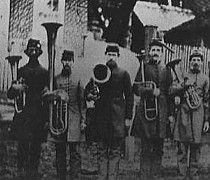 26th North Carolina Infantry Band
Recommended Reading for Female soldiers of the American Civil War
Recommended Reading: She Went to the Field: Women Soldiers of the Civil War. Description: Women Soldiers of the Civil War profiles several substantiated cases of female soldiers during the American Civil War, including Sarah Rosetta Wakeman (aka Private Lyons Wakeman, Union); Sarah Emma Edmonds (aka Private Frank Thompson, Union); Loreta Janeta Velazquez (aka Lieutenant Harry T. Buford, Confederate); and Jennie Hodgers (aka Private Albert D. J. Cashier, Union). Continued below...
Also featured are those women who may not have posed as male soldiers but who nonetheless pushed gender boundaries to act boldly in related military capacities, as spies, nurses, and vivandieres ("daughters of the regiment") who bore the flag in battle, rallied troops, and cared for the wounded.
Recommended Reading: Memoirs of a Soldier, Nurse and Spy: A Woman's Adventures in the Union Army. Description: Sarah Emma Edmonds was born in New Brunswick, Canada in 1842, the fifth daughter of Isaac and Elisabeth Leeper Edmondson. Her father, a farmer, was bitterly disappointed with Sarah as he had wanted a son to work his land. Sarah tried very hard to be the boy her father always wanted, abandoning female dress and becoming an expert horsewoman and markswoman. However, this was all to no avail: sadly, she never won the approval of Isaac. In 1859, she ran away from home to escape the man she described as 'The Brutal Father'. Sarah fled to the USA, where dressing as a man to draw less attention to herself, she adopted the name of 'Frank Thompson'. By 1861, 'Frank' was working selling Bibles door-to-door in Flint, Michigan, and so successful in 'his' guise that he was escorting young ladies in 'his' carriage. Continued below...
When President Lincoln issued his first call for volunteer troops, 'Frank' wanted to answer the call and patriotically serve 'his' new homeland. The army at that time didn't require a full physical examination. However, it still took 'Frank' four tries to get into the Union Army. On April 25, 1861, Sarah Emma Edmonds alias Frank Thompson became a male nurse in Company F, of the 2nd Michigan Volunteer Infantry Regiment. This is 'his' story.
Recommended Reading: An Uncommon Soldier: The Civil War Letters of Sarah Rosetta Wakeman, alias Pvt. Lyons Wakeman, 153rd Regiment, New York State Volunteers, 1862-1864. Editorial Review from Library Journal: As the debate on the role of women in the military continues, an interesting historical footnote has been brought forth: the publication of the only known surviving set of letters of one of the estimated 400 women who disguised themselves as men to fight as soldiers in the Civil War. Continued below...
Born on a farm in
New York
in 1843, Wakeman was the oldest of nine children. Few details of her family life are known, nor what exactly precipitated her flight into the army, but glimpses of this strong-minded woman are provided throughout: "I am as independent as a hog on the ice. If it is God's will for me to fall in the field of battle, it is my will to go and never return home." Private Wakeman did not return home: she is buried under her masculine pseudonym. How many more women were buried as men? Civil War historian Burgess provides an intriguing introduction to what is sure to become an area of growing interest. Highly recommended.
Recommended Reading: The Life of Johnny Reb: The Common Soldier of the Confederacy (444 pages) (Louisiana State University Press) (Updated edition: November 2007) Description: The Life of Johnny Reb does not merely describe the battles and skirmishes fought by the Confederate foot soldier. Rather, it provides an intimate history of a soldier's daily life--the songs he sang, the foods he ate, the hopes and fears he experienced, the reasons he fought. Wiley examined countless letters, diaries, newspaper accounts, and official records to construct this frequently poignant, sometimes humorous account of the life of Johnny Reb. In a new foreword for this updated edition, Civil War expert James I. Robertson, Jr., explores the exemplary career of Bell Irvin Wiley, who championed the common folk, whom he saw as ensnared in the great conflict of the 1860s. Continued below...
About Johnny Reb:
"A Civil War classic."--Florida Historical Quarterly
"This book deserves to be on the shelf of every Civil War modeler and enthusiast."--Model Retailer
"[Wiley] has painted with skill a picture of the life of the Confederate private. . . . It is a picture that is not only by far the most complete we have ever had but perhaps the best of its kind we ever shall have."--Saturday Review of Literature
Recommended Reading: Hardtack & Coffee or The Unwritten Story of Army Life. Description: Most histories of the Civil War focus on battles and top brass. Hardtack and Coffee is one of the few to give a vivid, detailed picture of what ordinary soldiers endured every day—in camp, on the march, at the edge of a booming, smoking hell. John D. Billings of Massachusetts enlisted in the Army of the Potomac and survived the hellish conditions as a "common foot soldier" of the American Civil War. "Billings describes an insightful account of the conflict – the experiences of every day life as a common foot-soldier – and a view of the war that is sure to score with every buff." The authenticity of his book is heightened by the many drawings that a comrade, Charles W. Reed, made while in the field. This is the story of how the Civil War soldier was recruited, provisioned, and disciplined. Continued below...
Described here are the types of men found in any outfit; their not very uniform uniforms; crowded tents and makeshift shelters; difficulties in keeping clean, warm, and dry; their pleasure in a cup of coffee; food rations, dominated by salt pork and the versatile cracker or hardtack; their brave pastimes in the face of death; punishments for various offenses; treatment in sick bay; firearms and signals and modes of transportation. Comprehensive and anecdotal, Hardtack and Coffee is striking for the pulse of life that runs through it.
Highly Recommended Reading: Boy Colonel of the Confederacy. Description: Henry King Burgwyn, Jr. (1841-63), the youngest colonel in the Army of Northern Virginia and one of the youngest colonels of the American Civil War, died at the age of twenty-one while leading the Twenty-sixth North Carolina Infantry Regiment into action at the Battle of Gettysburg. In this sensitive biography, originally published by UNC Press in 1985, Archie Davis provides a revealing portrait of the young man's character and a striking example of a soldier who selflessly fulfilled his duty. Continued below...
Drawing on Burgwyn's own letters and diary, Davis also offers a fascinating glimpse into North Carolina society during the antebellum period and the American Civil War.
Try the Search Engine for Related Studies: Female Soldiers of the American Civil War History, Women Civil War Soldiers in Battle, Female Women Civil War Soldiers in Combat, List of Female Women Soldiers American Civil War History Contributions