Thomas' Legion
American Civil War HOMEPAGE
American Civil War
Causes of the Civil War : What Caused the Civil War
Organization of Union and Confederate Armies: Infantry, Cavalry, Artillery
Civil War Navy: Union Navy and Confederate Navy
American Civil War: The Soldier's Life
Civil War Turning Points
American Civil War: Casualties, Battles and Battlefields
Civil War Casualties, Fatalities & Statistics
Civil War Generals
American Civil War Desertion and Deserters: Union and Confederate
Civil War Prisoner of War: Union and Confederate Prison History
Civil War Reconstruction Era and Aftermath
American Civil War Genealogy and Research
Civil War
American Civil War Pictures - Photographs
African Americans and American Civil War History
American Civil War Store
American Civil War Polls
NORTH CAROLINA HISTORY
North Carolina Civil War History
North Carolina American Civil War Statistics, Battles, History
North Carolina Civil War History and Battles
North Carolina Civil War Regiments and Battles
North Carolina Coast: American Civil War
HISTORY OF WESTERN NORTH CAROLINA
Western North Carolina and the American Civil War
Western North Carolina: Civil War Troops, Regiments, Units
North Carolina: American Civil War Photos
Cherokee Chief William Holland Thomas
HISTORY OF THE CHEROKEE INDIANS
Cherokee Indian Heritage, History, Culture, Customs, Ceremonies, and Religion
Cherokee Indians: American Civil War
History of the Eastern Band of Cherokee Indian Nation
Cherokee War Rituals, Culture, Festivals, Government, and Beliefs
Researching your Cherokee Heritage
Civil War Diary, Memoirs, Letters, and Newspapers

Elmira Mary Taylor Walker
December 13, 1818 - November 4, 1898
Born in Blount, Tennessee, and died in Cherokee County, North Carolina
Married Lt. Col. William Clay Walker on February 7, 1841, in Cherokee County, North Carolina
Interred af Walker Family Cemetery (Panther Top Rd.), Cherokee County, N.C.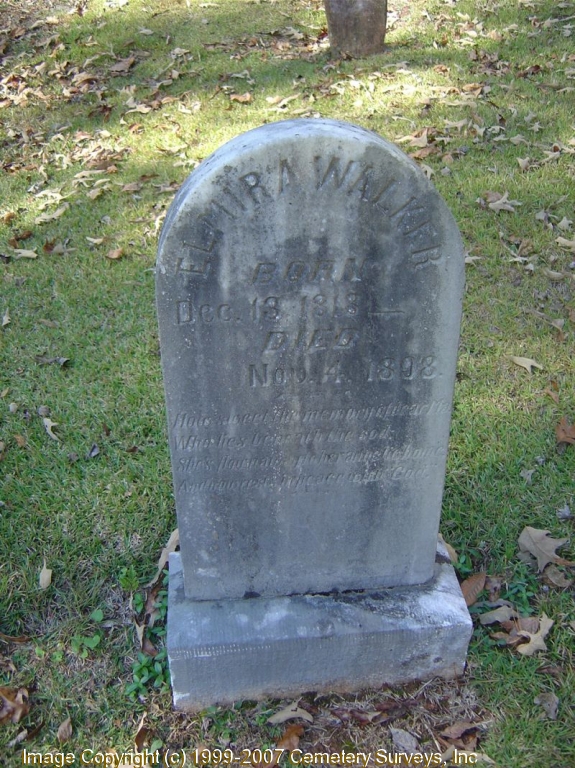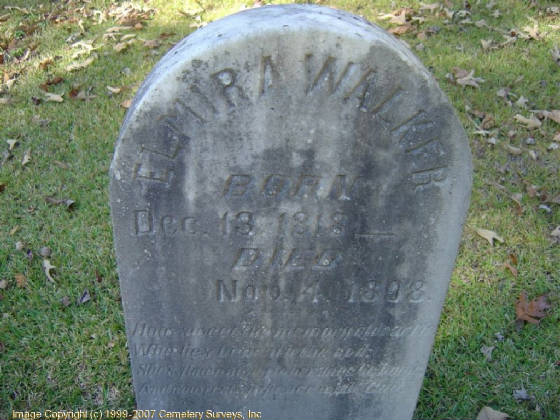 While her husband,
Lieutenant Colonel William Clay Walker
, was home in Cherokee County during sick leave on January 3, 1864, he was murdered by outlaws as his wife stood helpless in the midst.
Additional Reading (includes genealogy):
Recommended Reading: Touring the Carolina's Civil War Sites (Touring the Backroads Series). Description: Touring the Carolina's Civil War Sites helps travelers find the Carolinas' famous Civil War battlefields, forts, and memorials, as well as the lesser skirmish sites, homes, and towns that also played a significant role in the war. The book's 19 tours, which cover the 'entire Carolinas,' combine riveting history with clear, concise directions and maps, creating a book that is as fascinating to the armchair reader as it is to the person interested in heritage travel. Below are some examples from this outstanding book:
1. Fort Fisher - the largest sea fort in the war that protected the vital town of Wilmington N.C., and the blockade runners so important for supplying Lee's Army of Northern Virginia.
2. Charleston - where the whole shootin' match started.
3. Bentonville - the last large scale battle of the war.
4. Outer Banks - early Union victories here were vital to capturing many parts of Eastern North Carolina from which the Union could launch several offensives.
5. Sherman's March - the destruction of certain towns in both Carolinas (particularly South Carolina) further weakened the South's will to continue the struggle.
I also enjoyed reading about the locations of various gravesites of Confederate generals and their Civil War service. Indeed, if not for this book, this native North Carolinian and long-time Civil War buff may never have learned of, and visited, the locations of some of the lesser-known sites other than those mentioned above.
Johnson's writing style is smooth--without being overly simplistic--and contains several anecdotes (some humorous ones too) of the interesting events which took place during the Civil War years. Highly recommended!
Recommended Reading: Touring the Western North Carolina Backroads (Touring the Backroads). Editorial Review: This guidebook, unlike most, is so encyclopedic in scope that I give it as a gift to newcomers to the area. It is also an invaluable reference for the visitor who wants to see more than the fabulous Biltmore Estate. Even though I am a native of the area, I learned nearly everything I know about Western North Carolina from this book alone and it is my primary reference. I am still amazed at how much fact, history and folklore [just enough to bring alive the curve of the road, the odd landmark, the abandoned building] is packed in its 300 pages. The author, who must have collapsed from exhaustion when she finished it, takes you on a detailed tour, laid out by the tenth of the mile, of carefully drawn sections of backroads that you can follow leisurely without getting lost. Continued below...
The author is completely absent from the text. The lucid style will please readers who want the facts, not editorial comment. This book, as well as the others in this publisher's backroads series, makes an excellent gift for anyone, especially the many seniors who have relocated, or are considering relocating to this fascinating region. It is also a valuable reference for natives, like me, who didn't know how much they didn't know.
Recommended Reading: Confederates in the Attic: Dispatches from the Unfinished Civil War. Description: Pulitzer Prize-winning journalist Tony Horwitz returned from years of traipsing through war zones as a foreign correspondent only to find that his childhood obsession with the Civil War had caught up with him. Near his house in Virginia, he happened to encounter people who reenact the Civil War--men who dress up in period costumes and live as Johnny Rebs and Billy Yanks. Intrigued, he wound up having some odd adventures with the "hardcores," the fellows who try to immerse themselves in the war, hoping to get what they lovingly term a "period rush." Horwitz spent two years reporting on why Americans are still so obsessed with the war, and the ways in which it resonates today. Continued below...
In the course of his work, he made a sobering side trip to cover a "murder that was provoked by the display of the Confederate flag," and he spoke to a number of people seeking to honor their ancestors who fought for the Confederacy. Horwitz has a flair for odd details that spark insights, and
Confederates in the Attic
is a thoughtful and entertaining book that does much to explain
America
's continuing obsession with the Civil War.
Recommended Reading: Tracing Your Civil War Ancestor (Hardcover). Description: It is tantalizing to speculate about the role your ancestors may have played in the great national drama of the Civil War. But family records are often inaccurate, or provide precious few leads on where to begin the search. Now, experienced historian Bertram Hawthorne Groene shows you how easy it is to trace your forbearers' role in the war, where and how long they fought, whether they were Union or Rebel, soldier or sailor -- even with a minimum of information. Continued below...
Tracing Your Civil War Ancestor provides you with:
-- The names and addresses of all state archives.
-- Names and addresses of institutions that hold microfilmed service records from the national archives.
-- Names and publishers of useful regional Civil War reference books.
-- Names and publishers of sourcebooks for identifying Civil War weapons and accoutrements.
-- And much more.
Historians, genealogists, antique dealers, and collectors of Civil War artifacts will find this concise guidebook of great value. But most of all it is of inestimable practical value to family historians, North and South, who are discovering the pleasure and satisfaction of compiling an accurate family history.