Confederate Medal of Honor
The question is sometimes asked whether or not there is a list of Confederate soldiers who received the Medal of Honor? The answer is no. The Confederates fought against those who received the medal in question. There is, however, a roll known as the Confederate Roll of Honor recognizing each valiant Southern soldier who has been honored as performing selfless acts above and beyond the call of duty.
The principal or main difference between the United States Medal of Honor, often referred to as the Congressional Medal of Honor, and the Confederate States Roll of Honor is that while the US Honor is bestowed upon its military personnel, the Confederate Honor includes all persons who performed and demonstrated selfless acts of valor or heroism above and beyond the call of duty while in defense of the Confederate States of America, and the current list of honorees include soldiers, sailors, one nurse, one chaplain and the commandant of a Confederate prison.
Many know about the Medal of Honor and its history, but few have heard of the Confederate Roll of Honor which traces its origin to the American Civil War. During the conflict that would claim some 620,000 Americans, Southern soldiers and sailors were not awarded medals for acts of valor or heroism during battle, but to have their name mentioned in dispatches and telegrams was considered the commendation. Another course of honoring a heroic soldier, that is if he survived, was to nominate him for promotion. The Roll of Honor also wasn't created until after the Civil War, and only when opposition to such recognition had subsided.
While the Medal of Honor contains a rich list of the heroes of the United States, it too was initially met with much opposition from the nation's generals. It was during the Civil War that the long list of medal of honor recipients would begin, with President Abraham Lincoln approving that medal for Union servicemen. The Confederate States of America was a short-lived nation (1861), so the list of the Confederate Roll of Honor names is related only to the Civil War itself, while the similar Medal of Honor continues to be bestowed upon U.S. military personnel.
The Roll of Honor contains brief details and bullet facts for each soldier on the rather short list. Although selfless acts performed during combat was the norm for being listed among the few on the Confederate Roll, there were soldiers who received the honor while in the line of duty but though not engaged in pitched battle.
There is much to be said and written about the many Confederate men of honor and valor, but the current list serves as a constant reminder of the Confederate nation that had existed and prevailed under four years of grueling war and by the blood of the brave and selfless men who sacrificed their lives in hopes of securing it.
Gen. Stephen D. Lee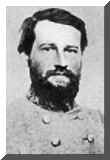 Remember those who served...
Lt. Gen. Stephen Dill Lee
"To you, Sons of Confederate Veterans, we submit the vindication of the cause for which we fought; to your strength will be given the defense of the Confederate soldier's good name, the guardianship of his history, the emulation of his virtues, the perpetuation of those principles he loved and which made him glorious and which you also cherish. Remember it is your duty to see that the true history of the South is presented to future generations."
Establishment of the Confederate Roll of Honor
During the American Civil War there were not any Confederate medals awarded to soldiers for heroism, valor or acts above and beyond the call of duty. The creation of the Confederate Roll of Honor, comparable to the U.S. Medal of Honor, was not created until more than one century after the Civil War had concluded. The honorees include a nurse, chaplain and commandant of a Confederate prison.
The Confederate government, seeking to increase morale and to recognize its soldiers, authorized medals and badges for: 1) officers "conspicuous for courage and good conduct on the field of battle" or; 2) to one enlisted soldier per regiment after each victory. This soldier was to be chosen by a vote amongst regiment.
When appropriate medals could not be supplied, the Confederate Congress authorized the Roll of Honor in October of 1862. The Roll of Honor covered all ranks and it was ordered that the Roll would be: 1) preserved in the office of the Adjutant and Inspector General; 2) read at the head of every regiment at the first dress-parade after its receipt and; 3) published in at least one newspaper from each state.
Disagreement as well as financial difficulties precluded it from coming to fruition. On July 1, 1896, General Stephen Dill Lee, one of the few remaining senior officers of the Confederate army, spoke to a group of sons of Confederate veterans who had gathered at Richmond to form a group to preserve the memory and valor of the Confederate soldier. He told the group it was their duty to present the true history of the South to future generations. This group, chartered as the Sons of Confederate Veterans, was committed to that charge. In 1977, Private Samuel Davis of Coleman's Scouts became the first to be posthumously presented the Confederate Medal of Honor. Since then, many others have been presented and those whose valor went far beyond the call of duty are finally being recognized.
Confederate Roll of Honor

Colonel Leopold Ludger Armant
18th Louisiana Consolidated Regiment
April 8, 1864 ~ Mansfield, Louisiana
Sergeant Adam Washington Ballenger
13th South Carolina Infantry
July 28, 1864 ~ Deep Bottom, Virginia
Private Wilson J. Barbee
1st Texas Infantry
July 2, 1863 ~ Gettysburg, Pennsylvania
Seaman Arnold Becker
CSS H. L. Hunley
February 17, 1864 ~ Attack on USS Housatonic outside Charleston Harbor, South Carolina
Private Christopher Columbus Bland
2nd North Carolina Artillery
December 24, 1864 ~ Fort Fisher, North Carolina
Father Emmeran Bliemel
Chaplain, 10th Tennessee Infantry
August 31, 1864 - Jonesboro, Georgia
Captain Isaac Newton Brown
Commander, CSS Arkansas
July 15, 1862 ~ Yazoo and Mississippi Rivers
Colonel Henry King Burgwyn, Jr.
26th North Carolina Infantry
July 1, 1863 ~ Gettysburg, Pennsylvania
Corporal C. F. Carlsen
CSS H. L. Hunley
February 17, 1864 ~ Attack on USS Housatonic outside Charleston Harbor, South Carolina
Major General Patrick Ronayne Cleburne
Cleburne's Division
November 30, 1864 ~ Franklin, Tennessee
Seaman F. Collins
CSS H. L. Hunley
February 17, 1864 - Attack on USS Housatonic outside Charleston Harbor, South Carolina
Adjutant Claudius Virginius Hughes Davis
22nd Mississippi Infantry
July 20, 1864 ~ Peach Tree Creek, Georgia
Private Samuel Davis
Coleman's Scouts
November 27, 1863 ~ Pulaski, Tennessee
1st Lieutenant George E. Dixon
CSS H. L. Hunley
February 17, 1864 ~ Attack on USS Housatonic outside Charleston Harbor, South Carolina
David Owen Dodd
Military Telegrapher
January 8, 1864 - Little Rock, Arkansas
1st Lieutenant Richard William Dowling
1st Texas Heavy Artillery
September 8, 1863 ~ Sabine Pass, Texas
Private Lamar Fontaine
Discharged soldier
May 24-May 28, 1863 ~ Vicksburg, Mississippi
Colonel Nathan Bedford Forrest
Forrest's Cavalry
April 8, 1862 ~ Shiloh, Tennessee
Sergeant Robert Henry Gregg Gaines
23rd Alabama Infantry
May 16, 1863 ~ Bakers Creek, Mississippi
Brigadier General Richard Brooke Garnett
Garnett's Brigade
July 3, 1863 ~ Gettysburg, Pennsylvania
Lieutenant Frank Patton Gracey
Cobb's 1st Kentucky Artillery ~ On October 29, 1864 swam the Tennessee River at night; captured Union supply steamer Mazeppa and two barges in tow with large quantities of winter supplies
Brigadier General Thomas Green
Green's Texas Cavalry Corps
April 12, 1864 ~ Blair's Landing, Louisiana
Private William Guehrs
Creuzbaur's Battery, 5th Texas Artillery
May 6, 1864 ~ Calcasieu Pass, Louisiana
Brigadier General Wade Hampton
Hampton's Brigade
July 3, 1863 ~ Gettysburg, Pennsylvania
Private Asbury W. Hancock
19th Mississippi Infantry
May 12, 1864 ~ Spotsylvania Court House, Virginia
Lieutenant Colonel Tazewell Lee Hargrove
44th North Carolina Regiment
June 26, 1863 ~ South Anna Bridge, Virginia
Juliet Opie Hopkins
Nurse
June 1, 1862 ~ Seven Pines, Virginia
Private William A. Hughes
1st Tennessee Infantry
June 27, 1864 ~ Kennesaw Mountain, Georgia
Private Dewitt Smith Jobe
Coleman's Scouts
August 30, 1864 ~ Between Triune and Nolensville, Tennessee

2nd Lieutenant Charles H. Jones

7th South Carolina Cavalry

April 8, 1865 ~ Skirmish at Manning, South Carolina

Thomas' Legion
November 8, 1861 ~ Strawberry Plains, Tennessee
Sergeant Richard Rowland Kirkland
2nd South Carolina Infantry
December 14, 1862 ~ Fredericksburg, Maryland
Captain James Lile Lemon
18th Georgia Infantry
November 29, 1863 ~ Fort Sanders, Tennessee
David Herbert Llewellyn, M.D.
Surgeon, CSS Alabama
June 19, 1864 ~ Off coast of Cherbourg, France, engagement with USS Kearsage

Captain Joseph Banks Lyle

5th South Carolina Infantry

October 27, 1864 ~ Battle of Williamsburg Road, Virginia

Private Tapley P. Mays
7th Virginia Infantry
May 5, 1862 ~ Williamsburg, Virginia
1st Lieutenant William Alexander McQueen
Garden's Battery, Palmetto Light Artillery
July 3, 1863 ~ Gettysburg, Pennsylvania
Captain John Singleton Mosby
Mosby's Regulars; 43rd Virginia Cavalry
March 8-9, 1863 - Fairfax Courthouse, Virginia
Private William Thomas Overby
43rd Virginia Cavalry
September 23, 1864 ~ Front Royal, Virginia
Private Benjamin Welch Owens
1st Maryland Artillery
June 15, 1863 ~ Stephenson's Depot, Virginia

1st Lieutenant Raphael Painpare

Beauregard Artillery
April 9, 1865 ~ Battle of Dingle's Mill, South Carolina
Major John Pelham
Stuart's Horse Artillery
December 13, 1862 ~ Fredericksburg, Virginia
Brigadier General William Dorsey Pender
Pender's Brigade
May 3, 1863 ~ Chancellorsville, Virginia

Private James Pleasants

Company F, 4th Virginia Cavalry

March 1, 1864 ~ The Dahlgren-Kilpatrick Raid, Goochland County, Virginia

Major General Camille Armand Jules Marie, Prince de Polignac
Polignac's Brigade
April 8, 1864 ~ Mansfield, Louisiana
Lieutenant Charles William Read
CSA Navy
June 6-June 27, 1863 ~ Cruise of the Clarence, Tacony, and Archer
1st Lieutenant William Field Rector
39th Arkansas Infantry
July 4, 1863 ~ Helena, Arkansas
Seaman Ridgeway
CSS H. L. Hunley
February 17, 1864 ~ Attack on USS Housatonic outside Charleston Harbor, South Carolina
Captain Samuel Jones Ridley
1st Mississippi Artillery
May 16, 1863 ~ Bakers Creek, Mississippi
Seaman C. Simpkins
CSS H. L. Hunley
February 17, 1864 ~ Attack on USS Housatonic outside Charleston Harbor, South Carolina
Seaman James A. Wicks
CSS H. L. Hunley
February 17, 1864 ~ Attack on USS Housatonic outside Charleston Harbor, South Carolina
Captain Henry Wirz
Ex-Commandant, Camp Sumter, Georgia
November 10, 1865 ~ Washington, D.C.
1st Lieutenant Bennett Henderson Young
5th Confederate State Retributors
October 19, 1864 ~ St. Albans, Vermont
(See also related reading below.)
Recommended Reading: Valor in Gray: The Recipients of the Confederate Medal of Honor. Description: Gregg Clemmer writes in detail about the events that occurred that caused these men to be remembered. He has spent countless hours researching the character of each recipient and their heroic-selfless actions. Whether a descendant of the North or the South, this book will make you feel the emotion that drove these men to risk their lives for their values and beliefs. Each chapter is devoted to a separate Confederate Medal of Honor recipient. Valor in Gray is destined to be one of the best books on Civil War history. (Available in hardcover and paperback.)
Recommended Reading: Courage in Blue and Gray: Tales of Valor from the Civil War. Description: This is a rich sampling of Civil War stories - tales of courage and valor - culled from letters, diaries, newspapers, periodicals, battle reports and pamphlets, which feature some well known and not so well known people who faced danger and uncertainty and showed great courage throughout this difficult time in our nation's history. Continued below…
Collected in this volume is the story of how Walt Whitman was drawn to the Civil War; the tale of George Armstrong Custer's life-long friendship with a far less famous Confederate general; the drama of America's greatest amphibious assault prior to World War II; the contrast between the post-war fate of Confederate Generals James Longstreet and Turner Ashby; the excitement of the Battle of Mobile Bay; the hardships faced by the new Confederate Post Office; the chronicle of a neurosurgeon's pioneering techniques that were later used in World War I; the adventure of a Prussian nobleman who fought with JEB Stuart; and the mystery of how a copy of the Bill of Rights stolen during Sherman's march to the sea was finally recovered by the FBI nearly one hundred and forty years after the Civil War. Here, in vivid detail and with a dramatic flair, are the voices of soldiers and sailors, friends and enemies, doctors, correspondents, generals and politicians, all told in a way that only history from the heart can tell. These tales convey the vitality, the humor, the courage and the valor of a people and their volatile era. These colorful stories offer a glimpse into the personalities, attitudes and events that at once enhance our understanding of the Civil War, a conflict that claimed more than 620,000 lives. About the Author: Ken Kryvoruka is a Washington, D.C. lawyer and a professor at the George Washington University Law School. Although born in New Jersey and a graduate of Rutgers College, he has spent most of his life in Northern Virginia, the major theater of the Civil War. Courage in Blue and Gray is his first collection of essays about the War. He lives in Falls Church, Virginia with his wife, two sons and their cairn terrier, Rudy.
Recommended Reading: Let Us Die Like Brave Men: Behind The Dying Words Of Confederate Warriors (Hardcover). Description: This book offers over 50 dramatic, bittersweet accounts of the last moments and words of Southern soldiers (some famous, others virtually unknown) from the rank of general to private. Photographs of the soldiers, their graves, or the places where they fell illustrate the text. Each story was chosen to highlight a different aspect of the war, and every state of the Confederacy is represented by soldiers whose poignant stories are told here. Continued below…
About the Author: Daniel W. Barefoot is the author of 9 previous books, including General Robert F. Hoke: Lee's Modest Warrior. He is a former N.C. state representative who lives in Lincolnton, North Carolina.
Recommended Reading:
Stealing the General: The Great Locomotive Chase and the First Medal of Honor
.

Description:

"The Great Locomotive Chase has been the stuff of legend and the darling of Hollywood. Now we have a solid history of the Andrews Raid. Russell S. Bonds' stirring account makes clear why the raid failed and what happened to the raiders."—James M. McPherson, author of Battle Cry of Freedom, winner of the Pulitzer Prize.
Continued below.
On April 12, 1862 -- one year to the day after Confederate guns opened on Fort Sumter -- a tall, mysterious smuggler and self-appointed Union spy named James J. Andrews and nineteen infantry volunteers infiltrated north Georgia and stole a steam engine referred to as the General. Racing northward at speeds approaching sixty miles an hour, cutting telegraph lines and destroying track along the way, Andrews planned to open East Tennessee to the Union army, cutting off men and materiel from the Confederate forces in Virginia. If they succeeded, Andrews and his raiders could change the course of the war. But the General's young conductor, William A. Fuller, chased the stolen train first on foot, then by handcar, and finally aboard another engine, the Texas. He pursued the General until, running out of wood and water, Andrews and his men abandoned the doomed locomotive, ending the adventure that would soon be famous as The Great Locomotive Chase, but not the ordeal of the soldiers involved. In the days that followed, the "engine thieves" were hunted down and captured. Eight were tried and executed as spies, including Andrews. Eight others made a daring escape to freedom, including two assisted by a network of slaves and Union sympathizers. For their actions, before a personal audience with President Abraham Lincoln, six of the raiders became the first men in American history to be awarded the Medal of Honor -- the nation's highest decoration for gallantry. Americans north and south, both at the time and ever since, have been astounded and fascinated by this daring raid. Until now, there has not been a complete history of the entire episode and the fates of all those involved. Based on eyewitness accounts, as well as correspondence, diaries, military records, newspaper reports, deposition testimony and other primary sources, Stealing the General: The Great Locomotive Chase and the First Medal of Honor by Russell S. Bonds is a blend of meticulous research and compelling narrative that is destined to become the definitive history of "the boldest adventure of the war."
Recommended Reading: The Civil War: Strange & Fascinating Facts (Hardcover). Description: After a lifetime of reading, Burke Davis put together a book of amazing and interesting pieces of information that don't usually show up in the historical accounts of the Civil War. ...Wonderfully entertaining look at some intriguing oddities, unusual incidents, and colorful personalities connected with the Civil War. It includes 25 names the war was known by, personal quirks of Robert E. Lee and Stonewall Jackson. Take a look at some interesting examples below…
Here are a few examples of his research:
The Civil War was known by more than twenty-five names. The most unusual include: The Brothers War; The War to Suppress Yankee Arrogance; The War for the Union; and The War of the Rebellion.
Abraham Lincoln had smallpox when he gave the Gettysburg Address and several members of his wife's family were soldiers in the Confederate Army. Also, President Lincoln admitted that one of his favorite tunes was "Dixie."
General Nathan Bedford Forrest, CSA, had twenty-nine horses shot from beneath him during the war. Belle Boyd started her career as a spy for the South when, at the age of seventeen, she killed a Federal soldier. After the war, about 3,000 former Confederate officers left the South and moved to foreign countries.