Whether you are seeking a list of American Civil War movies and documentaries, Public-Television miniseries, the best American Civil War history or documentary, best Civil War movie, greatest Civil War movie, or Civil War TV Series online, it is as easy as scrolling down this page or trying a search. It is here, just enter what you are looking for.
The Civil War - A Film by Ken Burns
Review: The Civil War - A Film by Ken Burns is the most successful public-television miniseries in American history. The 11-hour Civil War didn't just captivate a nation, reteaching to us our history in narrative terms; it actually also invented a new film language taken from its creator. When people describe documentaries using the "Ken Burns approach," its style is understood: voice-over narrators reading letters and documents dramatically and stating the writer's name at their conclusion, fresh live footage of places juxtaposed with still images (photographs, paintings, maps, prints), anecdotal interviews, and romantic musical scores taken from the era he depicts. The Civil War uses all of these devices to evoke atmosphere and resurrect an event that many knew only from stale history books. While Burns is a historian, a researcher, and a documentarian, he's above all a gifted storyteller, and it's his narrative powers that give this chronicle its beauty, overwhelming emotion, and devastating horror. Using the words of old letters, eloquently read by a variety of celebrities, the stories of historians like Shelby Foote and rare, stained photos, Burns allows us not only to relearn and finally understand our history, but also to feel and experience it. The DVD features on The Civil War provide a wealth of insight, creative philosophy, historical perspective, and educational enjoyment. Twelve years after its premiere broadcast, the film was given a digital facelift, sharpening image clarity, correcting color, and enriching its soundtrack with a remastered 5.1-channel mix, as demonstrated in the "Civil War Reconstruction" featurette. In interviews from 2002, producer-director Ken Burns, historian Shelby Foote, journalist George Will, author Stanley Crouch, and composer-musicians Jay Ungar and Molly Mason reflect upon The Civil War's enduring significance. And Burns's eloquent commentary--selectively included on each disc and totaling five hours--illuminates the historical importance and creative impulse behind crucial chapters of the film. Fifty-seven onscreen biography cards detail important North, South, and civilian figures, and two 1990 featurettes—"Making History" and "A Conversation with Ken Burns"--provide a more personal perspective on the creation of this extraordinary film. Useful for both personal and academic study, these features stand as a fitting supplement to one of the greatest documentaries ever produced. --Jeff Shannon
Hailed as a film masterpiece and landmark in historical storytelling, Ken Burns's epic documentary brings to life America's most destructive-- and defining--conflict. With digitally enhanced images and new stereo sound, here is the saga of celebrated generals and ordinary soldiers, a heroic and transcendent president and a country that had to divide itself in two in order to become one.
Plot Outline A comprehensive survey of the American Civil War.
Plot Synopsis: This highly acclaimed mini series traces the course of the U.S. Civil War from the abolitionist movement through all the major battles to the death of President Lincoln and the beginnings of Reconstruction. The story is mostly told in the words of the participants themselves, through their diaries, letters, and visuals are usually still photographs and illustrations of the time, and the soundtrack is likewise made up of war-era tunes played on period instruments. Several modern-day historians offer periodic comment and insight on the war's causes and events.
American Civil War (DVD Megaset) (2009)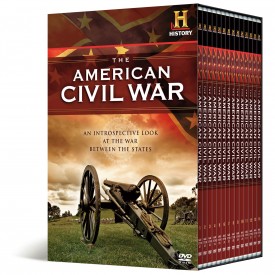 The American Civil War (DVD Megaset) (2009) (A&E Television Networks-The History Channel) (14 DVDs) (1697 minutes) (28 Hours 17 Minutes + extras). Experience for yourself the historical and personal impact of the Civil War in a way that only HISTORY can present in this moving megaset™, filled with over 28 hours of American Civil War content. This MEGASET is the most comprehensive American Civil War compilation to date and is the mother of all Civil War documentaries. A multifaceted look at "The War Between the States," this definitive collection brings the most legendary Civil War battles, and the soldiers and leaders who fought them, vividly to life. From Gettysburg and Antietam to Shiloh, and led by the likes of Sherman, McClellan, Grant, Beauregard, Lee, Davis, and Jackson, delve into the full military and political contexts of these men, their armies, and the clashes between them. Almost 150 years after Lee's surrender at Appomattox Court House, the unexpected secrets and little-known stories from Civil War history are divulged with fascinating detail. Cutting-edge CGI and accurate dramatizations illustrate archival letters and original diary entries, and the country's most renowned historians describe the less familiar incidents that add perspective and depth to the war that divided a nation. If the DVDs in this Megaset were purchased separately, it could cost hundreds of dollars. This one-of-a-kind compilation belongs on the shelf of every Civil War buff, and if you know anyone that is interested in the most costliest and bloodiest war in American history, buy this, they will love it.
THE AMERICAN CIVIL WAR contains the following programs:
* The Most Daring Mission Of The Civil War
* April 1865
* Battlefield Detectives: The Civil War (3 Episodes): Antietam, Gettysburg, Shiloh
* Secret Missions Of The Civil War
* The Lost Battle Of The Civil War
* Tales Of The Gun: Guns Of The Civil War
* Eighty Acres Of Hell
* Lincoln
* Investigating History: Lincoln: Man Or Myth
* Man, Moment, Machine: Lincoln & The Flying, Spying Machine
* Conspiracy?: Lincoln Assassination
* High Tech Lincoln
* Sherman's March
* The Hunt For John Wilkes Booth
* Civil War Combat (4 Episodes): The Hornets' Nest At Shiloh, The Bloody Lane At Antietam, The Wheatfield At Gettysburg, The Tragedy At Cold Harbor
* Civil War Journal (8 Episodes): John Brown's War, Destiny At Fort Sumter, The Battle of 1st Bull Run, The 54th Massachusetts, West Point Classmates—Civil War Enemies, Robert E. Lee, Stonewall Jackson, Sherman And The March To The Sea
BONUS FEATURES:
* Full-Length Documentary "Save Our History: Sherman's Total War Tactics"
* Behind the Scenes Featurettes for "Sherman's March" and "Lincoln"
The Civil War: A Narrative, by Shelby Foote
(3 Volumes Set) [BOX SET] (2960 pages)
The Civil War: A Narrative, by Shelby Foote (3 Volumes Set) [BOX SET] (2960 pages) (9.2 pounds), is a beautifully written trilogy of books on the American Civil War and is not only a piece of first-rate history, but also a marvelous work of literature. Shelby Foote brings a skilled novelist's narrative power to this great epic. Many know Foote for his prominent role as a commentator on Ken Burns's PBS series about the Civil War. These three books, however, are his legacy. His southern sympathies are apparent: the first volume opens by introducing Confederate President Jefferson Davis, rather than Abraham Lincoln. But they hardly get in the way of the great story Foote tells. This hefty three volume set should be on the bookshelf of any Civil War buff. --John Miller
Product Description:
Foote's comprehensive history of the Civil War includes three compelling volumes: Fort Sumter to Perryville, Fredericksburg to Meridian, and Red River to Appomattox. Collected together in a handsome boxed set, this is the perfect gift for any Civil War buff.
Fort Sumter to Perryville
"Here, for a certainty, is one of the great historical narratives of our century, a unique and brilliant achievement, one that must be firmly placed in the ranks of the masters." —Van Allen Bradley, Chicago Daily News
"Anyone who wants to relive the Civil War, as thousands of Americans apparently do, will go through this volume with pleasure.... Years from now, Foote's monumental narrative most likely will continue to be read and remembered as a classic of its kind." —New York Herald Tribune Book Review
Fredericksburg to Meridian
"This, then, is narrative history—a kind of history that goes back to an older literary tradition.... The writing is superb...one of the historical and literary achievements of our time." —The Washington Post Book World
"Gettysburg...is described with such meticulous attention to action, terrain, time, and the characters of the various commanders that I understand, at last, what happened in that battle.... Mr. Foote has an acute sense of the relative importance of events and a novelist's skill in directing the reader's attention to the men and the episodes that will influence the course of the whole war, without omitting items which are of momentary interest. His organization of facts could hardly be bettered." —Atlantic
Red River to Appomattox
"An unparalleled achievement, an American Iliad, a unique work uniting the scholarship of the historian and the high readability of the first-class novelist." —Walker Percy
"I have never read a better, more vivid, more understandable account of the savage battling between Grant's and Lee's armies.... Foote stays with the human strife and suffering, and unlike most Southern commentators, he does not take sides. In objectivity, in range, in mastery of detail in beauty of language and feeling for the people involved, this work surpasses anything else on the subject.... It stands alongside the work of the best of them." —New Republic
Eyewitness to the Civil War
(National Geographic)
Description: (National Geographic) (Hardcover: 416 pages) (November 21, 2006). Review: This grand history is majestic in both scope and scale: an informed overview for general-interest readers and a superb resource for serious buffs, this extraordinary, gloriously illustrated volume is sure to become one of the fundamental books in any Civil War library. Its features include a dramatic narrative packed with eyewitness accounts and hundreds of rare photographs, artifacts, and period illustrations. Evocative sidebars, detailed maps, and timelines add to the reference-ready quality of the text.
From John Brown's raid to Reconstruction, Eyewitness to the Civil War presents a clear, comprehensive discussion that addresses every military, political, and social aspect of this crucial period. In-depth descriptions of campaigns and battles in all theaters of war are accompanied by a thorough evaluation of the nonmilitary elements of the struggle between North and South. In their own words, commanders and common soldiers in both armies tell of life on the battlefield and behind the lines, while letters from wives, mothers, and sisters provide a portrait of the home front. More than 375 historical photos, portraits, and artifacts—many never before published—evoke the era's flavor; and detailed maps of terrain and troop movements make it easy to follow the strategies and tactics of Union and Confederate generals as they fought through four harsh years of war. Photoessays on topics ranging from the everyday lives of soldiers to the dramatic escapades of the cavalry lend a breathtaking you-are-there feeling, and an inclusive appendix adds even more detail to what is already a magnificently meticulous history. If you purchase one book this year, this is it. RATED 5 STARS by americancivilwarhistory.org
About the Author: Neil Kagan, editor, heads Kagan & Associates Inc., a firm specializing in innovative illustrated books, and is the guiding spirit behind numerous book series including Voices of the Civil War and Our American Century. Recently, he edited Great Battles of the Civil War, Great Photographs of the Civil War, and National Geographic Concise History of the World. He lives in Falls Church, Virginia.
Stephen G. Hyslop is a writer and editor of books on American and world history, including National Geographic Almanac of World History (with Patricia Daniels). He served as editor for the history series Time Frame, What Life Was Like, and American Indians. He is a contributing writer for History Channel Magazine.
The History Buff's Guide to the Civil War
Description: The History Buff's Guide to the Civil War (400 pages) (Cumberland House Publishing). Review: Exploring the Civil War can be fascinating, but with so many battles, leaders, issues, and more than 50,000 books on these subjects, the task can also be overwhelming. Was Gettysburg the most important battle? Were Abraham Lincoln and Jefferson Davis so different from each other? How accurate is re-enacting? Who were the worst commanding generals? Thomas R. Flagel uses annotated lists organized under more than thirty headings to see through the powder smoke and straighten Sherman's neckties, ranking and clarifying the best, the worst, the largest, and the most lethal aspects of the conflict. Major sections are fashioned around the following topics:
• Antebellum: Investigates the critical years before the war, in particular the growing crises, extremists, and slavery.
• Politics: Contrasts the respective presidents and constitutions of the Union and Confederacy, the most prominent politicians, and the most volatile issues of the times.
• Military Life: Offers insights into the world of the common soldiers, how they fought, what they ate, how they were organized, what they saw, how they lived, and how they died.
• The Home Front: Looks at the fastest growing field in Civil War research, including immigration, societal changes, hardships and shortages, dissent, and violence far from the firing lines.
• In Retrospect: Ranks the heroes and heroines, greatest victories and failures, firsts and worsts.
• Pursuing the War: Summarizes Civil War study today, including films, battlefield sites, books, genealogy, re-enactments, restoration, preservation, and other ventures.
From the antebellum years to Appomattox and beyond, The History Buff's Guide to the Civil War is a quick and compelling guide to one of the most complex and critical eras in American history.
About the Author:
Thomas R. Flagel is a freelance writer and history teacher. He holds degrees from Loras College, Kansas State University, and
Creighton
University
and has also studied at the
University of Vienna
. His ancestors include several Civil War veterans, including his 3rd great grandfather who served in the Second Iowa Infantry. Flagel resides in
Cedar Rapids, Iowa
.
The Politically Incorrect Guide to the Civil War
Description: The Politically Incorrect Guide to the Civil War (Politically Incorrect Guides). Get ready for a rousing rebel yell as bestselling author H.W. Crocker, III (Robert E. Lee on Leadership) charges through bunkers and battlefields in The Politically Incorrect Guide(TM) to the Civil War. Crocker busts myths and shatters stereotypes as he profiles eminent--and colorful--military generals while taking readers through chapters such as "The Civil War in Sixteen Battles You Should Know" and culminating in the most politically incorrect chapter of all, "What if the South Had Won." Revealing little-known truths, like why Robert E. Lee had a higher regard for African Americans than Lincoln did, this is the "P.I.G." that every Civil War buff and Southern partisan will want on their bookshelf, in their classroom, and under their Christmas tree.
From the Inside Flap: Think you know the Civil War? You don't know the full story until you read The Politically Incorrect GuideTM to the Civil War. Bestselling author and former Conservative Book Club editor H. W. Crocker III offers a quick and lively study of America's own Iliad--the Civil War--in this provocative and entertaining addition to The Politically Incorrect GuideTM series. In The Politically Incorrect GuideTM to the Civil War Crocker profiles eminent--and colorful--military generals including the noble Lee, the controversial Sherman, the indefatigable Grant, the legendary Stonewall Jackson, and the notorious Nathan Bedford Forrest. He also includes thought-provoking chapters such as "The Civil War in Sixteen Battles You Should Know" and the most devastatingly politically incorrect chapter of all, "What If the South Had Won?" Along the way, he reveals a huge number of little-known truths, including why Robert E. Lee had a higher regard for African Americans than Lincoln did; how, if there had been no Civil War, the South would have abolished slavery peaceably (as every other country in the Western Hemisphere did in the nineteenth century); and how the Confederate States of America might have helped the Allies win World War I sooner. Bet your history professor never told you:
* Leading Northern generals--like McClellan and Sherman--hated abolitionists
* Bombing people "back to the Stone Age" got its start with the Federal siege of Vicksburg
* General Sherman professed not to know which was "the greater evil": slavery or democracy
* Stonewall Jackson founded a Sunday school for slaves where he taught them how to read
* General James Longstreet fought the Battle of Sharpsburg in his carpet slippers
This is the Politically Incorrect GuideTM that every Civil War buff and Southern partisan--and everyone who is tired of liberal self-hatred that vilifies America's greatest heroes--must have on his bookshelf.
Encyclopedia of the American Civil War: A Political, Social, and Military History
Description: Encyclopedia of the American Civil War: A Political, Social, and Military History, by David J. Coles (Editor), David Stephen Heidler (Editor), Jeanne T. Heidler Ph.D. (Editor, Introduction), Jeanne T. Heidler (Author), James M. McPherson (Author) (Hardcover) (2784 pages). From Booklist: After more than 100 years, the Civil War still attracts more public interest than any other event in U.S. history. This fact is reflected in the inordinate number of books, well over 50,000, written about the conflict. ABCCLIO has published the most comprehensive reference work, offering more than 1,600 signed entries, over 300 contributors, more than 500 illustrations and 75 maps, and over 250 primary source documents. The encyclopedia provides in A-Z format information on the war's strategic aims, diplomatic and political maneuvering, key military actions (with descriptions of more than 60 engagements), key participants (civilian and military), and impact on American society and history. Mary Ann Ball Bickerdyke, a Union Army nurse; Matthew Brady, a photographer who accompanied the Union Army in the first main battle; and military leaders such as Ulysses S. Grant, Robert E. Lee, and James Longstreet are just a few of the individuals covered. The encyclopedia not only treats the military aspects of the war but presents full coverage of the politics, literature, art, music, and homefront events. Every conceivable subject--from Chickamauga, Battle of to Harper's Weekly to Gatling gun to Jews-- receives consideration. .Entries range from less than one-half page to more than eighteen pages for the Atlanta Campaign. Each essay is followed by see also references to related entries elsewhere in the set, as well as extensive suggested readings for deeper research on that particular subject. The final volume compiles more than 250 topically arranged documents, including Abraham Lincoln's famous "A house divided against itself cannot stand" speech, excerpts from Frederick Douglass' "My Escape from Slavery" speech, Jefferson Davis' "Proclamation of 1861," the Battle Hymn of the Republic, and more. These primary source materials are an invaluable enhancement to the set. Following the documents, one finds five appendixes. Appendix I lists the Confederate States of America's general officers, followed by its government in appendix II. Appendix III lists the officers of the United States of America, followed by its government in appendix IV. Appendix V is a directory of Civil War battlefield sites with addresses, phone numbers, and maps. Following the appendixes is a "Civil War Chronology" showing relationships between military actions and political, diplomatic, and social developments. A brief glossary provides definitions for the researcher unfamiliar with such terms as cashier ("dishonorably discharge an office") and retrograde ("an orderly retreat usually designed to move away from an enemy"). An extensive bibliography lists all the resources referenced throughout the volumes. The index indicates main entries in bold print, while illustrations are identified with italics. The index is detailed and comprehensive. For example, under African American sailors, there are references to individuals who relate to this category, such as Gideon Welles and Francis Shoup. Under Gettysburg, battle of one finds page references not only to information about the battle but also to related people, places, and events. The set is handsomely designed, with numerous period photographs complementing the text.. There are some minor criticisms regarding layout, which makes maneuvering the set a bit cumbersome. The index to all volumes can only be found in volume five, which means the researcher has to use two volumes most of the time; a cumulative index in each volume would have made access easier. The index cites only page numbers, leaving the user to guess which volume a page might be in. Neither the bibliographies nor the directory to battle sites makes reference to the copious information that is available through the World Wide Web. However, these are small shortcomings. Encyclopedia of the American Civil War is the most comprehensive reference work written about its topic, providing both the novice and the expert an opportunity to expand their knowledge of this vital aspect of U.S. history. Recommended for high-school, public, and academic libraries. Copyright © American Library Association. All rights reserved.
From the Inside Flap (Special features): 1,600+ signed, A-to-Z entries, each with references to further reading. 300+ contributors, including some of the leading Civil War scholars at work today. 500+ illustrations, including contemporary photographs, lithographs, and drawings. 75 maps created specially for this encyclopedia. 250+ primary source documents that provide "you-are-there" immediacy: the Dred Scott decision, Lee's Farewell Address—speeches, legislation, military and civilian correspondence, editorials, and eyewitness reports. Chronology of major political, diplomatic, and military events. Glossary that defines military terms and explains usages peculiar to the period. In-depth coverage of the often-overlooked roles of African Americans, immigrants, and women, in battle and on the home front. Comprehensive treatment of subjects usually covered only in specialized monographs, from social conditions and public reactions to the war to press coverage and elections. Full accounts of the major battles, complete with detailed dispositions of forces, commanders, and orders of battle—as well as smaller engagements and their role in the larger military context. Coverage of subjects related to or affected by the war: slavery, states' rights, secession, emancipation, Reconstruction, the involvement of foreign powers, literature, photography, art, conscription, conscientious objection, the role of immigrants. Biographies of military, political, diplomatic, and cultural figures, among them Horace Greeley, "Bloody Bill" Anderson, Fitzhugh Lee, George E. Pickett, Herman Melville, Eppa Hunton, Petroleum V. Nasby, Henry Wirz. Lists of the officers of the Union and Confederate armies and the members of the two governments. Special battlefield section for sites in sixteen states, with location maps and visitor information. Exhaustive subject index and cross-referencing.