2nd North Carolina Cavalry Regiment: Battles and Casualties*
Location
Date
Killed
Wounded
POW
Missing
Losses
Amelia Court House, VA
Apr 4 1865
0
0
3
0
3
Beverly Ford, VA
Jun 9 1863
0
0
7
0
7
Brandy Station, VA
Jun 9 1863
4
17
2
0
23
Bristoe Station, VA
Oct 15 1863
0
1
0
0
1
Catlett's Station, VA
Oct 14 1863
0
0
1
0
1
Deep Bottom Run, VA
Aug 15 1864
1
0
0
0
1
Deep Bottom, VA
Aug 15 1864
0
1
2
0
3
Deep Bottom Run, VA
Aug 15 1864
1
0
0
0
1
Deep Bottom, VA
Aug 15 1864
0
1
2
0
3
Dumfries, VA
Dec 27 1862
0
0
1
0
1
Falling Waters, VA
Jul 14 1863
0
0
4
0
4
Fayetteville, NC
Mar 12 1865
0
0
1
0
1
Five Forks, VA
Apr 1 1865
1
4
10
0
15
Fredericksburg, VA
May 3 1863
0
0
6
0
6
Gettysburg, PA
Jul 3 1863
0
2
4
0
6
Hagerstown, MD
Jul 12 1863
0
0
1
0
1
Hanover, PA
Jun 30 1863
0
4
18
0
22
Middleburg, VA
Jun 19 1863
0
1
1
0
2
Mine Run, VA
Nov 26 1863
0
1
2
0
3
Petersburg, VA
Jun 21 1864
0
0
2
0
2
Petersburg, VA
Apr 2 1865
0
1
0
0
1
Pollocksville, NC
May 16 1862
0
0
2
0
2
Reams' Station, VA
Aug 25 1864
0
1
0
0
1
Spotsylvania Court House, VA
May 9 1864
1
0
1
0
2
Upperville, VA
Jun 21 1863
6
7
4
0
17
Washington, NC
Sep 6 1862
1
0
0
0
1
White House, VA
Jun 21 1864
0
1
0
0
1
White's Tavern, VA
Aug 16 1864
0
1
0
0
1
Wilderness, VA
May 10 1864
0
0
1
0
1
Williamsburg, VA
May 5 1862
0
0
1
0
1
Notes: Try the internal search engine to research a particular battle, i.e., Battle of Gettysburg, Battle of Spotsylvania Court House, Wilderness, etc.
North Carolina Civil War Map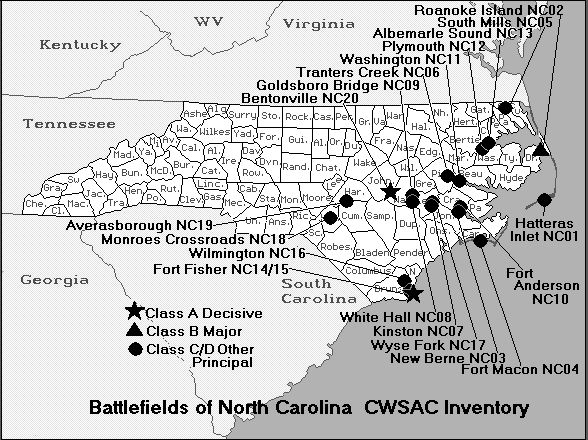 Civil War North Carolina Battlefield Map
* Battles listed in alphabetical order, only battles with losses recorded, and information obtained through: Confederate Military History, Extended Edition (19 Volumes); The Union Army (9 Volumes); Walter Clark, Histories of the Several Regiments and Battalions From North Carolina in the Great War 1861-1865 (5 Volumes); North Carolina Troops 1861-1865: A Roster (15 Volumes); Official Records of the Union and Confederate Armies.
2nd North Carolina Cavalry Regiment: Statistics
Recommended Reading: The 2nd North Carolina Cavalry. This history covers not only the Second North Carolina Cavalry's accomplishments and failures, but the events that influenced its actions and heroic performance. The author pays particular attention to the Second North Carolina's involvement with the Army of Northern Virginia and the North Carolina Cavalry Brigade, and includes official documents, letters written to and from home, and diaries and memoirs to present the soldiers' war experiences.