26th North Carolina Infantry Regiment
Band of the 26th North Carolina Regiment, C.S.A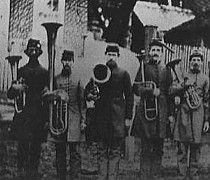 26th North Carolina Regimental Band, C.S.A
26th Infantry Regiment was organized in August 1861 at "Crab Tree," a plantation three miles from Raleigh, North Carolina. Its members were recruited in the counties of Ashe, Chatham, Wilkes, Union, Wake, Caldwell, Moore, Alamance, Randolph, and Anson. A
female Soldier
also enlisted in the 26th. The regiment served at Fort Macon, on Bogue Island, North Carolina, then fought at New Bern. During the war, it was assigned to General R. Ransom's, Pettigrew's, Kirkland's, and MacRae's Brigade. It participated in the Seven Days Battles and conflicts at Rawls' Mills and
Goldsboro
. The 26th continued the "fight" under the command of the
Army of Northern Virginia
from
Gettysburg
to
Cold Harbor
, took its place in the entrenchments south of the James River, and was involved in the final campaign at
Appomattox
. It lost 87 killed or wounded at
New Bern
, had 6 killed and 40 wounded during the
Seven Days Battles
, and of the 843 engaged at
Gettysburg
, more than eighty percent were disabled. The unit reported 16 killed and 83 wounded at
Bristoe
and on
April 9, 1865
, surrendered 10 officers and 120 men. Its commanders were Colonels
Henry K. Burgwyn, Jr.
,
John R. Lane
, and
Zebulon B. Vance
. Colonel Zebulon Vance became North Carolina's Governor (1862-1865 and 1877-1879), and also served in the United States Senate from 1879-1892; Lieutenant Colonels James T. Adams and John T. Jones; and Majors Abner B. Carmichael, James S. Kendall, and N. P. Rankin. The greatest loss sustained by any regiment (North or South) during the war was the Twenty-sixth
North Carolina
Infantry Regiment at
Gettysburg;
it advanced more than 800 men into action and more than eighty percent were disabled.
Civil War Map of North Carolina Battlefields
High Resolution Civil War Map of North Carolina Battlefields
26th North Carolina Advance in Pickett's Charge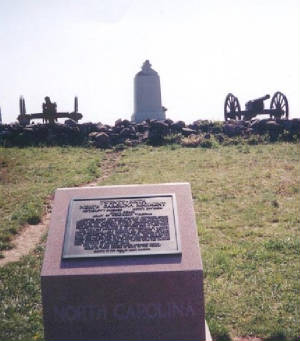 26th North Carolina Memorial at Battle of Gettysburg
(Right) This photograph shows just how far the 26th advanced and just how close they came to the Union Lines during Pickett's Charge.
"We [26th North Carolina Infantry] went in with over 800 men in the regiment. There came out but 216, all told, unhurt. Yesterday they were again engaged, and now have only about 80 men for duty." Battle of Gettysburg report of Capt. J. J. Young, quartermaster, Twenty-sixth North Carolina Infantry on July 4, 1863
Below is the text on the monument to the 26th:
TWENTY-SIXTH
NORTH CAROLINA REGIMENT
PETTIGREW'S BRIGADE HETH'S DIVISION
HILL'S CORPS
ARMY OF NORTHERN VIRGINIA
ALTHOUGH NEARLY DESTROYED DURING ITS SUCCESSFUL ATTACK AGAINST MEREDITH'S IRON BRIGADE ON JULY 1, THE TWENTY-SIXTH NORTH CAROLINA REGIMENT JOINED IN THE PETTIGREW-PICKETT CHARGE ON THE AFTERNOON OF JULY 3. ADVANCING UNDER SOLID SHOT, SPHERICAL CASE, CANISTER, AND MUSKETRY THE REGIMENT CHARGED TO WITHIN TEN PACES OF THE STONE WALL IN THEIR FRONT.
THE SCENE WAS DESCRIBED BY AN ARTILLERYMAN OF A RHODE
ISLAND BATTERY: ". . . AS A REGIMENT OF PETTIGREW'S BRIGADE
(THE TWENTY-SIXTH NORTH CAROLINA) WAS CHARGING. . .AND HAD ALMOST REACHED THE WALL JUST IN FRONT OF US, SERGE M.C.ONLEY CRIED OUT . . .'FIRE THAT GUN! PULL! PULL!' THE NO. 4 OBEYED
ORDERS AND THE GAP MADE IN THAT NORTH CAROLINA REGIMENT WAS SIMPLY TERRIBLE." UNDER THIS GALLING FIRE, THE TWENTY-SIXTH NORTH CAROLINA WAS COMPELLED TO RETIRE WITH THE BRIGADE FROM THIS POINT TO SEMINARY RIDGE.
"THE MEN OF THE TWENTY-SIXTH REGIMENT WOULD
DRESS THEIR COLORS IN SPITE OF THE WORLD."
ERECTED BY THE STATE OF NORTH CAROLINA
1986
Recommended Reading: Boy Colonel of the Confederacy. Description: Henry King Burgwyn, Jr. (1841-63), the youngest colonel in the Army of Northern Virginia and one of the youngest colonels of the American Civil War, died at the age of twenty-one while leading the Twenty-sixth North Carolina Infantry Regiment into action at the Battle of Gettysburg. Continued below...
In this sensitive biography, originally published by UNC Press in 1985, Archie Davis provides a revealing portrait of the young man's character and a striking example of a soldier who selflessly fulfilled his duty. Drawing on Burgwyn's own letters and diary,
Davis
also offers a fascinating glimpse into
North Carolina
society during the antebellum period and the American Civil War.
Recommended Reading: Covered With Glory: The 26th North Carolina Infantry at Gettysburg. Description: Award-winning historian, Rod Gragg, delivers a masterpiece with his renowned study of the Fighting 26th. Rated a solid 5 STARS (highest possible rating), Covered With Glory reflects vividly the fighting history of the 26th, led by General Robert E. Lee's youngest regimental colonel, 21-year-old Colonel Henry K. Burgwyn, Jr. Student, Scholar, and Civil War Buff, this is a must have addition for your library. Continued below…
From Library Journal: Award-winning historian Gragg offers yet another Civil War title. The 26th North Carolina saw action early in the war at New Bern and Malvern Hill. On the first day at Gettysburg, it fought against the 24th Michigan in McPherson's Woods. On the third and final day, it participated in the infamous Pickett's Charge and suffered an 85 percent casualty rate, the highest of any regiment in the Civil War. Besides recounting the enormous loss of life and the heroic deeds of many men, Gragg reveals the human side of battle. Family diaries and letters describe the difficulties most soldiers faced in coping with military life. The author uses an impressive list of other books and historical sources. What emerges is a detailed but readable history of a regiment whose sacrifices and exploits merit studying. Recommended for its scholarship and depth of coverage to all academic and large public libraries and to special collections.
Recommended Reading: Lee's Tar Heels: The Pettigrew-Kirkland-MacRae Brigade (Hardcover). Description: The Pettigrew-Kirkland-MacRae Brigade was one of North Carolina's best-known and most successful units during the Civil War. Formed in 1862, the brigade spent nearly a year protecting supply lines before being thrust into its first major combat at Gettysburg. There, James Johnston Pettigrew's men pushed back the Union's famed Iron Brigade in vicious fighting on July 1 and played a key role in Pickett's Charge on July 3, in the process earning a reputation as one of the hardest-fighting units in Robert E. Lee's Army of Northern Virginia. Continued below…
Despite suffering heavy losses during the Gettysburg campaign, the brigade went on to prove its valor in a host of other engagements. It marched with Lee to Appomattox and was among the last Confederate units to lay down arms in the surrender ceremony. Earl Hess tells the story of the men of the Pettigrew-Kirkland-MacRae Brigade, and especially the famous 26th North Carolina, chronicling the brigade's formation and growth under Pettigrew and its subsequent exploits under William W. Kirkland and William MacRae. Beyond recounting the brigade's military engagements, Hess draws on letters, diaries, memoirs, and service records to explore the camp life, medical care, social backgrounds, and political attitudes of these gallant Tar Heels. He also addresses the continuing debate between North Carolinians and Virginians over the failure of Pickett's Charge. "[A] welcome addition for the student of the ANV, brigade histories, and Battle of Gettysburg. Will also be enjoyed greatly by the serious reader of the Civil War as well as casual reader of American history." americancivilwarhistory.org
Recommended Reading:
Confederate Military History Of North Carolina: North Carolina In The Civil War, 1861-1865.

Description:

The author, Prof. D. H. Hill, Jr., was the son of Lieutenant General Daniel Harvey Hill (North Carolina produced only two lieutenant generals and it was the second highest rank in the army) and his mother was General "Stonewall" Jackson's wife's sister. In

Confederate Military History Of North Carolina

, Hill discusses North Carolina's massive task of preparing and mobilizing for the conflict; the many regiments and battalions recruited from the Old North State; as well as the state's numerous contributions during the war. Continued below...
During Hill's
Tar
Heel
State
study, the reader begins with interesting and thought-provoking statistical data regarding the 125,000 "
Old
North
State
" soldiers that fought during the course of the war and the 40,000 that perished. Hill advances with the
Fighting Tar Heels
to the first battle at
Bethel
, through numerous bloody campaigns and battles--including
North Carolina
's contributions at the "High Watermark" at
Gettysburg
--and concludes with Lee's surrender at
Appomattox
. Highly recommended!
Recommended Reading: The Life of Johnny Reb: The Common Soldier of the Confederacy (444 pages) (Louisiana State University Press) (Updated edition: November 2007) Description: The Life of Johnny Reb does not merely describe the battles and skirmishes fought by the Confederate foot soldier. Rather, it provides an intimate history of a soldier's daily life--the songs he sang, the foods he ate, the hopes and fears he experienced, the reasons he fought. Wiley examined countless letters, diaries, newspaper accounts, and official records to construct this frequently poignant, sometimes humorous account of the life of Johnny Reb. In a new foreword for this updated edition, Civil War expert James I. Robertson, Jr., explores the exemplary career of Bell Irvin Wiley, who championed the common folk, whom he saw as ensnared in the great conflict of the 1860s. Continued below...
About Johnny Reb:
"A Civil War classic."--Florida Historical Quarterly
"This book deserves to be on the shelf of every Civil War modeler and enthusiast."--Model Retailer
"[Wiley] has painted with skill a picture of the life of the Confederate private. . . . It is a picture that is not only by far the most complete we have ever had but perhaps the best of its kind we ever shall have."--Saturday Review of Literature
Recommended Viewing: The Civil War - A Film by Ken Burns. Review: The Civil War - A Film by Ken Burns is the most successful public-television miniseries in American history. The 11-hour Civil War didn't just captivate a nation, reteaching to us our history in narrative terms; it actually also invented a new film language taken from its creator. When people describe documentaries using the "Ken Burns approach," its style is understood: voice-over narrators reading letters and documents dramatically and stating the writer's name at their conclusion, fresh live footage of places juxtaposed with still images (photographs, paintings, maps, prints), anecdotal interviews, and romantic musical scores taken from the era he depicts. Continued below...
The Civil War uses all of these devices to evoke atmosphere and resurrect an event that many knew only from stale history books. While Burns is a historian, a researcher, and a documentarian, he's above all a gifted storyteller, and it's his narrative powers that give this chronicle its beauty, overwhelming emotion, and devastating horror. Using the words of old letters, eloquently read by a variety of celebrities, the stories of historians like Shelby Foote and rare, stained photos, Burns allows us not only to relearn and finally understand our history, but also to feel and experience it. "Hailed as a film masterpiece and landmark in historical storytelling." "[S]hould be a requirement for every student."
Sources: Official Records of the Union and Confederate Armies; Walter Clark, Histories of the Several Regiments and Battalions from North Carolina in the Great War 1861-1865; National Park Service: American Civil War; National Park Service: Soldiers and Sailors System; Weymouth T. Jordan and Louis H. Manarin, North Carolina Troops, 1861-1865; and D. H. Hill, Confederate Military History Of North Carolina: North Carolina In The Civil War, 1861-1865.