When was the VA Created?
Date the VA was Created
A Brief History of the VA
Date the VA was Established
Did you know that the VA was created twice and that the Secretary of the VA is heir to the presidency?
Who created the VA, now that is the question that we must answer in order to sleep well — not! But it is trivia, it is history. While creation or establishment of the VA is usually explained by timeline, we'll answer the question directly. President Herbert Hoover established the Veterans Administration by Executive Order 5398 on July 21, 1930.
Veterans Administration or Veterans Affairs? On October 25, 1988, President Ronald Reagan elevated the Veterans Administration to Cabinet level and renamed it
Veterans Affairs
(technically, Department of Veterans Affairs), but the law became effective on March 15, 1989, under President George H. W. Bush. It continues to be known as VA, however.
In his 1929 State of the Union message, President Hoover proposed consolidating agencies administering veterans benefits. The following year Congress created the Veterans Administration by uniting three bureaus — the previously independent Veterans' Bureau, the Bureau of Pensions, and the National Homes for Disabled Volunteer Soldiers. President Hoover signed the executive order establishing the VA on July 21, 1930.
The three component agencies became bureaus within the Veterans Administration, with Brig. Gen. Frank T. Hines, who had directed the Veterans Bureau for seven years, named the first Administrator of Veterans Administration, a position he held until 1945. Dr. Charles Griffith, VA's second Medical Director, had served in the Public Health Service and Veterans Bureau. Both he and Hines were the longest serving executives in VA's history.
Veterans Affairs says that Confederate and Union Veterans are Equal
The new agency known as the Veterans Administration was responsible for medical services for war veterans; disability compensation and allowances for World War I veterans; life insurance; bonus certificates; retirement payments for emergency officers; Army and Navy pensions; and retirement payments for civilian employees.
Date VA was Created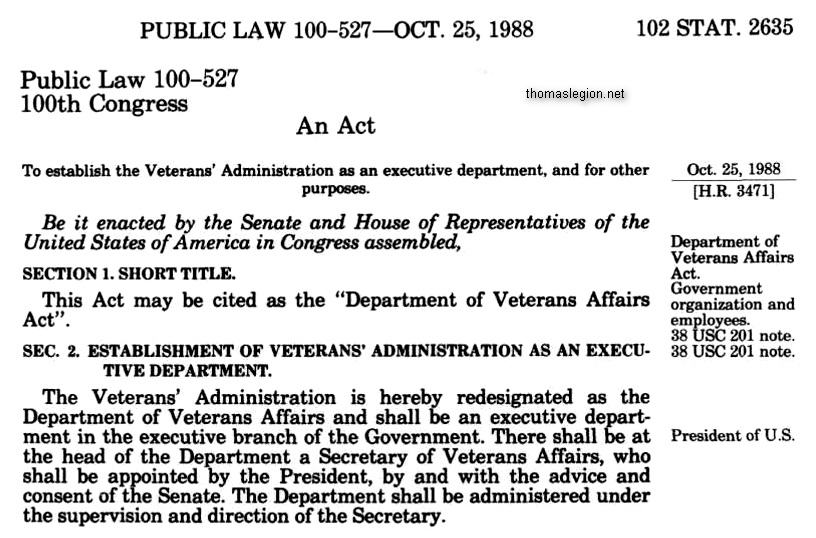 Creation of the VA
The VA was elevated to a Cabinet-level executive department by President Ronald Reagan on October 25, 1988. The change took effect March 15, 1989, and administrative changes occurred at all levels. President George H. W. Bush hailed the creation of the new Department, saying, "There is only one place for the Veterans of America, in the Cabinet Room, at the table with the President of the United States of America." The Veterans Administration was then renamed the Department of Veterans Affairs, and continued to be known as VA.
The Department of Veterans Affairs is headed by the Secretary of Veterans Affairs, appointed by the President with the advice and consent of the Senate. In the presidential order of succession, the Secretary of Veterans Affairs is number 17. In addition to Secretary and Deputy Secretary, the VA has at least nine more positions requiring presidential appointment and Senate approval.
The Department has three main subdivisions, known as Administrations, each headed by an Undersecretary:
Veterans Health Administration (VHA): responsible for providing health care in all its forms, as well as for biomedical research (under the Office of Research and Development), Community Based Outpatient Clinics (CBOCs), and Regional Medical Centers
Veterans Benefits Administration (VBA): responsible for initial veteran registration, eligibility determination, and five key lines of business (benefits and entitlements): Home Loan Guarantee, Insurance, Vocational Rehabilitation and Employment, Education (GI Bill), and Compensation & Pension
National Cemetery Administration: responsible for providing burial and memorial benefits, as well as for maintenance of VA cemeteries
There are Assistant Secretaries of Veteran Affairs for: Congressional and Legislative Affairs; Policy and Planning; Human Resources and Administration; and Operations, Security and Preparedness. Other Senate-approved presidential nominees at the VA include: Chief Financial Officer; Chair, Board of Veterans Appeals; General Counsel; and Inspector General.
Today's Veterans Health Administration (VHA)—the largest of the three administrations that comprise VA—continues to meet Veterans' changing medical, surgical and quality-of-life needs. New programs provide treatment for traumatic brain injuries, post-traumatic stress, suicide prevention, women Veterans and more. VA has opened outpatient clinics, and established telemedicine and other services to accommodate a diverse Veteran population, and continues to cultivate ongoing medical research and innovation to improve the lives of America's patriots.
VHA operates one of the largest health care systems in the world and provides training for a majority of America's medical, nursing and allied health professionals. Roughly 60 percent of all medical residents obtain a portion of their training at VA hospitals; and VA medical research programs benefit society at-large. The VA health care system has grown from 54 hospitals in 1930, to include 152 hospitals, 800 community-based outpatient clinics, 126 nursing home care units and 35 domiciliaries.
The Veterans Benefits Administration (VBA) is responsible for administering the Department's programs that provide financial and other forms of assistance to Veterans, their dependents, and survivors. Major benefits include VA Compensation and Pension, Educational Programs, Insurance Programs, Loan Guaranty, and Vocational Rehabilitation and Employment.
The mission of the Veterans Benefits Administration, in partnership with the Veterans Health Administration and the National Cemetery Administration, is to provide benefits and services to the veterans and their families in a responsive, timely and compassionate manner in recognition of their service to the United States.
Considered the financial arm of the VA, the VBA oversees a wide array of financial benefits, including from VA compensation and pension, the GI Bill (educational benefits for veterans), Dependents Education Assistance Program (DEA), Veterans Group Life Insurance (VGLI), Servicemembers' Group Life Insurance (SGLI), Burial and Interment Allowances, Specially Adapted Housing Grants (SAH), Dependency and Indemnity Compensation (DIC) (benefits paid to survivors), to VA loans (mortgage loans under its Loan Guaranty Program).
The National Cemetery Administration maintains 131 of the 147 national cemeteries of the United States. The Department of the Army maintains two national cemeteries: Arlington National Cemetery and United States Soldiers' and Airmen's Home National Cemetery. The National Park Service (NPS) maintains 14 cemeteries associated with historic sites and battlefields.
United States national cemetery is a designation for 147 nationally recognized cemeteries in the United States. A national cemetery is generally a military cemetery containing the graves of U.S. military personnel as well as veterans and their spouses. There are also state veteran cemeteries.
The American Battle Monuments Commission, an independent agency, maintains 24 American military cemeteries and other memorials outside of the United States. The most recognized national cemetery is Arlington National Cemetery in Arlington County, Virginia, adjacent Washington, D.C. Some national cemeteries, especially Arlington, contain the graves of important civilian leaders and other important national figures. A few national cemeteries also contain sections for
Confederate soldiers
(1861-1865). See also
Introduction
.
Related Reading:
Source: Veterans Affairs