American Civil War Cavalry
Union and Confederate Cavalry Weapons
Civil War Cavalry
A Photographic History
Civil War Cavalry Weapons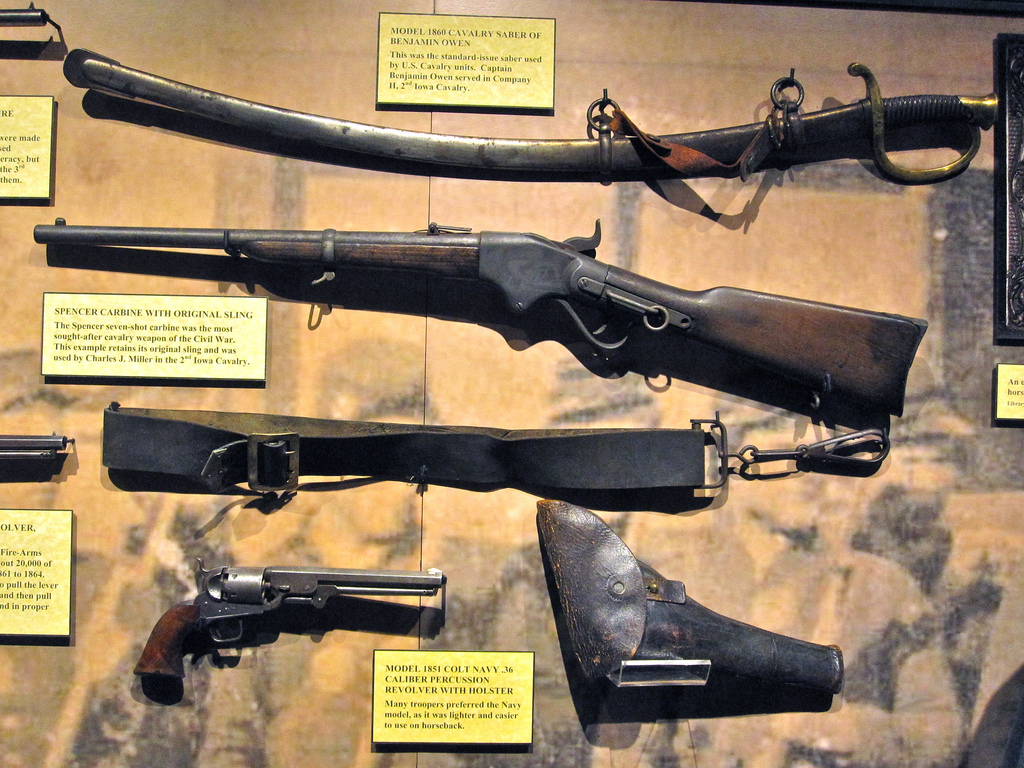 Union and Confederate Cavalry Weapons
While the photographic history portrays what the vocabulary lacks, photos often generate greater interest in the subject, including many questions and constructive discussions. This work consists mainly of Civil War photographs of an array of weapons, firearms and small arms that were employed by both Union and Confederate cavalry alike: revolvers, carbines, rifles, muskets, modified pistols and pistol-carbines, shotguns and double barrel shotguns, Arkansas toothpicks and blades, Bowie knives, sabers and swords, and much more. Well represented are household names from Smith and Wesson, Remington, Colt, Henry, Hall, Sharps, Springfield, Enfield, Savage, Berdan, to the lesser known, but ever so interesting, names of the pieces that were associated with the Northern and Southern cavalrymen. The boys and men in the following photos were associated with the bloodiest era of the nation's history -- a conflict that claimed more lives than all the nation's previous wars combined. The majority of the fighting in the Civil War was not conducted by professional career soldiers, but by average Americans with only civilian careers. You are about to view some of the 620,000 men and boys, from various backgrounds, who fought, bled and even died on America's killing fields. Although many types of prominent Civil War weapons are represented, a list of rare, and even light and heavy Civil War weaponry is also included.
Common Civil War Weapons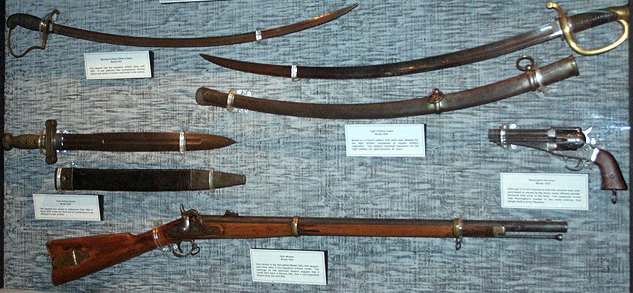 Weapons used when the Civil War commenced
Civil War Guns, Pistols, and Rifles
Civil War Rifles, and Army and Navy Revolvers
(Left) Typical small arms employed by both Union and Confederate cavalry and infantry. (Right) Initial weapons used by many soldiers when the Civil War broke out: saber, sword, short sword, revolver, and rifle. Later in the war, preferred cavalry firearms included from revolvers, carbines to shotguns. A rifle and a few sidearms, or handguns, were preferred cavalry weapons by the majority, because three pistols, for example, allowed the trooper to fire as many as 18 shots before reloading. Although difficult for many Confederate horsemen to acquire, the elusive carbines and pistol-carbines were also welcomed pieces in the field.
The Cavalryman and his Horse
Civil War Cavalry Horse Rienzi, aka Winchester
Civil War Cavalry horse Winchester at Smithsonian
"I could at any time control him by a firm hand and a few words, and he was as cool and quiet under fire as one of my soldiers. I doubt if his superior as a horse for field service was ever ridden by any one." General Sheridan referring to Winchester
(Right) Morgan mounted horse, 16 hands high. Black horse blanket trimmed in gold with general's insignia, leather saddle.
This Morgan horse was presented to General Philip Sheridan by the officers of the Second Michigan Cavalry in 1862. He was three years old, jet black with three white fetlocks, and stood 16 hands high. Originally called "Rienzi" after the town of Rienzi, Mississippi, his name was changed to "Winchester" by Sheridan after he carried Sheridan on his famous ride from Winchester, Virginia, to Cedar Creek, Virginia on October 19, 1864, in time to rally his troops and turn almost certain defeat into victory. While Cedar Creek was his most famous engagement, Winchester and Sheridan were actually together for more than forty others. Winchester was even present at Appomattox Courthouse in April 1865 for the official surrender of the Confederate Army.
Despite being wounded in battle several times, Winchester lived to be almost 20 years old. After his death in October 1878, he was preserved and mounted; in 1879, Sheridan presented him to the Military Museum at Governor's Island, New York. Winchester was exhibited there until a fire in 1922 forced the museum to transfer him to the Smithsonian Institution; a military escort accompanied him to his new home amid much fanfare. He was put on display in the National Museum until 1964, when he moved to the newly opened National Museum of American History. The saddle, bridle, and other trappings shown on Winchester were used by General Sheridan.
Horse and man have forever been immortalized and commemorated in poetry, song, sculpture, museum exhibits and battlefield recollections. Portraits, sketches and poems all immortalized Sheridan's famous ride atop Winchester. The most famous of these poems was written by Thomas Buchanan Read, a painter; the poem, entitled "Sheridan's Ride", became an instant sensation and was even thought to have helped Lincoln get reelected.
Mounts of Civil War generals included: Traveller (Robert E. Lee); Old Sorrel ("Stonewall" Jackson); Cincinnati (Ulysses S. Grant); Lexington (William T. Sherman); Virginia (JEB Stuart); Daniel Webster (George McClellan); Baldy (George Meade).
Dead Horse of Confederate Colonel; both killed at Battle of Antietam
On Sept. 19, 1862, just two days after the Battle of Antietam, Alexander Gardner, an employee of the photographer Mathew Brady, began documenting the battle's grim aftermath. One of Gardner's photographs, titled "Dead Horse of Confederate Colonel; both killed at Battle of Antietam," depicted a milky-white steed lying on the field in an eerily peaceful repose. Another showed a line of bloated Confederate bodies along the Hagerstown Pike.
Although by 1864 the sight of one dead horse was common place, the handsome mount was difficult and costly to replace. It was also much easier to replace a soldier than a horse. As the conflict progressed, the Union Army struggled to acquire the 500 horses it needed daily to sustain its army in the field. Sheridan himself required 150 additional horses each day during the 1864 Shenandoah Valley Campaign. The army therefore bought and captured nearly 210,000 horses in 1864 in order to offset the mounts that had died. If the soldiers had died at that rate, plus wounded, it would have necessitated approximately 1,000,000 replacements, new recruits to be precise, to negate the shortfall for said year. A daunting if not impossible task.
One witness at the awkward scene stated that "The number of dead horses was high. They lay, like the men, in all attitudes. One beautiful milk-white animal had died in so graceful a position that I wished for its photograph. Its legs were doubled under and its arched neck gracefully turned to one side, as if looking back to the ball-hole in its side. Until you got to it, it was hard to believe the horse was dead." - Union General Alpheus Williams, Antietam, September 22, 1862
Dead Civil War horse
Dead Horse of Confederate Colonel; both killed at Battle of Antietam
Union and Confederate Cavalry, Soldiers, and Horses
Widely acclaimed for its Civil War application, the tintype photograph was popularized from North and South, and East to West, as both Union and Confederate soldiers eagerly donned their finest uniforms, displayed their telling war faces, and presented their array of lethal weapons, from sabers to rifles to revolvers.
A tintype, also known as a melainotype or ferrotype, is a photograph made by creating a direct positive on a thin sheet of iron coated with a dark lacquer or enamel and used as the support for the photographic emulsion. Tintypes enjoyed their widest use during the 1860s and 1870s, but lesser use of the medium persisted into the early 20th century and it has been revived as a novelty in the 21st.
Tintype portraits were at first usually made in a formal photographic studio, like daguerreotypes and other early types of photographs, but later they were most commonly made by photographers working in booths or the open air at fairs and carnivals, as well as by itinerant sidewalk photographers. Because the lacquered iron support (there is no actual tin used) was resilient and did not need drying, a tintype could be developed and fixed and handed to the customer only a few minutes after the picture had been taken.
The tintype's immediate predecessor, the ambrotype, was the same process using a sheet of glass as the support. The glass was either of a dark color or provided with a black backing so that, as with a tintype, the underexposed negative image in the emulsion appeared as a positive. Tintypes were sturdy and did not require mounting in a protective hard case like ambrotypes and daguerreotypes.
The following photographs, including many tintypes, are from the Library of Congress, National Park Service, National Archives, and the Texas Civil War Museum, and represent Union and Confederate cavalrymen and their various uniforms and weapons, known as accoutrements, as well as the conflict's horses as they appeared naturally on the bloodiest fields of battle. The photographs also capture the raw yet graphic transparency and the bloody realities of Civil War. Recounting both life and death, perhaps the following photos articulate the war in a method that is beyond the prose of the most superlative author.
Civil War cavalry weapons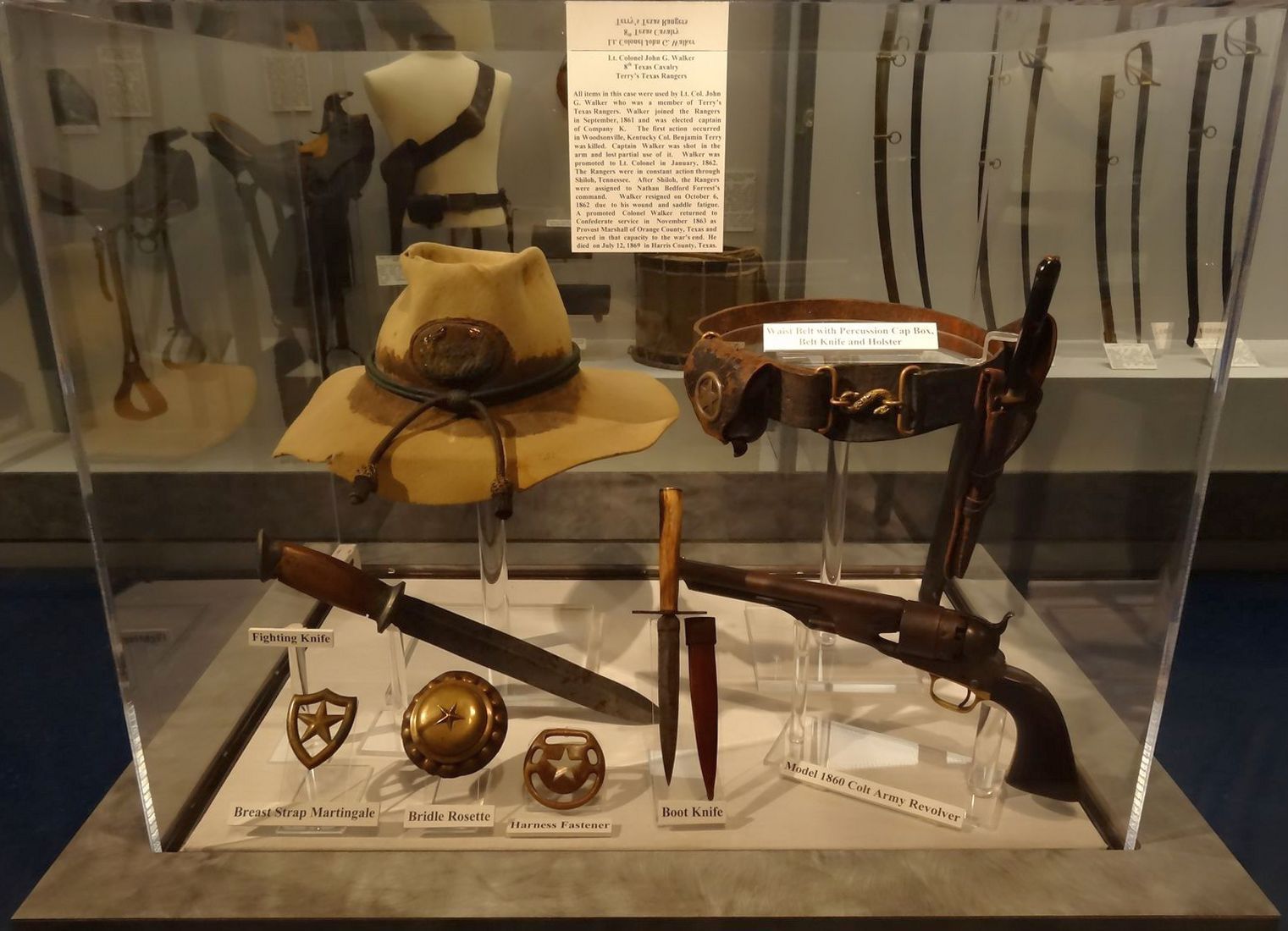 Terry's Texas Rangers
Civil War cavalry weapons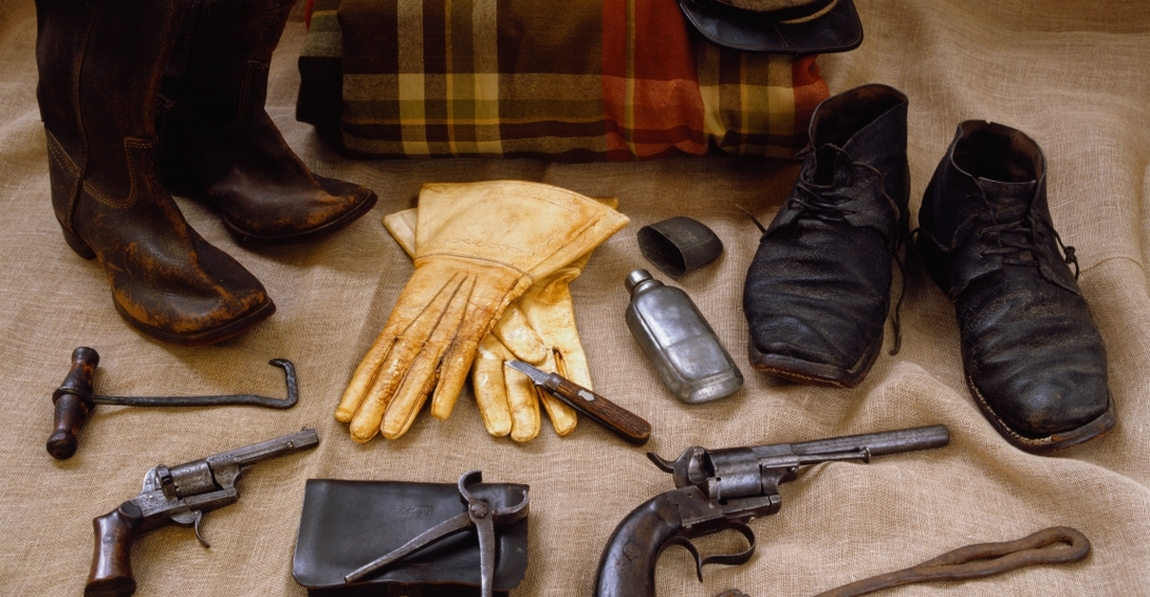 Typical Civil War cavalry accoutrements