Union and Confederate Cavalry Weapons
Cavalrymen and their Horses
Photographic History of Civil War Cavalry
Man and Mount
Union and Confederate Cavalry Weapons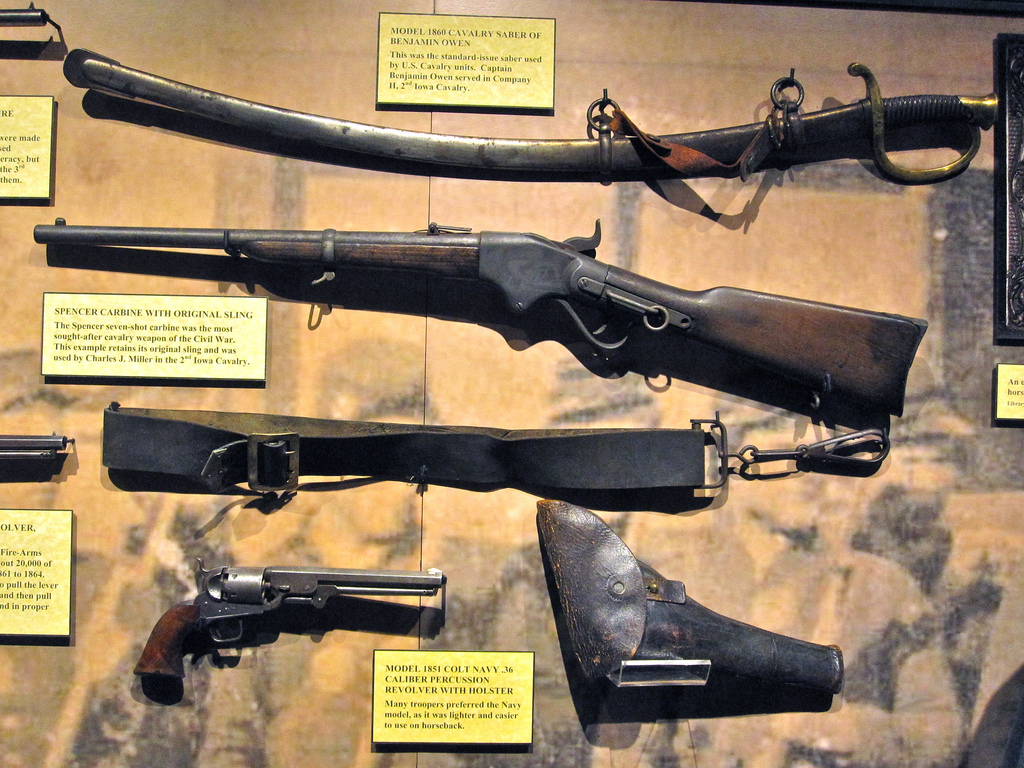 Weapons carried by many Union cavalrymen
Union and Confederate Cavalrymen and their Steeds
Widely acclaimed for its Civil War application, the tintype photograph was popularized from North and South, and East to West, as both Union and Confederate soldiers eagerly donned their finest uniforms, displayed their telling war faces, and presented their array of lethal weapons, from sabers to rifles to revolvers.
A tintype, also known as a melainotype or ferrotype, is a photograph made by creating a direct positive on a thin sheet of iron coated with a dark lacquer or enamel and used as the support for the photographic emulsion. Tintypes enjoyed their widest use during the 1860s and 1870s, but lesser use of the medium persisted into the early 20th century and it has been revived as a novelty in the 21st.
Tintype portraits were at first usually made in a formal photographic studio, like daguerreotypes and other early types of photographs, but later they were most commonly made by photographers working in booths or the open air at fairs and carnivals, as well as by itinerant sidewalk photographers. Because the lacquered iron support (there is no actual tin used) was resilient and did not need drying, a tintype could be developed and fixed and handed to the customer only a few minutes after the picture had been taken.
The tintype's immediate predecessor, the ambrotype, was the same process using a sheet of glass as the support. The glass was either of a dark color or provided with a black backing so that, as with a tintype, the underexposed negative image in the emulsion appeared as a positive. Tintypes were sturdy and did not require mounting in a protective hard case like ambrotypes and daguerreotypes.
The following tintypes are from the Library of Congress and National Archives, and represent Union and Confederate cavalry and their various uniforms and weapons, known as accoutrements, as well as the conflict's horses.
About the Collection
Civil War Cavalry and their Horses
Union Cavalryman with three Remington revolvers, two Bowie knives, and a Springfield rifle musket
More than 1,000 special portrait photographs, called ambrotypes and tintypes, represent both Union and Confederate soldiers during the American Civil War (1861-1865). The photographs often show weapons, hats, canteens, musical instruments, painted backdrops, and other details that enhance the research value of the collection. Among the most rare images are sailors, African Americans in uniform, Lincoln campaign buttons, and portraits of soldiers with their families and friends.
(Right) Union cavalryman armed to the teeth. Union solider posing with issued uniform, three Remington revolvers, two Bowie knives, and a Springfield rifle musket. Knives were usually discarded later in the war, and replaced with additional revolvers. Only posing. Because of the placement of the knives, and the fact that this trooper is carrying three revolvers, it indicates that, although dated ca. 1861-1865, this photo was most likely taken ca. 1863-'65. This seasoned cavalryman also carried his Union issued Springfield, which remained popular with many troopers during the war. Courtesy Library of Congress, Liljenquist Collection.
Tom Liljenquist and his sons Jason, Brandon, and Christian built this collection in memory of President Abraham Lincoln and the 620,000 Union and Confederate servicemen who died in the American Civil War. For many, these photographs are the last known record we have of who they were and what they looked like. See "From the Donor's Perspective--The Last Full Measure" for the full story.

The Liljenquist Family began donating their collection to the Library of Congress, Prints & Photographs Division in 2010 and continues to add to it. In addition to the ambrotypes and tintypes, the collection also includes several manuscripts, patriotic envelopes, photographs on paper, and artifacts related to the Civil War. Liljenquist Family Collection contains more than 700 rare ambrotype and tintype photographs highlight Civil War soldiers and their families, both North and South.
Since 1985, the Liljenquist family of McLean, Va., sought out high-quality images to represent the impact of the war, especially images of young enlisted men. The photographs often show firearms, hats, canteens, musical instruments and other details that enhance the research value of the collection significantly.
Liljenquist and his three sons -- Jason, 19; Brandon, 17; and Christian, 13 -- became interested in Civil War history after finding bullets and other signs of an encampment near their home in Virginia. As they began to investigate other artifacts from the war, they were especially attracted to the images captured in the photographic formats called ambrotypes (on glass) and tintypes (on metal), which were often placed in special frames and decorated cases. Among the rarest images are African Americans in uniform, sailors, a Lincoln campaign button, and portraits of soldiers with their wives and children. A few personal stories survive in notes pinned to the photo cases, but most of the people and photographers are unidentified.

The works in the Liljenquist Family Collection complement the Library's already extensive holdings of Civil War images. Since the early 1900s, the Library has actively acquired visual materials documenting as many aspects of the war as possible. Examples include eyewitness drawings by Alfred Waud and William Waud and other artists working for illustrated newspapers; historical prints showing battles, camps, hospitals and military leaders; and glass-plate negatives, stereographs (3-D views) and large-format albumen prints associated with master photographers Mathew Brady, Alexander Gardner, Sullivan and Andrew J. Russell.
Unless otherwise indicated, all photos are courtesy Library of Congress, or Library of Congress: Liljenquist Collection.