William Quantrill History
William Quantrill
William Clarke Quantrill (July 31, 1837 – June 6, 1865) was a Confederate guerrilla leader during the American Civil War. After leading a Confederate bushwhacker unit along the Missouri-Kansas border in the early 1860s, which included the infamous raid and sacking of Lawrence, Kansas in 1863, Quantrill rode east to Kentucky where he was mortally wounded in a Union ambush in May 1865. Quantrill died at the young age of 27.
William Quantrill
William Clarke Quantrill
Early life

Quantrill was the eldest of 12 children, four of whom died in infancy. He was born at Canal Dover (present-day Dover), Ohio, on July 31, 1837. His father was Thomas Henry Quantrill, formerly of Hagerstown, Maryland. His mother, Caroline Cornelia Clark, was a native of Chambersburg, Pennsylvania. They were married on October 11, 1836, and moved to Canal Dover the following December.

Quantrill was well educated and followed in his father's footsteps, becoming a school teacher at the age of sixteen. In 1854, his abusive father died of tuberculosis, leaving the family with huge financial debt. In order to survive, Quantrill's mother converted her home into a boarding house. He helped support the family working as a school teacher, but left home a year later for Mendota, Illinois. While in Illinois, Quantrill continued his career as a teacher but soon moved again to Fort Wayne, Indiana. In addition to teaching, to support his family, Quantrill worked as a bookkeeper for a lumberyard; however, he was unable to earn a decent wage. He quickly took up gambling and moved to Salt Lake City, Utah. During this time, he learned precisely how to use the Bowie knife, Sharps rifle and the Colt revolver. At the age of 19, he moved to Missouri at the urging of his friends and his mother. She was able to find a family friend that would take Quantrill with him to Missouri.

Henry Torrey and Harmon Beeson were traveling to Missouri to become farmers and offered to pay for Quantrill's land if he would work for them until the age of twenty-one (common practice at the time). They settled at Marais des Cygnes, but daily living was not what they had expected. After about one year, Quantrill became restless and wanted to sell his claim. A dispute arose over the claim, and he went to court with Torrey and Beeson. The court awarded the men what was owed to them, but Quantrill only paid half of what the court had mandated. His relationship with Beeson was now strained, but he remained a friend to Torrey.
William Quantrill Raiders
Quantrill's Raiders reunion circa 1875
(Photo) Reunion of Quantrill's Raiders. The first official reunion occurred in 1898, more than 30 years after Quantrill's death and the end of the Civil War.
Border Ruffian
Quantrill then joined a group of Missouri ruffians, known as
Border Ruffians
, and, according to some sources, seemed to be finding his purpose. For income or pay, the group protected Missouri farmers from the
Jayhawkers
, and they slept wherever they could find lodging. Quantrill traveled back to Utah and then to Colorado, but returned, in less than a year, to Lawrence, Kansas, in 1859. It was at this time that his political views started to take shape, and his attitude towards the slavery issue began to form.
Prior to 1860, Quantrill's political view appeared to be in support of the anti-slavery side. He wrote to his good friend W. W. Scott in January 1858 that the Lecompton Constitution was a "swindle" and that James H. Lane; a Northern sympathizer, was "as good a man as we have here." He also called the Democrats "the worst men we have for they are all rascals, for no one can be a democrat here without being one." One year later, in 1859, now in Lawrence, Kansas, he taught school until it closed in 1860. He then took up with brigands and turned to cattle rustling and anything else that could earn him a dollar. He also learned the profitability of capturing runaway slaves and devised treacherous plans to use free black men as bait for runaway slaves, whom he captured and returned to their masters in exchange for reward money. His new lifestyle may have been the reason for his change of political views. In February 1860, Quantrill wrote a letter to his mother expressing his views on the anti-slavery supporters. He told her that the pro-slavery movement was right and that he now detested Jim Lane. He said that the hanging of John Brown had been too good for him and that, "the devil has got unlimited sway over this territory, and will hold it until we have a better set of man and society generally." See also:
Civil War Border States History and William Quantrill
and
Border State Civil War History and Quantrill's Raiders
.
Civil War Partisan leader

In 1861, Quantrill went to Texas with a slaveholder named Marcus Gill. There he met Joel B. Mayes and joined the Cherokee Nation. Joel B. Mayes was a Confederate sympathizer and a war chief of the Cherokee in Texas. Mayes, half Scotch-Irish, half Cherokee Indian, had moved from Georgia to the old Indian Territory in 1838. Mayes enlisted and served as a private in Company A of the 1st Cherokee Regiment in the Confederate army. It was Mayes who taught William guerrilla warfare tactics. He would learn the ambush fighting tactics used by the Native Americans as well as "sneak attacks and camouflage." Quantrill, in the company of Mayes and the Cherokee Nation, joined with Confederate General Sterling Price and fought at the Battle of Wilson's Creek and Lexington in August and September of 1861.
William C. Quantrill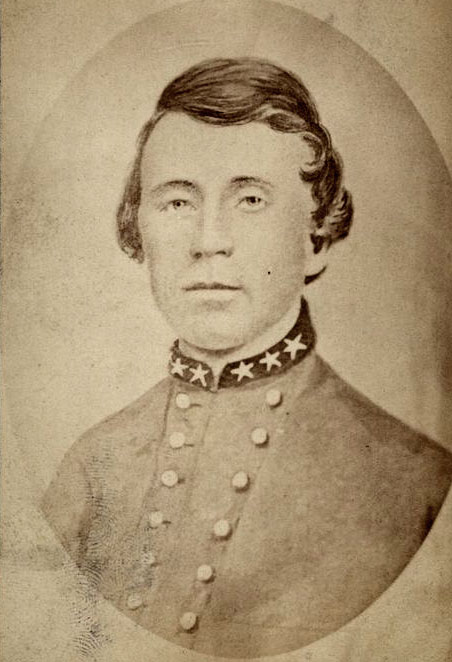 Captain William Quantrill and Quantrill's Raiders
William deserted General Price's army and went to Blue Springs, Missouri, to form his own 'Army' of loyal men who had great belief in him and the Confederates cause. By Christmas of 1861, he had ten men, Partisans, who would follow him full-time into his pro-Confederate guerrilla organization. These Partisans were: William Haller, George Todd, Joseph Gilcrist, Perry Hoy, John Little, James Little, Joseph Baughan, William H. Gregg, James A. Hendricks, and John W. Koger. Later in 1862, the Younger brothers, William T. "Bloody Bill" Anderson, and the James brothers would join Quantrill's army.
During the war, Quantrill met thirteen-year-old Sarah Katherine King at her parents' farm in Blue Springs, Missouri. They married and she lived in camp with Quantrill and his men. At the time of his death, she was seventeen.
Lawrence Massacre
The Civil War atrocities that transpired between Missouri and Kansas were a direct result of the Kansas-Missouri Border War (1854-1861).
The most significant event in Quantrill's guerrilla career took place on August 21, 1863. Lawrence had been seen for years as the stronghold of the anti-slavery forces in Kansas and as a base of operation for incursions into Missouri by Jayhawkers and pro-Union forces. It was also the home of James H. Lane, a senator infamous in Missouri for his staunch anti-slavery views and also a leader of the Jayhawkers. Moreover, during the weeks immediately preceding the raid, Union General Thomas Ewing, Jr., had ordered the detention of any civilians giving aid to Quantrill's Raiders. Several female relatives of the guerrillas had been imprisoned in a makeshift jail in Kansas City, Missouri. See also Missouri Civil War History and William Quantrill's Raiders.
On August 14, the building collapsed, killing four young women and seriously injuring others. Among the casualties was Josephine Anderson, sister of one of Quantrill's key guerrilla allies, "Bloody Bill" Anderson. Another of Anderson's sisters, Mary, was permanently crippled in the collapse. Quantrill's men believed the collapse was deliberate, and the event fanned them into a fury. See also
Quantrill's Raiders and Kansas Civil War History
.
Historians have suggested that Quantrill had actually planned to raid Lawrence in advance of the building's collapse, in retaliation for earlier Jayhawker attacks as well as the burning of Osceola, Missouri.
William Quantrill
Grave of Capt. William Quantrill in Higginsville, Missouri
(Photo) The grave site of William Quantrill in Higginsville, Missouri - located in the town's Confederate Cemetery.
Early on the morning of August 21, Quantrill descended from Mount Oread and attacked Lawrence at the head of a combined force of as many as 450 guerrillas. Senator Lane, a prime target of the raid, managed to escape through a cornfield in his nightshirt, but the guerrillas, on Quantrill's orders, killed 183 men and boys "old enough to carry a rifle". Quantrill, known to be armed with several French pinfire revolvers, his favorite weapon of choice, carried out several personally, dragging many from their homes to execute them before their families. The ages of those killed were believed to range between 14 and 90. When Quantrill's men rode out at 9 a.m., most of Lawrence's buildings were burning, including all but two businesses. His raiders looted indiscriminately and robbed the town's bank.

On August 25, in retaliation for the raid, General Ewing authorized General Order No. 11 (not to be confused with General Ulysses S. Grant's General Order of the same name). The edict ordered the depopulation of three-and-a-half Missouri counties along the Kansas border (with the exception of a few designated towns), forcing tens of thousands of civilians to abandon their homes. Union troops then marched through the area, burning buildings, torching planted fields and shooting down livestock to deprive the guerrillas of food, fodder, and support. The area was so thoroughly devastated that it became known thereafter as the "Burnt District". Quantrill and his men soon rode south to Texas, where they passed the winter with the Confederate forces.
William Quantrill Gravesite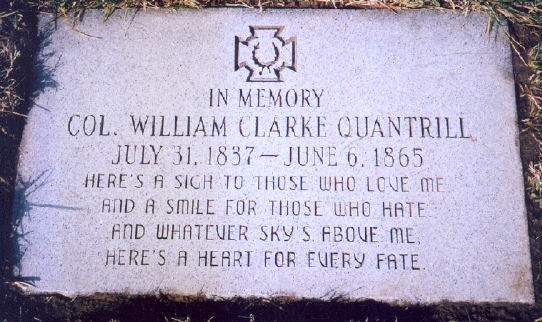 Grave of Capt. William Quantrill
(Photo) Grave of Capt. William Quantrill in Fourth Street Cemetery, Dover, Ohio.
Final Years

While in Texas, Quantrill and his 400 men quarreled. His once-large band broke up into several smaller guerrilla companies. One was led by his lieutenant, "Bloody Bill" Anderson, whose men came to be known for tying the scalps of slain unionists to the saddles and bridles of their horses. Quantrill joined them briefly in the fall of 1863 during fighting north of the Missouri River.
In the spring of 1865, now leading only a few dozen men, Quantrill staged a series of raids in western Kentucky. He rode into a Union ambush on May 10 near Taylorsville, Kentucky, armed with several French pinfires which bore his name, and received a gunshot wound to the chest. He was brought by wagon to Louisville, Kentucky and taken to the military prison hospital, located on the north side of Broadway at 10th Street. He died from his wounds on June 6, 1865, at the age of 27.
(Sources and related reading below.)
Sources: Library of Congress; National Park Service; National Archives; Official Records of the Union and Confederate Armies; The American West, Vol. 10, American West Pub. Co., 1973, pp. 13 to 17; Banasik, Michael E., Cavalires of the bush: Quantrill and his men, Press of the Camp Pope Bookshop, 2003; Connelley, William Elsey, Quantrill and the border wars, The Torch Press, 1910 (reprinted by Kessinger Publishing, 2004); Dupuy, Trevor N., Johnson, Curt, and Bongard, David L., Harper Encyclopedia of Military Biography, Castle Books, 1992, 1st Ed., ISBN 0-7858-0437-4; Edwards, John N., Noted Guerillas: The Warfare of the Border, St. Louis: Bryan, Brand, & Company, 1877; Eicher, David J., The Longest Night: A Military History of the Civil War, Simon & Schuster, 2001, ISBN 0-684-84944-5; Gilmore, Donald L., Civil War on the Missouri-Kansas border, Pelican Publishing, 2006; Leslie, Edward E., The Devil Knows How to Ride: The True Story of William Clarke Quantrill and his Confederate Raiders, Da Capo Press, 1996, ISBN 0-306-80865-X; McKelvie, B.A., Magic, Murder & Mystery, Cowichan Leader Ltd, 1966; Mills, Charles, Treasure Legends Of The Civil War, Apple Cheeks Press, 2001, ISBN 1-58898-646-2; Peterson, Paul R., Quantrill of Missouri: The Making of a Guerrilla Warrior—The Man, the Myth, the Soldier, Cumberland House Publishing, 2003, ISBN 1-58182-359-2; Peterson, Paul R., Quantrill in Texas: The Forgotten Campaign, Cumberland House Publishing, 2007; Schultz, Duane, Quantrill's war: the life and times of William Clarke Quantrill, 1837-1865, St. Martin's Press, 1997; Wellman, Paul I., A Dynasty of Western Outlaws, University of Nebraska Press, 1986, ISBN 0-8032-9709-2.