Native American Indians and the Civil War
William Holland Thomas and the Cherokee Bodyguards, or Life Guard
(Includes Significant American Civil War Events Relating to Western North Carolina)
The Cherokee Life Guard
Why did Colonel William Holland Thomas surround himself with 20 Cherokee bodyguards known as the Life Guard? Did he really need the personal protection? Thomas' concerns, however, have merit and sources even support assassination attempts on his life. The Cherokee Life Guard, though never employed by the Confederacy, would remain with Thomas until the end of the Civil War. O.R., 1, 49, pt. II, p. 755*; Western Democrat, Charlotte, North Carolina, May 24, 1864, p.3; and Daily Enquirer [Columbus, Georgia], May 22, 1864. *Official Records of the Union and Confederate Armies; hereinafter cited as OR.
Cherokee Civil War History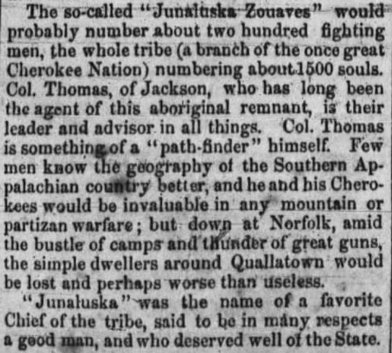 Newbern Daily Progress (New Bern, North Carolina). Mon, May 20, 1861.
Native American Civil War History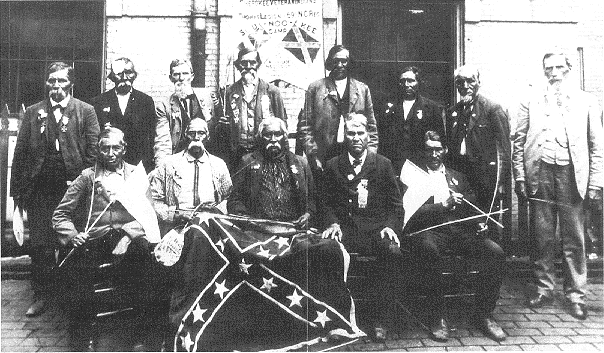 Native American Indians and the Civil War
(Left) Cherokee Confederate veterans of Thomas' Legion at the New Orleans Confederate Convention in 1903. Photo courtesy Waynesville Mountaineer Publishing. (Right) Early in the Civil War (1861-65), the North Carolina Cherokee unit was known as the Junaluska Zouaves, in honor of the venerable Cherokee Chief Junaluska. Nearly every abled-bodied Eastern Cherokee (400) would be mustered into Confederate service by the end of the conflict. William H. Thomas, the legion's namesake, would also surround himself with 20 Cherokee Indians, known as his Life Guard, for personal protection against bushwhackers and outliers. Newbern Daily Progress (New Bern, North Carolina), Monday, May 20, 1861, page 2.
A Series of Events
1) During the war a $5,000 bounty was offered to anyone who would assassinate William Thomas. If Thomas wasn't considered a viable deterrent and threat to the Union army, then why did it offer a bounty, and, moreover, a very high bounty on his life? Meanwhile, the U.S. was approaching bankruptcy while the Union private was paid only $13 dollars per month. Western Democrat, Charlotte, North Carolina, May 24, 1864, p.3; Daily Enquirer [Columbus, Georgia], May 22, 1864; and Sean Michael O'Brien, Mountain Partisans: Guerrilla Warfare in the Southern Appalachians, 1861-1865, p. 28.
The Western Democrat:

They [Cherokees] were promised their liberty and five thousand dollars in gold if they would bring in the scalp of their Chief, Col. Wm. H. Thomas. The Indians seemed to pause--consult--and finally agreed to the proposition. They were released, returned to their native mountains, sought the camp of their Chief, told him all, and have ever since been on the war path--after Yankee scalps. Western Democrat, Charlotte, North Carolina, May 24, 1864, p.3; and also printed in the Daily Enquirer [Columbus, Georgia], May 22, 1864.
2) The
Shelton Laurel Massacre
in early 1863. The remote section of Shelton Laurel, in mountainous Madison County, provided a secluded refuge for both Union sympathizers and Confederate deserters. In January 1863 Confederate forces gathered a number of suspected unionists and without trial executed thirteen of them by firing squad. Disturbed by reports of the massacre, Governor Zebulon B. Vance ordered an investigation. Despite an official inquiry, Madison County remained the scene of violence until the end of the war, with additional atrocities committed by both Union and Confederate sympathizers.
Cherokee and the Civil War
Official Records, Series 1, Volume 49, part 2, pp. 754-755.
Cherokee Battalion and the Civil War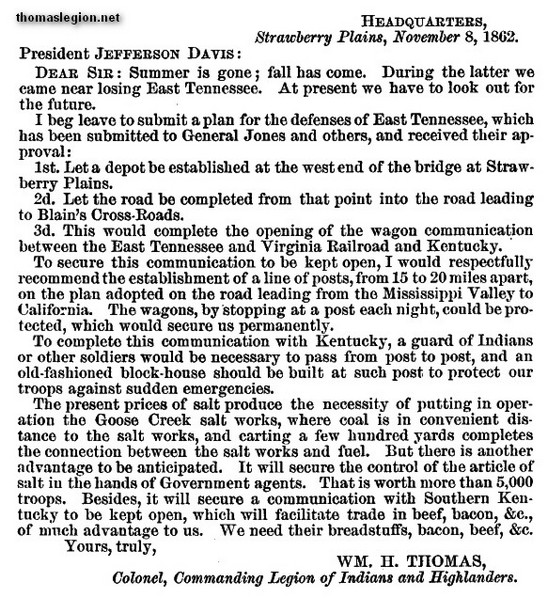 Official Records, Series 1, Volume 20, part 2, p. 304
(Left) William H. Thomas submits his plan of defense for the region to Confederate President Jefferson Davis. (Right) Official Records discussing the surrender of Thomas' Legion of Indians and Highlanders. Thomas' Legion, the largest single military unit raised in North Carolina during the Civil War (1861-1865), consisted of one regiment, two battalions, and an artillery battery. This command, which would field some 2,500 soldiers early in the conflict, was raised primarily in western North Carolina and included 400 Cherokee Indians. Muster records show that nearly every able-bodied Eastern Cherokee would serve in the Cherokee Battalion of Thomas' Legion prior to cessation of hostilities. The Cherokee Life Guard, as Thomas had on occasion referred to it, consisted of 20 Indians and was for the Confederate colonel's protection, but it was never in employment of the Confederacy. Official Records of the Union and Confederate Armies, Series 1, Vol. 49, pt. 2, pp. 754-755.
**Report of Lieut. C. H. Taylor: Thomas' Legion C. S. Army.
Murphy, N.C.
November 1, 1863.
Sir: on October 27, General Vaughn, with a detachment of his mounted men, overtook Goldman Bryson, with his company of mounted robbers, in Cherokee County, N.C., attacked him, killing 2 and capturing 17 men and 30 horses.
On the 28th, I left Murphy with 19 men, taking Bryson's trail through the mountains; followed him 25 miles, when I came upon him and fired on him, killing him, and capturing 1 man with him. I found in his possession his orders from General Burnside and his roll and other papers.
My men all acted nobly; marched two days, and without anything to eat.
Yours, Respectfully,
C. H. Taylor
Lieutenant, Comdg, Co. B, Infantry Regt., Thomas' Legion
Lieutenant-Colonel Walker
Commanding Battalion, Thomas' Legion

[Enclosure of General Burnside's papers found on Goldman Bryson]
Special Field Orders, No. 56: HDQRS. Army of the Ohio: Knoxville, East Tenn., October, 22, 1863.
VI. Capt. G. Bryson, First Tennessee National Guard, is hereby ordered to proceed with his command to North Carolina and vicinity, for the purpose of recruiting, and will return here within a fortnight, when he will report in person at these headquarters.
By order of Major-General Burnside:
Edward M. Neill,
Major, and Assistant Adjutant-General

General Bragg:
Permit me, General, to recommend to your notice C. H. Taylor, lieutenant, who commanded the Indians at the killing of Captain Bryson. You will pardon me, General, in not sending this through the proper channel, we have no mails.
W. C. Walker,
Lieutenant-Colonel, Comdg. Battalion, Thomas' Legion
O.R., 1, Volume 31, Part I, p. 235.
4) The murder of Lieutenant Colonel William C. Walker in January 1864: The death of Walker is stated to have greatly altered Thomas' view of the war and underscored his initial position and pleas to protect and defend Western North Carolina. Unharmed, Mrs. Walker died November 4, 1898. Regarding the murder of Colonel William C. Walker, the Asheville News stated: "A swift and terrible retribution will overtake the murderers." Western Democrat, January 26, 1864, p.2.
5) Confederate President Jefferson Davis' wrote a letter of confidence in Thomas' Legion regarding their ability to halt the raiders and their egregious acts in Western North Carolina. Richmond, VA., January 4, 1865, O.R., 1, Volume 46, Part II, p. 1013.
6) Colonel George W. Kirk, particularly during Stoneman's Cavalry Raid, conducted numerous savage raids in western North Carolina. On February 4, 1865, Lt. Col. James R. Love's house appears to have been singled out by Colonel George W. Kirk. Kirk and a small army of 400 cavalry and 200 infantry departed Newport, Tennessee, for Waynesville. Kirk's Raiders (armed with Spencer repeating rifles) entered Waynesville and pillaged stores, stole numerous horses, killed about 20 men, and burned several houses, including Love's house, which had served as the former residence of James Love's ancestor, the Revolutionary War hero Robert Love. (See also Stoneman's Cavalry Raid: Route Map, Civil War Murders, Depredations, Lawlessness, and Battles.)
Next they attacked the Waynesville jail, freed the prisoners, and then burned the jail. Slow and impeded communication, the vastness of western North Carolina, and few "Home Guard" made it extremely difficult to defend the area. Once again, this activity solidified Thomas' fears for his life. The Rebel colonel knew that Kirk's men, or Raiders, "were stealing every remaining horse, cow, and ox in the county, and had even sacked nearby Macon County." Leona B Porter, The Franklin Press. June 16, 1955.
7) During the latter half of the Civil War, anarchy reigned in the mountains of North Carolina. The very formidable bands of desperadoes, outlaws, outliers, deserters, posses, bushwhackers and escaped Union prisoners plundered Western North Carolina. These facts also supported Colonel Thomas' need for a Bodyguard. See also Shelton Laurel Massacre, Cherokee County's Civil War Lawlessness and Depredations; O.R., Series IV, pt. 2, pp. 732-734; O.R., Series 1, Volume 53, pp. 324-336; and O.R., Series 1, Vol. 32, pt. II, pp. 610-611.
Recommended Reading: The Blue, the Gray, and the Red: Indian Campaigns of the Civil War (Hardcover) (288 pages). Description: Inexperienced Union and Confederate soldiers in the West waged numerous bloody campaigns against the Indians during the Civil War. Fighting with a distinct geographical advantage, many tribes terrorized the territory from the Plains to the Pacific, as American pioneers moved west in greater numbers. These noteworthy--and notorious--Indian campaigns featured a fascinating cast of colorful characters, and were set against the wild, desolate, and untamed territories of the western United States. This is the first book to explore Indian conflicts that took place during the Civil War and documents both Union and Confederate encounters with hostile Indians blocking western expansion. Continued below...
From Publishers Weekly: Beginning with the flight of the Creeks into Union territory pursued by Confederate forces (including many of Stand Watie's Cherokees), this popular history recounts grim, bloody, lesser-known events of the Civil War. Hatch (Clashes of the Cavalry) also describes the most incredible incidents.... Kit Carson, who fought Apaches and Navajos under the iron-fisted Colonel Carleton, arranged the Long Walk of the Navajos that made him infamous in Navajo history to this day. The North's "Captain" Woolsey, a volunteer soldier, became a brutal raider of the Apaches. General Sibley, a northerner and first Governor of Minnesota, oversaw the response to the Sioux Uprising of 1862 that left several hundred dead. The slaughter of Black Kettle's Cheyennes at Sand Creek in 1864 by Colorado volunteers under Colonel Chivington, a militant abolitionist whose views on Indians were a great deal less charitable, "forms a devastating chapter." Hatch, a veteran of several books on the Indian Wars that focus on George Armstrong Custer, has added to this clear and even-handed account a scholarly apparatus that adds considerably to its value.
The Cherokee Battalion (O.R., 1, 49, part 2, page 754)
Recommended Reading:
Storm in the Mountains: Thomas' Confederate Legion of Cherokee Indians and Mountaineers
(Thomas' Legion: The Sixty-ninth North Carolina Regiment). Description: Vernon H. Crow,

Storm in the Mountains

, dedicated an unprecedented 10 years of his life to this first yet detailed history of the Thomas Legion. But it must be said that this priceless addition has placed into our hands the rich story of an otherwise forgotten era of the Eastern Cherokee Indians and the mountain men of both East Tennessee and western North Carolina who would fill the ranks of the Thomas Legion during the four year Civil War.

Crow sought out every available primary and secondary source by

traveling to several states and visiting from ancestors of the Thomas Legion to special collections, libraries, universities, museums, including the Museum of the Cherokee, to various state archives and a host of other locales for any material on the unit in order to preserve and present the most accurate and thorough record of the legion. Crow, during his exhaustive fact-finding, was granted access to rare manuscripts, special collections, privately held diaries, and never before seen nor published photos and facts of this only legion from North Carolina. Crow remains absent from the text as he gives a readable account of each unit within the legion's organization, and he includes a full-length roster detailing each of the men who served in its ranks, including dates of service to some interesting lesser known facts.
Storm in the Mountains, Thomas' Confederate Legion of Cherokee Indians and Mountaineers is presented in a readable manner that is attractive to any student and reader of American history, Civil War, North Carolina studies, Cherokee Indians, ideologies and sectionalism, and I would be remiss without including the lay and professional genealogist since the work contains facts from ancestors, including grandchildren, some of which Crow spent days and overnights with, that further complement the legion's roster with the many names, dates, commendations, transfers, battle reports, with those wounded, captured, and killed, to lesser yet interesting facts for some of the men. Crow was motivated with the desire to preserve history that had long since been overlooked and forgotten and by each passing decade it only sank deeper into the annals of obscurity. Crow had spent and dedicated a 10 year span of his life to full-time research of the Thomas Legion, and this fine work discusses much more than the unit's formation, its Cherokee Indians, fighting history, and staff member narratives, including the legion's commander, Cherokee chief and Confederate colonel, William Holland Thomas. Numerous maps and photos also allow the reader to better understand and relate to the subjects. Storm in the Mountains, Thomas' Confederate Legion of Cherokee Indians and Mountaineers is highly commended, absolutely recommended, and to think that over the span of a decade Crow, for us, would meticulously research the unit and present the most factual and precise story of the men, the soldiers who formed, served, and died in the famed Thomas Legion.
Recommended Viewing: Indian Warriors - The Untold Story of the Civil War (History Channel) (2007). Description: Though largely forgotten, 20 to 30 thousand Native Americans fought in the Civil War. Ely Parker was a Seneca leader who found himself in the thick of battle under the command of General Ulysses S. Grant. Stand Watie, a Confederate General and a Cherokee, was known for his brilliant guerrilla tactics. Continued...
Also highlighted is Henry Berry Lowery, an Eastern North Carolina Indian, who became known as the Robin Hood of North Carolina. Respected Civil War authors, Thom Hatch and Lawrence Hauptman, help reconstruct these most captivating stories, along with descendants like Cherokee Nation member Jay Hanna, whose great-grandfathers fought for both the Union and the Confederacy. Together, they reveal a new, fresh perspective and the very personal reasons that drew these Native Americans into the fray.
Recommended Reading: Bushwhackers, The Civil War in North Carolina: The Mountains (338 pages). Description: Trotter's book (which could have been titled "Murder, Mayhem, and Mountain Madness") is an epic backdrop for the most horrific murdering, plundering and pillaging of the mountain communities of western North Carolina during the state's darkest hour—the American Civil War. Commonly referred to as Southern Appalachia, the North Carolina and East Tennessee mountains witnessed divided loyalties in its bushwhackers and guerrilla units. These so-called "bushwhackers" even used the conflict to settle old feuds and scores, which, in some cases, continued well after the war ended. Continued below...
Some bushwhackers were highly organized 'fighting guerrilla units' while others were a motley group of deserters and outliers, and, since most of them were residents of the region, they were familiar with the terrain and made for a "very formidable foe." In this work, Trotter does a great job on covering the many facets of the bushwhackers, including their: battles, skirmishes, raids, activities, motives, the outcome, and even the aftermath. This book is also a great source for tracing ancestors during the Civil War; a must have for the family researcher of Southern Appalachia.
Additional Sources: Official Records of the Union and Confederate Armies; Vernon H. Crow, Storm in the Mountains: Thomas' Confederate Legion of Cherokee Indians and Mountaineers; Walter Clark, Histories of the Several Regiments and Battalions from North Carolina in the Great War 1861-1865; National Park Service: American Civil War; National Park Service: Soldiers and Sailors System; Weymouth T. Jordan and Louis H. Manarin, North Carolina Troops, 1861-1865; D. H. Hill, Confederate Military History Of North Carolina: North Carolina In The Civil War, 1861-1865; Christopher M. Watford, The Civil War in North Carolina: Soldiers' and Civilians' Letters and Diaries, 1861-1865. Volume 2: The Mountains; William F. Fox, Regimental Losses in the American Civil War.
Try the Search Engine for Related Studies: Native Americans Civil War History, American Indians Cherokee and the Civil War, Roles Details Facts Photo Photograph Picture of Cherokee Indians and Native American Indian soldiers of the Civil War, Details, Summary, Photographs from the Museum of the Cherokee Indian, Cherokee War Rituals, Culture, Festivals, Government, and Beliefs, Winfield Scott's letter regarding Cherokees forced removal, Jefferson Davis' Letter of Confidence in Thomas' Legion - January 4, 1865.