Thomas' Legion
American Civil War HOMEPAGE
American Civil War
Causes of the Civil War : What Caused the Civil War
Organization of Union and Confederate Armies: Infantry, Cavalry, Artillery
Civil War Navy: Union Navy and Confederate Navy
American Civil War: The Soldier's Life
Civil War Turning Points
American Civil War: Casualties, Battles and Battlefields
Civil War Casualties, Fatalities & Statistics
Civil War Generals
American Civil War Desertion and Deserters: Union and Confederate
Civil War Prisoner of War: Union and Confederate Prison History
Civil War Reconstruction Era and Aftermath
American Civil War Genealogy and Research
Civil War
American Civil War Pictures - Photographs
African Americans and American Civil War History
American Civil War Store
American Civil War Polls
NORTH CAROLINA HISTORY
North Carolina Civil War History
North Carolina American Civil War Statistics, Battles, History
North Carolina Civil War History and Battles
North Carolina Civil War Regiments and Battles
North Carolina Coast: American Civil War
HISTORY OF WESTERN NORTH CAROLINA
Western North Carolina and the American Civil War
Western North Carolina: Civil War Troops, Regiments, Units
North Carolina: American Civil War Photos
Cherokee Chief William Holland Thomas
HISTORY OF THE CHEROKEE INDIANS
Cherokee Indian Heritage, History, Culture, Customs, Ceremonies, and Religion
Cherokee Indians: American Civil War
History of the Eastern Band of Cherokee Indian Nation
Cherokee War Rituals, Culture, Festivals, Government, and Beliefs
Researching your Cherokee Heritage
Civil War Diary, Memoirs, Letters, and Newspapers

Union Hand Grenade
Grenades were used by both Union and Confederate armies during the Vicksburg and Petersburg Sieges
Photograph courtesy Texas Civil War Museum. By the writer.
Genuine Civil War Grenade
Original Confederate Grenade
Real Civil War Hand Grenades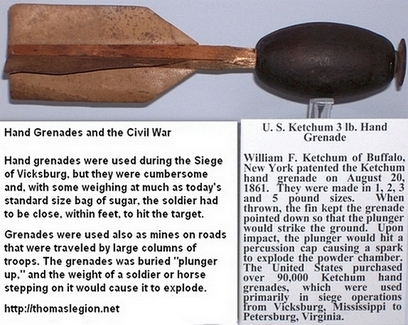 Authentic Union Grenade
Union Hand Grenade of the Civil War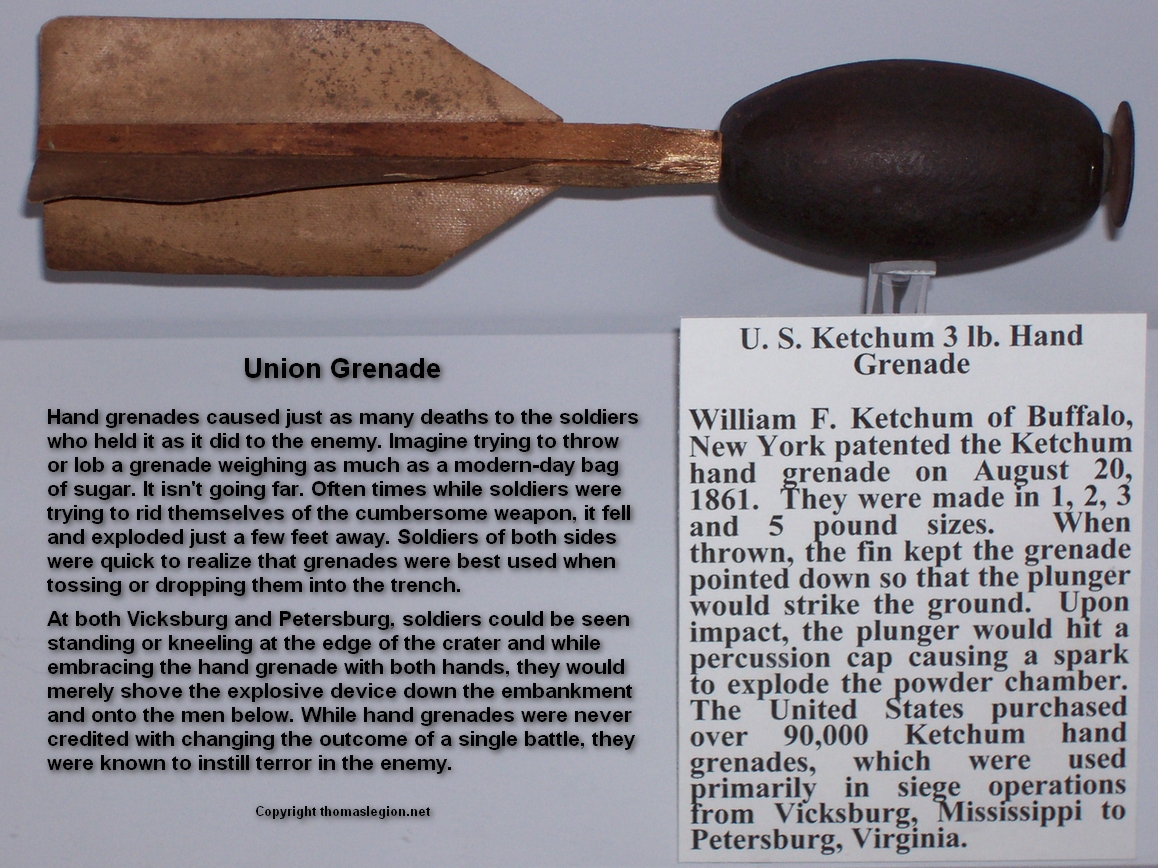 Grenades were cumbersome and difficult to employ.
Ketchum Grenade
(Civil War Grenade)
Recommended Reading: Trench Warfare under Grant and Lee: Field Fortifications in the Overland Campaign (Civil War America) (Hardcover) (The University of North Carolina Press) (September 5, 2007). Description: In the study of field fortifications in the Civil War that began with Field Armies and Fortifications in the Civil War, Hess turns to the 1864 Overland campaign to cover battles from the Wilderness to Cold Harbor.
Drawing on meticulous research in primary sources and careful examination of trench remnants at the Wilderness, Spotsylvania, North Anna, Cold Harbor, and Bermuda Hundred, Hess describes Union and Confederate earthworks and how Grant and Lee used them in this new era of field entrenchments.
Recommended Reading: Arms and Equipment of the Civil War. Description:
Enhanced with marvelous illustrations, the text describes what materiel was available to the armies and navies of both sides — from iron-clad gunboats, submarine torpedoes, and military balloons to pontoon bridges, percussion grenades, and siege artillery — with on-the-scene comments by Union and Confederate soldiers about equipment and camp life.

Includes more than 500 black-and-white illustrations.

RATED 5 STARS.
Recommended Reading: Civil War Collector's Encyclopedia: Arms, Uniforms and Equipment of the Union and Confederacy. Description: This comprehensive and exhaustive reference identifies and describes the use and application of more than 800 items. Arranged alphabetically by topic, subjects range from artillery accouterments and boats to tools and patriotic sheet music. "Everything an interested reader would want to know . . . A must-have book." — Antiques & Auction News. Over 350 rare illustrations. Continued below.
The Civil War buff and even serious collector of Civil War arms, uniforms and equipment should purchase the Civil War Collector's Encyclopedia: Arms, Uniforms And Equipment Of The Union And Confederacy as an indispensable reference and core guide in this specialized area of military antiques and collectibles with noted authority Francis A. Lord covering almost everything to do with Civil War memorabilia--from equipment to Union and Confederate uniforms.
Recommended Reading: Warman's Civil War Weapons. Description: The weapons of the Confederate and Union Armies, a commanding presence 140 years ago, are among today's most revered collectibles. Warman's Civil War Weapons offers Civil War enthusiasts a listing of more than 100 weapons and military vehicles, featured in 400 stunning full-color photos, and covers the effectiveness of each weapon in battle. Continued below.
From the early battles that relied on muzzleloaded weapons, to the introduction of submarines, handguns, shoulder arms, edged weapons and more, this book chronicles the history of an innovative age of weaponry. Weapons including the Butterfield Revolver, Sharps Model 1859 and Confederate short sword are shown in detail, with a performance summary. This unmatched reference provides the information needed for a historical study and collecting.
Recommended Reading: Civil War Heavy Explosive Ordnance: A Guide to Large Artillery Projectiles, Torpedoes, and Mines (Hardcover) (537 pages) (University of North Texas Press). Description: The heavy ordnance is divided into two sections: large smoothbore projectiles, and rifled projectiles. The smoothbore section is subdivided into: shot, shell and case shot; canister; and grape. Rifled projectiles are then subdivided into twenty-seven major types and one miscellaneous group. Continued below...
The general form of each entry is a brief introduction of a page or several pages about the type (Archer, Hotchkiss, Dyer, etc.) and then the following pages contain one to three images of each size and type of projectile of that type. When three images of a given projectile are provided they are viewed straight on from top, bottom, and side. Some images of shell or case are half sections. Entries below each set of photographs provide diameter, length, weight, gun, sabot, fuze, rifling, rarity, provenance, and comments. RATED 5 STARS!
Recommended Reading:

The Civil War: Strange & Fascinating Facts

(Hardcover). Description:
After a lifetime of reading, Burke Davis put together a book of amazing and interesting pieces of information that don't usually show up in the historical accounts of the Civil War. ...Wonderfully entertaining look at some intriguing oddities, unusual incidents, and colorful personalities connected with the Civil War. It includes 25 names the war was known by, personal quirks of Robert E. Lee and Stonewall Jackson.

Take a look at some interesting examples below…
Here are a few examples of his research:
The Civil War was known by more than twenty-five names. The most unusual include: The Brothers War; The War to Suppress Yankee Arrogance; The War for the Union; and The War of the Rebellion.
Abraham Lincoln had smallpox when he gave the Gettysburg Address and several members of his wife's family were soldiers in the Confederate Army. Also, President Lincoln admitted that one of his favorite tunes was "Dixie."
General Nathan Bedford Forrest, CSA, had twenty-nine horses shot from beneath him during the war. Belle Boyd started her career as a spy for the South when, at the age of seventeen, she killed a Federal soldier. After the war, about 3,000 former Confederate officers left the South and moved to foreign countries.
Recommended Reading: The Civil War Day By Day: An Almanac, 1861-1865 (1160 pages) (Da Capo Paperback). Description: In all the vast collection of books on the American Civil War there is no book like this one. It has been needed for a long time, both by the student and by the man who simply likes to read about the Civil War, but until now no one had the dedication or the encyclopedic knowledge to produce it. Here it is, at last—an almanac, or day-by-day recital down to the close conflict, written by Professor E. B. Long of the University of Wyoming. If there was a battlefield in the Civil War that this man has not visited, I do not know where it is; if there is an important collection of papers shedding light on the war that he has not examined, it would be hard to name it. Continued below...
It is no exaggeration to say that this man knows more facts about the Civil War than any other man who ever lived. To know a subject thoroughly, of course, is one thing; to put the results of that knowledge into lucid prose of manageable compass is something else again. One does not need to examine many pages of this almanac to realize that Professor Long has succeeded admirably in the second task. Crammed into the margins of each page with facts, this book is never soporific. It is for the casual reader as well as for the specialist; it can even, as a matter of fact, be read straight through as a narrative, in which the dramatic and heart-stirring events of
America
's greatest time of trial pass before the eye on a day-to-day basis. A book like this has been needed for a long time, but up to now no one was able to write it. It should have a long life, and no one will ever need to do it again. It belongs on the somewhat restricted shelf of Civil War books that will be of permanent value.