Union and Confederate Army Organization
Civil War Army Organization and Total Infantry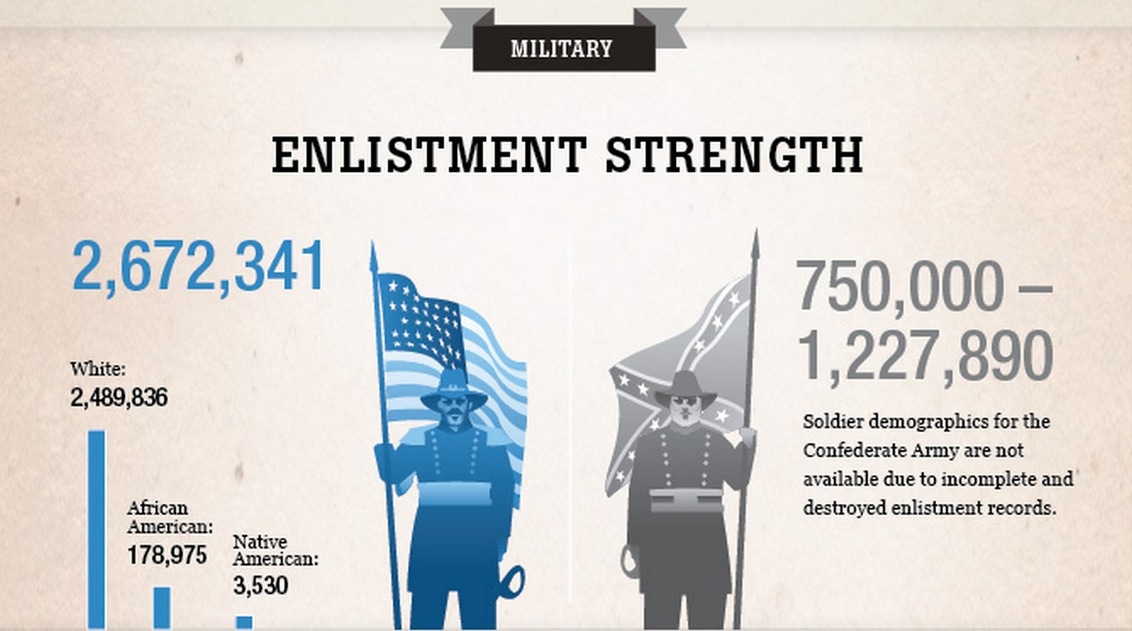 Union and Confederate Infantry with Total Soldiers and Strength of Armies
During the American Civil War, the North generally named a battle after the closest river, stream or creek, and the South tended to name battles after towns or railroad junctions. Hence the Confederate name Manassas after Manassas Junction, and the Union name Bull Run for the stream Bull Run.
During the Battle of First Bull Run, the principal adversaries were the Union Army of Northeastern Virginia and two Confederate commands, the Army of the Potomac and Army of the Shenandoah. In July 1861 the Union army was organized into five infantry divisions of three to five brigades each. Each brigade contained three to five infantry regiments. An artillery battery was generally assigned to each brigade. The total number of Union troops present at the Battle of First Bull Run was about 35,000, although only about 18,000 were actually engaged.
Civil War Infantry Organization Chart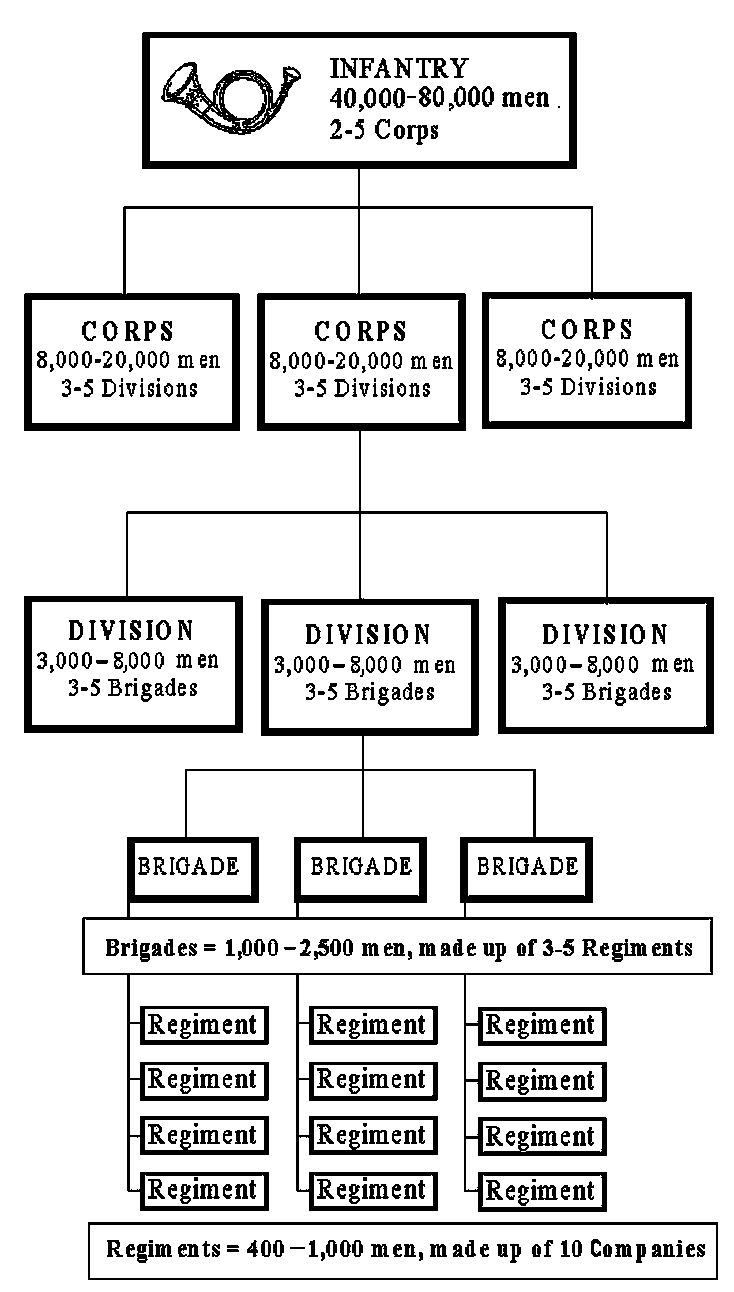 Civil War Army and Infantry Organization and Command Structure Chart
The Confederate Army of the Potomac was organized into six infantry brigades, with each brigade containing three to six infantry regiments. Artillery batteries were assigned to various infantry brigades. The total number of troops in the Confederate Army of the Potomac was approximately 22,000.
The Confederate Army of the Shenandoah was also organized into brigades. It consisted of four brigades of three to five infantry regiments each, which totaled approximately 12,000 men. Each brigade was assigned one artillery battery. Although the combined strength of both Confederate armies was about 34,000, only about 18,000 were actually engaged at First Bull Run.
Civil War Army Organization and Structure
Civil War (Union and Confederate) Infantry Organization and Command Chart
Throughout the Civil War the infantry regiment was the basic administrative and tactical unit of armies. Regimental headquarters consisted of a colonel, lieutenant colonel, adjutant, quartermaster, surgeon (with rank of major), two assistant surgeons, a chaplain, sergeant major, quartermaster sergeant, commissary sergeant, hospital steward, and two principal musicians. A captain, a first lieutenant, a second lieutenant, a first sergeant, four sergeants, eight corporals, two musicians, and one wagoner staffed each company.
Union and Confederate Army and Infantry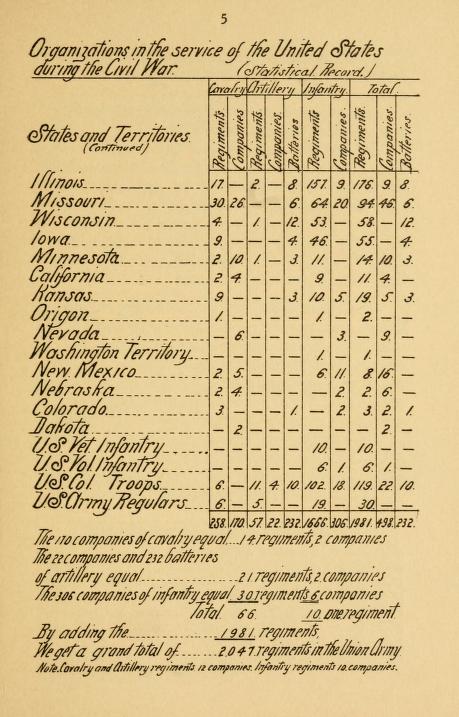 Total Union Infantry, Artillery, and Cavalry units
Civil War Army Organization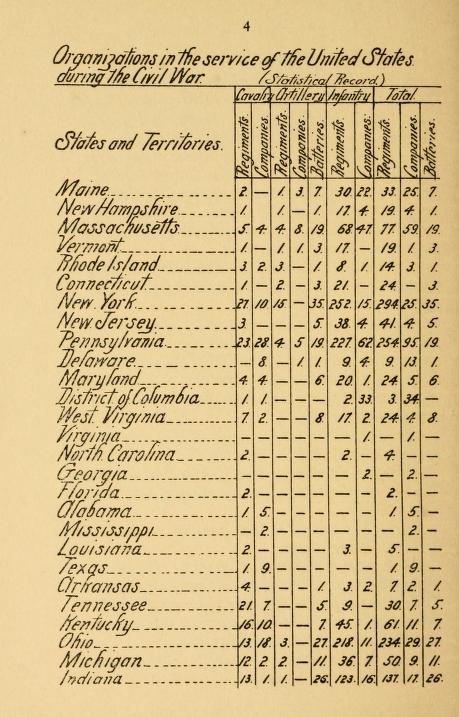 Union Infantry, Cavalry, and Artillery Organization by state
Civil War Army Organization and Battle Formation
Civil War (Confederate and Union) Infantry Structure and Battle Formation Chart
The authorized strength of a Civil War infantry regiment was about 1,000 officers and men, who were arranged in ten companies plus a headquarters and (for the first half of the war at least) a band. Discharges for physical disability, disease, special assignments (bakers, hospital nurses, or wagoners), courts-martial, and battle injuries all combined to reduce effective combat strength. Before too long a typical regiment might be reduced to less than 500 troops.
Brigades were made up of two or more regiments, with four regiments being most common. Union brigades averaged 1,000 to 1,500 infantry, while a Confederate brigade averaged 1,500 to 1,800. Union brigades were designated by a number within their division, while Confederate brigades were designated by the name of a current or former commander.
Divisions were formed of two or more brigades. Union divisions contained 2,500 to 4,000 infantrymen, while the Confederate infantry division was somewhat larger, containing 5,000 to 6,000 men.
After First Bull Run, both sides eventually organized corps by combining two or more divisions. Two or more corps constituted an army, the largest operational organization.
(Related reading below.)
Sources: Official Records of the Union and Confederate Armies; National Park Service; National Archives; Library of Congress; The Union Army; Fox, William F. Regimental Losses in the American Civil War; United States Army Center of Military History; Hardesty, Jesse. Killed and died of wounds in the Union army during the Civil War (1915) Wright-Eley Co.
Recommended Reading: Fields of Honor: Pivotal Battles of the Civil War, by Edwin C. Bearss (Author), James McPherson (Introduction). Description: Bearss, a former chief historian of the National Parks Service and internationally recognized American Civil War historian, chronicles 14 crucial battles, including Fort Sumter, Shiloh, Antietam, Gettysburg, Vicksburg, Chattanooga, Sherman's march through the Carolinas, and Appomattox--the battles ranging between 1861 and 1865; included is an introductory chapter describing John Brown's raid in October 1859. Bearss describes the terrain, tactics, strategies, personalities, the soldiers and the commanders. (He personalizes the generals and politicians, sergeants and privates.) Continued below...
The text is augmented by 80 black-and-white photographs and 19 maps. It is like touring the battlefields without leaving home. A must for every one of
America
's countless Civil War buffs, this major work will stand as an important reference and enduring legacy of a great historian for generations to come.
"

This stout volume covers not only the pivotal American Civil War battles, but also the bloodiest and costliest battles."
Few historians have ever captured the drama, excitement, and tragedy of the Civil War with the headlong elan of Edwin Bearss, who has won a huge, devoted following with his extraordinary battlefield tours and eloquent soliloquies about the heroes, scoundrels, and little-known moments of a conflict that still fascinates America. Antietam, Shiloh, Gettysburg: these hallowed battles and more than a dozen more come alive as never before, rich with human interest and colorful detail culled from a lifetime of study. Illustrated with detailed maps and archival images, this 448-page volume presents a unique narrative of the Civil War's most critical battles, translating Bearss' inimitable delivery into print. As he guides readers from the first shots at Fort Sumter to Gettysburg's bloody fields to the dignified surrender at Appomattox, his engagingly plainspoken but expert account demonstrates why he stands beside Shelby Foote, James McPherson, and Ken Burns in the front rank of modern chroniclers of the Civil War, as the Pulitzer Prize-winning McPherson himself points out in his admiring Introduction. A must for every one of America's countless Civil War buffs, this major work will stand as an important reference and enduring legacy of a great historian for generations to come. About the Author: Edwin C. Bearss is legendary among serious scholars and Civil War buffs alike. The former Chief Historian of the National Park Service and its current historian emeritus, Bearss' renowned tours of America's battlefields feature a uniquely engaging panache that has inspired a legion of fans. He has consulted on numerous books, documentaries, and films, including Gods and Generals and Ken Burns' The Civil War. The author of 13 books, he has been honored many times for his tireless advocacy of the historical preservation of Civil War battlefield sites. Also available in hardcover:
Fields of Honor: Pivotal Battles of the Civil War
.
Advance to:
Recommended Reading: The Civil War: A Narrative, by Shelby Foote (3 Volumes Set) [BOX SET] (2960 pages) (9.2 pounds). Review: This beautifully written trilogy of books on the American Civil War is not only a piece of first-rate history, but also a marvelous work of literature. Shelby Foote brings a skilled novelist's narrative power to this great epic. Many know Foote for his prominent role as a commentator on Ken Burns's PBS series about the Civil War. These three books, however, are his legacy. His southern sympathies are apparent: the first volume opens by introducing Confederate President Jefferson Davis, rather than Abraham Lincoln. But they hardly get in the way of the great story Foote tells. This hefty three volume set should be on the bookshelf of any Civil War buff. --John Miller. Continued below.
Product Description:
Foote's comprehensive history of the Civil War includes three compelling volumes: Fort Sumter to Perryville, Fredericksburg to Meridian, and Red River to Appomattox. Collected together in a handsome boxed set, this is the perfect gift for any Civil War buff.
Fort Sumter to Perryville
"Here, for a certainty, is one of the great historical narratives of our century, a unique and brilliant achievement, one that must be firmly placed in the ranks of the masters." —Van Allen Bradley, Chicago Daily News
"Anyone who wants to relive the Civil War, as thousands of Americans apparently do, will go through this volume with pleasure.... Years from now, Foote's monumental narrative most likely will continue to be read and remembered as a classic of its kind." —New York Herald Tribune Book Review
Fredericksburg to Meridian
"This, then, is narrative history—a kind of history that goes back to an older literary tradition.... The writing is superb...one of the historical and literary achievements of our time." —The Washington Post Book World
"Gettysburg...is described with such meticulous attention to action, terrain, time, and the characters of the various commanders that I understand, at last, what happened in that battle.... Mr. Foote has an acute sense of the relative importance of events and a novelist's skill in directing the reader's attention to the men and the episodes that will influence the course of the whole war, without omitting items which are of momentary interest. His organization of facts could hardly be bettered." —Atlantic
Red River to Appomattox
"An unparalleled achievement, an American Iliad, a unique work uniting the scholarship of the historian and the high readability of the first-class novelist." —Walker Percy
"I have never read a better, more vivid, more understandable account of the savage battling between Grant's and Lee's armies.... Foote stays with the human strife and suffering, and unlike most Southern commentators, he does not take sides. In objectivity, in range, in mastery of detail in beauty of language and feeling for the people involved, this work surpasses anything else on the subject.... It stands alongside the work of the best of them." —New Republic
Recommended Reading: Hardtack & Coffee or The Unwritten Story of Army Life. Description: Most histories of the Civil War focus on battles and top brass. Hardtack and Coffee is one of the few to give a vivid, detailed picture of what ordinary soldiers endured every day—in camp, on the march, at the edge of a booming, smoking hell. John D. Billings of Massachusetts enlisted in the Army of the Potomac and survived the hellish conditions as a "common foot soldier" of the American Civil War. "Billings describes an insightful account of the conflict – the experiences of every day life as a common foot-soldier – and a view of the war that is sure to score with every buff." Continued below...
The authenticity of his book is heightened by the many drawings that a comrade, Charles W. Reed, made while in the field. This is the story of how the Civil War soldier was recruited, provisioned, and disciplined. Described here are the types of men found in any outfit; their not very uniform uniforms; crowded tents and makeshift shelters; difficulties in keeping clean, warm, and dry; their pleasure in a cup of coffee; food rations, dominated by salt pork and the versatile cracker or hardtack; their brave pastimes in the face of death; punishments for various offenses; treatment in sick bay; firearms and signals and modes of transportation. Comprehensive and anecdotal, Hardtack and Coffee is striking for the pulse of life that runs through it.
Recommended Reading: For Cause and Comrades: Why Men Fought in the Civil War. Description: Professor James McPherson posits that the common rank-and-file soldiers did indeed hold political and ideological beliefs that prodded them to enlist and to fight. His research is based on letters and diaries from 1,076 Union and Confederate soldiers that reveal many motivations, but always lead back to duty, honor, and a cause worth dying for. For Cause and Comrades is a fascinating exploration of the 19th-century mind--a mind, it seems, that differs profoundly from our own.
NEW! HIGHLY Recommended Viewing! The American Civil War (DVD Megaset) (2009) (A&E Television Networks-The History Channel) (14 DVDs) (1697 minutes) (28 Hours 17 Minutes + extras). Experience for yourself the historical and personal impact of the Civil War in a way that only HISTORY can present in this moving megaset™, filled with over 28 hours of American Civil War content. This MEGASET is the most comprehensive American Civil War compilation to date and is the mother of all Civil War documentaries. A multifaceted look at "The War Between the States," this definitive collection brings the most legendary Civil War battles, and the soldiers and leaders who fought them, vividly to life. From Gettysburg and Antietam to Shiloh, and led by the likes of Sherman, McClellan, Grant, Beauregard, Lee, Davis, and Jackson, delve into the full military and political contexts of these men, their armies, and the clashes between them. Continued below...
Almost 150 years after Lee's surrender at Appomattox Court House, the unexpected secrets and little-known stories from Civil War history are divulged with fascinating detail. Cutting-edge CGI and accurate dramatizations illustrate archival letters and original diary entries, and the country's most renowned historians describe the less familiar incidents that add perspective and depth to the war that divided a nation. If the DVDs in this Megaset were purchased separately, it could cost hundreds of dollars. This one-of-a-kind compilation belongs on the shelf of every Civil War buff, and if you know anyone that is interested in the most costliest and bloodiest war in American history, buy this, they will love it.
THE AMERICAN CIVIL WAR contains the following programs:
* The Most Daring Mission Of The Civil War
* April 1865
* Battlefield Detectives: The Civil War (3 Episodes): Antietam, Gettysburg, Shiloh
* Secret Missions Of The Civil War
* The Lost Battle Of The Civil War
* Tales Of The Gun: Guns Of The Civil War
* Eighty Acres Of Hell
* Lincoln
* Investigating History: Lincoln: Man Or Myth
* Man, Moment, Machine: Lincoln & The Flying, Spying Machine
* Conspiracy?: Lincoln Assassination
* High Tech Lincoln
* Sherman's March
* The Hunt For John Wilkes Booth
* Civil War Combat (4 Episodes): The Hornets' Nest At Shiloh, The Bloody Lane At Antietam, The Wheatfield At Gettysburg, The Tragedy At Cold Harbor
* Civil War Journal (8 Episodes): John Brown's War, Destiny At Fort Sumter, The Battle of 1st Bull Run, The 54th Massachusetts, West Point Classmates—Civil War Enemies, Robert E. Lee, Stonewall Jackson, Sherman And The March To The Sea
BONUS FEATURES:
* Full-Length Documentary "Save Our History: Sherman's Total War Tactics"
* Behind the Scenes Featurettes for "Sherman's March" and "Lincoln"