TRAIL OF TEARS HISTORY
Trail of Tears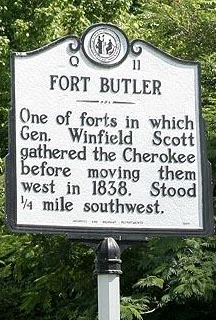 1838 Trail of Tears Historical Marker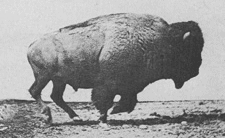 The Trail of Tears was the result of the enforcement of the
1835 Treaty of New Echota
, an agreement signed under the provisions of the
Indian Removal Act of 1830
, which exchanged Native American land in the East for lands west of the Mississippi River, but which was never accepted by the elected tribal leadership or a majority of the Cherokee people.
Tensions between the State of Georgia and the Cherokee Nation were brought to a crisis by the discovery of gold near Dahlonega, Georgia, in 1829, resulting in the Georgia Gold Rush, the second gold rush in U.S. history. Gold speculators began encroaching on Cherokee lands, and pressure began to mount on the Georgia government to fulfill the promises of the Compact of 1802.
When Georgia moved to extend state laws over the Cherokee lands in 1830, the matter went to the U.S. Supreme Court. In Cherokee Nation v. Georgia (1831), the Marshall court ruled that the Cherokee Nation was not a sovereign and independent nation, and therefore refused to hear the case. However, in Worcester v. Georgia (1832), the Court ruled that Georgia could not impose laws in Cherokee territory, since only the national government — not state governments — had authority in Indian affairs.
Cherokee Indian 1838 Trail of Tears Map
Cherokee Trail of Tears Map : Cherokee Indian Removal Map
President Andrew Jackson had no desire to use the power of the national government to protect the Cherokees from Georgia, since he was already entangled with states' rights issues in what became known as the nullification crisis. With the Indian Removal Act of 1830, the U.S. Congress had given Jackson authority to negotiate removal treaties, exchanging Indian land in the East for land west of the Mississippi River. Jackson used the dispute with Georgia to put pressure on the Cherokees to sign a removal treaty.
The treaty, which passed Congress by a single vote, was signed into law by President Andrew Jackson, and imposed by his successor President Martin Van Buren who allowed Georgia, Tennessee, North Carolina, and Alabama an armed force of 7,000 made up of militia, regular army, and volunteers under General Winfield Scott to round up some 13,000 Cherokees into concentration camps at the U.S. Indian Agency near Cleveland, Tennessee, before being sent to the West.
Most of the deaths occurred from disease, starvation and cold in these camps. Their homes were burned and their property destroyed and plundered. Farms belonging to the Cherokee Indians for generations were won by white settlers in a lottery. After the initial roundup, the U.S. military still oversaw the emigration until they met the forced destination. Private John G. Burnett later wrote, "Future generations will read and condemn the act and I do hope posterity will remember that private soldiers like myself, and like the four Cherokees who were forced by General Scott to shoot an Indian Chief and his children, had to execute the orders of our superiors. We had no choice in the matter."
1838 Trail of Tears
Cherokee Indian Trail of Tears
1838 Trail of Tears Cherokee Indian Removal Map
Trail of Tears Indian Forced Removal Map
I fought through the War Between the States and have seen many men shot, but the Cherokee Removal was the cruelest work I ever knew.
—Georgia soldier who participated in the removal
"Long time we travel on way to new land. People feel bad when they leave old nation. Women cry and make sad wails. Children cry and many men cry, and all look sad like when friends die, but they say nothing and just put heads down and keep on go towards West. Many days pass and people die very much. We bury close by Trail."
— Survivor of the Trail of Tears and Indian Removal
The Cherokee remember the forced removal as Nunahi-Duna-Dlo-Hilu-I, which means the Trail Where They Cried.
Recommended Viewing: The Trail of Tears: Cherokee Legacy (2006), Starring: James Earl Jones and Wes Studi; Director: Chip Richie, Steven R. Heape. Description: The Trail Of Tears: Cherokee Legacy is an engaging two hour documentary exploring one of America's darkest periods in which President Andrew Jackson's Indian Removal Act of 1830 consequently transported Native Americans of the Cherokee Nation to the bleak and unsupportive Oklahoma Territory in the year 1838. Deftly presented by the talents of Wes Studi (The Last of the Mohicans, Dances With Wolves, Bury My Heart at Wounded Knee, Crazy Horse, 500 Nations, Comanche Moon), James Earl Jones, and James Garner. Continued below...
The Trail Of Tears: Cherokee Legacy also includes narrations of famed celebrities Crystal Gayle, Johnt Buttrum, Governor Douglas Wilder, and Steven R. Heape. Includes numerous Cherokee Nation members which add authenticity to the production… A welcome DVD addition to personal, school, and community library Native American history collections. The Trail Of Tears: Cherokee Legacy is strongly recommended for its informative and tactful presentation of such a tragic and controversial historical occurrence in 19th century American history.
NEW! Recommended Viewing: We Shall Remain (PBS) (DVDs) (420 minutes). Midwest Book Review: We Shall Remain is a three-DVD thinpack set collecting five documentaries from the acclaimed PBS history series "American Experience", about Native American leaders including Massasoit, Tecumseh, Tenskwatawa, Major Ridge, Geronimo, and Fools Crow, all who did everything they could to resist being forcibly removed from their land and preserve their culture. Continued below...
Their strategies ranged from military action to diplomacy, spirituality, or even legal and political means. The stories of these individual leaders span four hundred years; collectively, they give a portrait of an oft-overlooked yet crucial side of American history, and carry the highest recommendation for public library as well as home DVD collections. Special features include behind-the-scenes footage, a thirty-minute preview film, materials for educators and librarians, four ReelNative films of Native Americans sharing their personal stories, and three Native Now films about modern-day issues facing Native Americans. 7 hours. "Viewers will be amazed." "If you're keeping score, this program ranks among the best TV documentaries ever made." and "Reminds us that true glory lies in the honest histories of people, not the manipulated histories of governments. This is the stuff they kept from us." --Clif Garboden, The Boston Phoenix.
Recommended Reading: Trail of Tears: The Rise and Fall of the Cherokee Nation. Library Journal: One of the many ironies of U.S. government policy toward Indians in the early 1800s is that it persisted in removing to the West those who had most successfully adapted to European values. As whites encroached on Cherokee land, many Native leaders responded by educating their children, learning English, and developing plantations. Such a leader was Ridge, who had fought with Andrew Jackson against the British. Continued below...
As he and other Cherokee leaders grappled with the issue of moving, the land-hungry Georgia legislators, with the aid of Jackson, succeeded in ousting the Cherokee from their land, forcing them to make the arduous journey West on the infamous "Trail of Tears." Mary B. Davis, Museum of American Indian Lib., New York, Copyright 1988 Reed Business Information, Inc.
Recommended Reading: The Eastern Band of Cherokees, 1819-1900, by John R. Finger. Review from University of Tennessee Press: This volume presents the story of the Eastern Band of Cherokees during the nineteenth century. This group – the tribal remnant in North Carolina that escaped removal in the 1830's – found their fortitude and resilience continually tested as they struggled with a variety of problems, including the upheavals of the Civil War and Reconstruction, internal divisiveness, white encroachment on their lands, and a poorly defined relationship with the state and federal governments. Yet despite such stresses and a selective adaptation in the face of social and economic changes, the Eastern Cherokees retained a sense of tribal identity as they stood at the threshold of the twentieth century. Continued below…
"Most scholars, like most Cherokees, have tended to follow the Trail of Tears west with scarcely a backward glance at the more than 1,000 Indians who stayed behind in the North Carolina mountains. In this pathbreaking book, John R. Finger combs federal, state, and local archives to tell the story of these forgotten natives."
-- Journal of Southern History
"This work is a significant contribution to the literature on this long-ignored group….Finger works [his] sources well and out of them has produced a narrative that is readable and that puts the Eastern Band of Cherokees as a tribal entity into a clear, historical perspective."
-- American Historical Review
John R. Finger is professor of history at the University of Tennessee, Knoxville.
Recommended Reading: Cherokee Proud, Second Edition, by Tony Mack McClure. Description: Absolutely the "Bible" of Cherokee Genealogy. New, 336 pages, 2nd Edition. If the information in this remarkable new book doesn't lead a person to proof of their Cherokee roots, nothing can! "It is an A-to-Z on organizing and locating the requirements / qualifications for membership." Continued below...
Are you Cherokee? Are you the individual that has always been told that you are a Cherokee, but have no facts or records to prove it? To claim Cherokee membership means that you must prove it – you must have the facts, so toss the doubt away, get the facts, and claim what is rightfully your heritage by blood quantum. Now, are you ready to prove that you are a Cherokee? It's not difficult if you take the time to locate the facts. Included are proven resources for tracing your family genealogy, the family tree, roots, bloodline, and for researching your ancestors to prove that you meet the blood requirements (qualifications) for Cherokee membership and tribal enrollment. Those that qualify as "American Indians are American Indians" and are entitled to the rights and benefits of the tribe! Also includes a proven "how to dos" written by the foremost expert in Cherokee history, genealogy and heritage. Cherokee membership is not like joining a gym or paying dues, it's your blood, so claim it. Are you remotely interested in knowing that you are a "Cherokee Indian" or are you the individual that enjoys genealogy? Do you want to locate and preserve your Native American ancestry? Finding information about ancestors for genealogy and heritage is also a lot of fun. Moreover, you are preserving your own family history and heritage with your relatives and loved ones for generations and generations… Take a look at exactly what is required to locate and organize and present your information to prove that you meet the qualifications as a member of the Cherokee tribe. Cherokee Proud, by Tony McClure, is referred to as the "Bible for Cherokee Genealogy." Cherokee Proud has also been rated a SOLID FIVE STARS by every person that has read and rated it. To see if you meet the 'Cherokee qualification and requirement for membership', then look no further -- purchase Cherokee Proud. Read the reviews and see what people and organizations are saying about it.
Reviews
"Cherokee Proud is the very best book I have ever seen on tracing Cherokee genealogy." -- RICHARD PANGBURN, acclaimed author of Indian Blood, Vol. I & II found in most libraries
"McClure unabashedly loosens his journalistic standards for portions of this book which reach him too emotionally. Understood. Fascinating and enlightening."
BACK COVER: Among the people of this country are individuals in whose blood runs the proud heritage of a noble and resilient people whose ways and talents rank with the finest civilizations the world has known. They are the " Tsalagi ". . . the Cherokee. This book will help you learn if you are one of them. -- BOOK READER
"The contents of Cherokee Proud are exceptional - valuable information that can be used by so many readers and researchers who have Native American (Cherokee) ancestry." -- DON SHADBURN, Famous Georgia historian and noted author of Unhallowed Intrusion and Cherokee Planters of Georgia
"This Cherokee guide is the best yet!" -- LAWTON CONSTITUTION
About the Author: Well known and acclaimed Cherokee author Dr. Tony Mack McClure, a native of Tennessee, is a certified member of the Native American Journalists Association, Wordcraft Circle of Native Writers and Storytellers, and Committeeman for the Tennessee Chapter of the National Trail of Tears Association. His work has appeared in numerous magazines, over 250 newspapers, on all major television networks and many cable systems.
The Thomas Legion Award Winner: After the Trail of Tears: The Cherokees' Struggle for Sovereignty, 1839-1880. Description: This powerful narrative traces the social, cultural, and political history of the Cherokee Nation during the forty-year period after its members were forcibly removed from the southern Appalachians and resettled in what is now Oklahoma. In this master work, completed just before his death, William McLoughlin not only explains how the Cherokees rebuilt their lives and society, but also recounts their fight to govern themselves as a separate nation within the borders of the United States. Continued below...
Long regarded by whites as one of the 'civilized tribes', the Cherokees had their own constitution (modeled after that of the United States), elected officials, and legal system. Once re-settled, they attempted to reestablish these institutions and continued their long struggle for self-government under their own laws—an idea that met with bitter opposition from frontier politicians, settlers, ranchers, and business leaders. After an extremely divisive fight within their own nation during the Civil War, Cherokees faced internal political conflicts as well as the destructive impact of an influx of new settlers and the expansion of the railroad. McLoughlin conveys its history to the year 1880, when the nation's fight for the right to govern itself ended in defeat at the hands of Congress.
Recommended Reading:
Trail of Tears
(Hardcover).
Description:
Insightful, rarely told history of Indian courage in the face of White expansionism in the 19th century. Truth-telling tale of the ruthless brutality that forced the Native American population into resettlement camps and reservations, with a look at the few white Americans who fought to help them. This is an amazing book. Continued below...
Tireless research and the author's gift of vision and words produce a magnificently readable narrative of the American Indian Removals. It is very balanced with no point of view overlooked. Include many surprising appearances and plenty of twists which will make you laugh out loud and break your heart. A very human book and an absolute must-read for anyone who wants to learn history through the eyes and ears (and hearts) of those that experienced it. You won't be able to put it down.
Recommended Reading: The Cherokee Removal: A Brief History with Documents (The Bedford Series in History and Culture) (Paperback). Description: This book tells the compelling story of American ethnic cleansing against the Cherokee nation through an admirable combination of primary documents and the editors' analyses. Perdue and Green begin with a short but sophisticated history of the Cherokee from their first interaction with Europeans to their expulsion from the East to the West; a region where Georgia, North Carolina, Tennessee, and Alabama connect Continued below...
The reader is directed through a variety of documents commenting on several important themes: the "civilizing" of the Cherokee (i.e. their adoption of European culture), Georgia's leading role in pressuring the Cherokee off their land and demanding the federal government to remove them by force, the national debate between promoters and opponents of expulsion, the debate within the Cherokee nation, and a brief look at the deportation or forced removal. Conveyed in the voices of the Cherokee and the framers of the debate, it allows the reader to appreciate the complexity of the situation. Pro-removal Americans even made racist judgments of the Cherokee but cast and cloaked their arguments in humanitarian rhetoric. Pro-emigration Cherokee harshly criticize the Cherokee leadership as corrupt and possessing a disdain for traditional Cherokee culture. American defenders and the Cherokee leadership deploy legal and moral arguments in a futile effort to forestall American violence. "A compelling and stirring read."