Thomas Aiken: A Civil War Deserter
Thomas Aiken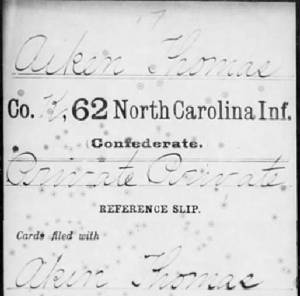 National Archives
My Life as a Prisoner of War:
List of 62nd Soldiers that died as Prisoners of War:
Name:
Thomas Aiken
Sex: M
Birth: MAY 1826 in Pendleton Co., 96 District, SC
Death: BET 1900 AND 1909 in Pickens Co.? SC
Census: 1850 Henderson Co., NC
Census: 1870 Pickens Co., SC
Census: 8 JUN 1880 Pickens Co., SC
Census: 1900 Pickens Co., SC
Military Service: 14 JUL 1862 Enlisted in Co K, 62nd North Carolina Infantry Regiment
Military Service: 31 DEC 1862 Reported present or accounted for
Military Service: 22 JAN 1863 Absent without leave
Military Service: MAR 1863 Returned to service
Military Service: 12 JUN 1863 Deserted from hospital at Greenville, TN
Event: Arrested APR 1888 Distilling
Event: Imprisoned MAR 1889 Discharged
Event: Fact 16 APR 1862 Confederate Conscription Act
Source and Credit for Thomas Aiken Genealogy and Service Record: Cousin and Reverend Dan Johnson
Recommended Reading: To Die in Chicago: Confederate Prisoners at Camp Douglas 1862-65 (Hardcover) (446 pages). Description: The author's research is exacting, methodical, and painstaking. He brought zero bias to the enterprise and the result is a stunning achievement that is both scholarly and readable. Douglas, the "accidental" prison camp, began as a training camp for Illinois volunteers. Donalson and Island #10 changed that. The long war that no one expected… combined with inclement weather – freezing temperatures - primitive medical care and the barbarity of the captors created in the author's own words "a death camp." Stanton's and Grant's policy of halting the prisoner exchange behind the pretense of Fort Pillow accelerated the suffering. Continued below.
In the latest edition, Levy found the long lost hospital records at the National Archives which prove conclusively that casualties were deliberately "under reported." Prisoners were tortured, brutality was tolerated and corruption was widespread. The handling of the dead rivals stories of Nazi Germany. The largest mass grave in the Western Hemisphere is filled with....the bodies of Camp Douglas dead, 4200 known and 1800 unknown. No one should be allowed to speak of Andersonville until they have absorbed the horror of Douglas, also known as "To Die in Chicago."
Recommended Reading: So Far from Dixie: Confederates in Yankee Prisons (Hardcover: 312 pages). Description: This book is the gripping history of five men who were sent to Elmira, New York's infamous POW camp, and survived to document their stories. You will hear and even envision the most stirring and gripping true stories of each soldier that lived and survived the most horrible nightmares of the conflict while tortured and even starved as "THE PRISONER OF WAR."
Recommended Reading: Tracing Your Civil War Ancestor (Hardcover). Description: It is tantalizing to speculate about the role your ancestors may have played in the great national drama of the Civil War. But family records are often inaccurate, or provide precious few leads on where to begin the search. Now, experienced historian Bertram Hawthorne Groene shows you how easy it is to trace your forbearers' role in the war, where and how long they fought, whether they were Union or Rebel, soldier or sailor -- even with a minimum of information. Continued below.
Tracing Your Civil War Ancestor provides you with:
-- The names and addresses of all state archives.
-- Names and addresses of institutions that hold microfilmed service records from the national archives.
-- Names and publishers of useful regional Civil War reference books.
-- Names and publishers of sourcebooks for identifying Civil War weapons and accoutrements.
-- And much more.
Historians, genealogists, antique dealers, and collectors of Civil War artifacts will find this concise guidebook of great value. But most of all it is of inestimable practical value to family historians, North and South, who are discovering the pleasure and satisfaction of compiling an accurate family history.
Recommended Reading: The Life of Johnny Reb: The Common Soldier of the Confederacy (444 pages) (Louisiana State University Press) (Updated edition: November 2007) Description: The Life of Johnny Reb does not merely describe the battles and skirmishes fought by the Confederate foot soldier. Rather, it provides an intimate history of a soldier's daily life--the songs he sang, the foods he ate, the hopes and fears he experienced, the reasons he fought. Wiley examined countless letters, diaries, newspaper accounts, and official records to construct this frequently poignant, sometimes humorous account of the life of Johnny Reb. In a new foreword for this updated edition, Civil War expert James I. Robertson, Jr., explores the exemplary career of Bell Irvin Wiley, who championed the common folk, whom he saw as ensnared in the great conflict of the 1860s. Continued below.
About Johnny Reb:
"A Civil War classic."--Florida Historical Quarterly
"This book deserves to be on the shelf of every Civil War modeler and enthusiast."--Model Retailer
"[Wiley] has painted with skill a picture of the life of the Confederate private. . . . It is a picture that is not only by far the most complete we have ever had but perhaps the best of its kind we ever shall have."--Saturday Review of Literature
Recommended Reading: Hardtack & Coffee or The Unwritten Story of Army Life. Description: Most histories of the Civil War focus on battles and top brass. Hardtack and Coffee is one of the few to give a vivid, detailed picture of what ordinary soldiers endured every day—in camp, on the march, at the edge of a booming, smoking hell. John D. Billings of Massachusetts enlisted in the Army of the Potomac and survived the hellish conditions as a "common foot soldier" of the American Civil War. "Billings describes an insightful account of the conflict – the experiences of every day life as a common foot-soldier – and a view of the war that is sure to score with every buff." Continued below.
The authenticity of his book is heightened by the many drawings that a comrade, Charles W. Reed, made while in the field. This is the story of how the Civil War soldier was recruited, provisioned, and disciplined. Described here are the types of men found in any outfit; their not very uniform uniforms; crowded tents and makeshift shelters; difficulties in keeping clean, warm, and dry; their pleasure in a cup of coffee; food rations, dominated by salt pork and the versatile cracker or hardtack; their brave pastimes in the face of death; punishments for various offenses; treatment in sick bay; firearms and signals and modes of transportation. Comprehensive and anecdotal, Hardtack and Coffee is striking for the pulse of life that runs through it.