BATTLE OF FIVE FORKS WITH BATTLEFIELD MAPS

Prelude
Civil War Battlefield of Five Forks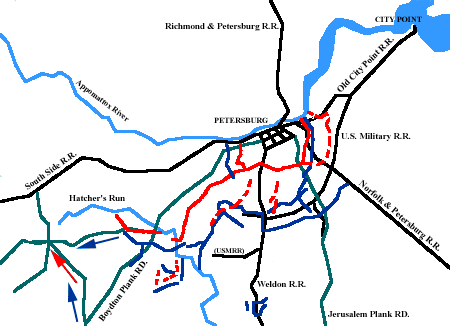 Battle of Five Forks Union and Confederate Armies
Despite his success the day before (April 1, 1865), Gen. Pickett (CSA) had to fall back and make a stand at Five Forks. This intersection was the most critical along the whole front. If Pickett failed here against Gen. Sheridan's (USA) cavalry and Gen. Warren's (USA) V Corps, then Gen. Grant (USA) would finally be able to take the South Side Railroad and force Gen. Lee (CSA) to evacuate Petersburg and Richmond.
BATTLE OF FIVE FORKS:
4:00 p.m.

With Pickett dug in alongside of the White Oak Road, Sheridan planned to have Warren hit the Confederate left while his dismounted cavalrymen engaged the rest of the line in heavy skirmishing.
Warren finally had his men in position and on the move late in the afternoon.
Five Forks Battlefield Map
Union Army versus Confederate Army
BATTLE OF FIVE FORKS:
4:30-5:00 p.m.
Union and Confederate Battlefield Positions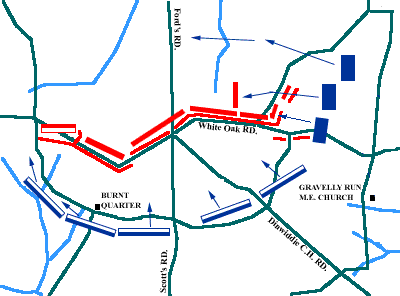 The Battle of Five Forks
The V Corps overwhelmed the Confederate left. Some of the Union troops accidentally veered to the north and ended up cutting off Ford's Road. It is at this point Pickett, who has been dining with subordinates behind his line, sees the Union troops and barely makes it past them to rejoin his men.
BATTLE OF FIVE FORKS:
5-5:30 p.m.

With Ford's Road cut off and being pressed on the left and on the front, the Confederates made the first of several attempts to refuse the Union attack on the left and from the rear.
Five Forks: Union and Confederate Armies
The Five Forks Battlefield
BATTLE OF FIVE FORKS:
5:30-6 p.m.

In the last stages of the battle a cavalry engagement occurs as Gen. Fitz Lee's (CSA) men repulsed several charges by Gen. Custer's (USA) force. This stand allowed what remained of Pickett's command to escape. Warren, who is leading his men in one of the V Corps greatest victories, was informed that he has been relieved of command by Sheridan.
Union and Confederate Troops at Five Forks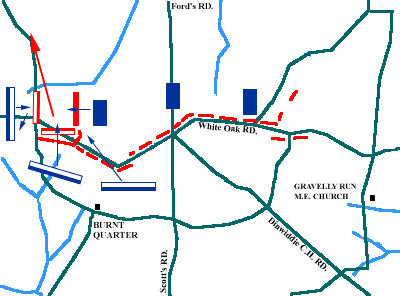 Troop Battlefield Positions and Movements
BATTLE OF FIVE FORKS:
Aftermath
This Union victory here was the breaking point for Lee's army. No longer able to hold Petersburg and Richmond, the actions that occurred April 2, were the last convulsions of the Siege of Petersburg. Less than a week later, after some hard marching and bitter fighting, did the Army of Northern Virginia surrender at Appomattox Court House, Virginia.
Union and Confederate Troops at Five Forks
Battlefield Positions and Movements
The best example of those original earthworks at the Battle of Five Forks can be found at the "Angle" at the east end of the Confederate line. Also, the density of trees and the existing fields is about the same as what the soldiers saw and fought through on April 1, 1865.
Source: Petersburg National Military Battlefield