Civil War and Reconstruction
Reconstruction and Civil Rights Acts
Introduction
Reconstruction lasted until 1877, and many referred to the period as merely a continuation of the Civil War itself, not necessarily because of feuds and racism, but because many Southern communities had lost nearly all able-bodied males over 18, leaving a vacuum in the workplace and a void in the traditional family.
The Civil War had witnessed unprecedented loss of life, but the magnitude of soldiers returning home with diseases and wounds was equally unfathomable. Reconstruction? What a daunting task they confronted. While families were uncertain about life, others were enjoying the consternation for personal gain and political favors. Although Reconstruction meant rebuilding, it happened during an era absent of social security and veterans affairs, so to live and eat was synonymous with teamwork and community effort (notice the word "unity" in community). Post traumatic stress disorder, battle fatigue and shell shock, and other disorders and mental diseases, were not recognized at the time and neither were there any treatments. Everyone, everyday, had personal battles of their own, such as having food to eat, and enduring the physical and emotional traumas associated with the costly Civil War, and the majority of the nation cared little about Reconstruction and Civil Rights Acts. So on the national political front, it too was a battlefield as individuals maneuvered and fought for rights and equality. Reconstruction was indeed a continuation of Civil War.
Civil War, Reconstruction, and Civil Rights Acts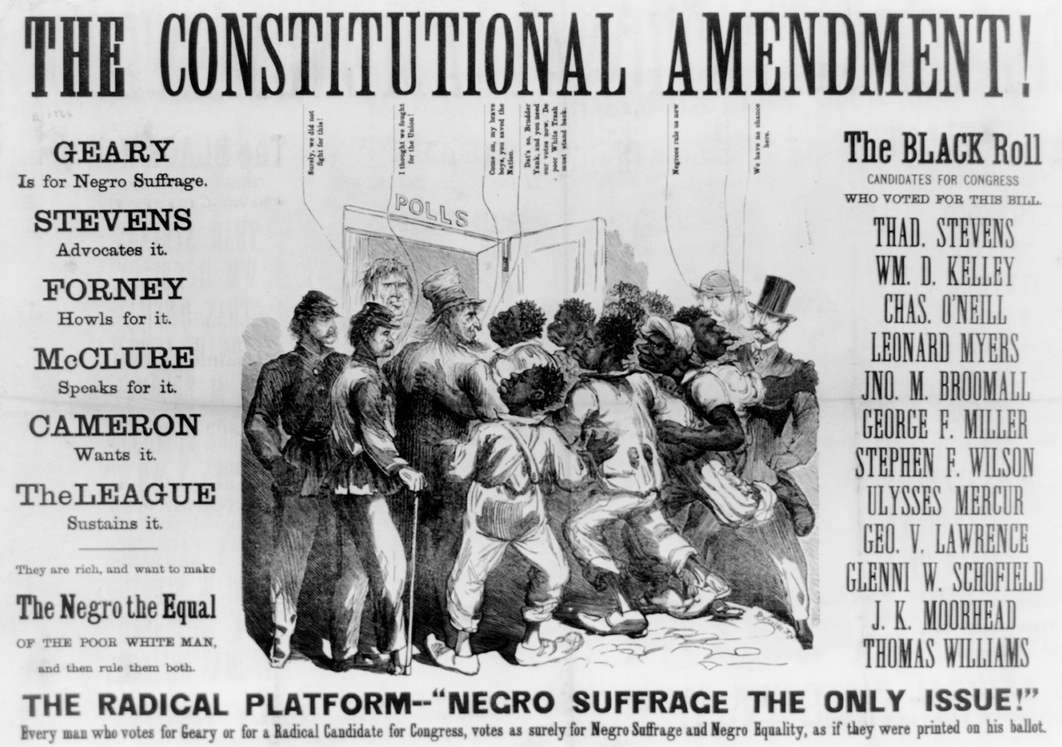 Civil War, Reconstruction, and Civil Rights Acts
(About) This 1866 political cartoon, distributed by a white-supremacist candidate, declared that Republicans sought to grant suffrage to black men in order to create a voting bloc for themselves. Detractors of the campaign for full black male suffrage were attempting to discredit abolitionist Representative Thaddeus Stevens of Pennsylvania and others.
Civil Rights Acts
The Civil Rights Act of 1866: This act granted black citizens equal rights to contract, to sue and be sued, to marry, travel, and own property. It made all citizens subject to "like punishment, pains and penalties." Any person guilty of depriving citizens of their stated rights because of race, color, or previous condition of servitude could be fined, imprisoned or both.
The Reconstruction Act of 1867: This act allowed former slaves to participate fully in the political arena. As a result, African Americans sat in constitutional conventions, helped draft state constitutions, and supported new comprehensive programs for state education in the South.
The Enforcement Act of 1870: This act stated that all citizens otherwise qualified to vote in any election should not be denied the vote because of race. States could set up prerequisites for voting, but all persons were to have equal access to the vote.
The Civil Rights Act of 1871: This act set up a system of federal supervision of elections within the states in order to stop illegal voter registration practices.

The Ku Klux Klan Act of 1871: This act was intended to protect black citizens against intimidation by illegal action, such as by the KKK, in cases where states could not, or would not, provide protection.
The Civil Rights Act of 1875: This act entitled all persons the "full and equal enjoyment" of public accommodations, such as hotels, transportation or theaters. It granted blacks the right to sue for personal damages, and allowed any qualified person to serve as a juror. This was the last piece of civil rights legislation passed by the United States Congress until 1957.
Reconstruction and Civil Rights Acts
Reconstruction and caring for Civil War amputees
(About) Pvt. Benjamin Franklin, Company H, 2nd Minnesota Regiment Cavalry. As soldiers lay dying all around them and others awaited attention – some screaming, some in shocked silence – the surgeons in blood-splattered clothes went to work, sawing through bone. Their task was to sever the pulverized limbs and shattered bones of those who had been hit by deadly bullets shot from the barrels of rifled muskets. Amputations conducted on such a large scale had never been seen before.
(Related reading below, Selected sources are from each of the books listed below. Poster and Photograph Courtesy Library of Congress.)
Recommended Reading: Reconstruction: America's Unfinished Revolution, 1863-1877. Review: This "masterful treatment of one of the most complex periods of American history" (New Republic) made history when it was originally published in 1988. It redefined how Reconstruction was viewed by historians and people everywhere in its chronicling of how Americans -- black and white -- responded to the unprecedented changes unleashed by the war and the end of slavery. This "smart book of enormous strengths" (Boston Globe) has since gone on to become the classic work on the wrenching post-Civil War period -- an era whose legacy reverberates still today in the United States. Continued below...
About the Author: Eric Foner, DeWitt Clinton Professor of American History at Columbia University, is the author of numerous works on American history, including Free Soil, Free Labor, Free Men: The Ideology of the Republican Party Before the Civil War; Tom Paine and Revolutionary America; and The Story of American Freedom. He has served as president of both the Organization of American Historians and the American Historical Association, and has been named Scholar of the Year by the New York Council for the Humanities.
Recommended Reading: Forever Free: The Story of Emancipation and Reconstruction. Description: In Forever Free, Eric Foner, the leading historian of America's Reconstruction Era, reexamines one of the most misunderstood periods of American history: the struggle to overthrow slavery and establish freedom for African Americans in the years before, during, and after the Civil War. Forever Free is extensively illustrated, with visual essays by scholar Joshua Brown discussing the images of the period alongside Foner's text. (From Publishers Weekly: Starred Review.) Probably no period in American history is as controversial, as distorted by myth and as "essentially unknown" as the era of emancipation and Reconstruction, award-winning historian Foner (The Story of American Freedom; Reconstruction; etc.) argues in this dense, rectifying but highly readable account. His analysis of "that turbulent era, its successes and failures, and its long-term consequences up until this very day" addresses the debates among historians, corrects the misrepresentations and separates myth from fact with persuasive data. Continued below…
Foner opens his work with an overview of slavery and the Civil War and concludes with a consideration of the Civil Rights movement and the continuing impact of Reconstruction upon the current political scene, a framework that adds to the clarity of his history of that era, its aftermath and its legacy. Joshua Brown's six interspersed "visual essays," with his fresh commentary on images from slavery through Reconstruction to Jim Crow, buttress Foner's text and contribute to its accessibility. In his mission to illuminate Reconstruction's critical repercussions for contemporary American culture, Foner balances his passion for racial equality and social justice with disciplined scholarship. His book is a valuable, fluid introduction to a complex period.
Recommended Reading: A Short History of Reconstruction. Review: In an attempt to document the important issues of reconstruction, Eric Foner compiled his book Reconstruction: America's Unfinished Revolution, 1863-1877. Foner addresses all the major issues leading up reconstruction, and then finishing his book shortly after the end of reconstruction and the election of Rutherford B. Hayes in 1876. In the preface of his book, Foner discusses the historiography of Reconstruction. He notes that during the early part of the twentieth century many historians considered Reconstruction as one of the darkest periods of American history. Foner notes that this viewpoint changed during the 1960s as revisionists shed new "light" on reconstruction. The revisionists saw Andrew Johnson as a stubborn racist, and viewed the Radical Republicans as "idealistic reformers genuinely committed to black rights." The author notes that recent studies of reconstruction argue that the Radicals were actually quite conservative, and most Radicals held on to their racist views and put up very little fight as the whites once again began to govern the south. Continued below...
Foner initially describes the African-American experience during the Civil War and Reconstruction. He argues that African-Americans were not simply figures that took little or no action in the events of the day, and notes the enlistment of thousands of African-Americans in the Union army during the war. Foner also notes that many of the African-Americans that eventually became civil leaders had at one time served in the Union Army. He states, "For men of talent and ambition, the army flung open a door to advancement and respectability." He notes that as reconstruction progressed, African-Americans were the targets of violence and racism. Foner believes that the transition of slaves into free laborers and equal citizens was the most drastic example of change following the end of the war. He notes how African-Americans were eventually forced to return to the plantations, not as slaves but as share croppers, and were thus introduced to a new form of slavery. He argues that this arrangement introduced a new class structure to the South, and states "It was an economic transformation that would culminate, long after the end of Reconstruction, in the consolidation of a rural proletariat composed of a new owning class of planters and merchants, itself subordinate to Northern financiers and industrialists." The author illustrates how both blacks and whites struggled to use the state and local governments to develop their own interests and establish their respective place in the evolving social orders. Another theme that he addresses in this excellent study is racism itself and the interconnection of race and class in the South.
Another subject he addresses is the expanded presence of federal authority, as well as a growing idea and commitment to the idea that equal rights belonged to all citizens, regardless of race. Foner shows how both Northern and Southern blacks embraced the power to vote, and, as Reconstruction ended, many blacks saw the loss of suffrage and the loss of freedom. Foner illustrates that because the presence of blacks at the poll threatened the established traditions, corruption increased, which helped to undermine the support for Reconstruction. The former leaders of the Confederacy were barred from political office, who were the regions "natural leaders," a reversal of sympathies took place which portrayed the Southern whites as victims, and blacks unfit to exercise suffrage.
Reconstruction affected the North as well, but argues that it was obviously less revolutionary than it was in the South. Foner notes that a new group of elites surfaced after the war, industrialists and railroad entrepreneurs emerged as powerful and influential leaders alongside the former commercial elite. The Republicans in the North did attempt to improve the lives of Northern blacks. However, there were far fewer blacks in the North, so it was more difficult for blacks to have their agendas and needs addressed in the local legislatures. He states, "Most Northern blacks remained trapped in inferior housing and menial and unskilled jobs." Foner adds that the few jobs blacks were able to acquire were constantly being challenged by the huge influx of European immigrants.
Foner's subject is definitely worthy of his original volume. Reconstruction is a subject that can still be interpreted in several ways, including the revisionist school of thought. Foner, however, seems to be as objective as possible on this subject, and has fairly addressed all major issues that apply.
Recommended Reading: Inhuman Bondage: The Rise and Fall of Slavery in the New World. Description: Winner of a Pulitzer Prize and a National Book Award, David Brion Davis has long been recognized as the leading authority on slavery in the Western World. Now, in Inhuman Bondage, Davis sums up a lifetime of insight in this definitive account of New World slavery. The heart of the book looks at slavery in the American South, describing black slaveholding planters, rise of the Cotton Kingdom, daily life of ordinary slaves, highly destructive slave trade, sexual exploitation of slaves, emergence of an African-American culture, abolition, abolitionists, antislavery movements, and much more. Continued below…
But though centered on the United States, the book offers a global perspective spanning four continents. It is the only study of American slavery that reaches back to ancient foundations and also traces the long evolution of anti-black racism in European thought. Equally important, it combines the subjects of slavery and abolitionism as very few books do, and it connects the actual life of slaves with the crucial place of slavery in American politics, stressing that slavery was integral to America's success as a nation--not a marginal enterprise. This is the definitive history by a writer deeply immersed in the subject. Inhuman Bondage offers a compelling portrait of the dark side of the American dream.
Recommended Reading: Abraham Lincoln: Redeemer President (Library of Religious Biography). Description: Since its original publication in 1999, "Abraham Lincoln: Redeemer President" has garnered numerous accolades, including the prestigious 2000 Lincoln Prize. Allen Guelzo's peerless biography of America's most celebrated president is now available for the first time in a fine paperback edition. Continued below...
The first "intellectual biography" of
Lincoln
, this work explores the role of ideas in
Lincoln
's life, treating him as a serious thinker deeply involved in the nineteenth-century debates over politics, religion, and culture. Written with passion and dramatic impact, Guelzo's masterful study offers a revealing new perspective on a man whose life was in many ways a paradox. As journalist Richard N. Ostling notes, "Much has been written about
Lincoln
's belief and disbelief," but Guelzo's extraordinary account "goes deeper."