President Andrew Johnson: Impeachment Timeline
President Andrew Johnson Impeachment Timeline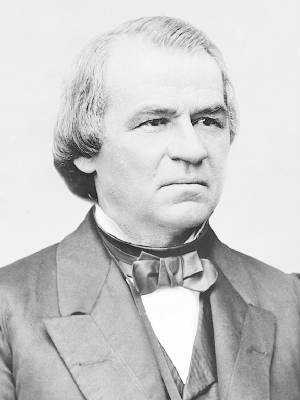 President Andrew Johnson
March 2, 1867
President Johnson vetoes the Tenure of Office Act. This Act states that a President may not dismiss appointed officials without the consent of Congress. Johnson felt this was a violation of the Constitution.
Johnson later removes Edwin Stanton, Secretary of War, from his cabinet. This will become an Article of Impeachment.
1867
A measure is added to the Army Appropriations Act for 1867-8 that stated the President had to issue all military orders through the General of the army stationed in Washington, D.C. Johnson felt this hindered his rights as Commander in Chief of the army and navy.
Johnson later places conservative generals in command in the South, thereby disregarding the Army Appropriations Act and Congress's desire for strict military reconstruction. This will also become an Article of Impeachment.
February 21, 1868
Andrew Johnson issues an order removing Edwin Stanton from the office of Secretary of War without the consent of Congress, thereby breaching the rules set forth in the Tenure of Office Act.
February 24, 1868
The U.S. House of Representatives passes a resolution impeaching the President of "high crimes and misdemeanors" by a strict party vote of 128 to 47. After the vote, the House appointed a committee to draw up specific charges.
February 29, 1868
The House committee reported ten articles of impeachment. After debate, the number of articles was reduced to nine. All but two were based on Johnson's alleged violation of the Tenure of Office Act. After the House adopted these charges, it added two more articles of Impeachment.
March 4, 1868
The House managers deliver and exhibit the articles of impeachment to the U.S. Senate.
March 5, 1868
The court on impeachment convenes and Salmon P. Chase, Chief Justice of the Supreme Court, takes the oath as presiding officer of the impeachment trial.
March 23, 1868
President Johnson's counsel responds to the articles.
March 24, 1868
The House managers file a reply to the President's response.
March 30, 1868
The trial begins
April 4, 1868
The House managers conclude the presentation of their case.
April 9, 1868
The president's attorneys begin their defense.
April 20, 1868
The president's attorneys conclude the presentation of their case.
April 22, 1868
Closing arguments begin
May 6, 1868
Closing arguments end.
May 12, 1868
The first vote on the articles is scheduled, but postponed until May 16 due to the illness of Senator Jacob Howard, MI.
May 16, 1868
The first vote is taken on the eleventh article, which was considered to be the one to have the most support for conviction. The vote was 35 to convict and 19 to acquit, one vote short of the two-thirds necessary to convict.
Seven Republican Senators voted for acquittal, one of whom was Senator Edmond Ross of Kansas. He was the last undecided Republican, and it was his vote in the impeachment trial that determined the fate of the President. By voting with his conscience, his own political career was ruined.
The Chief Justice announces, "Two-thirds not having pronounced guilty, the President is, therefore, acquitted of this article."
The Senate adjourns for ten days.
May 26, 1868
The second and third votes on the first and second articles are taken with the same result as the first vote on May 16. The majority gave up and a motion to adjourn carried. The trial is over.
Sources: Andrew Johnson National Historic Site; National Park Service; Library of Congress; National Archives; senate.gov; bioguide.congress.gov
Recommended Reading: Andrew Johnson : A Biography (Signature Series) (Hardcover). Description: On April 14, 1865, just as the American Civil War came to an end, Abraham Lincoln was assassinated by a Confederate actor. The next morning Andrew Johnson was suddenly elevated to the position of president of the United States at a time when the nation was still suffering from the effects of war. This biography explores the enigma of the homeless and uneducated tailor whose spectacular rise to power ended in disgrace. It relates how his term in office undermined the process of reconstruction and left a legacy of racism. Over a century later, Johnson remains the only president of the United States to have been impeached. The author explores Johnson's undeniable skills as a political leader and his stubborn attachment to a mythical view of the America of his youth, which proved to be his undoing. Continued below…
From Library Journal: Known for his Carl Schurz: A Biography (LJ 2/15/82), Trefousse delivers the first Johnson study in years, a definitive assessment of his career and presidency. Johnson's papers and other sources reveal his fatal idealization of the agrarian utopia, his fierce advocacy of strict Constitutional constructionism, and his imprudent insistence upon the Republican Party's adoption of his views on race. Trefousse demonstrates that Johnson, because of his upbringing, was out of step with the great changes emerging at the end of the Civil War. His stubborn attachment to his increasingly archaic views was responsible for his political and military success, but also for his impeachment. A brilliant, compassionate portrait of a dynamic era of social change and national healing, and of the tragic failure of an American leader. Not to be missed. --Susan E. Parker, Harvard Law Sch. Library. About the Author: Hans L. Trefousse is professor of history at Brooklyn College and the Graduate Center of the City University of New York. His other books include The Radical Republicans, a path breaking history of Reconstruction.
Recommended Reading: Impeached: The Trial of President Andrew Johnson and the Fight for Lincoln's Legacy. Description: From School Library Journal: One of our more controversial political figures, Andrew Johnson came closer than any other U.S. President to being removed from office through impeachment. This study by Stewart (Summer of 1787: The Men Who Invented the Constitution), a Washington lawyer who has argued against impeachment in Senate proceedings, examines Johnson's rocky relationship with the post-Civil War radical Republicans. Continued below…
He breaks with those historians who have suggested that Johnson followed what would have been Lincoln's path to reconstruct the South, as he discusses the complex impeachment proceedings against Johnson and the effectiveness of the impeachment process in calming political tensions, if not in removing Presidents from office. Readers who wish to broaden their understanding of Lincoln in this anniversary year will do well to select this well-researched work even if their collection already includes such examinations as Howard Mean's narrower The Avenger Takes His Place: Andrew Johnson and the 45 Days That Changed the Nation.—Theresa McDevitt, Indiana Univ. of Pennsylvania Library. From Publishers Weekly: Fresh from his masterful The Summer of 1787, Stewart takes on one of the seamiest events in American history: the vengeful impeachment of Lincoln's successor as president; the Senate failed to convict Andrew Johnson by a single vote. At issue was the continuation of Lincoln's plans to reintegrate the South into the union after the Civil War. But also at stake, as always, was party politics. Stewart takes readers through a tangled web of motives and maneuverings in lively, unadorned prose. He's skilled at characterizing his large cast of characters and, as a lawyer, has a practiced nose for skullduggery, of which there was much. Corruption deeply marred the entire impeachment effort. Justifiably, Stewart holds his nose about most of the people involved and admires few of them. As he sums it up, in 1868 none of the country's leaders was great, a few were good, all were angry, and far too many were despicable. Stewart offers little analysis and advances no new ideas about what he relates, but he tells the story as well as it's ever been told. Black and white photos.
Recommended Reading: History of the Impeachment of Andrew Johnson: And His Trial by the Senate for High Crimes and Misdemeanors in Office (Forgotten Books) (Paperback). Description: The Impeachment of President Andrew Johnson was the biggest affair in the United States during Reconstruction. The President was being tried on charges for breaking the Tenure of Office Act by removing Secretary of War Edwin M. Stanton from office and replacing him with Adjutant General Lorenzo Thomas. Vice President Andrew Johnson had succeeded to the presidency on April 15, 1865 after the assassination of Abraham Lincoln. His succession to the presidency had a negative outlook on the country which led to controversies between Johnson and the Radical Republicans. Continued below…
Edwin M. Stanton, Thaddeus Stevens and Benjamin F. Butler were the three most suspicious of the President and would usually meet with each other along with other Radicals at Stanton's office or Stevens' home to plan Johnson's impeachment. Table of Contents: Publisher's Preface; Preface; The Problem Of Reconstruction; The Baltimore Convention; Mr. Johnson's Accession To The Presidency; First Attempt To Impeach The President; The Tenure-of-office Act; Impeachment Agreed To By The House; Impeachment Reported To The Senate; Organization Of The Court Argument Of Counsel; Examination Of Witnesses And Their Testimony; A Conference Held And The First Vote Taken; The Impeachers In A Maze. A Recess Ordered; Was It A Partisan Prosecution?; The Constitutional Power Of Impeachment; Supplement.
Recommended Reading: Andrew Johnson: The American Presidents Series: The 17th President, 1865-1869 (Hardcover). Description: The unwanted president who ran afoul of Congress over Reconstruction and was nearly removed from office. Andrew Johnson never expected to be president, but just six weeks after becoming Abraham Lincoln's vice president, the events at Ford's Theatre thrust him into the nation's highest office. Continued below…
Johnson faced a nearly impossible task—to succeed America's greatest chief executive, to bind the nation's wounds after the Civil War, and to work with a Congress controlled by the so-called Radical Republicans. Annette Gordon-Reed, one of America's leading historians of slavery, shows how ill-suited Johnson was for this daunting task. His vision of reconciliation abandoned the millions of former slaves (for whom he felt undisguised contempt) and antagonized congressional leaders, who tried to limit his powers and eventually impeached him. The climax of Johnson's presidency was his trial in the Senate and his acquittal by a single vote, which Gordon-Reed recounts with drama and palpable tension. Despite his victory, Johnson's term in office was a crucial missed opportunity; he failed the country at a pivotal moment, leaving America with problems that we are still trying to solve. About the Author: Annette Gordon-Reed is a professor of law at New York Law School, where she has taught since 1992. She is the author of the celebrated Thomas Jefferson and Sally Hemings: An American Controversy, co-author with Vernon Jordan of Vernon Can Read!, and editor of Race on Trial: Law and Justice in American History. She lives in New York City.
Recommended Reading: The Presidency of Andrew Johnson (American Presidency Series) (Hardcover). Description: Andrew Johnson, who became president after the assassination of Lincoln, oversaw the most crucial and dramatic phase of Reconstruction. Historians have therefore tended to concentrate, to the exclusion of practically everything else, upon Johnson's key role in that titanic event. Although his volume focuses closely on Johnson's handling of Reconstruction, it also examines other important aspects of his administration, notably his foreign, economic, and Indian policies. As one of the few historians to do this, the author provides a broader and more balanced picture of Johnson's presidency than has been previously available. Continued below…
Johnson has always been an enigma: much is known about what he did, little about why he did it. He wrote few letters, kept no diary, and rarely confided in anyone. Most historians either admire or despise him, depending on whether they consider his Reconstruction policies right or wrong. Castel achieves an objective reassessment of Johnson and his presidential actions by examining him primarily in terms of his effectiveness in using power and by not judging him--as most other scholars have--on moralistic or ideological grounds. The book begins with an overview of America at the end of the Civil War and a description of Johnson's political career prior to 1865. Castel recounts the drama of Johnson's sudden inheritance of the presidency upon Lincoln's death and then examines how Johnson organized and operated his administration. Johnson's formulation of a Reconstruction policy for the defeated South comes under special scrutiny; Castel evaluates Johnson's motives for that policy, its implementation, and its reception in both North and South. He descries and analyzes Johnson's quarrel with the Republican dominated Congress over Reconstruction, the triumph of the Republicans in the election of 1866, the president's frustrated attempt to remove Secretary of War Edwin M. Stanton from office, his bitter dispute with General Ulysses S. Grant, and his impeachment by Congress. Johnson's impeachment trial is covered in detail; Castel explains how it was that Johnson escaped conviction and removal from office by the narrowest possible margin. The book concludes with a discussion of Johnson's place in history as judged by scholars during the past one hundred years. This study sheds light on the nation's problems during the chaotic period between 1865 and 1869 and contributes a great deal to a much improved understanding of the seventeenth president. This book is part of the American Presidency Series.
Editor's Choice: The Civil War - A Film by Ken Burns. Review: The Civil War - A Film by Ken Burns is the most successful public-television miniseries in American history. The 11-hour Civil War didn't just captivate a nation, reteaching to us our history in narrative terms; it actually also invented a new film language taken from its creator. When people describe documentaries using the "Ken Burns approach," its style is understood: voice-over narrators reading letters and documents dramatically and stating the writer's name at their conclusion, fresh live footage of places juxtaposed with still images (photographs, paintings, maps, prints), anecdotal interviews, and romantic musical scores taken from the era he depicts. Continued below...
The Civil War uses all of these devices to evoke atmosphere and resurrect an event that many knew only from stale history books. While Burns is a historian, a researcher, and a documentarian, he's above all a gifted storyteller, and it's his narrative powers that give this chronicle its beauty, overwhelming emotion, and devastating horror. Using the words of old letters, eloquently read by a variety of celebrities, the stories of historians like Shelby Foote and rare, stained photos, Burns allows us not only to relearn and finally understand our history, but also to feel and experience it. "Hailed as a film masterpiece and landmark in historical storytelling." "[S]hould be a requirement for every student."