Overview
President Andrew Jackson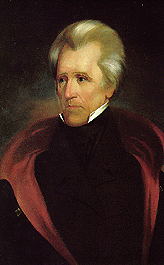 Indian Removal
With the onset of westward expansion and increased contact with Indian tribes, President Jackson set the tone for his position on Indian affairs in his message to Congress on December 6, 1830. Jackson's message justified the removal policy already established by the
Indian Removal Act
of May 28, 1830.
The Indian Removal Act was passed to open up for settlement those lands still held by Indians in states east of the Mississippi River, primarily Georgia, Tennessee, Alabama, Mississippi, and North Carolina. Jackson declared that removal would "incalculably strengthen the southwestern frontier." Clearing Alabama and Mississippi of their Indian populations, he said, would "enable those states to advance rapidly in population, wealth, and power." It is referred to as Manifest Destiny.
White inhabitants of Georgia were particularly anxious to have the Cherokees removed from the state because gold had been discovered on tribal lands. Violence was commonplace in Georgia, and in all likelihood, a portion of the tribe would have been decimated if they had not been removed.
Removal of the Indian tribes continued beyond Jackson's tenure as President. The most infamous of the removals transpired in 1838, two years after the end of Jackson's final term, when the Cherokee Indians were forcibly removed by the military. Their journey west became known as the "Trail of Tears," because of the thousands of deaths along the way.
(Source: National Archives)
Recommended Reading: Trail of Tears (Hardcover). Description: Insightful, rarely told history of Indian courage in the face of White expansionism in the 19th century. Truth-telling tale of the ruthless brutality that forced the Native American population into resettlement camps and reservations, with a look at the few white Americans who fought to help them. This is an amazing book. Continued below...
Tireless research and the author's gift of vision and words produce a magnificently readable narrative of the American Indian Removals. It is very balanced with no point of view overlooked. Include many surprising appearances and plenty of twists which will make you laugh out loud and break your heart. A very human book and an absolute must-read for anyone who wants to learn history through the eyes and ears (and hearts) of those that experienced it. You won't be able to put it down.
Recommended Reading: Indian Removal (The Norton Casebooks in History). Description: This casebook traces the evolution of U.S. Indian policy from its British Colonial origins to the implementation of removal after 1830. Continued below...
Placing Indian removal in political and social contexts, the editors have selected contemporary primary-source documents that reveal the motives and perspectives of both whites and Indians and cover the complicated influences of Jacksonian Democracy and the early stirrings of what would later be referred to as Manifest Destiny. Letters, treaties, and journal entries give readers a sense of the ordeal of removal for American Indians.
Recommended Reading: Indian Removal: The Emigration of the Five Civilized Tribes of Indians (423 pages) (University of Oklahoma Press)
Recommended Reading: Atlas of the North American Indian. Description: This unique resource covers the entire history, culture, tribal locations, languages, and lifeways of Native American groups across the United States, Canada, Central America, Mexico, and the Caribbean. Thoroughly updated, Atlas of the North American Indian combines clear and informative text with newly drawn maps to provide the most up-to-date political and cultural developments in Indian affairs, as well as the latest archaeological research findings on prehistoric peoples. The new edition features several revised and updated sections, such as "Self-Determination," "The Federal and Indian Trust Relationship and the Reservation System," "Urban Indians," "Indian Social Conditions," and "Indian Cultural Renewal." Continued below...
Other updated information includes: a revised section on Canada, including Nunavut, the first new Canadian territory created since 1949, with a population that is 85% Inuit; the latest statistics and new federal laws on tribal enterprises, including a new section on "Indian Gaming"; and current information on preferred names now in use by certain tribes and groups, such as the use of "Inuit" rather than "Eskimo."
Try the search engine for related studies: President Andrew Jackson and the Trail of Tears, History of the Indian Removal Acts, Timeline of the Cherokee Indian Removal, North Carolina, Native American Indian Territory Oklahoma, Congress Proclamation.