President Andrew Johnson History and Biography
President Andrew Johnson
President Andrew Johnson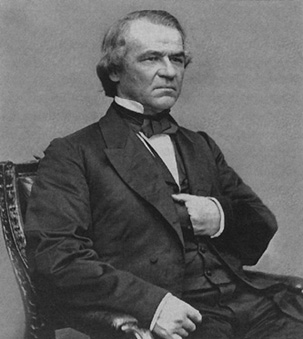 Library of Congress
President Andrew Johnson, (father-in-law of David Trotter Patterson), a Representative and a Senator from Tennessee and a Vice President and 17th President of the United States; born in Raleigh, N.C., on December 29, 1808; self-educated; at the age of 13 was apprenticed to a tailor; moved to Tennessee in 1826; employed as a tailor; alderman of Greeneville, Tennessee, 1828-1830; mayor of Greeneville 1834-1838; member, State house of representatives 1835-1837, 1839-1841; elected to the State senate in 1841; elected as a Democrat to the Twenty-eighth and to the four succeeding Congresses (March 4, 1843-March 3, 1853); chairman, Committee on Public Expenditures (Thirty-first and Thirty-second Congresses); did not seek renomination, having become a gubernatorial candidate; Governor of Tennessee 1853-1857; elected as a Democrat to the United States Senate and served from October 8, 1857, to March 4, 1862, when he resigned; chairman, Committee to Audit and Control the Contingent Expenses (Thirty-sixth Congress), Committee on the District of Columbia (Thirty-sixth Congress); appointed by President Abraham Lincoln Military Governor of Tennessee in 1862; elected Vice President of the United States on the Republican ticket with Abraham Lincoln in 1864 and was inaugurated on March 4, 1865; became President of the United States on April 15, 1865, upon the death of Abraham Lincoln; wide differences arising between the President and the Congress, a resolution for his impeachment passed the House of Representatives on February 24, 1868; eleven articles were set out in the resolution and the trial before the Senate lasted three months, at the conclusion of which he was acquitted (May 26, 1868) by a vote of thirty-five for conviction to nineteen for acquittal, the necessary two-thirds vote for impeachment not having been obtained; retired to his home in Tennessee upon the expiration of the presidential term, March 3, 1869; unsuccessful candidate for election to the United States Senate in 1869 and to the House of Representatives in 1872; elected as a Democrat to the United States Senate and served from March 4, 1875, until his death near Elizabethton, Carter County, Tenn., July 31, 1875; interment in the Andrew Johnson National Cemetery, Greeneville, Greene County, Tenn.
Interesting facts about President Andrew Johnson:
Family tradition holds that Andrew Johnson arrived in Greeneville with a cart drawn by a blind pony in 1826. His mother and step-father were with him. Tradition also says they camped at a spring on the Homestead property.
Andrew Johnson's father died when Andrew was three years old. Soon his mother apprenticed Andrew and his brother William to a tailor. The boys later ran away from their apprenticeship and had a $10.00 reward posted for their return.
Andrew Johnson was a man with whom nearly every American can relate, from the poorest to the wealthiest. With unyielding determination, he rose from dire circumstances to the nation's most prestigious office without having attended a single day of school.
Alaska was purchased from Russia for $7,200,000.00 during Andrew Johnson's administration. Secretary of State William Seward was instrumental in the purchase. People who thought the investment a bad idea called the purchase "Seward's Folly."
Andrew Johnson's final resting place is on a high hill known as Monument Hill. President Johnson was buried with the American flag wrapped around him and with his head resting on the Constitution of the United States.
Andrew Johnson held the first Easter Egg Roll on the White House Lawn; it had originally been held at the Capitol building.
According to William Johnson, a former slave belonging to Andrew Johnson, William's mother Dolly asked Andrew Johnson to purchase her because she thought he looked kind. Johnson bought not only Dolly, but her brother Sam as well.
Andrew Johnson had the rudiments of an education prior to his marriage to Eliza McCardle. She helped further his education by tutoring him from her schoolbooks and reading to him in the Tailor Shop while he worked.
Andrew Johnson was impeached, but not removed from office. He was the first president to be impeached by the House of Representatives and tried by the Senate. Many Republican Senators put their political careers on the line by voting to acquit.
Andrew Johnson was a Democrat; Abraham Lincoln was a Republican. The National Union Party existed as a structured, nationwide party for the first time in 1864, for the ticket of Lincoln and Johnson. It was an attempt to unify Republicans and pro-war Democrats.
Martha Johnson Patterson, Andrew Johnson's daughter, said their slave Sam would boast that he was Johnson's servant. "But in truth," she continued, "Andrew Johnson belonged to Sam." According to family tradition, Andrew Johnson told Sam where he wished to be buried.
Queen Emma of the Sandwich Islands (now known as the Hawaiian Islands) came to visit President Andrew Johnson in Washington. It was the first time a Queen had visited the White House. She gave this ivory basket to President and Mrs. Johnson. It is now on display in the Andrew Johnson NHS museum.
Andrew Johnson was injured in a train wreck in 1857. Afterwards his right elbow was virtually immobile and he often used a signature stamp for documents.
Mordecai Lincoln, a relative of Abraham Lincoln's, performed the marriage ceremony for Andrew Johnson and Eliza McCardle.
A successful transatlantic cable was completed in 1866. This connected America and England by telegraph and helped tremendously with international communications. The original cable, completed in 1858, worked only three weeks. The Civil War and financial troubles interrupted the effort until 1865.
Andrew Johnson died in 1875 after becoming the only president to return to the Senate. He was buried in Greeneville, TN, with the Constitution resting under his head and with his body wrapped in the American flag.
The Andrew Johnson National Historic Site honors the life of the 17th President: Andrew Johnson's presidency, 1865-1869; illustrates the United States Constitution at work following President Lincoln's assassination and during attempts to reunify a nation torn by civil war; how his presidency shaped the future of the United States; and his influences which continue today.
Amnesty Proclamations:
Andrew Johnson granted four Amnesty Proclamations to the South following the Civil War. Anyone excluded in the first amnesty plans could appeal directly to the President for a pardon. On Christmas day, 1868, Andrew Johnson granted full amnesty to the former Confederates, including Confederate President Jefferson Davis.
Presidential Successes:
During Andrew Johnson's administration, the United States purchased Alaska, annexed Midway Island, and communicated with Europe following the completion of a successful Transatlantic Cable. The British Novelist Charles Dickens and Queen Emma of the Sandwich Islands both paid visits to the White House. Andrew Johnson was also the first President to hold the Easter Egg Roll at the White House, and when he turned 60, he invited 300 children to the White House for his birthday party.
Reconstruction:
"...there is no such thing as reconstruction. These States have not gone out of the Union, therefore reconstruction is unnecessary. I do not mean to treat them as inchoate States, but merely as existing under a temporary suspension of their government, provided always they elect loyal men. The doctrine of coercion to preserve a State in the Union has been vindicated by the people. It is the province of the Executive to see that the will of the people is carried out in the rehabilitation of the rebellious States, once more under the authority as well as the protection of the Union." Andrew Johnson
Andrew Johnson and Congress were unable to agree on a plan for restoring the ravaged country following the Civil War. There was a marked difference between Congressional Reconstruction - outlined in the first, second, and third Military Reconstruction Acts - and Andrew Johnson's plan for Presidential Restoration. The Congressional Plan of Reconstruction was ultimately adopted, and it did not end until 1877. Many of the issues surrounding Reconstruction are still a part of society today.
Andrew Johnson and Emancipation:
Andrew Johnson was a man of many seeming contradictions. He was a Southerner, and yet he firmly believed in the Union. He believed in the Union, yet he believed that many political decisions should be left to the individual states. He was a slave owner who was a product of his time, but he was also a man called a "Moses" for the freedom of slaves in Tennessee.
On January 1, 1863, Abraham Lincoln's Emancipation Proclamation freed slaves in states still in rebellion against the United States. Tennessee, although a seceded state, did not fall under the provisions of the proclamation. Tennessee was under Union control, and Andrew Johnson was serving as Military Governor.
According to tradition, Andrew Johnson freed his personal slaves on August 8, 1863. On October 24, 1864, Andrew Johnson freed all the slaves in the state of Tennessee.
The Veto President.
A partial list of Bills vetoed by Andrew Johnson:
Freedmen's Bureau Bill
Civil Rights Bill
Colorado Statehood Bill
District of Columbia Franchise Law
Nebraska Statehood Bill
Tenure of Office Act
First Military Reconstruction Act
Second Military Reconstruction Act
Third Military Reconstruction Act
Judiciary Act Amendment
Arkansas Statehood Bill
Admission of Six Southern States
Restrictions of Electoral Votes
Impeachment Tickets.
Tickets issued per day for President Andrew Johnson's impeachment trial:
4 to each Senator
4 to the Chief Justice
4 to the Speaker of the House
2 to each Representative
2 to each Associate Justice of the Supreme Court
2 to Chief Justice of the District of Columbia
2 to Associate Judges of D.C.
2 to Chief Justices of the Court of Claims
2 to each Cabinet member
2 to the General commanding the army
20 to the President
60 to the President pro tempore of the Senate for Reporters
The remaining tickets were distributed to the Senators.
(Bibliography listed at bottom of page.)
Recommended Reading: Andrew Johnson : A Biography (Signature Series) (Hardcover). Description: On April 14, 1865, just as the American Civil War came to an end, Abraham Lincoln was assassinated by a Confederate actor. The next morning Andrew Johnson was suddenly elevated to the position of president of the United States at a time when the nation was still suffering from the effects of war. This biography explores the enigma of the homeless and uneducated tailor whose spectacular rise to power ended in disgrace. It relates how his term in office undermined the process of reconstruction and left a legacy of racism. Over a century later, Johnson remains the only president of the United States to have been impeached. The author explores Johnson's undeniable skills as a political leader and his stubborn attachment to a mythical view of the America of his youth, which proved to be his undoing. Continued below…
From Library Journal: Known for his Carl Schurz: A Biography (LJ 2/15/82), Trefousse delivers the first Johnson study in years, a definitive assessment of his career and presidency. Johnson's papers and other sources reveal his fatal idealization of the agrarian utopia, his fierce advocacy of strict Constitutional constructionism, and his imprudent insistence upon the Republican Party's adoption of his views on race. Trefousse demonstrates that Johnson, because of his upbringing, was out of step with the great changes emerging at the end of the Civil War. His stubborn attachment to his increasingly archaic views was responsible for his political and military success, but also for his impeachment. A brilliant, compassionate portrait of a dynamic era of social change and national healing, and of the tragic failure of an American leader. Not to be missed. --Susan E. Parker, Harvard Law Sch. Library. About the Author: Hans L. Trefousse is professor of history at Brooklyn College and the Graduate Center of the City University of New York. His other books include The Radical Republicans, a path breaking history of Reconstruction.
Recommended Reading: Andrew Johnson: The American Presidents Series: The 17th President, 1865-1869 (Hardcover). Description: The unwanted president who ran afoul of Congress over Reconstruction and was nearly removed from office. Andrew Johnson never expected to be president, but just six weeks after becoming Abraham Lincoln's vice president, the events at Ford's Theatre thrust him into the nation's highest office. Continued below…
Johnson faced a nearly impossible task—to succeed America's greatest chief executive, to bind the nation's wounds after the Civil War, and to work with a Congress controlled by the so-called Radical Republicans. Annette Gordon-Reed, one of America's leading historians of slavery, shows how ill-suited Johnson was for this daunting task. His vision of reconciliation abandoned the millions of former slaves (for whom he felt undisguised contempt) and antagonized congressional leaders, who tried to limit his powers and eventually impeached him. The climax of Johnson's presidency was his trial in the Senate and his acquittal by a single vote, which Gordon-Reed recounts with drama and palpable tension. Despite his victory, Johnson's term in office was a crucial missed opportunity; he failed the country at a pivotal moment, leaving America with problems that we are still trying to solve. About the Author: Annette Gordon-Reed is a professor of law at New York Law School, where she has taught since 1992. She is the author of the celebrated Thomas Jefferson and Sally Hemings: An American Controversy, co-author with Vernon Jordan of Vernon Can Read!, and editor of Race on Trial: Law and Justice in American History. She lives in New York City.
Recommended Reading: Impeached: The Trial of President Andrew Johnson and the Fight for Lincoln's Legacy. Description: From School Library Journal: One of our more controversial political figures, Andrew Johnson came closer than any other U.S. President to being removed from office through impeachment. This study by Stewart (Summer of 1787: The Men Who Invented the Constitution), a Washington lawyer who has argued against impeachment in Senate proceedings, examines Johnson's rocky relationship with the post-Civil War radical Republicans. Continued below…
He breaks with those historians who have suggested that Johnson followed what would have been Lincoln's path to reconstruct the South, as he discusses the complex impeachment proceedings against Johnson and the effectiveness of the impeachment process in calming political tensions, if not in removing Presidents from office. Readers who wish to broaden their understanding of Lincoln in this anniversary year will do well to select this well-researched work even if their collection already includes such examinations as Howard Mean's narrower The Avenger Takes His Place: Andrew Johnson and the 45 Days That Changed the Nation.—Theresa McDevitt, Indiana Univ. of Pennsylvania Library. From Publishers Weekly: Fresh from his masterful The Summer of 1787, Stewart takes on one of the seamiest events in American history: the vengeful impeachment of Lincoln's successor as president; the Senate failed to convict Andrew Johnson by a single vote. At issue was the continuation of Lincoln's plans to reintegrate the South into the union after the Civil War. But also at stake, as always, was party politics. Stewart takes readers through a tangled web of motives and maneuverings in lively, unadorned prose. He's skilled at characterizing his large cast of characters and, as a lawyer, has a practiced nose for skullduggery, of which there was much. Corruption deeply marred the entire impeachment effort. Justifiably, Stewart holds his nose about most of the people involved and admires few of them. As he sums it up, in 1868 none of the country's leaders was great, a few were good, all were angry, and far too many were despicable. Stewart offers little analysis and advances no new ideas about what he relates, but he tells the story as well as it's ever been told. Black and white photos.
Recommended Reading: The Presidency of Andrew Johnson (American Presidency Series) (Hardcover). Description: Andrew Johnson, who became president after the assassination of Lincoln, oversaw the most crucial and dramatic phase of Reconstruction. Historians have therefore tended to concentrate, to the exclusion of practically everything else, upon Johnson's key role in that titanic event. Although his volume focuses closely on Johnson's handling of Reconstruction, it also examines other important aspects of his administration, notably his foreign, economic, and Indian policies. As one of the few historians to do this, the author provides a broader and more balanced picture of Johnson's presidency than has been previously available. Continued below…
Johnson has always been an enigma: much is known about what he did, little about why he did it. He wrote few letters, kept no diary, and rarely confided in anyone. Most historians either admire or despise him, depending on whether they consider his Reconstruction policies right or wrong. Castel achieves an objective reassessment of Johnson and his presidential actions by examining him primarily in terms of his effectiveness in using power and by not judging him--as most other scholars have--on moralistic or ideological grounds. The book begins with an overview of America at the end of the Civil War and a description of Johnson's political career prior to 1865. Castel recounts the drama of Johnson's sudden inheritance of the presidency upon Lincoln's death and then examines how Johnson organized and operated his administration. Johnson's formulation of a Reconstruction policy for the defeated South comes under special scrutiny; Castel evaluates Johnson's motives for that policy, its implementation, and its reception in both North and South. He descries and analyzes Johnson's quarrel with the Republican dominated Congress over Reconstruction, the triumph of the Republicans in the election of 1866, the president's frustrated attempt to remove Secretary of War Edwin M. Stanton from office, his bitter dispute with General Ulysses S. Grant, and his impeachment by Congress. Johnson's impeachment trial is covered in detail; Castel explains how it was that Johnson escaped conviction and removal from office by the narrowest possible margin. The book concludes with a discussion of Johnson's place in history as judged by scholars during the past one hundred years. This study sheds light on the nation's problems during the chaotic period between 1865 and 1869 and contributes a great deal to a much improved understanding of the seventeenth president. This book is part of the American Presidency Series.
Recommended Viewing! Abraham Lincoln-His Life & Legacy (2009) (A&E) (4 DVDs) (516 minutes). Description: Join HISTORY in a celebration of our nation's sixteenth president. This comprehensive four-DVD set presents a complex portrait of a man who many consider to be our greatest commander-in-chief, but who considered himself "the loneliest man in the world." Bringing to life the tumultuous times in which Lincoln led his country, some of his finest Civil War moments, and his final hours, HISTORY examines the Lincoln legacy in a modern context. Continued below…
ABRAHAM LINCOLN: HIS LIFE AND LEGACY is the ultimate tribute to the ultimate president and includes the following seven documentaries:
* Lincoln
* Investigating History: Lincoln: Man or Myth
* Man, Moment, Machine: Lincoln and the Flying Spying Machine
* Conspiracy?: Lincoln Assassination
* High Tech Lincoln
* Sherman's March
* The Hunt for John Wilkes Booth
* Includes seven documentaries: Lincoln, Investigating History: Lincoln Man or Myth, Man Moment Machine: Lincoln and the Flying Spying Machine, Sherman's March, The Hunt for John Wilkes Booth, Conspiracy? Lincoln Assassination, High Tech Lincoln
* History in the Making: Lincoln: behind-the-scenes featurette
* Full-length documentary: Sherman's Total War Tactics
* History in the Making: Sherman's Total War: behind-the-scenes featurette
Recommended Viewing:

American Experience - Abraham and Mary Lincoln: A House Divided

(PBS) (3 DVDs) (360 minutes). Description: From award-winning film-maker David Grubin, this miniseries weaves together the troubled lives of a dirt-farmer's son and a wealthy Southern slave-owner's daughter. Together, Abraham and Mary Lincoln ascended to the pinnacle of power at the most difficult time in the nation's history, the Civil War. Abraham Lincoln's legacy as the Great Emancipator reshaped the nation while his tragic death left Mary reclusive and forgotten. Continued below…
Review: This documentary on the life of Abraham Lincoln is an excellent exploration of the character and inner life of our 16th president. At the same time it provides the viewer with much valuable information about the character of his wife, Mary Todd Lincoln, their marriage, the tragic deaths of two of their children, and how Lincoln continued to love his wife until his death, even though she was in many ways a liability for him. While the Lincolns as individuals are the focus of the series, the viewer is not shortchanged in regard to the presidency or the Civil War.Lincoln's growth during his four years in office is examined critically and fairly by various historians. The story of the Lincolns was originally shown on PBS's program "American Experience," and follows the format that has made that series so respected by viewers. Photographs, drawings, paintings, maps, and other artifacts contemporary to the times alternate with new film footage that enhances the story line. Well known performers do the voiceovers -- in this case David Morse is Lincoln, and Holly Hunter is the voice of Mary Todd Lincoln. There are no stagey recreations of events with unknown performers taking the parts of historical characters, which one often sees in series made for The History Channel or Arts and Entertainment Network. The three volume set runs about six hours and contains bonus materials that appear on each individual disc. The quality of the picture and sound is outstanding. The music is excellent and of the time period, and is never distracting. While people of all ages and backgrounds in American history could enjoy this series, I especially recommend it to families with high school or college age students, along with Ken Burns "The Civil War" and the PBS video biography of General Grant. This would also make an excellent gift for Father's Day or for a Civil War buff's birthday.
Bibliography: American National Biography; Dictionary of American Biography; Trefousse, Hans L. Andrew Johnson: A Biography. New York: W.W. Norton & Co., 1989; Johnson, Andrew. The Papers of Andrew Johnson. Edited by LeRoy P. Graf, Ralph W. Haskins, and Paul H. Bergeron. 11 vols. to date. Knoxville: University of Tennessee Press, 1967; Andrew Johnson National Cemetery; Andrew Johnson National Historic Site; National Park Service.