North Carolina Map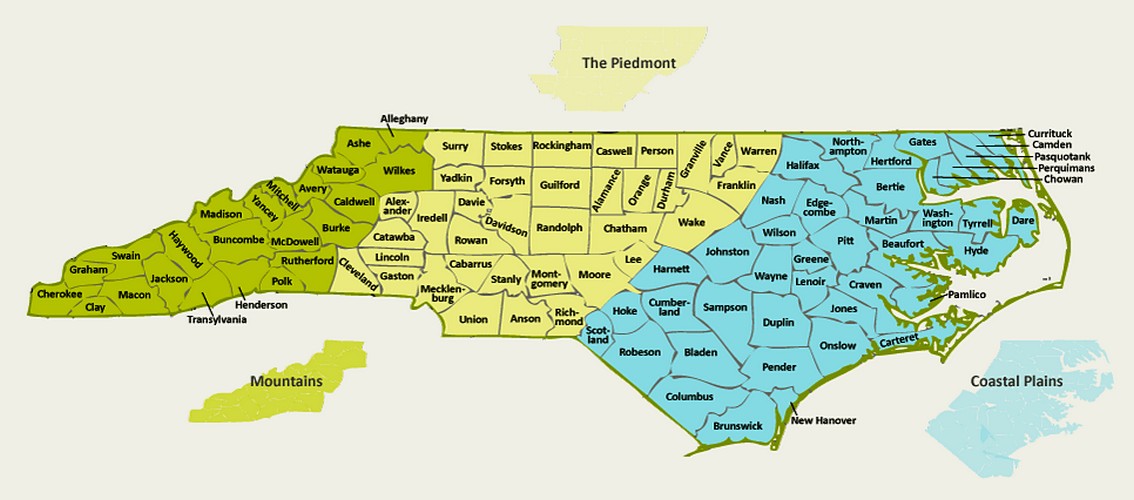 Map of North Carolina
Advance to:
Recommended Reading: North Carolina Atlas & Gazetteer (North Carolina Atlas and Gazetteer). Description: This is not your ordinary map! This Atlas is filled with comprehensive and detailed maps. It covers all three Regions of North Carolina: Coastal Plain, Piedmont, and Mountains. It is the first choice for outdoor enthusiasts – sports, hiking, fishing, rock climbing, skiing, boating, bird watching, tubing, kayaking, hunting, etc. "Beautiful, detailed and large-format…" (1) Physical land features: topographic contours, water resources, vegetation, etc. (2) Off-road options: trails, abandoned railroads, ferries. (3) Recreation: Parks, outdoor sports, points of interest. It is perfect for home and office reference, the casual and business traveler, and every vehicle. Continued below...
Gazetteer information even includes: campgrounds, attractions, historic sites & museums, recreation areas, trails, freshwater fishing sites & boat launches, canoe trips or scenic drives. Reviews: "I am a full-time fishing guide in the mountains of North Carolina and I have found this book to be the absolute best reference material for finding trout streams in our mountains. If you do any type of outdoors activities you will benefit from this book." "Instead of purchasing numerous cumbersome North Carolina maps and atlases, I bought the North Carolina Atlas & Gazetteer and I am very pleased – it is definitive, complete, and all-in-one." "My wife and I recently retired and started traveling, as we always dreamed about doing, and the numerous detailed pages in this Atlas saved us time and money while traveling across the beautiful state of North Carolina…we were able to find those out of the way flea-markets, historic landmarks, and small town museums. I highly recommend it."
Recommended Reading: The Tar Heel State: A History of North Carolina (Hardcover). Description: The Tar Heel State: A History of North Carolina constitutes the most comprehensive and inclusive single-volume chronicle of the state's storied past to date, culminating with an attentive look at recent events that have transformed North Carolina into a southern megastate. Integrating tales of famous pioneers, statesmen, soldiers, farmers, captains of industry, activists, and community leaders with more marginalized voices, including those of Native Americans, African Americans, and women, Milton Ready gives readers a view of North Carolina that encompasses perspectives and personalities from the coast, "tobacco road," the Piedmont, and the mountains in this sweeping history of the Tar Heel State. The first such volume in more than two decades, Ready's work offers a distinctive view of the state's history built from myriad stories and episodes. The Tar Heel State is enhanced by one hundred and ninety illustrations and five maps. Continued below...
Ready begins with a study of the state's geography and then invites readers to revisit dramatic struggles of the American Revolution and Civil War, the early history of Cherokees, the impact of slavery as an institution, the rise of industrial mills, and the changes wrought by modern information-based technologies since 1970. Mixing spirited anecdotes and illustrative statistics, Ready describes the rich Native American culture found by John White in 1585, the chartered chaos of North Carolina's proprietary settlement, and the chronic distrust of government that grew out of settlement patterns and the colony's early political economy. He challenges the perception of relaxed intellectualism attributed to the "Rip van Winkle" state, the notion that slavery was a relatively benign institution in North Carolina, and the commonly accepted interpretation of Reconstruction in the state. Ready also discusses how the woman suffrage movement pushed North Carolina into a hesitant twentieth-century progressivism. In perhaps his most significant contribution to North Carolina's historical record, Ready continues his narrative past the benchmark of World War II and into the twenty-first century. From the civil rights struggle to the building of research triangles, triads, and parks, Ready recounts the events that have fueled North Carolina's accelerated development in recent years and the many challenges that have accompanied such rapid growth, especially those of population change and environmental degradation.
Recommended Reading: Encyclopedia of North Carolina (Hardcover: 1328 pages) (The University of North Carolina Press). Description: The first single-volume reference to the events, institutions, and cultural forces that have defined the state, the Encyclopedia of North Carolina is a landmark publication that will serve those who love and live in North Carolina for generations to come. Editor William S. Powell, whom the Raleigh News & Observer described as a "living repository of information on all things North Carolinian," spent fifteen years developing this volume. With contributions by more than 550 volunteer writers—including scholars, librarians, journalists, and many others—it is a true "people's encyclopedia" of North Carolina. Continued below...
The volume includes more than 2,000 entries, presented alphabetically, consisting of longer essays on major subjects, briefer entries, and short summaries and definitions. Most entries include suggestions for further reading. Centered on history and the humanities, topics covered include agriculture; arts and architecture; business and industry; the Civil War; culture and customs; education; geography; geology, mining, and archaeology; government, politics, and law; media; medicine, science, and technology; military history; natural environment; organizations, clubs, and foundations; people, languages, and immigration; places and historic preservation; precolonial and colonial history; recreation and tourism; religion; and transportation. An informative and engaging compendium, the Encyclopedia of North Carolina is abundantly illustrated with 400 photographs and maps. It is both a celebration and a gift—from the citizens of North Carolina, to the citizens of North Carolina. "Truly an exhaustive and exciting view of every aspect of the Old North State!"