Colonel Robert Love
Meet Colonel Robert Love's Grandchildren*
Introduction
Colonel Robert Love
(1760-1845) was a Revolutionary War veteran, surveyor, businessman, statesman, and Founder of Waynesville, North Carolina, and the Love family was instrumental in the formation and economical development of the region known as Western North Carolina.
General Thomas Love
(1765-1844), brother to Robert Love, was a land speculator whose holdings exceeded 6,000 acres, but the prosperous investor rather preferred serving his constituency during his lengthy political career in North Carolina. The two brothers would remain committed to their lifelong objective of creating a thriving mountain oasis, and their core belief of God, family, which then included the community, and hard work would be cultivated in the flourishing Love family, shared values that would eventually be passed to each generation.
Sarah Jane Burney Love (1832-1877)
Sarah Love was the daughter of James Robert Love, Sr. and Maria Williamson Coman, and the granddaughter of Colonel Robert Love, the founder of
Waynesville, North Carolina.
Colonel Robert Love
Cherokee Chief William Holland Thomas
(1805-1893) courted the young, soft spoken Sarah Jane Burney Love (1832-1877), and when they married, he was 51 and she was 24. Thomas was a lifelong friend and business partner of James Robert Love, Sr., and Sarah, affectionately called Sallie, had known the future Cherokee chief since her childhood.
Sarah's father was a prosperous businessman who enjoyed vast land holdings and was a respected and successful lawyer in
North Carolina
. Thomas enjoyed equal social status with the prominent Love family, and his mother,
Temperance Calvert
(1774-1884), was grand-niece of
Lord Baltimore
and cousin to
President Zachary Taylor
.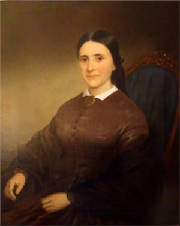 Sarah Jane Burney Love Thomas
Sarah, always Sallie, fell gravely ill and passed at the young age of 45 in the year 1877, and she was preceded in death by her mother-in-law Temperance who had died at the age of 100 in 1874, but her husband William, who remained Cherokee chief while also commander of the Thomas Legion during the Civil War (1861-1865), had lost the two dearest to him which served only to exacerbate his already fragile emotional state. It was only after the late war that Thomas would suffer from what the writer believes to have been post-traumatic stress disorder, a condition that had yet to be recognized. Emotional and violent outbursts had placed many, including the former state senator Thomas, in insane asylums following the Civil War.
One of William and Sarah's three children was
Sallie Love Thomas
(1862-1954), making her the great-granddaughter of Robert Love, and she married a widower and illustrious citizen of Burke County, North Carolina. Her husband Alphonso Calhoun Avery (1835-1913) would become a widower in 1886 before marrying Sallie in 1888, and she would raise the children and remain the rock and anchor of her family, to whom Avery would wisely attribute much of his success. He enjoyed a lengthy career as soldier, lawyer, judge in the North Carolina Superior Courts, and as North Carolina Supreme Court justice.
Years previously in May of 1861, Avery was commissioned a first lieutenant in Company F of the 6th North Carolina Regiment, which was commanded by his brother, Colonel Isaac Erwin Avery (1828-1863). Avery saw action at the
Battle of Manassas
and was promoted to captain after the
Battle of Seven Pines
. In December 1862, Avery was transferred to the staff of his brother-in-law, General D. H. Hill, where he was promoted to major. In 1864, Avery went with Hill to the Army of the West and then served on the staffs of generals
John C. Breckinridge
, Thomas C. Hindman, and
John B. Hood
. In the summer of 1864, Avery received a leave of absence to return home, due to his father's illness and the battle-related deaths of his three older brothers. He was then transferred to the Department of North Carolina and formed a regiment to protect the state's western frontier. Avery was captured by Union troops in the spring of 1865 and imprisoned at
Camp
Chase
in
Tennessee
until he was paroled in August 1865.
Avery was brother-in-law to Daniel Harvey Hill, the highest ranking Confederate general from North Carolina. Although D. H. Hill was one of only two lieutenant generals from the state, North Carolina would contribute a total of thirty-three generals to the Confederacy. Since Theophilus Hunter Holmes and Hill were the state's two lieutenant generals, it would be the likes of Lee, Bragg, Beauregard and a handful of others who would only outrank them as they held the highest rank of general, also informally referred to as full-general, in the Confederate Army.
Colonel Robert Gustavus Adolphus Love (1827-1880)
Robert, who would commonly sign documents as R.G.A. Love, was the son of James Robert Love, Sr. and Maria Williamson Coman. He was considered a competent leader and skilled tactician as Colonel of the
62nd North Carolina Infantry
, and he demonstrated mettle while leading the unit under Lt. Gen. Jubal Early during the Shenandoah Valley Campaign in 1864. The fight would take a toll and plague the colonel with poor health until his death. See also
North Carolina Standard, October 7, 1863
.
Lieutenant Colonel James Robert Love II (1831-1885)
Lt. Col. James Robert Love II
was born of John Bell Love (brother to James Robert Love, Sr.) and Margaret E. Coman. A graduate of Emory and Henry College, Love studied law in Asheville, served in the Confederate Army, and was a member of the state senate.
Col. R.G.A. Love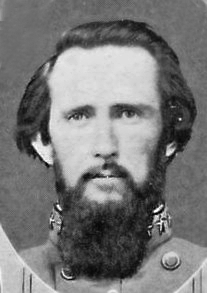 James Robert Love II
Following the Confederate War, then a common name for the Civil War, Mr. James Love II would marry Miss Julia Reagan in 1868, and the couple would reside in North Carolina before moving to her hometown of Sweetwater, TN, where they would remain until their deaths. Her father was James Hayes Reagan and he served in the Confederate militia as a brigadier in East Tennessee until his capture by Federal troops in 1864, but on October 15th, soon after imprisonment in Knoxville, the general died.
Love II would first serve as captain in the
16th North Carolina Regiment
and engage the elephant from Seven Pines,
Antietam
,
Seven Days Battles
around Richmond, and
Second Bull Run
. He would be wounded during the
Battle of Seven Pines
, and served under the likes of
"Stonewall" Jackson
and
Robert E. Lee
. Love was later transferred to
Thomas' Legion
, a Confederate unit consisting mainly of highlanders and Cherokee Indians, and he would lead the infantry regiment of the legion while assigned to Lt. Jubal Early's Army of the Valley during the Shenandoah Valley Campaign of 1864. In December of '64, Love would return to western North Carolina with the regiment, having its numbers thinned by the lengthy campaign, in efforts to increase its replenished ranks and to defend the area. East of the Mississippi, the Thomas Legion would be the last organized unit to lay down arms during the Civil War.
Thomas' Legion was North Carolina's only legion raised during the Civil War, and the brigade sized unit, consisting of infantry, cavalry, and artillery, recruited exclusively from the mountains of both Western NC and East Tennessee. Early in the war the legion would field on occasion a massive force of some 2,500 soldiers (including 400 Cherokees). Whereas Thomas was overall commander of the legion that bore his namesake, its regiment was entrusted to the capable leadership of Love, causing many to refer to the infantry as
Love's Regiment
.
Love served as a member of the North Carolina Constitutional Convention (1868) and later in the state senate, but would be serving in the Tennessee House of Representatives at the time of his death. Founded by
Robert Love
, Sr., his granddad, Waynesville had been named the city in honor of "Mad Anthony" Wayne, his commanding officer from the American Revolution. After the War Between the States, J.R. Love II would live another 20 years before dying on November 10, 1885.
Maria Love (1842-1909)
Maria Love was the daughter of James Robert Love, Sr. and Maria Williamson Coman, and she married William Williams Stringfield of Tennessee on January 2, 1871, in Haywood County, N.C.
Known by many as
W.W. Stringfield
, William would initially serve in the Confederate Army as a private in the 1st (Carter's) Tennessee Cavalry Regiment, then as a captain in Co. E, 39th (Bradford's) Tennessee Infantry, aka 31st (William M. Bradford's) Tennessee Regiment, and lastly he would rise to the rank of lieutenant colonel and provide strong leadership in the Thomas Legion.
In the city that he and the Thomas Legion had chosen as the place to lay down their arms before returning to their civilian lives in 1865, Waynesville would remain the homestead of W.W. and Maria Stringfield for decades to come. After the four year fight, Lt. Col. Stringfield
was elected as a member of the North Carolina Legislature in 1882-1883 and North Carolina State Senate in 1901 and 1905. With his wife Maria by his side, Stringfield had become a prosperous and prominent citizen of the region. After he and the legion had retired their weapons back in 1865, William W. Stringfield would live nearly 60 more years before his death from natural causes in Waynesville on March 6, 1923.
Matthew Hale Love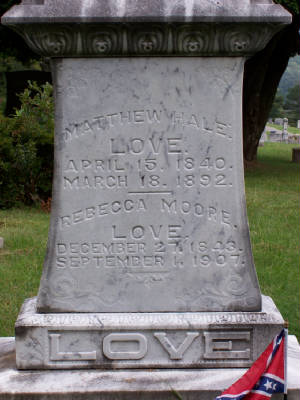 (Photographed by the Writer)
William Hale Love (1840-1892)
Matthew Hale Love
was born of James Robert Love, Sr. and Maria Williamson Coman.
On September 27, 1862, Matthew was elected captain of Second Company A (2ndA), Infantry Regiment, Thomas' Legion. 2ndA was Thomas' first
Indian Company
and it was organized on April 9, 1862, at Quallatown, North Carolina, with William Holland Thomas as captain.
On September 27, when the Thomas Legion organized at Knoxville, 2ndA was designated as Company C with Matthew Love elected captain. When 1stA (First Company A), commanded by Captain Andrew W. Bryson, was transferred to the
39th North Carolina Infantry Regiment
, Second Company A was reassigned as First Company A, Infantry Regiment, Thomas' Legion. Matthew Hale Love was one of many Loves serving the Confederacy, and would later die and be buried at Green Hill Cemetery in Waynesville.
Robert Love's house is torched by Yankees
Although a fellow over in Georgia coined this succinct remark, "Hell hath laid her egg, and right here it hatched," it could also be heard from the lips of widows and the mouths of homeless children in Waynesville, a town that was known for its tranquility and Southern hospitality prior to the war.
By the spring of 1865, while it was rather obvious to most that the Confederacy had failed, Union
Colonel George W. Kirk
and the Federal
3rd North Carolina
trekked through the mountains of North Carolina in search of spoils, the booty of war is some called it, and they were entertained at the sights and scenes of unarmed decrepit ole men and weary widows standing next to their few tattered belongings all the while begging for mercy hoping that the Federal firestorm will just pass them by. Viewing these pitiful folk as they laid waste to the remaining homes and farms of just another Southern community, were Union troops all cloaked in handsome wool uniforms. The lawless men cursed and laughed and then shot to the ground any of the local folks who pled in an utterly futile yet last ditch effort to save any fragment of a home and its meager contents.
Drunk on the spoils from their past raids, the raiders preferred to strike and then move on and out of the area, so there just wasn't any time for delay, especially the contemptible cry from the likes of some loathsome local. Annoyed, to put it mildly, were the blue-clad men, for there were more homes to rob, many fires yet to be set, and a lot more killing to discharge before this war is over. There were other ways to describe how the Federals would indeed inflict maximum damages and wreak as much havoc on every citizen south of the Mason and Dixon, but although a fellow over in Georgia was said to coin this succinct sentence, "Hell hath laid her egg, and right here it hatched," it could also be heard from the lips of widows and the mouths of homeless children in Waynesville, a town that was known for its tranquility and Southern hospitality prior to the war.
The Federals who would soon move on Waynesville, would commit their crimes openly and for all to see, but they, as usual, carried out the heinous acts while hiding behind the Union uniform.
If the soul in these parts was not already in jail, meaning he was the enemy of our enemy, then the rule of the raider was to fast track each so-called piece of Southern white trash on a pell-mell journey to hell. And God forbid! The war might actually end, it could be over before the roving criminals could make off with every last shred that had obviously been stashed quite well by the bumpkins. The Yankees knew that ole Bobby Lee and his Army of Northern Virginia was one move shy of check mate by the likes of US Grant, so the stakes were high for both sides during the twilight hour of the war. To destroy the war-making capabilities of the rebellion was to be understood, but to execute, to commit murder of unarmed old men while summarily torching homes was contrary to US articles of war, and was punishable, but this seldom if ever happened, and there was an explanation for the conduct of these murderers. These Federal soldiers, like any ill-disciplined troops in times of war, were simply the products and protégés of their commanders and generals in the field. The only difference between the bushwhacker and the man on the horse that rode into Waynesville was the uniform, that's all. In the name of the conflict, many war crimes would be perpetrated on noncombatants and innocent civilians.
They often returned to the exact same location in hopes of finding some treasure left in unawares.
In late February and early March of 1865, Col. Kirk and the Union 3rd North Carolina continued their raids into Southern Appalachia in hopes of finding bounty, abundant treasures at the expense of their rightful Southern owner. On February 4th, Kirk and his 400 cavalry and 200 infantry left Newport, Tennessee, and crossed into Haywood County via the old Cataloochee Turnpike on a raid that reached Waynesville, the county seat.
Kirk's Raiders, as they were called, now armed with Spencer repeating rifles, moved into Waynesville and pillaged stores, stole the remaining horses, cows and pigs, which were many, discharged their repeaters and killed 20 unarmed, innocent men, the lot being old or infirmed, and then torched many houses. Kirk singled out one property of note, the residence of Lt. Col. James R. Love, which had been the former home of Robert Love, Sr., the founder of the town. The murderers would then attack the jail of Waynesville and free the prisoners before setting the structure ablaze. No resistance was offered and there were no Rebel troops available or in the town. The mountains covered one-third of the state, it was a vast territory without a single railroad, so it lacked the means to quickly move troops to the area. Home Guard, what few remained, had either returned to their homes to fend off the guerrillas or were pulled into a last ditch fight against Sherman as he pushed his massive army into North Carolina.
Thomas' Legion
Thomas' Legion was called the Highland Rangers by many locals
Waynesville captured by Confederates
Anger was the single word that best described Thomas on this day.
In May of 1865, Thomas' Legion would surround and trap none other than Lt. Col. William C. Bartlett and his Federal 2nd North Carolina Mounted inside Waynesville, the host town to many of the illustrious Love family. Bartlett commanded the sister regiment to Kirk's 3rd North Carolina with both being attached to the First Brigade, under Maj. Gen. George Stoneman, District of East Tennessee, commanding.
These Home Yankees, term assigned to local men who joined Federal units, had thrashed the town so often and without a fight, that they had grown quite comfortable during their extended stay in Waynesville, the hometown of Sarah Love Thomas, who was wife of Cherokee chief and Colonel
William Holland Thomas
. An aged man now scarred from the four year struggle that had claimed so many of his friends, Thomas, donning the hats of both chief and colonel during the war, remained vigilant with meeting the basic needs of the Cherokee, who would often claim to their chief that they lacked food.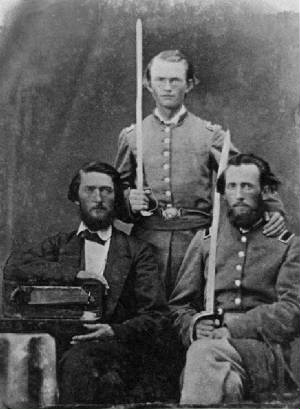 Love Brothers. Three grandsons of the Colonel.
(Right) Love Brothers. A wartime photograph of James R. Love (seated right) and two of his brothers: Dr. John C. Love (seated left) and Dillard L. Love (standing). The three brothers posed for this picture while they were all members of the 16th North Carolina. Dr. Love later became Assist. Surgeon of Thomas' Regiment. Dillard Love, at the time of this photo, was Lieut. in Co. A, which was transferred to the 39th North Carolina after brief service with Thomas' Legion. Courtesy Clark's Regiments.
The battle weary Thomas, likely suffering from post-traumatic stress disorder at the time, surrounded Bartlett and his command inside the town on this occasion. A series of meetings would occur between the two commanders, but with little headway and progress, Bartlett advised Thomas that Lee had surrendered to Grant the previous month. It still took the intervention of the valiant fighter of the Mexican-American War by the name of Brig. Gen. James Green Martin, now commanding Confederate forces in the district, to broker a peaceful solution.
Bartlett and his men were robbing the locals of every single possession that they believed had a semblance of value, including a single spoon. Bartlett was similar to Kirk, the one who had committed multiple atrocities and war crimes on the citizens of Waynesville by shooting and murdering scores of unarmed civilians. Thomas had very little energy and patience and lacked desire to hold any further meetings with Bartlett, and for so long the colonel had felt utterly helpless knowing that many innocent locals had become destitute and even murdered at the hands of Union men. Anger was the single word that best described Thomas on this day.
Infuriated, outraged, yes, but madder than hell was Thomas as he mulled the unconscionable acts committed by the Federals here, and he was going to make certain that the enemy knew it in such plain yet direct talk when he said to Bartlett that if he and his men didn't vacate the region, he would unleash the Cherokee Indians on a scalping melee. Brig. Gen. Martin would now intervene and use this moment to his advantage, and so he assured Bartlett that his Confederates would indeed surrender but only with Bartlett's affirmation to collect his men and leave the area. Bartlett was surrounded, he knew it, and without any reinforcements in the vicinity he wasn't about to challenge Thomas. Terms were agreed upon and carried out. A rather intelligent agreement considering the situation. Both saved face, not a shot was exchanged, and Bartlett kept his scalp. Instructing Bartlett to carry a message to the commander of the Union 3rd North Carolina, Love II and Thomas put Kirk on notice that if he didn't control his men -- they would.
The general consensus of the men forming the Thomas Legion during this event was stated by a single soldier of the unit. I say surrender, but a better word would be quit, for I don't think we really ever did surrender. In fact, we just disbanded and carried our guns and cartridges to our homes with us.
*Narratives of selected grandchildren
Notes
The preceding names only touch the surface of the numerous Loves that remained faithful to their state and the Confederate Cause. North Carolina, Tennessee, Georgia, South Carolina and Virginia provided over 500 Loves to the Confederacy. There is no doubt that many of these men can trace their origin to the Loves that originally inhabited and settled the region. Numerous Loves also served in the following regiments raised from the counties of Western North Carolina:
Recommended Reading: Western North Carolina: A History from 1730 to 1913 (Hardcover: 679 pages). Description: From the introduction to the appendix, this volume is filled with interesting information. Covering seventeen counties—Alleghany, Ashe, Avery, Buncombe, Cherokee, Clay, Graham, Haywood, Henderson, Jackson, Macon, Madison, Mitchell, Swain, Transylvania, Watauga, and Yancey—the author conducted about ten years searching and gathering materials. Continued below.
About the Author: John Preston Arthur was born in 1851 in Columbia, South Carolina. After relocating to Asheville, North Carolina, in 1887, he was appointed Secretary of the Street Railway Company, and subsequently the Manager and Superintendent until 1894. Later, after becoming a lawyer, he was encouraged by the Daughters of the American Revolution (D.A.R.) to write a history of western North Carolina.
Recommended Reading: The Complete Idiot's Guide to Genealogy, 2nd Edition. Description: A very helpful genealogy reference! It is extremely helpful if you're in the "I want to trace my roots, ancestors, family tree and heritage. How do I begin, where do I start, and how do I go about doing it?" situation. It contains numerous helpful common sense tips that will prevent future headaches and a lot of well thought out suggestions and tips too. One helpful hint: "Talk with your extended family and interview them for genealogy information, be patient with them, and let them tell their stories....document everything." There are plenty of well-mannered tips like these that elevate this book to excellence. Continued below.
A lot of the confusing aspects of genealogical research such as document requests and providing proof and evidence are well covered. RATED 5 STARS.
Customer's Review: I bought this book when I hadn't yet done any research at all about my family history. A year and a half later, I have a file drawer full of information, and I have needed no other reference. I also bought a book called "The Source", which is supposed to be the 'genealogist's bible', and it has been a giant paperweight in comparison.

Idiot's genealogy

is full of the kind of practical information that can carry you through years of research. Happy hunting!!!
Recommended Reading: The Tar Heel State: A History of North Carolina (Hardcover). Description: The Tar Heel State: A History of North Carolina constitutes the most comprehensive and inclusive single-volume chronicle of the state's storied past to date, culminating with an attentive look at recent events that have transformed North Carolina into a southern megastate. Integrating tales of famous pioneers, statesmen, soldiers, farmers, captains of industry, activists, and community leaders with more marginalized voices, including those of Native Americans, African Americans, and women, Milton Ready gives readers a view of North Carolina that encompasses perspectives and personalities from the coast, "tobacco road," the Piedmont, and the mountains in this sweeping history of the Tar Heel State. The first such volume in more than two decades, Ready's work offers a distinctive view of the state's history built from myriad stories and episodes. The Tar Heel State is enhanced by one hundred and ninety illustrations and five maps. Continued below.
Ready begins with a study of the state's geography and then invites readers to revisit dramatic struggles of the American Revolution and Civil War, the early history of Cherokees, the impact of slavery as an institution, the rise of industrial mills, and the changes wrought by modern information-based technologies since 1970. Mixing spirited anecdotes and illustrative statistics, Ready describes the rich Native American culture found by John White in 1585, the chartered chaos of North Carolina's proprietary settlement, and the chronic distrust of government that grew out of settlement patterns and the colony's early political economy. He challenges the perception of relaxed intellectualism attributed to the "Rip van Winkle" state, the notion that slavery was a relatively benign institution in North Carolina, and the commonly accepted interpretation of Reconstruction in the state. Ready also discusses how the woman suffrage movement pushed North Carolina into a hesitant twentieth-century progressivism. In perhaps his most significant contribution to North Carolina's historical record, Ready continues his narrative past the benchmark of World War II and into the twenty-first century. From the civil rights struggle to the building of research triangles, triads, and parks, Ready recounts the events that have fueled North Carolina's accelerated development in recent years and the many challenges that have accompanied such rapid growth, especially those of population change and environmental degradation.
Recommended Reading: Touring the Western North Carolina Backroads (Touring the Backroads). Editorial Review: This guidebook, unlike most, is so encyclopedic in scope that I give it as a gift to newcomers to the area. It is also an invaluable reference for the visitor who wants to see more than the fabulous Biltmore Estate. Even though I am a native of the area, I learned nearly everything I know about Western North Carolina from this book alone and it is my primary reference. I am still amazed at how much fact, history and folklore [just enough to bring alive the curve of the road, the odd landmark, the abandoned building] is packed in its 300 pages. The author, who must have collapsed from exhaustion when she finished it, takes you on a detailed tour, laid out by the tenth of the mile, of carefully drawn sections of backroads that you can follow leisurely without getting lost.
The author is completely absent from the text. The lucid style will please readers who want the facts, not editorial comment. This book, as well as the others in this publisher's backroads series, makes an excellent gift for anyone, especially the many seniors who have relocated, or are considering relocating to this fascinating region. It is also a valuable reference for natives, like me, who didn't know how much they didn't know.
Recommended Reading: Encyclopedia of North Carolina (Hardcover: 1328 pages) (The University of North Carolina Press), Description: The first single-volume reference to the events, institutions, and cultural forces that have defined the state, the Encyclopedia of North Carolina is a landmark publication that will serve those who love and live in North Carolina for generations to come. Editor William S. Powell, whom the Raleigh News & Observer described as a "living repository of information on all things North Carolinian," spent fifteen years developing this volume. With contributions by more than 550 volunteer writers—including scholars, librarians, journalists, and many others—it is a true "people's encyclopedia" of North Carolina. Continued below.
The volume includes more than 2,000 entries, presented alphabetically, consisting of longer essays on major subjects, briefer entries, and short summaries and definitions. Most entries include suggestions for further reading. Centered on history and the humanities, topics covered include agriculture; arts and architecture; business and industry; the Civil War; culture and customs; education; geography; geology, mining, and archaeology; government, politics, and law; media; medicine, science, and technology; military history; natural environment; organizations, clubs, and foundations; people, languages, and immigration; places and historic preservation; precolonial and colonial history; recreation and tourism; religion; and transportation. An informative and engaging compendium, the Encyclopedia of North Carolina is abundantly illustrated with 400 photographs and maps. It is both a celebration and a gift—from the citizens of North Carolina, to the citizens of North Carolina. "Truly an exhaustive and exciting view of every aspect of the Old North State!"
Sources: Official Records of the Union and Confederate Armies; Robert Love's Pension and Service Record; Mary Love Stringfield of Haywood County, North Carolina, a descendant of Robert Love-F.D. Love; Love Family Volume I, First Series, Columbus, Georgia © 2001; Matthew D. Parker (Private Collection); National Park Service; John Preston Arthur, History of Western North Carolina: Edward Buncombe Chapter of the Daughters of the American Revolution, Asheville, North Carolina, 1914; John Hill Wheeler (1806-1882), Reminiscences and Memoirs of North Carolina and Eminent North Carolinians; Wheeler's History of North Carolina, Vol. I. 97; Vernon H. Crow, Storm in the Mountains: Thomas' Confederate Legion of Cherokee Indians and Mountaineers; Walter Clark, Histories of the Several Regiments and Battalions from North Carolina in the Great War 1861-1865; National Park Service: American Civil War; Weymouth T. Jordan and Louis H. Manarin, North Carolina Troops, 1861-1865; D. H. Hill, Confederate Military History Of North Carolina: North Carolina In The Civil War, 1861-1865; Christopher M. Watford, The Civil War in North Carolina: Soldiers' and Civilians' Letters and Diaries, 1861-1865. Volume 2: The Mountains; Library of Congress; National Archives and Records Administration; State Library of North Carolina; North Carolina Office of Archives and History; North Carolina Museum of History; E. Stanly Godbolt, Jr. and Mattie U. Russell, Confederate Colonel and Cherokee Chief: The Life of William Holland Thomas; Paul A. Thomsen, Rebel Chief: The Motley Life of Colonel William Holland Thomas C.S.A.