Greeneville, Tennessee, Civil War History
Greeneville, Tennessee
Map of Greeneville, Tennessee
During Secession, Andrew Johnson was the only Southern United States Senator who refused to resign.
During the
secession crisis
, Andrew Johnson remained in the United States Senate even when Tennessee seceded, which made him a hero in the North and a traitor in the eyes of most Southerners. In 1862, President Lincoln appointed him Military Governor of Tennessee, and Johnson used the state as a laboratory for
Reconstruction
. In 1864 the Republicans, contending that their National Union Party was for all loyal men, nominated Johnson, a Southerner and a Democrat, for Vice President.
Andrew Johnson residence in Greeneville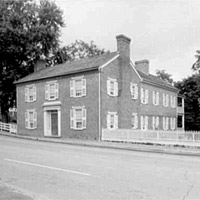 Library of Congress
During the Civil War, East Tennessee was the poorest of the State's three Regions. Within Tennessee,
East Tennessee
had the least amount of slaves based on a percentage and numerical basis. Consequently, the Region witnessed divided loyalties, and bushwhackers, outlaws and lawlessness reigned. Many East Tennesseans also served in
Western North Carolina
Civil War
regiments
. Bordered with Western North Carolina, the two Regions reflected many similarities: Western North Carolina was the poorest of
North Carolina's three Regions
; both were rugged mountainous Regions; within North Carolina, Western North Carolina possessed the least amount of slaves; both Regions experienced lawlessness and anarchy during the Civil War; and they experienced many skirmishes against the same Union commands.
It
"was a running fight for ten miles. Two Federals were killed in the yard of Senator Patterson, the son-in-law of
President Johnson
. Twelve or fifteen others were killed. General Williams, while slowly retreating before [Union General] Burnside, heard our artillery open upon the enemy. Dashing forward at a gallop, he materially aided us in the achievement of one of the most brilliant retreats of the war."
Lt. Col. William W. Stringfield
while fighting Burnside's army at the
Battle at Henderson's Mill - October 11, 1863
East Tennessee proved invaluable in the defense of the vital and strategic Saltworks and railroads. For example, while guarding the Strawberry Plains Bridge, the Thomas Legion's Private James Keelan was posthumously awarded the rare Confederate Medal of Honor. The East Tennessee and Western North Carolina mountains were also in striking distance of several major Civil War battles. See also Tennessee Civil War History.
According to John L. Ransom, Andersonville Diary (1881), pp. 20-21, Madame Collier was a federal soldier from East Tennessee who enjoyed army life until her capture and subsequent imprisonment at Belle Isle, Virginia. She decided to make the most of the difficult situation and continued concealing her gender, hoping for exchange. Another prisoner learned her secret and reported it to Confederate authorities, who sent her North under a flag of truce.
The East Tennessee area has four seasons with mild Springs and Falls. Summers can be hot and humid with highs in the 80s and 90s. Winters are usually mild with daily averages in the 30s, but temperatures can drop to the 20s on occasion.
Recommended Reading: Touring the East Tennessee Backroads (Touring the Backroads) (380 pages) (John F Blair Pub; 2 edition) (October 1, 2007). Description: The historical facts in the first edition of Touring the East Tennessee Backroads have not changed much since the book was first published in 1993, but highway construction and development has altered the routes of the 13 tours. For this second edition, the author drove over 3,000 miles to update the tours where people such as Daniel Boone, Davy Crockett, Sam Houston, Andrew Jackson, Sequoyah, Nancy Ward, and Clarence Darrow once traveled the same backroads.
Recommended Reading: East Tennessee and the Civil War (Hardcover: 588 pages). Description: A solid social, political, and military history, this work gives light to the rise of the pro-Union and pro-Confederacy factions. It explores the political developments and recounts in fine detail the military maneuvering and conflicts that occurred. Beginning with a history of the state's first settlers, the author lays a strong foundation for understanding the values and beliefs of East Tennesseans. He examines the rise of abolition and secession, and then advances into the Civil War.
Early in the conflict, Union sympathizers burned a number of railroad bridges, resulting in occupation by Confederate troops and abuses upon the Unionists and their families. The author also documents in detail the 'siege and relief' of Knoxville. Although authored by a Unionist, the work is objective in nature and fair in its treatment of the South and the Confederate cause, and, complete with a comprehensive index, this work should be in every Civil War library.
Recommended Reading: The United States of Appalachia: How Southern Mountaineers Brought Independence, Culture, and Enlightenment to America. Description: Few places in the United States confound and fascinate Americans like Appalachia, yet no other area has been so markedly mischaracterized by the mass media. Stereotypes of hillbillies and rednecks repeatedly appear in representations of the region, but few, if any, of its many heroes, visionaries, or innovators are ever referenced. Make no mistake, they are legion: from Anne Royall, America's first female muckraker, to Sequoyah, a Cherokee mountaineer who invented the first syllabary in modern times, and international divas Nina Simone and Bessie Smith, as well as writers Cormac McCarthy, Edward Abbey, and Nobel Laureate Pearl S. Buck, Appalachia has contributed mightily to American culture — and politics. Continued below...
Not only did eastern Tennessee boast the country's first antislavery newspaper, Appalachians also established the first District of Washington as a bold counterpoint to British rule. With humor, intelligence, and clarity, Jeff Biggers reminds us how Appalachians have defined and shaped the United States we know today.
Recommended Reading: War at Every Door: Partisan Politics and Guerrilla Violence in East Tennessee, 1860-1869. Description: One of the most divided regions of the Confederacy, East Tennessee was the site of fierce Unionist resistance to secession, Confederate rule, and the Southern war effort. It was also the scene of unrelenting 'irregular,' or guerrilla, warfare between Union and Confederate supporters, a conflict that permanently altered the region's political, economic, and social landscape. In this study, Noel Fisher examines the military and political struggle for control of East Tennessee from the secession crisis through the early years of Reconstruction, focusing particularly on the military and political significance of the region's irregular activity. Continued below...
Fisher portrays in grim detail the brutality and ruthlessness employed not only by partisan bands but also by Confederate and Union troops under constant threat of guerrilla attack and government officials frustrated by unstinting dissent. He demonstrates that, generally, guerrillas were neither the romantic, daring figures of Civil War legend nor mere thieves and murderers, but rather were ordinary men and women who fought to live under a government of their choice and to drive out those who did not share their views.
Recommended Reading: Mountain Rebels: East Tennessee Confederates and the Civil War, 1860-1870 (240 pages) (University of Tennessee Press). Description: In this fine study, Groce points out that the Confederates in East Tennessee suffered more for the 'Southern Cause' than did most other southerners. From the first rumblings of secession to the redemption of Tennessee in 1870, Groce introduces his readers to numerous men and women from this region who gave their all for Southern Independence. Continued below...
He also points out that
East Tennesseans
were divided in their loyalties and that slavery played only a small role. Groce goes to great lengths to expose the vile treatment of the Region's defeated Confederates during the Reconstruction. Numerous maps, pictures, and tables underscore the research.
Try the Search Engine for Related Studies: East Tennessee History Map and Maps, Photo and Photos, President Andrew Johnson's hometown. Civil War, Greeneville (aka Greenville) Tennessee, Cumberland Gap, Southern Appalachia Mountains Picture Photograph.