General "Stonewall" Jackson
(Confederate Military History, Volume 1)
General Stonewall Jackson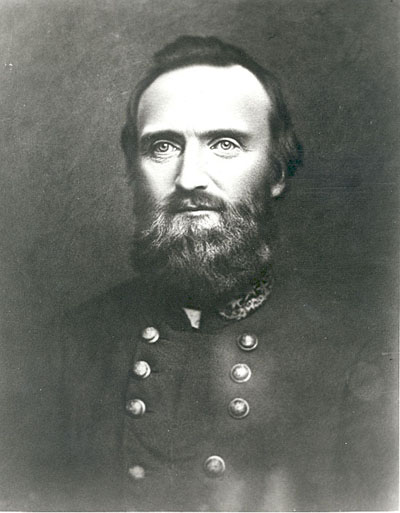 (Courtesy VMI)
(About) Photo of "Winchester Photograph." A version of the "Winchester Photograph," the first of two famous wartime images. General "Stonewall" Jackson posed for this in November 1862 at the studio of Nathaniel Routzahn in Winchester, Virginia.)
The only special incident occurring amidst the educational and domestic life of Major Jackson, which flowed on serenely from this hour, was the summons of the cadets of the Institute by Governor Letcher, to proceed to Harper's Ferry on the occasion of the raid of Abolitionist John Brown in 1859.
During the presidential campaign of 1860, Major Jackson visited New England and there heard enough to arouse his fears for the safety of the Union. At the election of that year he cast his vote for Breckinridge on the principle that he was a States' rights man. After Lincoln's election, he favored the policy of contending in the Union rather than out of it, for the recovery of the ground that had thus been lost. The course of coercion, however, alarmed him, and the failure of the Peace congress persuaded him that if the United States persisted in their course, war would certainly result. His State saw as he did, and on the passage of its ordinance of secession, the military cadets under the command of Major Jackson were ordered to the field by the governor of Virginia. The order was promptly obeyed April 21, 1861, from which date his Confederate military life began.
Jackson's valuable service was given to Virginia in the occupation of Harper's Ferry and several subsequent small affairs, but his fame became general from the Battle of First Manassas. It was at one of the crises of that first trial battle between the Federal and Confederate troops that he was given the war name of "Stonewall," by which he will be always designated. The true story will be often repeated that on being notified of the Federal advance to break the Confederate line he called out, "We will give them the bayonet," and a few minutes later the steadiness with which the brigade received the shock of battle caused the Confederate General Bee to exclaim: "There stands Jackson like a stone wall."
He was commissioned brigadier-general June 17, 1861, and was promoted to major-general October 7, 1861, with the wise assignment to command of the Valley district, which he assumed in November of that year. With a small force he began even in winter a series of bold operations in the great Virginia valley, and opened the spring campaign of 1862, on plans concerted between General Joseph E. Johnston and himself, by attacking the enemy at Kernstown, March 23rd, where he sustained his only repulse; but even in the movement which resulted in a temporary defeat he caused the recall of a considerable Federal force designed to strengthen McClellan in the advance against Richmond. The next important battle was fought at McDowell, in which Jackson won a decided victory over Fremont. Then moving with celerity and sagacity, he drove Banks at Front Royal, struck him again at Newtown, and at length utterly routed him. After this, turning about on Shields, he overthrew his command also, and thus, in one month's campaign, broke up the Federal forces which had been sent to "crush him." In these rapidly executed operations he had successfully fought five battles against three distinct armies, requiring four hundred miles, marching to compass the fields.
This Valley campaign of 1862 was never excelled, according to the opinions expressed by military men of high rank and long experience in war. It is told by Dr. McGuire, the chief surgeon of Jackson's command, that with swelling heart he had "heard some of the first soldiers and military students of England declare that within the past two hundred years the English speaking race has produced but five soldiers of the first rank--Marlborough, Washington, Wellington, Lee and Stonewall Jackson, and that this campaign in the valley was superior to either of those made by Napoleon in Italy." One British officer, who teaches strategy in a great European college, told Surgeon McGuire that he used this campaign as a model of strategy and tactics, dwelling upon it for several months in his lectures; that it was taught in the schools of Germany, and that Von Moltke, the great strategist, declared it was without a rival in the world's history.
After this brilliant service for the Confederacy, Jackson joined Lee at Richmond in time to strike McClellan's flank at the Battle of Cold Harbor, and to contribute to the Federal defeat in the Seven Days Battles around Richmond. In the campaign against Pope, undertaken by Lee after he had defeated McClellan, Jackson was sent on a movement suited to his genius, capturing Manassas Junction, and foiling Pope until the main Battle of Second Manassas, August 30, 1862; under Lee, [Jackson] despoiled that Federal general [Pope] of all his former honors. The Maryland campaign immediately followed, in which Jackson led in the capture of Harper's Ferry, September 15th, taking 11,500 prisoners, and an immense amount of arms and stores, just preceding the Battle of Sharpsburg, in which he also fought with notable efficiency at a critical juncture. The promotion to lieutenant-general was now accorded him, October 10, 1862. At the Battle of Fredericksburg, December 13, 1862, Lieutenant-General Jackson held the Confederate right against all Federal assaults. The Federal disaster in this battle resulted in the resignation of Burnside and the reorganization of the army under General Hooker in 1863.
General Stonewall Jackson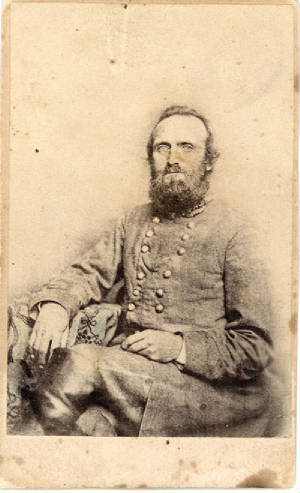 (Courtesy VMI)
(About this Picture: Another view of the "Winchester Photograph," November 1862. When Jackson entered Routzahn's studio, the photographer noticed that a button was missing on Jackson's coat. Jackson sewed on the button - crookedly. The famous button is located on the right, third from the bottom.)
Lieutenant-General Thomas Jonathan Jackson was one of those rare historical characters who are claimed by all people--a man of his race, almost as much as of the Confederacy. No war has produced a military celebrity more remarkable or one whose fame will be more enduring. He was born January 21, 1824, in Clarksburg, Va., and his parents, who were of patriotic Revolutionary stock, dying while he was but a child, he was reared and educated by his kindred in the pure and simple habits of rural life, taught in good English schools, and is described as a "diligent, plodding scholar, having a strong mind, though it was slow in development." But he was in boyhood a leader among his fellow-students in the athletic sports of the times, in which he generally managed his side of the contest so as to win the victory. By this country training he became a bold and expert rider and cultivated that spirit of daring which being held sometimes in abeyance displayed itself in his Mexican service, and then suddenly again in the Confederate war. In June 1842, at the age of eighteen, he was appointed to a cadetship in the military academy at West Point, where, commencing with the disadvantages of inadequate preparation, he overcame obstacles by such determination as to rise from year to year in the estimation of the faculty. He graduated June 30, 1846, at the age of twenty-two years, receiving brevet rank as second-lieutenant at the beginning of the
Mexican War
, and was ordered to report for duty with the First Regular Artillery. He shared in the many brilliant battles which
General Scott
fought from Vera Cruz to the City of Mexico. He was often commended for his soldierly conduct and soon received successive promotions for gallantry at Contreras and Churubusco. Captain Magruder, afterwards a Confederate general, thus mentioned him in orders: "If devotion, industry, talent, and gallantry are the highest qualities of a soldier, then is he entitled to the distinction which their possession confers." Jackson was one of the volunteers in the storming of Chapultepec, and for his daring there was brevetted major, which was his rank at the close of the Mexican War.
His religious character, which history has and will inseparably connect with his military life, appears to have begun forming in the City of Mexico, where his attention was directed to the subject of the variety of beliefs on religious questions. His amiable and affectionate biographer (Mrs. Jackson) mentions that Colonel Francis Taylor, the commander of the First Artillery, under whom Jackson was serving, was the first man to speak to him on the subject of personal religion. Jackson had not at any time of his life yielded to the vices, and was in all habits strictly moral, but had given no particular attention to the duties enjoined by the church. Convinced now that this neglect was wrong, he began to study the Bible and pursued his inquiries until he finally united (1851) with the Presbyterian Church. His remarkable devoutness of habit and unwavering confidence in the truth of his faith contributed, it is conceded, very greatly to the full development of his singular character, as well as to his marvelous success.
In 1848 Jackson's command was stationed at Fort Hamilton for two years, and then at Fort Meade in Florida. From that station he was elected to a chair in the
Virginia Military Institute
at Lexington in 1851, which he accepted, and resigning his commission, made Lexington his home ten years. And then he began his remarkable' career in the Confederate War. Two years later, 1853, he married Miss Eleanor, daughter of Rev. Dr. Junkin, president of Washington College, but she lived scarcely more than a year. Three years after, July 16, 1857, his second marriage occurred, with Miss Mary Anna, daughter of Rev. Dr. H. R- Morrison, of North Carolina, a distinguished educator, whose other daughters married men who attained eminence in civil and military life, among them being General D. H. Hill, General Rufus Barringer, and Chief Justice A. C. Avery.
After the most complete preparations, Hooker advanced against Lee at
Chancellorsville
, who countervailed all the Federal general's plans by sending Jackson to find and crush his right flank, which movement was in the process of brilliant accomplishment when Jackson, who had passed his own lines to make a personal inspection of the situation, was fired upon and fatally wounded by a line of Confederates who unhappily mistook him and his escort for the enemy. The glory of the achievement which Lee and Jackson planned fell upon General Stuart [the] next day, who, succeeding Jackson in command, ordered that charge which became so ruinous to Hooker, with the thrilling watchword, "Remember Jackson."
General Jackson lived a few days, then died, [and was] lamented more than any soldier who had fallen. Lee said: "I have lost my right arm." The army felt that his place could not be easily supplied. The South was weighted with grief. After the war, when the North dispassionately studied the man they ceased to wonder at the admiration in which he was held by the world.
General "Stonewall" Jackson Memorial
Courtesy of the National Park Service
(Right) Jackson was buried at Lexington, Va., where a monument erected by affection marks his grave. "For centuries men will come to Lexington as a Mecca, and to this grave as a shrine, and wonderingly talk of this man and his mighty deeds. Time will only add to his great fame--his name will be honored and revered forever."
Notes:
"Stonewall" Jackson remains an iconic figure in American and world history. While Jackson's war successes are part of the curriculum at West Point, his military career and battlefield accomplishments are taught at the Royal Military Academy Sandhurst (RMAS), United Kingdom, and at other prestigious military schools such as Hellenic Military Academy of Greece and the Royal Military College of Canada. Of particular focus is Jackson's brilliant strategy during the 1862 Shenandoah Valley Campaign.
Recommended Reading: Stonewall in the Valley: Thomas J. Stonewall Jackson's Shenandoah Valley Campaign, Spring 1862. Description: The Valley Campaign conducted by Maj. Gen. Thomas J. "Stonewall" Jackson has long fascinated those interested in the American Civil War as well as general students of military history, all of whom still question exactly what Jackson did in the Shenandoah in 1862 and how he did it. Since Robert G. Tanner answered many questions in the first edition of Stonewall in the Valley in 1976, he has continued to research the campaign. This edition offers new insights on the most significant moments of Stonewall's Shenandoah triumph. Continued below.
About the Author:
Robert G. Tanner is a graduate of the Virginia Military Institute. A native of Southern California, he now lives and practices law in Atlanta, Georgia. He has studied and lectured on the Shenandoah Valley Campaign for more than twenty-five years.
Also see:
Recommended Reading: A Brotherhood Of Valor: The Common Soldiers Of The Stonewall Brigade C.S.A. And The Iron Brigade U.S.A. Description: Confederate General Thomas J. Jackson was arguably the greatest commander of the Civil War. Yet, "Stonewall" Jackson owed much of his success to the troops who served under his command. He eagerly gave them their due: "You cannot praise these men of my brigade too much; they have fought, marched, and endured more than I even thought they would." The Stonewall Brigade, composed mainly of Virginians from the Shenandoah Valley, proved its mettle at First Manassas and never let up--even after its esteemed leader was shot down at Chancellorsville. Their equally elite counterparts in the Army of the Potomac were known as the Iron Brigade, hardy westerners drawn from Wisconsin, Indiana, and Michigan. By focusing on these two groups, historian Jeffry Wert retells the story of the Civil War's eastern theater as it was experienced by these ordinary men from North and South. Continued below.
His battle descriptions are riveting, especially when he covers Antietam:
Three times the Georgians charged towards the guns, and three times they were repelled. Union infantry west of the battery ripped apart the attacker's flank, and the artillerists unleashed more canister.... Finally, the Georgians could withstand the punishment no longer, and as more Union infantry piled into the Cornfield, Hood's wrecked division retreated towards West Woods and Dunker Church. When asked later where his command was, Hood replied, "Dead on the field."
But the book is perhaps most notable for the way in which it describes the everyday hardships befalling each side. They often lacked food, shoes, blankets, and other military necessities. When the war began, the men believed deeply in their conflicting causes. Before it was over, writes Wert, "the war itself became their common enemy." Wert is slowly but surely gaining a reputation as one of the finest popular historians writing about the Civil War; A Brotherhood of Valor will undoubtedly advance his claim.
Recommended Viewing: Still Standing: The Stonewall Jackson Story, starring James I Robertson Jr., Bill Potter, and Ken Carpenter (2007) (DVD). Description: His legacy as a military genius is widely renowned. Now, in Still Standing: The Stonewall Jackson Story, his legacy as a man of resolute Christian character is captured in this revealing documentary. Through stunning High Definition videography and expert narrative, Still Standing traces the life of Stonewall Jackson from his orphaned childhood, to the Sunday School class he taught for African Americans that has resulted in a lasting impact today, to the pivotal role he played as a General in the Civil War. Still Standing inspires, entertains, and educates as it examines the life of a uniquely American hero. Continued below.
Review: In true Franklin Springs Family Media fashion, Still Standing: The Stonewall Jackson Story is destined to become a family favorite. Still Standing chronicles the life of a true Christian man brought to fame by his exemplary military acumen in the American Civil War. But it was his faithfulness to the Gospel in his family, with his children, toward his soldiers, and the Sunday School class for Blacks (freemen and slaves) that he started, taught, and supported that, no doubt, earned Thomas Jackson the reward of hearing those precious words, Well done, good and faithful servant, from his King when he crossed over the river and finally rested under the shade of the trees. This important documentary will be used in my family to inspire a new generation to look to General Jackson as a man with flaws, but who followed hard after Christ. May mine and I, by God s grace, stand like a stone wall before the onslaught of the enemy, trusting that we are as safe on the battlefield as we are in our beds. --Home Schooling Today
Recommended Viewing: Biography - Stonewall Jackson (2005) (A&E) (DVD). Description: He earned his nickname for bravery at Bull Run and led some of the most stunning campaigns of the Civil War. An outstanding leader and brilliant tactician, Stonewall Jackson is widely regarded as one of the greatest Confederate commanders. In an exhaustive investigation, this documentary examines Jackson's military prowess through period accounts, interviews with renowned Civil War historians and military experts, and Jackson's own strategies in his pivotal engagements. Continued below.
Follow his career through the American Army, the Mexican American War, and his command in the Confederacy. See rare photos of the famed leader and learn the tragic story of his death at Chancellorsville. Stonewall Jackson visits some of the bloodiest battlegrounds in America for a riveting portrait of the commander who held his ground "like a stone wall."
Recommended Reading: Beloved Bride: The Letters of Stonewall Jackson to His Wife. Description: He called her "my beloved esposa" because Anna was his dearest love on this earth. The great military exploits of General Stonewall Jackson are studied in military schools around the globe, and his iron will and stern self-discipline have become legendary. However, little has been said about his remarkable marriage. The real Thomas J. Jackson was a humble Christian and loving husband and father. The tender and instructive letters he wrote to his wife Anna are a model of godly leadership and covenantal faithfulness. Continued below.
From their courtship to their final days together, trace the true story of this remarkable couple through the letters of General Jackson to his bride. Even in the midst of the most arduous military campaigns, Stonewall took the time to send home extensive letters of love and devotion. Through all of this, General Jackson proves himself to be a model example for Christian husbands of the twenty-first century -- especially through his dedication to living for God's glory and trusting in His providential care.
This special edition book features a foreword by Stephen Lang, the actor who portrays "Stonewall" Jackson in the film, Gods and Generals.
Recommended Reading: Stonewall Jackson: The Man, the Soldier, the Legend (Hardcover) (950 pages). Description: A distinguished Civil War historian unravels the complex character of the Confederacy's greatest general. Drawing on previously untapped manuscript sources, the author refutes such long-standing myths as Stonewall Jackson's obsessive eating of lemons and gives a three-dimensional account of the profound religious faith frequently caricatured as grim Calvinism. Though the author capably covers the battles that made Jackson a legend--Sharpsburg, Fredericksburg, etc.--he emphasizes "the life story of an extraordinary man." Continued below.
The result is a biography that will fascinate even those allergic to military history. The New York Times Book Review, Stephen W. Sears . . . [T]wo dozen writers have attempted [Stonewall] biographies, and there are any number of special studies, monographs and essays. Now going straight to the head of the class of Jackson biographers, and likely to remain there, is James I. Robertson Jr. . . . Stonewall Jackson: The Man, the Soldier, the Legend gives us far and away the sharpest picture we have ever had of this enigmatic figure.
Recommended Reading: Stonewall Jackson: The Black Man's Friend (Hardcover). Description: Many historians have touched on Thomas "Stonewall" Jackson's relationship with African Americans in light of his Christian faith. Stonewall Jackson: The Black Man's Friend explores an aspect of his life that is both intriguing and enlightening: his conversion to Christianity and how it affected his relationship with Southern blacks. Covering the origin of Jackson's awakening to faith, the book challenges some widely held beliefs, including the assumption that this spiritual journey did not begin until his adulthood. Furthermore, Richard G. Williams Jr. examines a paradox of Jackson's life: his conversion to Christianity was encouraged by Southern slaves. That faith would one day lead Jackson to minister to other slaves through his Sunday school class. Continued below.
Exploring in depth Jackson's now famous "Colored Sabbath School," Williams reveals—for the first time—the influence his efforts had on subsequent generations of African Americans. Using original documents, interviews, historical resources, and heretofore unpublished letters and photographs, Williams confirms the veneration with which blacks from Virginia esteemed Jackson, even years after his death—and some to this day. An interview with and photographs of two spiritual descendants of Jackson's black Sunday-school class adds a real-life connection to this fascinating dimension of the famed general's life. The book also examines Jackson's documented youthful pangs of conscience regarding the illiteracy of American slaves—and how Providence ultimately came to use him to have a lasting and positive impact on Southern blacks.