General Joseph "Jo" Orville Shelby
(December 12, 1830 – February 13, 1897)
General Joseph Shelby
(Right) Photograph of General Joseph Shelby. Courtesy United States Marshals Service.
The Undefeated Rebel General : U.S. Marshal Joseph Shelby
Joseph Orville Shelby was born on December 12, 1830 in Lexington, Kentucky, to one of Kentucky's wealthiest and influential families. "Jo" Shelby attended Transylvania University and was engaged in rope manufacturing until 1852. Then, he moved to Waverly, Missouri, and engaged in various enterprises including steam-boating on the Missouri and a plantation. Being successful, Shelby became a member of the Missouri's social and political elite.
During the Missouri-Kansas Border War, he participated in several "Border Ruffians" invasions of Kansas. With the outbreak of war in Missouri in 1861, Shelby raised a cavalry company for the Missouri State Guard and served as its captain. While in the Missouri State Guard, Captain Shelby saw action at the battles of Wilson's Creek, Lexington, and Pea Ridge (Elkhorn Tavern). Shelby transferred to the Confederate Army in the spring of 1862 and went with General Sterling Price east of the Mississippi River.
In 1862-63, Shelby took part in the expedition against Springfield, also capturing the federal garrisons at Neosho, Greenfield, Stockton, Hermanville, Warsaw, Boonville and Marshall, Missouri. Frank and Jesse James and James and Cole Younger served with Quantrill's Raiders during the Civil War and they saved General Jo Shelby from capture on December 7, 1862, at the Battle of Prairie Grove.
The expedition resulted in the recruitment of a thousand-man cavalry regiment. For this accomplishment, Shelby was promoted to colonel and put in command of a cavalry brigade under Major General Hindman. Colonel Shelby played an important role in the Battle of Prairie Grove, Arkansas. 1863 proved to be a very busy and rewarding year for Shelby. He was part of General Marmaduke's raid into Southeast Missouri, participated in the Battle of Helena, Arkansas, and conducted an independent raid into Central Missouri. The latter activity gained Shelby notoriety and fame throughout the Confederacy. Shelby's Raid, which began on September 22, 1863, with 600 men, covered fifteen-hundred miles and resulted in the destruction of $1,000,000 worth of Federal supplies and $800,000 of railroad property. Shelby also returned with 6,000 horses and mules and 800 recruits from Northern Missouri. The raid, consequently, may have prevented 10,000 Federal troops from reinforcing Gen. Rosecrans after his defeat at Chickamauga. This was no small feat for a general let alone a colonel. Thus, Shelby earned the rank of brigadier general.
During the fall of 1864, he captured Potosi, Missouri, destroying the railroad. After bloody fighting, he captured Boonville, Waverly, Lexington and California, Missouri. General Shelby's "Iron Brigade" engaged in the Battle of the Little Blue and Westport and twice saved the army from utter ruin. Missouri Confederates held General Shelby in the highest esteem and referred to him as the greatest Missouri soldier of the Confederacy.
General Shelby's "Iron Brigade" greatly contributed to General Price's successful campaign against General Steele when Steele attempted to occupy Shreveport, Louisiana. Price sent Shelby into Northeast Arkansas to prepare for the upcoming raid into Missouri (Price's Raid). Once again, Shelby's recruiting efforts were successful. He returned from this mission with 8,000 recruits, a portion of which were added to his command. During Price's Raid, Shelby did not participate in the defeat at Pilot's Knob. He had been detailed to raid a railroad. After Price's Raid, only Shelby's "Iron Brigade" remained effective and provided the cover for the retreating forces.
Shelby
refused to surrender in 1865. He planned an attempt to prevent General E. Kirby Smith from surrendering at
Shreveport, Louisiana
, but muddy roads prohibited the plan. After Smith's surrender on May 26, Shelby and several hundred of his Iron Brigade went to
Mexico
. When crossing the
Rio Grande
,
Shelby
ceremoniously buried his unconquered flag. He offered the service of his men to the Mexican Emperor Maximilian; who declined the offer because he did not want to offend the
United States
.
Shelby
then established a wagon freight company near the Confederate exile colony of Carlota in the state of Vera Cruz. This enterprise thrived until
guerrilla raids
and the withdrawal of the French Army (the support of Maximilian) forced
Shelby
to return to Missouri in the summer of 1867. Consequently,
Shelby
began growing wheat near
Lexington
, and promoting railroads and operating coal mines. In 1893,
Shelby
was appointed Eleventh
U.S.
Marshal for the Western District of Missouri by President Grover Cleveland.
Shelby
held that position until his death on February 13, 1897.
Newspapers from the east, however, had adverse comments regarding the appointment of General Shelby. One U.S. Senator was quoted as saying: "Nearly thirty years have elapsed since the termination of the war. All that one can ask, even the most loyal Unionist, is that the government shall not be confided to men who, during that awful time, represented not fair battle, but rapine, cruelty and chaos. We, or most of us, believe Jo Shelby belonged to the latter class. Still, we can do nothing to prevent the consummation of the outrage in making such a man the representative of law and order. All we can do is to enter our solemn protest."
General "Jo" Shelby
General Joseph Shelby
Gen. Joe Shelby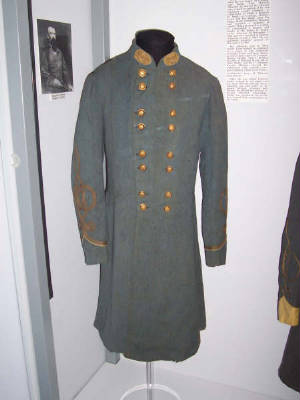 Joe Shelby Civil War Frock Coat
(Right) General Shelby's frock coat. This handsome frock coat is in outstanding condition and has minimal signs of wear. The condition indicates that Shelby wore this coat rarely and that it was preserved well. Photographed by the writer. Courtesy Texas Civil War Museum.
As for as General Shelby was concerned, sufficient answer to what was printed about him was found in a letter endorsing his appointment and congratulating him, written by William Warner, ex Commander-in-Chief of the Grand Army of the Republic. The former war governor of Missouri, Thomas Fletcher, personally went and spoke to the Attorney General to say, "No mistake would be made in the selection of General Shelby as the U.S. Marshal."
During his tenure, the Great Pullman Strike occurred in 1894, which was one of the most famous civil disturbances of the 19th century. U.S. Marshal Joseph "Jo" Shelby died in Bates County, Missouri in 1897. He is interred in the Forest Hill Cemetery at Kansas City.
(Sources listed at bottom of page.)
Recommended Reading: General Jo Shelby: Undefeated Rebel (464 pages) (The University of North Carolina Press). Description: This vivid work reveals General Joseph Orville Shelby as one of the best Confederate cavalry leaders—and certainly the most colorful. Born in Lexington, Kentucky, but drawn by the promise of the growing West, Shelby became one of the richest men in Missouri. Siding with the Confederacy at the outbreak of the Civil War, he organized his Iron Brigade of cavalry—whose ranks included Frank and Jesse James—taught his men a slashing frontier style of fighting, and led them on incredible raids against Federal forces in Missouri. Continued below.
When the Confederacy fell, Shelby refused to surrender and instead took his command to Mexico, where they fought in support of the emperor Maximilian. Upon his return to Missouri, Shelby became an immensely popular figure in the state, eventually attaining the status of folk hero, a living symbol of the Civil War in the West.
Advance to:
Recommended Reading:
Jo Shelby's Iron Brigade
(Hardcover: 381 pages) (Pelican Publishing Company) (July 15, 2007). Description: Through quest and conquest, Jo Shelby's troops grew into the greatest Confederate cavalry brigade west of the
Mississippi
. Jo Shelby's cavalry unit is considered by contemporary historians to be one of the toughest Civil War cavalry units in the West. The author offers an objective and even-handed view of this impressive military leader and his men. The author's decades-long research of
Shelby
's life and his principal officers is evident as he details the history of
Shelby
's Brigade from its origin in
Missouri
through the end of the Civil War and its eventual disbandment in
Mexico
. Jo Shelby's Iron Brigade provides a broader, more objective view of
Shelby
than those afforded by earlier accounts. Continued below.
The book moves swiftly through the background of events that swept
America
into Civil War and targets the turmoil that engulfed the Border state of
Missouri
. The writer then follows the action-packed career of
Shelby
through to--and even beyond-the war's end.
Recommended Reading: Black Flag: Guerrilla Warfare on the Western Border, 1861-1865: A Riveting Account of a Bloody Chapter in Civil War History. Editorial Review (Library Journal): The Civil War on the Kansas-Missouri border was initially fought by Bushwhackers and Jayhawkers, guerrillas from Missouri and Kansas, respectively. Union troops mostly displaced the Jayhawkers by 1862, but the Bushwhackers remained active until Lee's surrender. Historian Goodrich describes the death and destruction the guerrilla war wrought on this region through excerpts from diaries, letters, [photos], local news accounts, and published articles, letting the victims do most of the talking. Citing cases that graphically underscore the terrorism, Goodrich captures the fear of the populace. …There are a number of recent regional publications on this topic that do not achieve Goodrich's scope. This title should be considered for public libraries with strong Civil War collections. Continued below.
" . . . Black Flag: Guerrilla Warfare on the Western Border, 1861-1865: A Riveting Account of a Bloody Chapter in Civil War History is a compelling, dramatic, and well-written . . . " --Journal of Southern History
". . . compelling narrative of four years of virtually unmitigated savagery." --Blue & Gray Magazine
"[A] thorough and comprehensive study of this tragic, almost forgotten episode of American history." --History
A riveting eyewitness account of the bloody guerrilla fighting that raged along the Missouri-Kansas border during the Civil War. Drawing from a wide array of contemporary documents--including diaries, letters, and first-hand newspaper accounts--Thomas Goodrich presents a hair-raising report of life in this merciless guerrilla war.
Recommended Reading: Generals in Gray Lives of the Confederate Commanders. Description: When Generals in Gray was published in 1959, scholars and critics immediately hailed it as one of the few indispensable books on the American Civil War. Historian Stanley Horn, for example, wrote, "It is difficult for a reviewer to restrain his enthusiasm in recommending a monumental book of this high quality and value." Here at last is the paperback edition of Ezra J. Warner's magnum opus with its concise, detailed biographical sketches and—in an amazing feat of research—photographs of all 425 Confederate generals. Continued below.
The only exhaustive guide to the South's command, Generals in Gray belongs on the shelf of anyone interested in the Civil War. RATED 5 STARS!
Recommended Reading: Generals in Blue: Lives of the Union Commanders (Hardcover). Description: More than forty years after its original publication, Ezra J. Warner's Generals in Blue is now available in paperback for the first time. Warner's classic reference work includes intriguing biographical sketches and a rare collection of photos of all 583 men who attained the rank of general in the Union Army. Here are the West Point graduates and the political appointees; the gifted, the mediocre, and the inexcusably bad; those of impeccable virtue and those who abused their position; the northern-born, the foreign-born, and the southerners who remained loyal to the Union. Continued below.
Warner's valuable introduction discusses the criteria for appointment and compares the civilian careers of both
Union
and Confederate generals, revealing striking differences in the two groups. Generals in Blue is that rare book—an essential volume for scholars, a prized item for buffs, and a biographical dictionary that the casual reader will find absorbing.
Sources: Major General Joseph Orville Shelby, Governor's Guard (Jefferson City, MO), March 1995; Jay Monaghan, Civil War on the Western Border, 1854-1865. Lincoln, Nebraska: University of Nebraska Press, 1992; John H. Eicher and David J. Eicher, Civil War High Commands, Stanford University Press, 2001; Maj. General J.O. Shelby Camp # 191, Warrensburg, Missouri; United States Marshal Service; Daniel O'Flaherty, General Jo Shelby, Undefeated Rebel; Stewart Sifakis, Who Was Who In The Civil War; Official Records of the Union and Confederate Armies; National Park Service: American Civil War.