General Winfield Scott
General Winfield Scott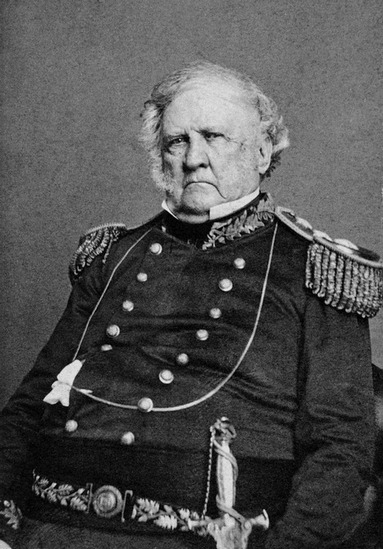 General Winfield Scott in 1862. LOC.
Winfield Scott
General Winfield Scott in 1861. LOC.
WINFIELD SCOTT was born on the family estate near Petersburg, Virginia, on 13 June 1786; attended William and Mary College briefly and studied law in the office of David Robinson; enlisted in Petersburg's cavalry troop, 1807, and became a captain in the regular service, May 1808; received a one-year suspension for open criticism of General James Wilkinson, 1810; served in New Orleans on General Wade Hampton's staff, 1811-1812; was promoted to lieutenant colonel, July 1812, and colonel, March 1813; served on the Niagara front in the War of 1812, was captured and paroled, then participated in the actions at Fort George, where he was wounded, and Uphold's Creek; was promoted to brigadier general, March 1814; as a brigade commander, was largely instrumental in American successes in the battles of Chippewa and Lundy's Lane (where he was seriously wounded); for his valor, was brevetted major general, July 1814; supervised the preparation of the Army's first standard drill regulations and headed a postwar officer retention selection board, 1815; visited Europe to study French military methods, 1815-1816; held regional command in the Division of the North, 1816; married Maria D. Mayo, 1817; was president of the Board of Tactics, 1815, 1821, 1824, and 1826; commanded the Eastern Department, 1825; his resignation at being passed over for Army command refused, 1828; again visited Europe, then resumed command of the Eastern Department, 1829; his field command of the Black Hawk War forces forestalled by cholera among his reinforcing troops, 1832; was an effective presidential emissary to South Carolina during nullification troubles; commanded the field forces in the Second Seminole and Creek Wars, 1836; was cleared by a court of inquiry on his handling of both operations; assumed command of the Eastern Division, 1837; was dispatched to maintain order on the Canadian border where American patriots were aiding Canadian rebels seeking an end to British rule; supervised removal of the Cherokees to the trans-Mississippi region ("Trail of Tears"), 1838; negotiated a peaceful resolution to the boundary dispute between Maine and New Brunswick, 1839; was promoted to major general, June 1841; was commanding general of the United States Army, 5 July 1841-1 November 1861; led American forces in the decisive campaign of the Mexican-American War from the Vera Cruz landings to the capture of Mexico City, 1847; was the unsuccessful Whig candidate for president, 1852; received the brevet of lieutenant general by special act of Congress, 1855, retroactive to the date of Vera Cruz; settled the Anglo-American dispute over San Juan Island in Puget Sound, 1859; retired from active service, November 1861; died in West Point, New York, on 29 May 1866.
Recommended Reading: Winfield Scott and the Profession of Arms (Hardcover: 328 pages) (Kent State University Press). Description: Winfield Scott And The Profession Of Arms is the true story of Winfield Scott (1786-1866), who is perhaps best known for his role in bringing professionalism to the U.S. Army during his long military career (1807-61). He served as general in the War of 1812, major figure during the Indian Wars, key character in the "Trail of Tears", commanded U.S. forces in the final campaign of the Mexican American War, and was the general-in-chief at the beginning of the Civil War. Continued below...
Additionally, he was a presidential candidate and foe or friend to every president from Madison to Lincoln. History professor emeritus Allan Peskin draws upon research in the National Archives to unearth a comprehensive portrait of General Scott as a visionary managerial officer, who anticipated drastic changes in technology and business principles for the military and adapted in response. An in-depth, balanced biography of a remarkable figure and his lasting legacy.
Advance to:
Recommended Reading: Agent Of Destiny: The Life And Times Of General Winfield Scott (Hardcover). Description: It's about time somebody wrote a biography of Winfield Scott, and reading this fascinating account by accomplished military historian John S. D. Eisenhower, you'll wonder why nobody did it sooner. Scott's career spanned an astonishing 54 years and he spent most of it as a general. He was one of the few American heroes to emerge from the War of 1812; he launched a daring and successful invasion of Mexico in 1847; and he defended a vulnerable Washington, D.C., during the first months of the Lincoln administration in 1861. Continued below...
Scott was a profoundly courageous man with a flair for the organizational side of military life. Yet an unseemly amount of ambition and vanity marred his character, even as these qualities help make him an interesting subject for Eisenhower (who is, you guessed it, the son of Ike). Agent of Destiny is a skilled portrait of a man who is often overshadowed by the generation of Civil War leaders following him. Eisenhower deserves our thanks for writing this magnificent book about a vital figure.
Recommended Reading: Winfield Scott: The Quest for Military Glory (Hardcover). Description: One of the most important public figures in antebellum America, Winfield Scott is known today more for his swagger than his sword. "Old Fuss and Feathers" was a brilliant military commander whose tactics and strategy were innovative adaptations from European military theory; yet he was often underappreciated by his contemporaries and until recently overlooked by historians. Although John Eisenhower's recently published Agent of Destiny provides a solid summary of Scott's remarkable life, Timothy D. Johnson's much deeper critical exploration of this flawed genius will become the standard work. Thoroughly grounded in an essential understanding of nineteenth-century military professionalism, Johnson's work draws extensively on unpublished sources to reveal neglected aspects of Scott's life, present a complete view of his career, and accurately balance criticism and praise. Continued below…
Johnson dramatically relates the key features of Scott's career: how he led troops to victory in the War of 1812 and the Mexican War, fought against the Seminoles and Creeks, and was instrumental in professionalizing the U.S. Army, which he commanded for two decades. He also tells how Scott tried to introduce French methods into army tactical manuals, and how he applied his study of the Napoleonic Wars during the Mexico City campaign but found European strategy of little use against Indians. Johnson further suggests that Scott's creation of an officer corps that boasted Grant, Lee, McClellan, and other veterans of the Mexican War raises important questions about his influence on Civil War generalship. More than a military history, this book explains how Scott's aristocratic pretensions were out of place with emerging notions of equality in Jacksonian America and made him an unappealing political candidate in his bid for the presidency. Johnson recounts the details of Scott's personality that alienated nearly everyone who knew him, as well as the unsavory methods Scott used to promote his career and the scandalous ways he attempted to alleviate his lifelong financial troubles. Although Scott's legendary vanity has tarnished his place among American military leaders, he also possessed great talent and courage. Johnson's biography offers the most balanced portrait available of Scott by never losing sight of the whole man.
Recommended Reading: Civil War High Commands (1040 pages: Hardcover). Description: Based on nearly five decades of research, this magisterial work is a biographical register and analysis of the people who most directly influenced the course of the Civil War, its high commanders. Numbering 3,396, they include the presidents and their cabinet members, state governors, general officers of the Union and Confederate armies (regular, provisional, volunteers, and militia), and admirals and commodores of the two navies. Civil War High Commands will become a cornerstone reference work on these personalities and the meaning of their commands, and on the Civil War itself. Errors of fact and interpretation concerning the high commanders are legion in the Civil War literature, in reference works as well as in narrative accounts. Continued below...
The present work brings together for the first time in one volume the most reliable facts available, drawn from more than 1,000 sources and including the most recent research. The biographical entries include complete names, birthplaces, important relatives, education, vocations, publications, military grades, wartime assignments, wounds, captures, exchanges, paroles, honors, and place of death and interment.
In addition to its main component, the biographies, the volume also includes a number of essays, tables, and synopses designed to clarify previously obscure matters such as the definition of grades and ranks; the difference between commissions in regular, provisional, volunteer, and militia services; the chronology of military laws and executive decisions before, during, and after the war; and the geographical breakdown of command structures. The book is illustrated with 84 new diagrams of all the insignias used throughout the war and with 129 portraits of the most important high commanders.
Recommended Reading: Generals in Blue: Lives of the Union Commanders (Hardcover). Description: More than forty years after its original publication, Ezra J. Warner's Generals in Blue is now available in paperback for the first time. Warner's classic reference work includes intriguing biographical sketches and a rare collection of photos of all 583 men who attained the rank of general in the Union Army. Here are the West Point graduates and the political appointees; the gifted, the mediocre, and the inexcusably bad; those of impeccable virtue and those who abused their position; the northern-born, the foreign-born, and the southerners who remained loyal to the Union. Continued below...
Warner's valuable introduction discusses the criteria for appointment and compares the civilian careers of both
Union
and Confederate generals, revealing striking differences in the two groups. Generals in Blue is that rare book—an essential volume for scholars, a prized item for buffs, and a biographical dictionary that the casual reader will find absorbing.