General Robert E. Lee
Compiled Military Service Record
General Robert E. Lee
Union and Confederate Military Service Record
General Robert E. Lee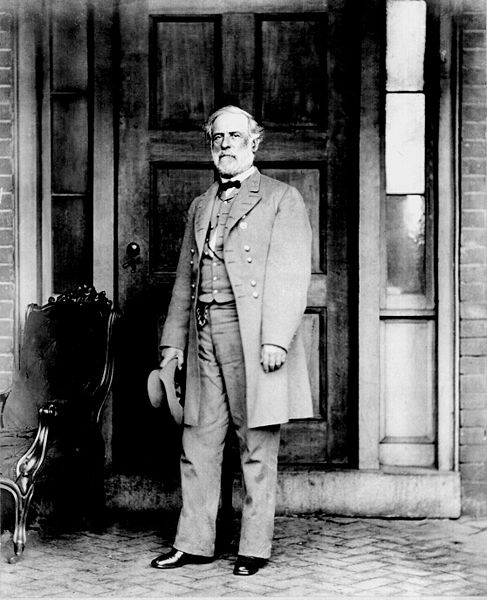 General Robert E. Lee, April 16, 1865, by Matthew Brady, photographer
(About) Confederate General Robert E. Lee poses in April 1865 in this photograph by Mathew Brady in Richmond, Virginia. Just seven days before this portrait was taken, General Lee surrendered the Army of Northern Virginia to Union General Ulysses S. Grant at Appomattox Court House (April 9, 1865). Lee's surrender had marked the "beginning of the end" of the Confederacy and the American Civil War. National Archives.
Robert Edward Lee (Confederate)

Biographical data and notes:
- Born January 19, 1807, in Westmoreland County, VA
- Pre-enlistment occupation: U.S. Army Officer
- Last known address: Lexington, VA
- Robert Edward Lee died on October 12, 1870, at Lexington, VA
- He is buried at Lexington, VA

Enlistment:
- 54 years of age at time of enlistment
- Enlisted on May 14, 1861, at Richmond, VA as Brigadier General

Mustering information:
- Commissioned into Gen & Staff (Confederate States) May 14, 1861
- Surrendered while serving in Gen. & Staff (Confederate States) on April 9, 1865 at Appomattox Court House, VA

Promotions:
- Promoted to Brig-Gen (Full, Army) on May 14, 1861
- Promoted to General (Full, Vol) on June 14, 1861
- Promoted to General (Full, Army) on January 31, 1865

Biography; History:
Robert E. Lee,
Virginia.

Lee, Robert Edward, born on January 19, 1807, in Westmoreland County, Virginia; appointed from Virginia as a cadet in United States Military Academy (West Point), July 1st, 1825; graduated second in a class of forty-six; distinguished graduate with honor of never receiving a single demerit – a feat which has never been matched or duplicated.
U.S. Army Military Service.

- Brevet second lieutenant, and second lieutenant of engineers, July 1st, 1829.
- First lieutenant, September 21, 1836.
- Captain, July 7th, 1838.
- Brevet major, April 18th, 1847, for gallant and meritorious conduct at the battle of Cerro Gordo, Mexico.
- Brevet Lieutenant colonel, August 20th, 1847, for gallant and meritorious services in the battles of Contreras and Churubusco, Mexico.
- Brevet Colonel, September 15th, 1847, for gallant and meritorious conduct in the battle of Chapultepec, Mexico.
- Lieutenant colonel, Second Cavalry, March 3rd, 1855.
- Colonel, First Cavalry, March 16th, 1861.

Resigned April 25th, 1861.
Confederate Army Military Service.
- Major general commanding Virginia State forces, April 23, 1861, and charged with organization of State forces.
- Brigadier general, C.S.A., May 14, 1861.
- General, C.S.A., June 14, 1861.
- General-in-chief, January 31, 1865.

Confederate Commands.

- In command of operations in the Trans-Alleghany region of Virginia, in the autumn of 1861.
- November 5, 1861, in charge of the defenses on the coast of South Carolina, Georgia and Florida.
- Commanding the Army of Northern Virginia, June 2, 1862.
- March 13, 1862, assigned to duty at Richmond, and charged with the conduct of all military operations of the Confederate States Army, under the direction of the President.
- In command of the Army of Northern Virginia, from June 1, 1862, to the surrender of his army at Appomattox Court-House, Virginia, to General U.S. Grant, U.S. Army, on the 9th of April, 1865.
- February 6, 1865, assigned command of all the armies of the Confederate States.
Died at Lexington, Virginia, October 12, 1870.
Notes:
Benjamin Harvey Hill of Georgia, referring to Robert Edward Lee during an address before the Southern Historical Society in Atlanta, Georgia, on February 18, 1874, stated: "Lee] was a foe without hate; a friend without treachery; a soldier without cruelty; a victor without oppression, and a victim without murmuring. He was a public officer without vices; a private citizen without wrong; a neighbor without reproach; a Christian without hypocrisy, and a man without guile. He was a Caesar, without his ambition; Frederick, without his tyranny; Napoleon, without his selfishness, and Washington, without his reward."
Robert E. Lee became the great Southern hero of the war, and his popularity grew in both the South and North, and it continued after his death in 1870. He remains an iconic figure of American military leadership. The Arlington National Cemetery in Arlington County, Virginia, is a military cemetery that was established during the American Civil War on the grounds of Arlington House, formerly the estate of Robert E. Lee. In 1900, Robert E. Lee was one of the first 29 individuals selected for the Hall of Fame for Great Americans (the first Hall of Fame in the United States), designed by Stanford White, on the Bronx, New York, campus of New York University, now a part of Bronx Community College. The USS Robert E. Lee was a submarine named for Lee, built in 1958.
(Sources listed at bottom of page.)
Recommended Reading:
General Lee: A Biography of Robert E. Lee

, by Fitzhugh Lee (Author), Gary W. Gallagher (Introduction). Description:
A soldier, politician, and author, General Fitzhugh Lee (1835–1905) had attended West Point and proved to be a boisterous challenge to the superintendent of the Academy, who was also his uncle:

Robert E. Lee

. (Gen. Lee commended Fitzhugh as "an excellent cavalry officer. . . . I feel at liberty to call upon him—on all occasions.") The book covers Robert E. Lee's early service in the Mexican War through his masterful command during the Seven Days Battle, Second Manassas, Sharpsburg, Fredericksburg, Chancellorsville, and the

High Water Mark

of the war--the Battle of Gettysburg. Fitzhugh vividly describes Lee's surrender and latter years. Continued below.
He also allows the reader an insight into the mind of the South's greatest hero and permits them to relive the immense achievements that "Marse Lee" accomplished. This book even covers Lee's family history, lineage and genealogy, which compliment the life of the beloved general.
Recommended Reading: General Lee's Army: From Victory to Collapse (624 pages). Editorial Review (Publishers Weekly): You cannot say that University of North Carolina professor Glatthaar (Partners in Command) did not do his homework in this massive examination of the Civil War–era lives of the men in Robert E. Lee's Army of Northern Virginia. Glatthaar spent nearly 20 years examining and ordering primary source material to ferret out why Lee's men fought, how they lived during the war, how they came close to winning, and why they lost. Continued below...
Glatthaar marshals convincing evidence to challenge the often-expressed notion that the war in the South was a rich man's war and a poor man's fight and that support for slavery was concentrated among the Southern upper class. Lee's army included the rich, poor and middle-class, according to the author, who contends that there was broad support for the war in all economic strata of Confederate society. He also challenges the myth that because Union forces outnumbered and materially outmatched the Confederates, the rebel cause was lost, and articulates Lee and his army's acumen and achievements in the face of this overwhelming opposition. This well-written work provides much food for thought for all Civil War buffs.
Recommended Reading:
The Maxims Of Robert E. Lee For Young Gentlemen: Advice, Admonitions, and Anecdotes on Christian Duty and Wisdom from the Life of General Lee.
Description: All his life, Robert E. Lee relied upon his faith for strength and guidance not only in troubled times, but also as the foundation upon which he based all of his dealings with others. In this age where self-interest often rules, these short statements, often jotted by General Lee at odd moments, provide young readers with some of the qualities that Lee practiced himself: humility, erudition, faith, duty, wisdom, and respect for all God's creations. Continued below…
Each section is preceded by a brief anecdote from his life, and each of the quotes is described with the time and circumstance. Reviews: "Richard G. Williams, Jr. offers a sublime figure as counterpoint to the hedonistic 'heroes' of the instant gratification set..." -- Blue & Gray Magazine, Summer 2005. "The sayings and writings attributed to Lee or quoted by him are...useful and valuable...The book is nicely done." -- The Civil War Courier, October 2005
About the Author: Rick Williams, active in historic and preservation societies, is a seventh-generation Virginian who maintains a busy writing and speaking schedule. He promotes the values and traditions of the Christian gentleman in books and literature of the eighteenth, nineteenth, and early twentieth century. This interest propelled his writing of the Maxims of Robert E. Lee for Young Gentlemen. Mr. Williams has served three four-year terms as a magistrate for the Commonwealth of Virginia and was a gubernatorial appointee of former Virginia governor, George Allen. He is a member of the Rockbridge County Historical Society, the Augusta County Historical Society, the Virginia Historical Society, the Highland County Historical Society, the Civil War Preservation Trust, the Museum of the Confederacy and currently serves as chaplain for the Stonewall Brigade Camp of the Lexington, Virginia, Sons of Confederate Veterans. Mr. Williams has served in various Christian ministries, including formerly working as a field representative for the Christian Law Association and serving as a Sunday school teacher for the past 25 years. He writes a regular column, "Business Lessons from History," for Business Reform Magazine and is a regular contributor to The Washington Times' Civil War Column. His articles have also appeared in Homeschooling Today Magazine and other Christian publications. He has lectured at Liberty University's annual Civil War Seminar and at Lee Chapel in Lexington, Virginia. He is a member of the Bonnie Blue Literary Society, an organization that encourages historical research and publishing of Confederate history. He assisted constitutional attorney and law professor, John Eidsmoe, in producing the award-winning video series, Institute on the Constitution.
Recommended Reading:
The Lee Girls
. Publishers Weekly Review:
Raised in aristocratic luxury, Confederate leader Robert E. Lee's four daughters--Mary, Anne, Eleanor and Mildred--were forced to adjust to privation caused by the Civil War. Including photos, this gentle book tells the story of their struggle to maintain their gracious lifestyle. It is at once a sunny and poignant tale, for the childhood days at Arlington were idyllic, but when Lee rode off to war they ended abruptly and never were recaptured. The book stresses the passivity Southern society imposed on women of the era, particularly unmarried women. Continued below.
None of Lee's daughters married, and Coulling's theory is that they were unable to find suitors who could hold a candle to their noble father. As for Lee himself, the Confederate icon appears here in unexpected guise from time to time. A great teaser of his daughters, he suggested, for example, that their mischievous pet squirrel be turned into soup. Coulling is a Virginia-based freelance writer.
Recommended Reading: Mrs. Robert E. Lee: The Lady of Arlington (400 pages). Description:
Many know about her husband, Robert E. Lee, and her great-grandmother, Martha Washington; many have visited the cemetery that now occupies her family estate. But few today know much about Mary Custis Lee herself. Chronically ill and often in excruciating pain, Mary raised seven children, faithfully witnessing to her husband for years before his conversion. Continued below...
She retained her dignity and faith throughout a fruitless, heartbreaking attempt to win compensation for the confiscation of her home and possessions. History is never more powerful than when it provides a role model for enduring hardship with sturdy and radiant faith. Mary Custis Lee is such an example.
Recommended Reading:
Lee

, by Douglas Southall Freeman. Description: Douglas Southall Freeman's multi-volume "R. E. Lee" may have been published nearly three-quarters of a century ago, but this abridged version remains the best single biography ever written about the legendary Confederate general. Although there have been numerous books written about Lee, none have come as close to capturing Lee's military genius, or why so many Southerners enthusiastically fought and died under his banner, as does Freeman's work. When it was first published "Lee" was a sensation, and in the 1930's only Margaret Mitchell's wildly fictionalized "Gone With the Wind" surpassed it in sales and publicity. Senator Harry Truman read every volume, as did other famous political and military leaders. Freeman's work did much to spread the "Lee Legend" outside the South and made Lee into a national, and not merely regional, icon. In Freeman's elegant prose, Robert Edward Lee is nearly perfect in every respect - he is a modest, deeply religious man who dislikes slavery and secession but reluctantly agrees to side with his native state of Virginia when the Civil War begins. Continued below...
If the rest of Freeman's story sounds familiar it is because this book made it so. Lee, despite facing constant shortages of men and supplies, meets the overwhelming forces of the Northern States and defeats them in battle after battle. Yet after each defeat the Northerners simply recruit new soldiers, resupply their vast armies, and come after Lee's valiant but shrinking forces again and again. In the end not even Lee's tactical genius can save the outnumbered and outgunned Confederates from eventual (and in Freeman's opinion, inevitable) defeat. Naturally, some historians have not agreed with this view of the Old South's greatest icon, and later books on the "Gray Fox" have disputed Freeman's assertions that Lee was opposed to slavery and secession, or that his military decisions were always correct. There have been numerous books written about Robert E Lee, but none have done so well at portraying his life or in explaining why, even today, Lee's legend thrives and his tactics are studied at military academies throughout the world. A genuine "must-read" for any Civil War buff or student of military history.
Recommended Viewing: The Civil War - A Film by Ken Burns. Review: The Civil War - A Film by Ken Burns is the most successful public-television miniseries in American history. The 11-hour Civil War didn't just captivate a nation, reteaching to us our history in narrative terms; it actually also invented a new film language taken from its creator. When people describe documentaries using the "Ken Burns approach," its style is understood: voice-over narrators reading letters and documents dramatically and stating the writer's name at their conclusion, fresh live footage of places juxtaposed with still images (photographs, paintings, maps, prints), anecdotal interviews, and romantic musical scores taken from the era he depicts. Continued below...
The Civil War uses all of these devices to evoke atmosphere and resurrect an event that many knew only from stale history books. While Burns is a historian, a researcher, and a documentarian, he's above all a gifted storyteller, and it's his narrative powers that give this chronicle its beauty, overwhelming emotion, and devastating horror. Using the words of old letters, eloquently read by a variety of celebrities, the stories of historians like Shelby Foote and rare, stained photos, Burns allows us not only to relearn and finally understand our history, but also to feel and experience it. "Hailed as a film masterpiece and landmark in historical storytelling." "[S]hould be a requirement for every student."
Recommended Reading: Lee: The Last Years. Review: After his surrender at Appomattox, Robert E. Lee lived only another five years - the forgotten chapter of an extraordinary life. These were his finest hours, when he did more than any other American to heal the wounds between North and South. Flood draws on new research to create an intensely human and a "wonderful, tragic, and powerful... story for which we have been waiting over a century." Continued below...
Lee's last five years were not years of unabated bliss. His health declined steadily, his wife was an invalid, his brother died, and his reputation suffered from some unjust attacks in Northern newspapers. Lee, however, held his head high and maintained his dignity, his character, and his principles -- and strived to unite a shattered nation. A SOLID 5 STARS.
Sources: General Officers of the Confederate States of
America
, Confederate Military History, National Archives; Blount, Roy, Jr. Robert E. Lee, Penguin Putnam, 2003; Carmichael, Peter S., ed. Audacity Personified: The Generalship of Robert E. Lee Louisiana State U. Pr., 2004; Connelly, Thomas L., "The Image and the General: Robert E. Lee in American Historiography." Civil War History 19 (March 1973); Connelly, Thomas L., The Marble
Man.
Robert E. Lee and His Image in American Society.
New York
: Alfred A. Knopf, 1977; Connelly, Thomas L., "Robert E. Lee and the Western Confederacy: A Criticism of Lee's Strategic Ability." Civil War History 15 (June 1969); Cooke, John E., "A Life of General Robert E. Lee" Kessinger Publishing, 2004; Dowdey, Clifford. Lee 1965; Dowdey, Clifford. and Louis H. Manarin, eds. The Wartime Papers of R. E. Lee.
Boston
: Little, Brown, 1961; Fellman, Michael (2000), The Making of Robert E. Lee.
New York
: Random House (ISBN 0-679-45650-3); Freeman, Douglas Southall. ed. Unpublished Letters of General Robert E. Lee, C.S.A., to Jefferson Davis and the War Department of the Confederate States of
America
, 1862-65. Rev. ed., with foreword by Grady McWhiney. 1957; Fishwick, Marshall W. Lee after the War 1963; Flood, Charles Bracelen. Lee — The Last Years 1981; Gary W. Gallagher; Lee the Soldier. University of
Nebraska
Press, 1996; Gary W. Gallagher; Lee & His Army in Confederate History.
University
of
North Carolina
Press, 2001; McCaslin, Richard B. Lee in the Shadow of
Washington
.
Louisiana
State
University
Press, 2001; Pryor, Elizabeth Brown; Reading the Man: A Portrait of Robert E. Lee Through His Private Letters.
New York
: Viking, 2007; Reid, Brian Holden. Robert E. Lee: Icon for a Nation,
London
: Weidenfeld & Nicolson, 2005; Taylor, Walter H. Four Years with General Lee Reprint. 1962; Taylor, Walter H. General Lee — His Campaigns in
Virginia
, 1861-1865. Reprint.1975; Thomas, Emory Robert E. Lee W.W. Norton & Co., 1995 (ISBN 0-393-03730-4) full-scale biography.