General John Bell Hood
42nd Reunion, Hood's Texas Brigade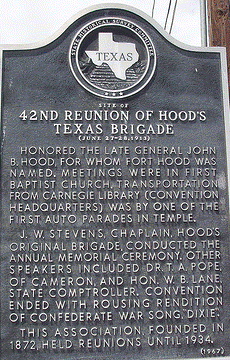 John Bell Hood
John Bell Hood History
General Hood Biography
Lieutenant-General John Bell Hood, general with temporary rank,
1864, was born in
Owensville, Ky.
, June 29, 1831. He was
graduated at the
United States
Military Academy with the class of
1853, which included his subsequent antagonists, McPherson and
Schofield.
During his
West Point
life, his fiery courage and persistence were
impressed upon his associates. Years afterward General O. O.
Howard, finding the Confederates active in his front, on the west
of
Atlanta
, said to
Sherman
, "General, Hood will attack me here,"
and when
Sherman
expressed his doubt, Howard responded that he
had known Hood at
West Point
and that "he was indomitable."
In the rank of second-lieutenant Hood served about two years in
California
, after his graduation, and was then transferred to a
new cavalry regiment of which Albert Sidney Johnston was colonel
and Robert E. Lee lieutenant-colonel. He engaged in frontier
service in
Texas
in the winter of 1855, and in July following was
wounded at Devil's river.
In 1858, he was promoted first lieutenant, and in 1859-60, he
performed the duties of cavalry instructor at
West Point
.
Resigning his commission in April, 1861, he entered the service
of the Confederate States, reporting to General Magruder on the
peninsula of Virginia
. With the temporary rank of major, he was
given command of the cavalry of this district by General
Magruder, and on the organization of the cavalry companies into a
regiment was promoted lieutenant-colonel.
Hood's Texas Brigade
John Bell Hood
Next commissioned colonel of the Fourth Texas regiment in
September, 1861, he thus began his association with the Texas
troops in the Confederate war, his regiment becoming the nucleus
of the Texas brigade which was soon formed and placed under his
command in March, 1862, as brigadier-general.
Under his daring leadership, the Texans performed prodigies of
valor and at the outset gained a reputation for hard fighting and
reckless courage that grew with the progress of the war. His
brigade was attached to the command of Gen. G. W. Smith at
Williamsburg
and Seven Pines.
He checked General Franklin at Eltham's Landing near
West Point
,
and at Gaines' Mill his brigade and that of General Law were at
the front of Longstreet's attack, and the report of General
Stonewall Jackson gives credit to the Fourth Texas, led by
General Hood, as the first to pierce the Federal entrenchments on
the left and capture the batteries.
In this fight, he was wounded and his gallantry won the brevet of
major-general, a rank to which he was fully promoted in October
following. Commanding a division composed of his old brigade and
that of Law, with five batteries, in Longstreet's corps, he
climbed over the mountains at Thoroughfare Gap and struck the
enemy on the field of Second Manassas, with decisive results.
During the
Maryland
campaign, he took part with his division in
the important and heroic delay of the Federal army at the passes
of
South
Mountain
, with his comrades holding Hooker's and
Reno
's
corps at Fox's Gap. At
Sharpsburg,
he held the left against
Hooker on the 16th of September, and fought desperately about the
Dunker church on the 17th.
General John Bell Hood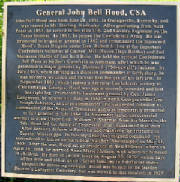 John Bell Hood Memorial
At
Fredericksburg,
he commanded the right of Longstreet's line,
and at
Gettysburg
, stationed on the extreme right of the
Confederate army, he made a vigorous and successful attack on the
second day against Little Round Top and the Devil's Den. Early
in the engagement, he received a wound which deprived him
permanently of the use of one arm and caused his confinement for
over two months.
In September, 1863, his division was ordered with Longstreet's
corps, in the reinforcement of Bragg in
North Georgia
, which he
at once followed, notwithstanding his wound. He was
distinguished in the action on the 19th and 20th of September,
1863, when he gained a brilliant success, crushing the right
center of the enemy, capturing artillery, and seizing the
Chattanooga road, but while leading a charge with his usual
impetuosity, he was wounded in the right leg, necessitating its
amputation.
He was promoted lieutenant-general, of date September 20th, and
during
Johnston
's campaign against
Sherman
he was in active
command of one of the three army corps, though he was so maimed
in body that it was with great difficulty that he was able to
keep upon his horse.
During the fighting from
Dalton
to
Atlanta,
he played a prominent
part, and on July 18, 1864, he was given command of the army,
with the temporary rank of general. He endeavored to take
Sherman
's army at disadvantage in crossing Peach Tree Creek, July
20, 1864, but delay made the blow ineffective. Two days later he
fought the battle of the 22nd with well-devised plans that chance
and superior forces of the enemy deprived of further effect than
checking the Federal advance in that direction.
General John Bell Hood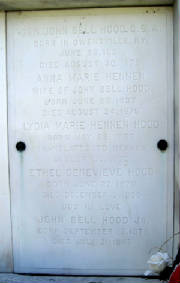 General Hood Memorial
On the 28th, he struck the persistent
Sherman
a heavy blow at
Ezra
Church
, but after the enemy had succeeded in breaking his
communications he evacuated
Atlanta
, having held
Sherman
at bay
for seventy-five days. He then determined to attack
Sherman
's
communications, invade
Tennessee
and carry the war northward.
This resulted in several engagements in North Georgia, and the
famous battles of
Franklin
and
Nashville, Tenn.
At the close of
this campaign General Hood applied to be relieved from the
command of his army, and continued to press his application until
finally President Davis complied with his request.
Bidding farewell on the 25th of January, 1865, to the army of
Tennessee, with which he had served over eleven months, he
reported to the President at Richmond, was ordered to Texas, and
while on the way was informed of the surrender of General Lee.
Proceeding on his journey, he reached the vicinity of
Natchez,
Mississippi
, where he was detained in "vain endeavors to cross
the mighty river "until he learned of the surrender by General
Kirby Smith.
After that, he rode into
Natchez
May 31, 1865, surrendered and was
paroled. Hostilities on the field being ended he engaged in
business in
New Orleans
until his death, August 30, 1879.
John Bell Hood is buried in the Hennen family tomb at Metairie Cemetery, New Orleans. He is memorialized by Hood County, Texas, and the U.S. Army installation Fort Hood, Texas.

Source: Confederate Military History, vol. 1, p. 657
Recommended Reading: John Bell Hood and the War for Southern Independence. Description: John Bell Hood, a native of Kentucky, bred on romantic notions of the Old South and determined to model himself on Robert E. Lee, had a tragic military career, no less interesting for being calamitous. After conspicuous bravery in leading a Texas brigade, he rose in the ranks to become the youngest of the full generals of the Confederacy. The misfortune in store for Hood, a far better fighter than a strategist, illustrates the strain and risks of high command. Continued below.
One of the lasting images to come out of the Civil War is that of the one-legged General Hood strapped in his saddle, leading his men in a hopeless counter-offensive against Sherman's march on Atlanta. In this prize-winning book, Richard M. McMurry spares no details of Hood's ultimate "complete and disastrous failure," but he is concerned to do justice to one of the most maligned and misunderstood figures in Civil War history. Reviews: "McMurry presents a terse, sharply focused portrait of the controversial [Hood] that never wanders from his subject or smothers him with superfluous battlefront details... His treatment of key turning points in the Texan's career is reasoned and thorough in its analysis."--Journal of Southern History. "McMurry is a fine campaign historian and excellent researcher. He chronicles the events of Hood's life well."--American Historical Review.
Advance to:
Recommended Reading: Advance And Retreat: Personal Experiences In The United States And Confederate States Armies, by General John Bell Hood. Description: When John Bell Hood entered into the services of the Confederate Army, he was 29 years old, a handsome man and courageous soldier, loyal to the ideal of Confederate Independence and eager to fight for it. He led his men bravely into the battles of Second Manassas, Gaines's Mill, Sharpsburg, Fredericksburg, Gettysburg, and Chickamauga. He rose fast, attaining the temporary rank of full general, only to fall faster. Hood emerged from the war with his left arm shattered and useless, his right leg missing, his face aged far beyond his 33 years, and with his military reputation in disgrace. Continued below.
Blamed by contemporaries for contributing to the defeat of his beloved Confederacy, Hood struggled to refute their accusations. His most vehement critic, General Johnston, charged Hood with insubordination while serving under him and, after succeeding him in command, of recklessly leading Confederate troops to their "slaughter" and "useless butchery." Sherman, too, in his Memoirs took a harsh view of Hood. Born of controversy, Advance and Retreat is of course a highly controversial book. It is also full of invaluable information and insights into the retreat from Dalton in early 1864, the fighting around Atlanta, and the disastrous Tennessee Campaign in winter of that year. Far from being a careful, sober, objective account, this book is the passionate, bitter attempt of a soldier to rebut history's judgment of himself as general and man.
Recommended Reading: John Bell Hood And the Struggle for Atlanta (Civil War Campaigns and Commanders Series). Description: "At thirty-three years of age, Hood became the eighth and youngest of the Confederate Army's generals of full rank. He had risen through the commissioned ranks, from first lieutenant to full general, in only three years, a feat achieved by no other man during the Civil War. . . . Ultimately, Hood was selected for one reason--to fight--and no other available officer was better suited for the challenge." David Coffey's words give a succinct portrait of the ascent of John Bell Hood. His book delivers a clear and riveting evaluation of Hood's service in and command of the Western Army in Northern Georgia. Continued below.
The Atlanta Campaign ground on for more than four months and proved one of the most decisive of the Civil War. Cautious General Joseph Johnston was popular with the troops but, from the government's viewpoint, produced no results. Confederate President Jefferson Davis searched for a replacement with a less deliberate strategy and a more aggressive style. In short, a fighter. John Bell Hood was such a man, having led troops in battle, fighting and bleeding on behalf of the cause. He was Johnston's chief subordinate and the natural candidate as his replacement. Even so, Sherman eventually captured Atlanta and contributed to Abraham Lincoln's reelection. Hood's effort to save the railroad and manufacturing center has historically been considered a failure, with his selection as Johnston's replacement considered extremely controversial. Coffey tackles this issue, and argues for the necessity of replacing General Johnston with the most logical choice, Hood. The author also explains that, despite his scrappy reputation and aggressive style, Hood had inherited a near impossible situation in trying to save Atlanta but, according to this book, his performance was praiseworthy.
Recommended Reading: Generals in Gray Lives of the Confederate Commanders. Description: When Generals in Gray was published in 1959, scholars and critics immediately hailed it as one of the few indispensable books on the American Civil War. Historian Stanley Horn, for example, wrote, "It is difficult for a reviewer to restrain his enthusiasm in recommending a monumental book of this high quality and value." Here at last is the paperback edition of Ezra J. Warner's magnum opus with its concise, detailed biographical sketches and—in an amazing feat of research—photographs of all 425 Confederate generals. Continued below.
The only exhaustive guide to the South's command, Generals in Gray belongs on the shelf of anyone interested in the Civil War. RATED 5 STARS!
Recommended Reading: Chaplain Davis and Hood's Texas Brigade: Being an Expanded Edition of the Reverend Nicholas A. Davis's the Campaign from Texas to Maryland, With the Battle of Fredericksburg (Richmond, 1863). Description: Chaplain Davis held firm to his faith and his bible, and, in his diary, he meticulously recorded the most detailed insights and observations of General John Bell Hood and the brigade. This book actually surprised me, I was expecting a plain and boring ministerial observation of God, Hell, and those demon Yankees. In fact, Davis recorded some of the most interesting facts that I have ever read relating to Hood, the brigade, and the Civil War. Continued below.
He was careful to write, almost instantly, the exact words that Hood spoke and shouted to the brigade. Regarding marches, brigade assignments, battle casualties and results, and of course the soldiers' deaths,
Davis
kept detailed records. His diary, it is fair to say, is similar to the astute unit historian's account. I highly recommend it.