Abolitionist Frederick Douglass
Frederick Douglass Summary
Cedar Hill, Douglass' house in Washington, D.C.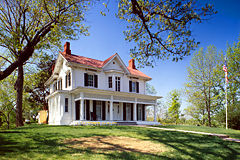 Douglass' house in Washington, D.C
Frederick Douglass
was born into slavery on the Eastern Shore of Maryland in 1818, and was given the name Frederick Augustus Washington Bailey (Baly), after his mother Harriet Bailey. During the course of his remarkable life he escaped from slavery, became internationally renowned for his eloquence in the cause of liberty, and went on to serve the national government in several official capacities. Through his work he came into contact with many of the leaders of his times. His early work in the cause of freedom brought him into contact with a wide array of abolitionists and social reformers, including William Lloyd Garrison, Elizabeth Cady Stanton,
John Brown
, Gerrit Smith and many others. As a major Stationmaster on the
Underground Railroad
he directly helped hundreds on their way to freedom through his adopted home city of Rochester, NY. Renowned for his eloquence, he lectured throughout the U.S. and England on the brutality and immorality of slavery. As a publisher his North Star and Frederick Douglass' Paper brought news of the anti-slavery movement to thousands. Forced to leave the country to avoid arrest after John Brown's raid on Harpers Ferry, he returned to become a staunch advocate of the Union cause. He helped recruit African American troops for the Union Army, and his personal relationship with Lincoln helped persuade the President to make emancipation a cause of the Civil War. Two of Douglass' sons served in the
54th Massachusetts Regiment
, which was made up entirely of African American volunteers. The storming of Fort Wagner by this regiment was dramatically portrayed in the film
Glory
! (See:
Glory (Special Edition
.)
A painting of this event hangs in the front hall at Cedar Hill. All of Douglass' children were born of his marriage to Anna Murray. He met Murray, a free African American, in Baltimore while he was still held in slavery. They were married soon after his escape to freedom. After the death of his first wife, Douglass married his former secretary, Helen Pitts of Rochester, NY. Douglass dismissed the controversy over his marriage to a white woman, saying that in his first marriage he had honored his mother's race, and in his second marriage, his father's. In 1872, Douglass moved to Washington, D.C., where he initially served as publisher of the New National Era, which was intended to carry forward the work of elevating the position of African Americans in the post-Emancipation period. This enterprise was discontinued when the promised financial backing failed to materialize. In this period Douglass also served briefly as President of the Freedmen's National Bank, and subsequently in various national service positions, including U.S. Marshal for the District of Columbia, and diplomatic positions in Haiti and the Dominican Republic.
Source: National Park Service; Photo courtesy National Archives.
Recommended Reading: The Narrative of the Life of Frederick Douglass, An American Slave (Barnes & Noble Classics Series). Description: No book except perhaps Uncle Tom's Cabin had as powerful an impact on the abolitionist movement as Narrative of the Life of Frederick Douglass. But while Stowe wrote about imaginary characters, Douglass's book is a record of his own remarkable life. Born a slave in 1818 on a plantation in Maryland, Douglass taught himself to read and write. In 1845, seven years after escaping to the North, he published Narrative, the first of three autobiographies. Continued below...
This book calmly but dramatically recounts the horrors and the accomplishments of his early years—the daily, casual brutality of the white masters; his painful efforts to educate himself; his decision to find freedom or die; and his harrowing but successful escape. An astonishing orator and a skillful writer, Douglass became a newspaper editor, a political activist, and an eloquent spokesperson for the civil rights of African Americans. He lived through the Civil War, the end of slavery, and the beginning of segregation. He was celebrated internationally as the leading black intellectual of his day...and his story still resonates. Narrative of Frederick Douglass, An American Slave, by Frederick Douglass, is part of the Barnes & Noble Classics series, which offers quality editions at affordable prices to the student and the general reader, including new scholarship, thoughtful design, and pages of carefully crafted extras. Here are some of the remarkable features of Barnes & Noble Classics: New introductions commissioned from today's top writers and scholars; Biographies of the authors; Chronologies of contemporary historical, biographical, and cultural events; Footnotes and endnotes; Selective discussions of imitations, parodies, poems, books, plays, paintings, operas, statuary, and films inspired by the work; Comments by other famous authors; Study questions to challenge the reader's viewpoints and expectations; Bibliographies for further reading; Indices & Glossaries, when appropriate. All editions are beautifully designed and are printed to superior specifications; some include illustrations of historical interest. Barnes & Noble Classics pulls together a constellation of influences—biographical, historical, and literary—to enrich each reader's understanding of these enduring works. AWARDED 5 STARS by americancivilwarhistory.org
Related Reading:
Recommended Reading: Narrative of the Life of Frederick Douglass: An American Slave, Written by Himself (Enriched Classics) (Mass Market Paperback). Description: Frederick Douglass's powerful autobiographical account of life in bondage and his triumphant escape to freedom. EACH ENRICHED CLASSIC EDITION INCLUDES: A concise introduction that gives readers important background information; A chronology of the author's life and work; A timeline of significant events that provides the book's historical context; An outline of key themes and plot points to help readers form their own interpretations; Detailed explanatory notes; Critical analysis, including contemporary and modern perspectives on the work; Discussion questions to promote lively classroom and book group interaction; A list of recommended related books and films to broaden the reader's experience. Continued below…
Enriched Classics offer readers affordable editions of great works of literature enhanced by helpful notes and insightful commentary. The scholarship provided in Enriched Classics enables readers to appreciate, understand, and enjoy the world's finest books to their full potential.
Recommended Reading: Frederick Douglass : Autobiographies : Narrative of the Life of Frederick Douglass, an American Slave / My Bondage and My Freedom / Life and Times of Frederick Douglass (Library of America) (Hardcover: 1100 pages). Review From Library Journal: Douglass (1818-95), a former slave, rose to become an abolitionist, writer, and orator. In this collection of his autobiographical writings, edited by Gates (humanities, Harvard Univ.), he gives an extensive overview of his life. The work includes Narrative of the Life of Frederick Douglass, an American Slave (1845); My Bondage and My Freedom (1855); and Life and Times of Frederick Douglass (1881). Continued below...
In Narrative, Douglass comments on his birth, his parentage, his two masters, and the brutality of slavery he witnessed. In Bondage, he reflects on his childhood, life on the plantation, and his runaway plot. Life and Times concludes the trilogy: it covers his early life as a slave, his escape from bondage, and his connection with the antislavery movement. This massive volume containing Douglass's seminal works is highly recommended for black history collections.
Recommended Reading: The Life and Times of Frederick Douglass (Dover Value Editions). Description: Raised as a plantation slave, Douglass went on to become a writer, orator, and major participant in the struggle for African-American freedom and equality. In this engrossing narrative he recounts early years of abuse; his dramatic escape to the North and eventual freedom, abolitionist campaigns, and his crusade for full civil rights for former slaves.
Recommended Reading: Douglass: Autobiographies (Library of America College Editions). Description: Frederick Douglass, born a slave, educated himself, escaped, and made himself one of the greatest leaders in American history. His brilliant anti-slavery speeches were so fiercely intelligent, and so startlingly eloquent, that many people didn't believe he had been a slave. To prove them wrong, Douglass decided to write his own story. His autobiographical narratives stunned the world, and have shocked, moved, and inspired readers ever since. Continued below...
Here, complete for the first time in one authoritative volume, are the three powerful and gripping stories, now recognized as classics of American writing. Fascinating firsthand accounts of slavery and abolitionism, John Brown and Abraham Lincoln, Civil War, Reconstruction, and the emerging struggle for civil rights, they are above all the inspiring story of a self-made American: a slave who became adviser to the President, minister to
Haiti
, and the most influential black American of the nineteenth century.
Our Frederick Douglass Homepage discusses the following: Abolitionist Frederick Douglass and Antislavery History, Slave Frederick Douglass and Anti-slavery Results, Frederick Douglass and Slavery Politics in US History,with Details and Facts.