THE JAMES GANG
FRANK AND JESSE JAMES GANG: HISTORY OF OUTLAWS
Famed outlaws Frank and Jesse James, farm boys and sons of a rural Missouri preacher, served with William Quantrill, "Bloody Bill" Anderson, James and Cole Younger, and fellow Southern guerrilla leaders -- forming Quantrill's Raiders -- during the American Civil War. During the war, Missouri was considered a Border State under Union control, but its divided loyalties were known by a strong presence in both the Union and Confederate armies. And when Union forces from Kansas, later referred to as Kansas Jayhawkers, raided, plundered and pillaged the Missouri border towns, Frank and Jesse James were allied with the Confederate cause as Partisan rangers, and sought retaliation and retribution in an eye for eye guerrilla administered justice. Frank participated in the massacre of Union supporters in Lawrence, Kansas, and both brothers were present at the murder of captured Union soldiers at Centralia, Missouri. See also Frank and Jesse James and Missouri Civil War History.
Jesse and Frank James, 1872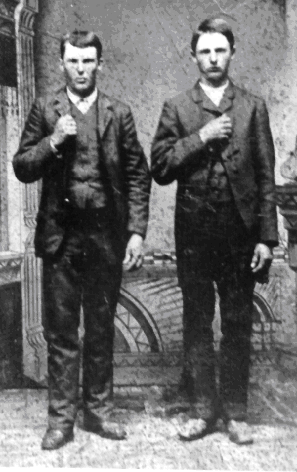 Photograph of Jesse and Frank James
guerrillas
turned to peaceful postwar pursuits, the James boys pursued outlawry with motives ranging from greed to revenge. With various followers, including the
Younger brothers
, they soon formed the
James-Younger Gang
, and rode their swift steeds across many states as they robbed banks and trains from
Missouri
to
Kentucky
, while killing anyone who resisted their acts. At
Gallatin, Missouri
, they shot a banker, who supposedly killed a guerrilla leader during the Civil War.
In 1876 the James brothers, with three Younger brothers and three other outlaws, targeted a bank in Northfield, Minnesota. One of the outlaws, believed to have been Frank James, murdered the unarmed cashier, while the gang continued to shoot and kill another unarmed resident. Angry citizens fought back with rifles, pistols, shotguns, and even rocks, and killed two outlaws. In the subsequent pursuit, one outlaw was killed and the Youngers wounded and captured. Only the James namesake escaped.
Both brothers returned to outlawry but were not the threats they had once been. In 1882 an unarmed Jesse was murdered by fellow outlaw Bob Ford, and Frank surrendered. Acquitted in a series of trials, Frank held several obscure jobs, teamed with Cole Younger in a Wild West show, and died in Kearney, Missouri, in 1915.
(Bibliography and related reading below.)
History of the James Gang, Frank and Jesse James, and the James Family.
BIBLIOGRAPHY: Marley Brant, The Outlaw Youngers: A Confederate Brotherhood: A Biography (Lanham, Md: Madison Books, 1992). George Huntington, Robber and Hero: The Story of the Northfield Bank Raid (Northfield, Minn.: Northfield Historical Society Press, 1994). William A. Settle, Jesse James Was His Name: Or, Fact and Fiction Concerning the Careers of the Notorious James Brothers of Missouri (1966; Columbia: University of Missouri Press, 1987). Robert Barr Smith, The Last Hurrah of the James-Younger Gang (Norman: University of Oklahoma Press, 2001). Robert Barr Smith, © Oklahoma Historical Society.
Try the Search Engine for Related Studies: Frank and Jesse James Gang, Jesse James History, Frank and Jesse James Outlaws, Younger Gang, Quantrill's Raiders, James Gang Raids and Robberies, James Gang List of Banks and Train Robberies, Frank and Jesse James Early Year Photo, James Family Picture, Frank and Jesse James Death and Funeral, James Gang Photos and Family History.