Colonel Patrick Henry "Paddy" O'Rorke
(March 25, 1837 – July 2, 1863)
U.S.M.H.I
"Honor, Valor, Heroism"
Patrick O'Rorke was born in County Cavan, Ireland, and he was one years old when his parents emigrated to the United States. They settled in Rochester, New York, where he attended the public schools and, in 1853, he worked as a marble cutter. He attended the U.S. Military Academy at West Point, graduating first in his class in June 1861. He was subsequently commissioned a lieutenant in the regular army, and initially distinguished himself during the Civil War as a staff officer in the engineer corps. Through personal merit, achievement and ability, he was appointed commanding colonel of the 140th New York Infantry, and while serving his Country with honor, valor and heroism, O'Rorke died at the Battle of Gettysburg on July 2, 1863; he was 26 years young.
"Ideal of a soldier and gentleman"
By the age of 26, Irish-born Patrick O'Rorke had successfully overcome many obstacles in his life. Born in 1837 into a family including six brothers and sisters, O'Rorke came to America as an infant. The family settled in Rochester, New York where the elder O'Rorke worked for the railroad until he was killed in an accident. O'Rorke's family was nearly destitute, yet Patrick excelled in his studies and in 1857 received an appointment to attend the United States Military Academy at West Point. Being Irish and Catholic in that era added to O'Rorke's obstacles, as both were looked down upon by most Americans. Nevertheless, he excelled and graduated first in the class of 1861. Commissioned to the rank of second lieutenant, O'Rorke participated in the
First Battle of Bull Run
, Virginia, in July 1861. A bullet passed through his coat and a horse was killed beneath him, but O'Rorke otherwise escaped unharmed. In July 1862, Lieutenant O'Rorke received a furlough (the army's term for a vacation) and returned home to Rochester, where he married his childhood sweetheart, Clara Wadsworth Bishop. Soon after his marriage, O'Rorke offered his services to the state of New York, was promoted to colonel, and placed in command of the newly-raised 140th New York Infantry Regiment. Although Colonel O'Rorke believed in strict discipline, one of his soldiers wrote that every man in the regiment "knew that in his Colonel, as long as he did his duty, he had a kind friend." Another soldier in the 140th described O'Rorke as the "ideal of a soldier and gentleman."
On the afternoon of July 2, O'Rorke was leading his regiment out the Wheatfield Road when an excited officer rode up to him. It was General Gouverneur K. Warren, Meade's chief engineer, who had just come from the small hill that O'Rorke's regiment had marched passed. Warren quickly explained that re-enforcements were needed on the hill, Little Round Top. Though his regiment was at the back of the column and his orders were to follow his brigade toward the Peach Orchard, Colonel O'Rorke realized that Warren was sincere and the situation critical. He sent a courier forward to find his brigade commander, General Weed, and then turned his regiment around. The young colonel's New Yorkers trotted up the north slope of Little Round Top, reaching the summit just as the Texans were turning the flank of the 16th Michigan. Drawing his sword, O'Rorke led his column on foot down the slope. "Here they are men!", he shouted. "Commence firing!"
Battle of Gettysburg Map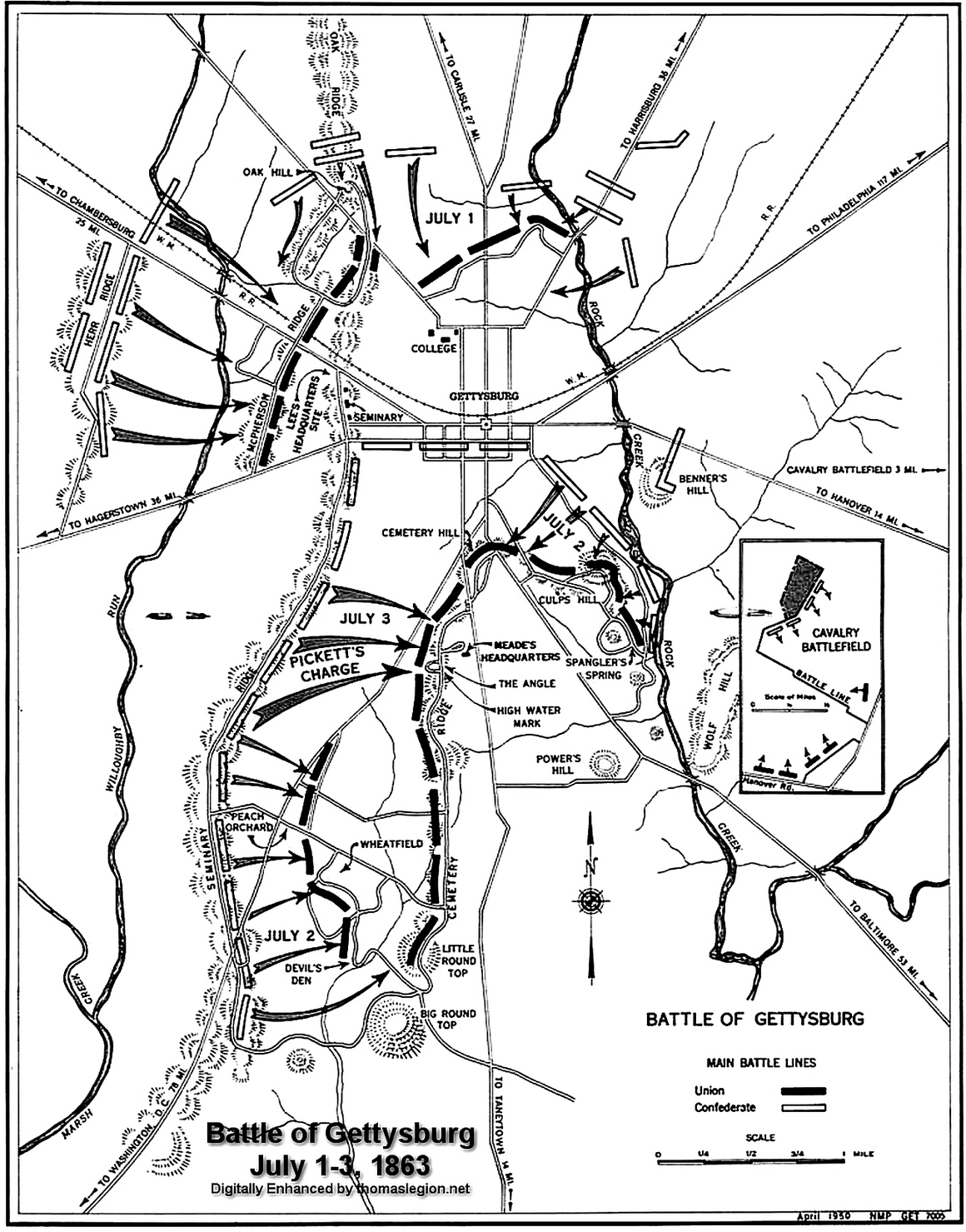 Official Gettysburg Battlefield Map
O'Rorke Monument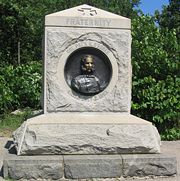 Gettysburg Battlefield
(Right) Patrick O'Rorke Monument on Gettysburg Battlefield.
These were O'Rorke's last words. In an instant, a bullet cut through the colonel's neck and he fell without a sound as his regiment continued their charge down the slope. The 140th New York managed to stop the Confederate attack, but the cost was high. Besides O'Rorke, twenty five other men in the 140th were killed, 89 were wounded, and 18 were missing in action, probably captured. Lieutenant Porter Farley, the acting adjutant of the regiment, had loved his colonel like a brother and as the battle subsided, he gazed down upon his lifeless body. "Up to that time in my life I had never felt a grief so sharply, nor realized the significance of death so well as then," he recalled later; "for him to die was to me like losing a brother, and that brother almost the perfection of the manly graces."
O'Rorke had died within seconds of receiving his fatal wound. His body was carried back to a Union field hospital several hours later where it was laid on the porch of a house beside those of two other officers who fought at Little Round Top including General Stephen Weed, his brigade commander.
Clara O'Rorke, Patrick's childhood sweetheart and wife of just day's less than one year, waited in tense anticipation after hearing of the fighting at Gettysburg. On July 6, the New York Herald reported the death of Colonel O'Rorke at Gettysburg, though it was not until the next day that Mrs. O'Rorke received confirmation of the sad news. A military escort transported O'Rorke's body to Rochester on July 14. After a service at St. Bridget's Church in Rochester, he was buried in a Catholic cemetery on Pinnacle Hill. Clara never remarried. She entered a convent and lived and worked in Providence, Rhode Island until her own death in 1893.
On September 17, 1889, the state of New York erected a monument to the 140th New York Infantry on Little Round Top. On its western face it featured the bust of the regiment's beloved colonel, Patrick O'Rorke. Many of O'Rorke's old comrades gathered once more on the slopes of that hill to dedicate their monument and remember their colonel and other fallen comrades. Despite the passage of 26 years, the memory of July 2, 1863, remained vivid for them all. Among the group of veterans was Porter Farley. Although time had tempered his grief, Farley was visibly moved as he spoke to the gathering of his old commander: "we shall always cherish his memory with a loving regard and admiration, which only a noble nature could inspire."
With valor, honor and heroism, Colonel Patrick O'Rorke had sacrificed his life for his nation during America's bloodiest battle in history - at the place known as
Gettysburg
.
Panorama of the Round Tops in 1909
(Left) Little Round Top and (Right) Big Round Top, photographed from Plum Run Valley in 1909.
Sources: National Park Service: Gettysburg National Military Park; Catholic Encyclopedia of 1913; Official Records of the Union and Confederate Armies.
Recommended Reading: Twilight at Little Round Top: July 2, 1863, The Tide Turns at Gettysburg (Hardcover). Description: "Few military episodes of the Civil War have attracted as much attention as the struggle for Little Round Top on the second day of Gettysburg. This judicious and engaging book navigates confidently through a welter of contradictory testimony to present a splendid account of the action. It also places events on Little Round Top, which often are exaggerated, within the broader sweep of the battle. All readers interested in the battle of Gettysburg will read this book with enjoyment and profit." —Gary W. Gallagher, author of The Confederate War. "Here is the real story of the epic fight for Little Round Top, shorn of the mythology long obscuring this pivotal Gettysburg moment. A vivid and eloquent book." —Stephen W. Sears, author of Gettysburg. Continued below…
"In his beautifully written narrative, Glenn LaFantasie tells the story of the battle for Little Round Top from the perspective of the soldiers who fought and died in July 1863. Using well-chosen quotes from a wide variety of battle participants, TWILIGHT puts the reader in the midst of the fight—firing from behind boulders with members of the 4th Alabama, running up the hillside into battle with the men of the 140th New York, and watching in horror as far too many men die. This book offers an elegy to the courage of those men, a meditation on the meaning of war, and a cautionary tale about the sacrifices nations ask of their soldiers and the causes for which those sacrifices are needed." --Amy Kinsel, Winner of the 1993 Allan Nevins Prize for From These Honored Dead: Gettysburg in American Culture
"Little Round Top has become iconic in Civil War literature and American memory. In the emotional recollection of our great war, if there was one speck on the landscape that decided a battle and the future of a nation, then surely this was it. The story of the July 2, 1863 struggle for that hill outside Gettysburg goes deeper into our consciousness than that, however. The men who fought for it then and there believed it to be decisive, and that is why they died for it. Glenn W. LaFantasie's TWILIGHT AT LITTLE ROUND TOP addresses that epic struggle, how those warriors felt then and later, and their physical and emotional attachment to a piece of ground that linked them forever with their nation's fate. This is military and social history at its finest." --William C. Davis, author of Lincoln's Men and An Honorable Defeat.
Recommended Reading: Courage on Little Round Top: A Historical Novel. Description: If you have read Michael Shaara's "The Killer Angels" and Stephen Crane's "The Red Badge of Courage" you have an excellent basis to read and enjoy Thomas Eishen's novel that combines some of the aspects of both. This book features Joshua Lawrence Chamberlain, a prominent character in Shaara's novel, and Lt. Robert Wicker, who is only alluded to by Shaara. Eishen's novel unfolds around the impending confrontation between these two men on July 2, 1863, on Little Round Top during the Battle of Gettysburg. Continued below...
Wicker, whose unit is the 15th Alabama, had fled the scene during a previous battle, and, like Private Henry Fleming in "The Red Badge of Courage," worries that he in fact may be a coward. Since many of the soldiers in his company are friends and relatives from back home in Alabama, his fear is that a repeat performance in battle will make him a laughingstock and he will become an embarrassment to his family and community. Chamberlain, on the other hand, has to deal with his two well-intentioned but meddlesome brothers who are members of his staff.
Eishen does a fine job of relating the evolution of these events through dialogue fashioned for these characters. The run-up to the actual confrontation between Chamberlain and Wicker is an interesting perspective on the daily lives of the common soldier in camp and while on the march. First time novelist Thomas Eishen has done a commendable job of describing these fast-paced events, and readers will find that the situation only alluded to in "The Killer Angels" takes on new meaning, and the characters involved come alive.
Recommended Reading: The Irish Volunteer: Songs Of The Irish Union Soldier 1861-1865. Review: This is an unusual endeavor. Kincaid has collected lyrics written by or about Irish soldiers in the Union army of the American Civil War, and either recreated the music from notes or written new music in the tradition of the times. The words of the songs express love lost and missed, pride in the military prowess of the Irish soldiers, and the despair of war. Kincaid has made a simple musical accompaniment for these songs, using familiar Irish instruments such as uilleann pipes (Irish bagpipes), bodhran (Irish goatskin drum), mandolin, and whistle. Continued below...
He sets the songs to ballads and jigs--some traditional, others original tunes that hint at tradition, but all timely and appropriate for the lyrics. He also pens one original tune of his own about a fictional Irish American captain who dies in battle--stirring, but not as direct as the old songs. This is an ambitious project, well-conceived and capable of making a lesser-known part of American history more immediate.
Recommended Reading: Gettysburg: A Testing of Courage. Description: America's Civil War raged for more than four years, but it is the three days of fighting in the Pennsylvania countryside in July 1863 that continues to fascinate, appall, and inspire new generations with its unparalleled saga of sacrifice and courage. From Chancellorsville, where General Robert E. Lee launched his high-risk campaign into the North, to the Confederates' last daring and ultimately-doomed act, forever known as Pickett's Charge, the battle of Gettysburg gave the Union army a victory that turned back the boldest and perhaps greatest chance for a Southern nation. Continued below...
Now, acclaimed historian Noah Andre Trudeau brings the most up-to-date research available to a brilliant, sweeping, and comprehensive history of the battle of Gettysburg that sheds fresh light on virtually every aspect of it. Deftly balancing his own narrative style with revealing firsthand accounts, Trudeau brings this engrossing human tale to life as never before.
Recommended Reading: Gettysburg Heroes: Perfect Soldiers, Hallowed Ground (Hardcover). Description: The Civil War generation saw its world in ways startlingly different from our own. In these essays, Glenn W. LaFantasie examines the lives and experiences of several key personalities who gained fame during and after the war. The battle of Gettysburg is the thread that ties these Civil War lives together. Gettysburg was a personal turning point, though each person was affected differently. Continued below…
Largely biographical in its approach, the book captures the human drama of the war and shows how this group of individuals--including Abraham Lincoln, James Longstreet, Joshua Lawrence Chamberlain, William C. Oates, and others--endured or succumbed to the war and, willingly or unwillingly, influenced its outcome. Concurrently, it shows how the war shaped the lives of these individuals, putting them through ordeals they never dreamed they would face or survive.
Recommended Reading: ONE CONTINUOUS FIGHT: The Retreat from Gettysburg and the Pursuit of Lee's Army of Northern Virginia, July 4-14, 1863 (Hardcover) (June 2008). Description: The titanic three-day battle of Gettysburg left 50,000 casualties in its wake, a battered Southern army far from its base of supplies, and a rich historiographic legacy. Thousands of books and articles cover nearly every aspect of the battle, but not a single volume focuses on the military aspects of the monumentally important movements of the armies to and across the Potomac River. One Continuous Fight: The Retreat from Gettysburg and the Pursuit of Lee's Army of Northern Virginia, July 4-14, 1863 is the first detailed military history of Lee's retreat and the Union effort to catch and destroy the wounded Army of Northern Virginia. Against steep odds and encumbered with thousands of casualties, Confederate commander Robert E. Lee's post-battle task was to successfully withdraw his army across the Potomac River. Union commander George G. Meade's equally difficult assignment was to intercept the effort and destroy his enemy. The responsibility for defending the exposed Southern columns belonged to cavalry chieftain James Ewell Brown (JEB) Stuart. If Stuart fumbled his famous ride north to Gettysburg, his generalship during the retreat more than redeemed his flagging reputation. The ten days of retreat triggered nearly two dozen skirmishes and major engagements, including fighting at Granite Hill, Monterey Pass, Hagerstown, Williamsport, Funkstown, Boonsboro, and Falling Waters. Continued below...
President Abraham Lincoln was thankful for the early July battlefield victory, but disappointed that General Meade was unable to surround and crush the Confederates before they found safety on the far side of the Potomac. Exactly what Meade did to try to intercept the fleeing Confederates, and how the Southerners managed to defend their army and ponderous 17-mile long wagon train of wounded until crossing into western Virginia on the early morning of July 14, is the subject of this study. One Continuous Fight draws upon a massive array of documents, letters, diaries, newspaper accounts, and published primary and secondary sources. These long-ignored foundational sources allow the authors, each widely known for their expertise in Civil War cavalry operations, to describe carefully each engagement. The result is a rich and comprehensive study loaded with incisive tactical commentary, new perspectives on the strategic role of the Southern and Northern cavalry, and fresh insights on every engagement, large and small, fought during the retreat. The retreat from Gettysburg was so punctuated with fighting that a soldier felt compelled to describe it as "One Continuous Fight." Until now, few students fully realized the accuracy of that description. Complimented with 18 original maps, dozens of photos, and a complete driving tour with GPS coordinates of the entire retreat, One Continuous Fight is an essential book for every student of the American Civil War in general, and for the student of Gettysburg in particular. About the Authors: Eric J. Wittenberg has written widely on Civil War cavalry operations. His books include Glory Enough for All (2002), The Union Cavalry Comes of Age (2003), and The Battle of Monroe's Crossroads and the Civil War's Final Campaign (2005). He lives in Columbus, Ohio. J. David Petruzzi is the author of several magazine articles on Eastern Theater cavalry operations, conducts tours of cavalry sites of the Gettysburg Campaign, and is the author of the popular "Buford's Boys." A long time student of the Gettysburg Campaign, Michael Nugent is a retired US Army Armored Cavalry Officer and the descendant of a Civil War Cavalry soldier. He has previously written for several military publications. Nugent lives in Wells, Maine.
Recommended Reading: General Lee's Army: From Victory to Collapse (Hardcover). Review: You cannot say that University of North Carolina professor Glatthaar (Partners in Command) did not do his homework in this massive examination of the Civil War–era lives of the men in Robert E. Lee's Army of Northern Virginia. Glatthaar spent nearly 20 years examining and ordering primary source material to ferret out why Lee's men fought, how they lived during the war, how they came close to winning, and why they lost. Glatthaar marshals convincing evidence to challenge the often-expressed notion that the war in the South was a rich man's war and a poor man's fight and that support for slavery was concentrated among the Southern upper class. Continued below...
Lee's army included the rich, poor and middle-class, according to the author, who contends that there was broad support for the war in all economic strata of Confederate society. He also challenges the myth that because Union forces outnumbered and materially outmatched the Confederates, the rebel cause was lost, and articulates Lee and his army's acumen and achievements in the face of this overwhelming opposition. This well-written work provides much food for thought for all Civil War buffs.