Principal Cherokee Chief John Ross
Cherokee Chief John Ross and the Cherokee Nation
When the Cherokee nation, numbering as many as 17,000 people, were forced west in 1838, they were led by Principal Chief John Ross. Ross had lost his long political battle to overturn the Treaty of New Echota, but the dedicated leader would continue to serve his grateful nation up to the hour of his death in 1866.
A Man of Stature:
Cherokee Chief John Ross was born October 3, 1790, and stood so high in the eyes of his people that they called him Guwisguwi, after a rare migratory bird of large size and white or grayish plumage that had one time appeared at long intervals in the old Cherokee country. He set a precedent in democratic political history that never will be broken. Intellectually, he was the greatest chief in the history of the Cherokee people. By free ballot, he was repeatedly elected as principal chief of the Cherokee Nation and died in office as chief executive of a government fashioned after that of the United States of America. In his youth, he knew Jefferson, spent most of his prime negotiating with Jackson, came face to face with Lincoln. In Washington, D.C., he was known as the Indian Prince. Yet, for all his impressive contacts, he was a man of simple and friendly habit, his home ever open to visitors of all walks of life, including John Howard Payne who once shared a jail cell with him where Payne got the idea for the song, "Home, Sweet Home."
Photo of Cherokee Chief John Ross
Principal Chief of the Cherokee Nation
Singular Dedication:
Chief John Ross was only one-eighth Cherokee and seven-eighths Scot. He was as much a Scotsman as his great opponent,
Andrew Jackson
, and fought just as tenaciously. But he was forever Cherokee at heart. Ross was from a prominent trading family that had settled before the American Revolution at what is currently
Rossville
,
Georgia
, just across the line from
Chattanooga, Tennessee
. He was educated at a white man's school at
Kingston, Tennessee
, and began his public career at the age of 19 when he was entrusted by Indian Agent Return Meigs with an important mission to the Arkansas Cherokee in 1809. Ross fought alongside Andrew "Old Hickory" Jackson, Sam Houston, and
Davy Crockett
in the War of 1812, and at the Battle of Horseshoe Bend, in a daring act of bravery, he swam the river to capture the Creeks' canoes which were then used in an attack upon the enemy's fort.
Principal Chief of Cherokee Nation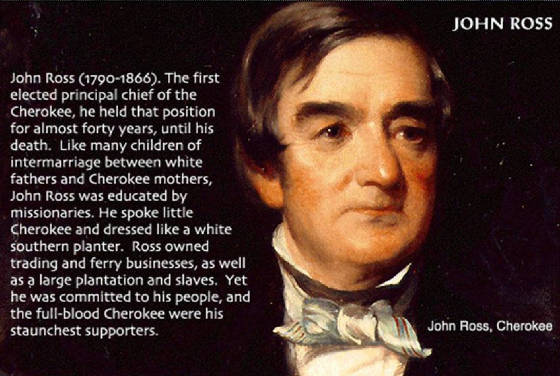 Chief John Ross
Framing the Republic:
More than anyone else, Ross was responsible for remodeling the Cherokee tribal government into a miniature republic in 1820. Under the arrangement, the nation was divided into eight districts. Each was entitled to send four representatives to the Cherokee national legislature, which met at New Echota, the capital, near present-day Calhoun, Georgia. Meanwhile, Sequoyah had invented his alphabet, and overnight, the Cherokee became a literate race. This led, in 1828, to the adoption of a constitution predicated on the Cherokee assumption of sovereignty, development of a system of industries and home education, and establishment of a national press. This bold step drew the immediate wrath of authorities and people of Georgia and set off the first argument for state's rights, with Georgia asking the United States government what it proposed to do about the "erection of a separate government within the limits of a sovereign state." As the battle raged, Ross dreamed that one day a new star would be added to the flag of the United States and that it would stand for a state the like of which has not yet been received into the Union—an Indian state, the State of Cherokee. Instead, John Ross found himself spending most of his time in Washington fighting the removal of the Cherokee to the West. His knowledge of the writings of Jefferson enabled the Cherokee to present memorials of dignity and moving appeal to Congress. However, he lost the battle by one vote. Throughout the long hard battle, Ross' people trusted him implicitly.
Chief John Ross House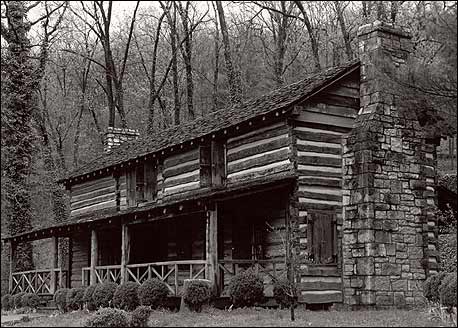 (NPS)
(John Ross House) This log house is located in Rossville, Georgia, on the Georgia-Tennessee border near Chattanooga. It consists of two rooms on each floor separated by a central breezeway, now enclosed, and was built in the 1790s by John Ross's grandfather. Ross lived here with his grandparents as a boy and the house later served as a headquarters for the enterprises that made him a rich man. The property also included a large farm, worked by slaves. Ross also owned a supply depot and warehouse at Ross's Landing (now in Chattanooga).
Honored for a Lifetime of Service:
After their arrival in the Indian Territory, Ross was chosen chief of the united Cherokee Nation and held that office until his death in Washington on August 1, 1866, at the age of 76. Upon learning of his death, the Cherokee Nation passed a memorial resolution that praised him as a man of moral conviction and selfless leadership, dedicated to the rule of law and the importance of education. The resolution also acknowledged his important place in the history of his people: "His works are inseparable from the history of the Cherokee people for nearly half a century, while his example in the daily walks of life will linger in the future and whisper words of hope, temperance, and charity in the years of posterity." Resolutions were also passed for bringing his body from Washington at the expense of the Cherokee Nation and provided for suitable funeral rites and burial, in order "that his remains should rest among those he so long served." He was buried at Park Hill, Oklahoma, his home, but there are descendants of Chief John Ross living in the Eastern Band of Cherokee Nation in Western North Carolina.
Cherokee Chief John Ross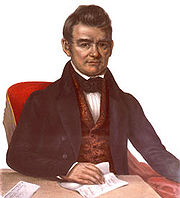 Cherokee Indian John Ross
Sources: Eastern Band of Cherokee Nation; John Ross, a Cherokee Chief, Lithographic & Print Coloring Establishment, copyright 1843. Prints and Photographs Division. Reproduction Number: LC-USZC4-3156.
Recommended Reading: John Ross, Cherokee Chief. Description: John Ross is one of the most revered Cherokee chiefs... it is impossible to understand the Cherokee Nation and its people without the study of Ross. Author Gary Moulton gives splendid insight into the life and times of one of the most complex and often misunderstood American Indians—Cherokee Chief John Ross. Ross, a 1/8th Cherokee and 7/8th Scotsman, and framer of the Cherokee Tribal government, was well-known for his harsh protest of the controversial 1835 Treaty of New Echota. Continued below...
Moulton does justice by presenting the Ross position and the outcome that spawned a bloody-factional Cherokee feud--which continued into the American Civil War. Moulton's insight also includes recollections and the death of Ross in 1866. "This definitive study of Cherokee Chief John Ross is highly recommended for the individual that is remotely interested in: Cherokee history and facts, the Cherokee Nation, Native Americans, famous Cherokee chiefs, and general American history."
Recommended Reading: The Eastern Band of Cherokees, 1819-1900, by John R. Finger. Review from University of Tennessee Press: This volume presents the story of the Eastern Band of Cherokees during the nineteenth century. This group – the tribal remnant in North Carolina that escaped removal in the 1830's – found their fortitude and resilience continually tested as they struggled with a variety of problems, including the upheavals of the Civil War and Reconstruction, internal divisiveness, white encroachment on their lands, and a poorly defined relationship with the state and federal governments. Yet despite such stresses and a selective adaptation in the face of social and economic changes, the Eastern Cherokees retained a sense of tribal identity as they stood at the threshold of the twentieth century. Continued below…
"Most scholars, like most Cherokees, have tended to follow the Trail of Tears west with scarcely a backward glance at the more than 1,000 Indians who stayed behind in the North Carolina mountains. In this pathbreaking book, John R. Finger combs federal, state, and local archives to tell the story of these forgotten natives."
-- Journal of Southern History
"This work is a significant contribution to the literature on this long-ignored group….Finger works [his] sources well and out of them has produced a narrative that is readable and that puts the Eastern Band of Cherokees as a tribal entity into a clear, historical perspective."
-- American Historical Review
John R. Finger is professor of history at the University of Tennessee, Knoxville.
Recommended Reading: Cherokee Proud, Second Edition, by Tony Mack McClure. Description: Absolutely the "Bible" of Cherokee Genealogy. New, 336 pages, 2nd Edition. If the information in this remarkable new book doesn't lead a person to proof of their Cherokee roots, nothing can! "It is an A-to-Z on organizing and locating the requirements / qualifications for membership." Continued below...
Are you Cherokee? Are you the individual that has always been told that you are a Cherokee, but have no facts or records to prove it? To claim Cherokee membership means that you must prove it – you must have the facts, so toss the doubt away, get the facts, and claim what is rightfully your heritage by blood quantum. Now, are you ready to prove that you are a Cherokee? It's not difficult if you take the time to locate the facts. Included are proven resources for tracing your family genealogy, the family tree, roots, bloodline, and for researching your ancestors to prove that you meet the blood requirements (qualifications) for Cherokee membership and tribal enrollment. Those that qualify as "American Indians are American Indians" and are entitled to the rights and benefits of the tribe! Also includes a proven "how to dos" written by the foremost expert in Cherokee history, genealogy and heritage. Cherokee membership is not like joining a gym or paying dues, it's your blood, so claim it. Are you remotely interested in knowing that you are a "Cherokee Indian" or are you the individual that enjoys genealogy? Do you want to locate and preserve your Native American ancestry? Finding information about ancestors for genealogy and heritage is also a lot of fun. Moreover, you are preserving your own family history and heritage with your relatives and loved ones for generations and generations… Take a look at exactly what is required to locate and organize and present your information to prove that you meet the qualifications as a member of the Cherokee tribe. Cherokee Proud, by Tony McClure, is referred to as the "Bible for Cherokee Genealogy." Cherokee Proud has also been rated a SOLID FIVE STARS by every person that has read and rated it. To see if you meet the 'Cherokee qualification and requirement for membership', then look no further -- purchase Cherokee Proud. Read the reviews and see what people and organizations are saying about it.
Reviews
"Cherokee Proud is the very best book I have ever seen on tracing Cherokee genealogy." -- RICHARD PANGBURN, acclaimed author of Indian Blood, Vol. I & II found in most libraries
"McClure unabashedly loosens his journalistic standards for portions of this book which reach him too emotionally. Understood. Fascinating and enlightening."
BACK COVER: Among the people of this country are individuals in whose blood runs the proud heritage of a noble and resilient people whose ways and talents rank with the finest civilizations the world has known. They are the " Tsalagi ". . . the Cherokee. This book will help you learn if you are one of them. -- BOOK READER
"The contents of Cherokee Proud are exceptional - valuable information that can be used by so many readers and researchers who have Native American (Cherokee) ancestry." -- DON SHADBURN, Famous Georgia historian and noted author of Unhallowed Intrusion and Cherokee Planters of Georgia
"This Cherokee guide is the best yet!" -- LAWTON CONSTITUTION
About the Author: Well known and acclaimed Cherokee author Dr. Tony Mack McClure, a native of Tennessee, is a certified member of the Native American Journalists Association, Wordcraft Circle of Native Writers and Storytellers, and Committeeman for the Tennessee Chapter of the National Trail of Tears Association. His work has appeared in numerous magazines, over 250 newspapers, on all major television networks and many cable systems.
Recommended Reading: The Cherokee Nation: A History. Description: Conley's book, "The Cherokee Nation: A History" is an eminently readable, concise but thoughtful account of the Cherokee people from prehistoric times to the present day. The book is formatted in such a way as to make it an ideal text for high school and college classes. At the end of each chapter is a source list and suggestions for further reading. Also at the end of each chapter is an unusual but helpful feature- a glossary of key terms. The book contains interesting maps, photographs and drawings, along with a list of chiefs for the various factions of the Cherokee tribe and nation. Continued below...
In addition to being easily understood, a principal strength of the book is that the author questions some traditional beliefs and sources about the Cherokee past without appearing to be a revisionist or an individual with an agenda in his writing. One such example is when Conley tells the story of Alexander Cuming, an Englishman who took seven Cherokee men with him to England in 1730. One of the Cherokee, Oukanekah, is recorded as having said to the King of England: "We look upon the Great King George as the Sun, and as our Father, and upon ourselves as his children. For though we are red, and you are white our hands and hearts are joined together..." Conley wonders if Oukanekah actually said those words and points out that the only version we have of this story is the English version. There is nothing to indicate if Oukanekah spoke in English or Cherokee, or if his words were recorded at the time they were spoken or were written down later. Conley also points out that in Cherokee culture, the Sun was considered female, so it is curious that King George would be looked upon as the Sun. The "redness" of Native American skin was a European perception. The Cherokee would have described themselves as brown. But Conley does not overly dwell on these things. He continues to tell the story using the sources available. The skill of Conley in communicating his ideas never diminishes. This book is highly recommended as a good place to start the study of Cherokee history. It serves as excellent reference material and belongs in the library of anyone serious about the study of Native Americans.
Recommended Reading: Trail of Tears: The Rise and Fall of the Cherokee Nation. Description: One of the many ironies of U.S. government policy toward Indians in the early 1800s is that it persisted in removing to the West those who had most successfully adapted to European values. As whites encroached on Cherokee land, many Native leaders responded by educating their children, learning English, and developing plantations. Such a leader was Ridge, who had fought with Andrew Jackson against the British. Continued below...
As he and other Cherokee leaders grappled with the issue of moving, the land-hungry Georgia legislators, with the aid of Jackson, succeeded in ousting the Cherokee from their land, forcing them to make the arduous journey West on the infamous "Trail of Tears." ...A treasured addition for the individual remotely interested in American Indian history as well as general American history.
Chief John Ross History, Cherokee Chief John Ross and the 1838 Trail of Tears, Principal Chief John Ross Photo, Photos, Facts, Treaty of New Echota of 1835, Indian Removal Act 1830 Details, Picture, Picture, Photograph, and Photographs.