Captain James M. Cathey : 25th North Carolina Infantry Regiment, CSA

Cathey Civil War History
Captain James Cathey Civil War Letter
Civil War Letter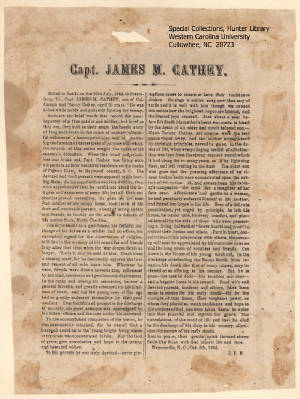 Hunter Library, WCU
Introduction
Captain James Cathey, aged 25, was killed-in-action during the
Battle of the Crater
on July 30, 1864. This letter, transcribed by Special Collections, Hunter Library, Western Carolina University, was dated October 4, 1864, Waynesville, North Carolina, and signed by the initials J.F.F.
Chain of Command
Chain of command during the Crater of Petersburg on July 30. From Gen. Robert E. Lee to Capt. James Cathey:
Gen. Robert E. Lee, Army of Northern Virginia; Gen. P.G.T. Beauregard, Department of North Carolina and Southern Virginia; Brig. Gen. Bushrod Johnson, Johnson's Division; Col. Lee McAfee, Ransom's Brigade; Maj. William S. Grady (mortally wounded), 25th North Carolina; Capt. James Cathey (killed), Company F.
About the Letter
The son of Colonel Joseph Cathey and Nancy Cathey, James Cathey was captain of Company F, 25th North Carolina Infantry Regiment, and killed on July 30, 1864, at Petersburg, Virginia. According to
North Carolina Troops
, vol. 7, p. 408, Cathey died during the struggle at "
The Crater
." In 1935, W.C. Allen,
The Annals of Haywood County, North Carolina
, p. 557, also said that an older brother, Lieutenant Joseph Turner Cathey, had died on September 1, 1863. According to J.F.F., this letter served as notice of Cathey's death. The captain had joined the Confederate Army to defend his home, according to J.F.F., and was attached to General Lee's Army of Northern Virginia at the time of his death. He was survived by his wife, siblings, and both parents. Letter courtesy Hunter Library, Western Carolina University.
Advance to:
Recommended Reading: 25th North Carolina Infantry: History and Roster of a Mountain-bred Regiment in the Civil War (Hardcover). Description: This historical account covers the 25th Regiment North Carolina Infantry Troops during the Civil War. Farmers and their sons left the mountains to enlist with the regiment, which organized in Asheville in August 1861, to defend their home territory. Continued below...
In addition to casualty, desertion records, and a complete regimental roster, the book chronicles the unit's defensive tactics in the Carolina coastal regions and battlefield actions at Seven Days, Antietam, Fredericksburg, Plymouth and Petersburg. More than 125 historic photos, illustrations, and detailed maps are featured.