Battle of Chancellorsville
Virginia Civil War History
Battle of Chancellorsville
Other Names: Chancellorsville Campaign
Location: Spotsylvania County, Virginia
Campaign: Chancellorsville Campaign (April-May 1863)
Date(s): April 30-May 6, 1863
Principal Commanders: Maj. Gen. Joseph Hooker [US]; Gen. Robert E. Lee and Maj. Gen. Thomas J. Jackson [CS]
Forces Engaged: 154,734 total (US 97,382; CS 57,352)
Estimated Casualties: 24,000 total (US 14,000; CS 10,000)
Result(s): Confederate victory
Battle of Chancellorsville
Kurz and Allison
Battle of Chancellorsville and Death of "Stonewall" Jackson
Description:
On April 27, Maj. Gen. Joseph Hooker led the V, XI, and XII Corps on a campaign to turn the Confederate left flank by crossing the Rappahannock and Rapidan Rivers above Fredericksburg. Passing the Rapidan via Germanna and Ely's Fords, the Federals concentrated near Chancellorsville on April 30 and May 1. The III Corps was ordered to join the army via United States Ford. Sedgwick's VI Corps and
Gibbon's
division remained to demonstrate against the Confederates at Fredericksburg. In the meantime, Lee left a covering force under Maj. Gen. Jubal Early in Fredericksburg and marched with the rest of the army to confront the Federals. As Hooker's army moved toward Fredericksburg on the Orange Turnpike, they encountered increasing Confederate resistance. Hearing reports of an overwhelming Confederate force, Hooker ordered his army to suspend the advance and to concentrate again at Chancellorsville. Pressed closely by Lee's advance, Hooker adopted a defensive posture, thus giving Lee the initiative.
On the morning of May 2, Lt. Gen. T.J. Jackson directed his corps on a march against the Federal left flank, which was reported to be "hanging in the air." Fighting was sporadic on other portions of the field throughout the day, as Jackson's column reached its jump-off point. At 5:20 pm, Jackson's line surged forward in an overwhelming attack that crushed the Union XI Corps. Federal troops rallied, resisted the advance, and counterattacked. Disorganization on both sides and darkness ended the fighting. While making a night reconnaissance, Jackson was mortally wounded by his own men and carried from the field. J.E.B. Stuart took temporary command of Jackson's Corps.
(Right) Battle of Chancellorsville, May 1-6, 1863. Virginia hosted more battles of the American Civil War than any other state. The Commonwealth was scene to the most major battles, too, including the battlefields of Fredericksburg, Chancellorsville, Wilderness, and Spotsylvania. This section of the state was known as the bloodiest landscape in America.
On May 3, the Confederates attacked with both wings of the army and massed their artillery at Hazel Grove. This finally broke the Federal line at Chancellorsville. Hooker withdrew a mile and entrenched in a defensive "U" with his back to the river at United States Ford. Union generals Berry and Whipple and Confederate general Paxton were killed; Stonewall Jackson was mortally wounded. On the night of May 5-6, after Union reverses at Salem Church, Hooker recrossed to the north bank of the Rappahannock. This battle was considered by many historians to be Lee's greatest victory.
Chancellorsville Battlefield and the Bloodiest Landscape in North America
Battle of Chancellorsville Map
Fredericksburg, Chancellorsville, Wilderness, and Spotsylvania
Satellite photograph of the "Bloodiest Landscape in North America." Unprecedented loss of life was witnessed at Fredericksburg, Chancellorsville, Wilderness, and Spotsylvania, with more than 85,000 men wounded and 15,000 killed. No place in the United States more vividly depicts the Civil War's tragic cost. Satellite photo courtesy Microsoft Virtual Earth.
Virginia Civil War Map of Battles 1863
Battle of Chancellorsville: Virginia Civil War Battles and Battlefields Map
"Stonewall" Jackson Monument at Chancellorsville
Stonewall Jackson
Monument at Chancellorsville
The Battle of Chancellorsville was considered Lee's greatest victory; also a Pyrrhic victory. After the battle, Lee was depressed because of the high casualties and the death of
"Stonewall" Jackson
.
Mountain Road Wounding Site of "Stonewall" Jackson
Mountain Road Location
Battle of Chancellorsville
You are now standing in the trace of the Old Mountain Road, the road on which Jackson was riding when he was injured. Accompanied by aides and couriers, Jackson scouted in front of his main line, hoping to determine the new Union position. Private David Kyle served as Jackson's guide through the tangled woods. He described the path taken by their party:

"We went down that old Mountain road some four hundred yards when we came in hearing of the Federals....We stayed there I should judge from two to four minutes when the Gen Jackson Turned his horse around and started back up the road we had come down....When we were about halfway back...he turned his horse head toward the south and facing the front of our own line of Battle he started to leave the old Mountain road and just as his horses front feet had cleared the edge of the road while his hind feet was still on the edge of the bank there was a single shot fired...in an instant it was taken up and...a volley as if from a regiment was fired."

Spurred by the belief that the returning Confederates were Union cavalrymen charging their line, Lane's men had fired into the darkness. One bullet lodged in Jackson's right palm and two struck his left arm. As a result of the wounds Jackson would lose his left arm. Jackson died one week later on May 10, 1863.
"Stonewall" Jackson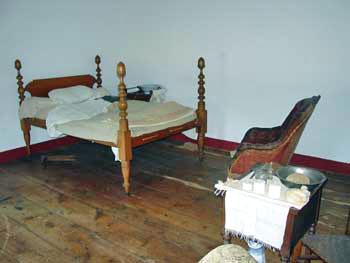 Location where Jackson Died
Thomas Jonathan "Stonewall" Jackson died in an outbuilding on the Chandler plantation in the rural community of Guinea Station. Today, the Jackson Shrine is part of Fredericksburg & Spotsylvania National Military Park.
(Sources and related reading below.)
Recommended Reading: Chancellorsville, by Stephen W. Sears. Description: Chancellorsville was one of the Civil War's pivotal campaigns, a great victory for the South that also led directly to the death of top Confederate general Stonewall Jackson. It hasn't generated the amount of literature devoted to most major Civil War battles, largely because John Bigelow's 1910 classic, The Campaign of Chancellorsville, seemed for years to offer the last word. But Sears, employing a mix of published and unpublished primary accounts to buttress secondary studies, manages to offer more than one new word in a thoroughly engaging text. Continued below...
Most notable is his use of Union military intelligence reports to show how General Joseph Hooker was fed a stream of accurate information about Robert E. Lee's troops; conversely, Sears points out the battlefield communications failures that hampered the Union army at critical times. He also examines the roles of Hooker and his corps commanders, finding that half of the latter poorly served their commander during the campaign. Regarding the Confederate command, Sears analyzes Lee's faulty intelligence and his relationships with his subordinates. Throughout, he highlights Lee's marvelous good luck, as well as his army's tenacious fighting capability. One of the book's three appendices explores several of the battle's "romances", e.g., Jackson's wounding, Alfred Pleasonton's false stories, while two other appendices present orders of battle and casualties. A model campaign study, Sears's account of Chancellorsville is likely to remain the standard for years to come… It also includes numerous previously non-published maps and photos.
Advance to:
Recommended Reading: Chancellorsville 1863: The Souls of the Brave. Description: Ferguson's book about Chancellorsville reads much like a vintage Stephen Sears book. Meticulous detail is crafted with primary accounts and combined with author analysis, and the book has a detailed narrative with human elements. Reading these types of accounts concerning Civil War battles is always enjoyable. Where Furgurson's book differs from Sears's book is, of course, the analysis of Joe Hooker's management of the campaign. Continued below...
While Sears blames subordinates, most notably Howard, and points to Hooker's concussion, Furgurson mentions the exploding pillar incident, adds soldier accounts of seeing Hooker looking drunk and unresponsive at headquarters and takes Hooker to task. Given Hooker's pre-victory celebratory orders and his subsequent defeat, I think it's hard to let Hooker completely off the hook. Furgurson also mentions near the end of the book that Jackson's death affected Gettysburg and ultimately the war. Had Jackson lived and taken Culp's Hill on July 1 in place of the inactive Ewell, the Union would have been forced to retreat, likely to the line of defense around Pipe Creek that Meade was aiming for in the first place. Would the Confederates have won the battle of Gettysburg in that case?
Recommended Reading: Chancellorsville: The Battle and Its Aftermath (Military Campaigns of the Civil War). Description: A variety of important but lesser-known dimensions of the Chancellorsville campaign of spring 1863 are explored in this collection of eight original essays. Departing from the traditional focus on generalship and tactics, the contributors address the campaign's broad context and implications and revisit specific battlefield episodes that have in the past been poorly understood. Chancellorsville was a remarkable victory for Robert E. Lee's troops, a fact that had enormous psychological importance for both sides, which had met recently at Fredericksburg and would meet again at Gettysburg in just two months. But the achievement, while stunning, came at an enormous cost: more than 13,000 Confederates became casualties, including Stonewall Jackson, who was wounded by friendly fire and died several days later. Continued below...
The topics covered in this volume include the influence of politics on the Union army, the importance of courage among officers, the impact of the war on children, and the state of battlefield medical care. Other essays illuminate the important but overlooked role of Confederate commander Jubal Early, reassess the professionalism of the Union cavalry, investigate the incident of friendly fire that took Stonewall Jackson's life, and analyze the military and political background of Confederate colonel Emory Best's court-martial on charges of abandoning his men. Contributors: Keith S. Bohannon, Pennsylvania State University; Gary W. Gallagher, Pennsylvania State University; A. Wilson Greene, Petersburg, Virginia; John J. Hennessy, Fredericksburg, Virginia; Robert K. Krick, Fredericksburg, Virginia; James Marten, Marquette University; Carol Reardon, Pennsylvania State University; James I. Robertson, Jr., Virginia Polytechnic Institute and State University.
Recommended Reading: Chancellorsville 1863 (Osprey Trade Editions). Description: General Joseph Hooker's attack was calculated to take his army to Richmond and end the war. Faced with an army twice the size of his own, Robert E. Lee split his forces, leaving Early to fend off Hooker's Fredericksburg attack, whilst 'Stonewall' Johnson was sent to take the Federal right flank by surprise. Continued below...
The Bringing History to Life collection is made up of Osprey's all-time favorite titles, re-released with striking new covers - selected titles also include visitor information sections.
Recommended Reading: Guide to the Battles of Chancellorsville and Fredericksburg. Description: The battles of Fredericksburg and Chancellorsville, 1862-63, were remarkable in several respects. Both revealed the problems of mounting a serious attack at night and provided the first examples of the now-familiar trench warfare. Fredericksburg featured street fighting and river crossings under fire. Chancellorsville was marked by Stonewall Jackson's death and the rare instance of mounted cavalry attacking infantry. In addition, the latter battle also demonstrated in striking fashion the profound influence of the commander on the battle. The Union committed more soldiers, supplies, money, and better equipment than did the Confederacy, and yet Lee won. Continued below...
Eyewitness accounts by battle participants make these guides an invaluable resource for travelers and non-travelers who want a greater understanding of five of the most devastating yet influential years in our nation's history. Explicit directions to points of interest and maps--illustrating the action and showing the detail of troop position, roads, rivers, elevations, and tree lines as they were 130 years ago--help bring the battles to life. In the field, these guides can be used to recreate each battle's setting and proportions, giving the reader a sense of the tension and fear each soldier must have felt as he faced his enemy. "Each map is detailed to perfection."
Recommended Reading: Fredericksburg and Chancellorsville: The Dare Mark Campaign (Great Campaigns of the Civil War) (Hardcover). From Kirkus Reviews: A broadly researched, finely detailed, and well-written analysis of the connections linking two pivotal battles in the early part of the Civil War, by Sutherland (Seasons of War; 1995, etc.). The author pairs the battles of Fredericksburg and Chancellorsville, which took place on the southern side of the Rappahannock River in Virginia, and refers to them jointly as the ``Dare Mark'' campaign. (A Confederate soldier referred to the Rappahannock as the dare mark because Union armies dared not cross the river.) Sutherland combines minute strategic scrutiny with a deep knowledge of the personalities involved, notably, Lee and Jackson for the South, and Halleck, Burnside, and Hooker for the North. Continued below…
And he consults a broad range of sources, ranging from soldiers letters and contemporary newspaper accounts to postwar memoirs. Thus armed, Sutherland is able to place the battles in their broadest political and military contexts. Both battles led to Southern victories, and he examines their consequences, including the accidental death of Thomas ``Stonewall'' Jackson in his own troops crossfire, Lees inability to smash Hookers army, and Lees drive northward after his victory at Chancellorsville. Much attention is paid to the wars mismanagement by Congress and by various Northern officers and to fascinating partisan efforts to control the Union military. Sutherland, a professor of history at the University of Arkansas, is a deft writer. He identifies the facets of battle (and surrounding events) in a coherent fashion that will allow readers to peer over his shoulder at the larger picture. Though far too detailed in its dealings with military strategy and, this is nonetheless worthy of War-Between-the-States diehards. (7 illustrations, 7 photos, not seen). About the Author: Daniel E. Sutherland is a professor of history at the University of Arkansas. His books include The Confederate Carpetbaggers and the award-winning Seasons of War: The Ordeal of a Confederate Community, 1861–1865.
Recommended Reading: Chancellorsville: Lee's Greatest Battle (416 pages) (Paperback). Description: Originally published in 1958, this Stackpole classic retains its popular appeal and easy readability. Now updated with commentary and notes by D. Scott Hartwig, it will be of special interest to Civil War buffs and historians. Exceptional maps and illustrations.
Recommended Reading: Chancellorsville 1863: Jackson's Lightning Strike (Campaign). Description: Following the debacle of the battle of Fredericksburg in December 1862, Burnside was replaced as commander of the Army of the Potomac by General Joseph Hooker. Having reorganized the army and improved morale, he planned an attack that would take his army to Richmond and end the war. Although faced by an army twice his size, the Confederate commander Robert E. Lee split his forces: Jubal Early was left to hold off Sedgwick's Fredericksburg attack, and 'Stonewall' Jackson was sent with 26,000 men in a wide envelopment around Hooker's right flank. Continued below…
This title details how at dusk on May 2, Jackson's men crashed into the Federal right flank, and how stiffening Federal resistance slowed the Confederate advance the next day. From the Publisher: Highly visual guides to history's greatest conflicts, detailing the command strategies, tactics, and experiences of the opposing forces throughout each campaign, and concluding with a guide to the battlefields today.
Sources: Fredericksburg and Spotsylvania County Battlefields Memorial; National Park Service; Library of Congress; National Archives and Records Administration; Official Records of the Union and Confederate Armies; Microsoft Virtual Earth.