Civil War Battle of Cool Spring, Virginia, History
Battle of Cool Spring Civil War History Map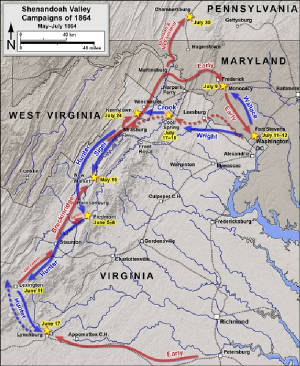 Civil War Cool Spring Battle Map
Other Names: Island Ford, Parkers Ford, Snickers Ferry, Castleman's Ferry, Snicker's Gap
Campaign: Early's Maryland Campaign; 1864 Shenandoah Valley Campaigns
Principal Commanders: [C] Lt. Gen. Jubal Early, Maj. Gen. Robert E. Rodes [U] Maj. Gen. Horatio Wright, Brig. Gen. George Crook, Col. Joseph Thoburn.
Forces Engaged: [C] Three infantry divisions under Gordon, Wharton, and Rodes, about 8,000, and at least 3 batteries;[U] Three infantry brigades of Crook's Corps (about 3,250 men), supported by batteries and a division of the VI Corps, about 5,000 engaged.
Casualties: [C] 397 (80k/300w/17m); [U] 422 (65k/301w/56m)
Result(s): Confederate victory
Battle of Cool Spring Civil War Map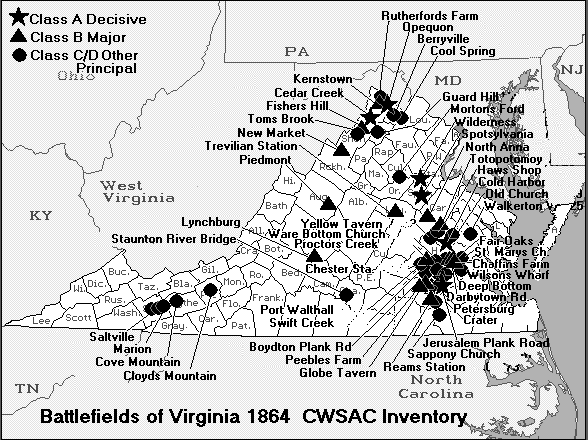 (Virginia Civil War Battlefield Map)
Battle of Cool Spring, Virginia, History
Civil War Cool Spring Battlefield History Map
Significance: In the first weeks of July 1864, Lt. Gen. Jubal A. Early raided Maryland with an army of about 14,000 men, defeated a US force at the battle of Monocacy (9 July), and marched on Washington D.C. Confronted there on 12 July by US veterans diverted from the Army of the Potomac, Early retreated, crossing the Potomac River at White's Ferry and the Blue Ridge at Snickers Gap. Elements of three US corps (about 25,000 men) under overall command of Maj. Gen. Horatio Wright pursued and met Early's rear guard at the Shenandoah River crossing of Snickers Ferry near the farm of Cool Spring. Although brief in duration, the battle of Cool Spring was desperately fought, checking US pursuit for several days. The battle of Cool Spring (also known as Snickers Ferry or Parker's Ford) is representative of the division-sized engagements that occurred almost weekly throughout the remainder of the 1864 Valley Campaign, including Rutherford's Farm (20 July), Guard Hill (16 August), Abrams Creek (17 August), Cameron's Depot and Summit Point (21 August), Smithfield Crossing (29 August), and Berryville (3-4 September). These encounters led up to the decisive battle of Opequon (Third Winchester) on 19 September.
Description of the Battle
Skirmishing at Snickers Ford (17 July): On the afternoon of 17 July 1864, the US cavalry division of Alfred Duffi' reached Snickers Ford and attempted to force a crossing of the Shenandoah River. Two regiments of CS infantry supported by two pieces of artillery positioned on North Hill overlooking the ford repulsed the attempt. US cavalry then tried to cross at Shepherd's Ford about two miles south but were repulsed by CS cavalry of Vaughn's brigade. During the night, Duffi' continued south along the river, leaving a smaller force to picket the fords. On the morning of 18 July, US cavalry pickets, supported by Mulligan's brigade of infantry (Crook's corps) again attempted a crossing at Snickers Ford but were repulsed.
Battle of Cool Springs Map
Confederate First Attack at Battle of Cool Springs Map
Advance of US Infantry (18 July): Col. Thoburn's division of Crook's Corps, followed by the VI Corps arrived on the Berryville Pike (current rte. 7) from their bivouac near Purcellville. Union generals Wright, Emory, and Crook conferred on River Hill, where they established a signal station and brought up a battery of artillery. It was assumed that General Early's CS army was in retreat to Winchester and that the ford was defended only by cavalry. Because the attempted crossing at Snickers Ford in the morning had been unsuccessful, the US commanders decided to cross a division one mile downstream. The infantry diverged from the main road onto a rocky cart road that led to Judge Parker's house, mill, and ford. The intervening hills disguised the movement from the CS pickets on the west bank of the river.
River Crossing (18 July): About 1500 hours, Thoburn's 3,250 infantrymen forced CS skirmishers back from Parker's Ford and crossed the shallow river at a number of places across and between the islands. Once on the west bank, US skirmishers fanned out across the Cool Spring farm, while the main body deployed along a rise about 100 yards from the river in the midst of a large wheatfield. Commands regrouped after the crossing and prepared to move south to uncover Snickers Ford. Captured Confederates, however, revealed that the island fords had been defended by infantry and that Early's army was nearby. Thoburn alerted his superiors on River Hill (by signal flag and courier) and awaited further instructions. He was told that he would be supported by a division of the VI Corps, which had begun to arrive on the east bank near the Parker House.
CS Response (18 July): In response to Thoburn's crossing (or in anticipation of it) Maj. Gen. John B. Gordon's division advanced along the Berryville Pike from its bivouac at Webbtown. Gordon deployed along the river bluffs north and south of North Hill. Simultaneously, Brig. Gen. Gabriel Wharton's division moved toward Cool Spring from its bivouac near Wickliffe Church. Wharton deployed in line of battle and advanced on Cool Spring forcing back the US skirmishers to their main line near the river. Maj. Gen. Robert E. Rodes's division was farther north at Gaylord but was set in motion to come up on the left of Wharton. Skirmishing extended along Wharton's and Gordon's fronts.
Rodes's Flank Attack (18 July): Colonel Thoburn was now aware of his precarious position but hoped to hold out until reinforced or withdrawn after dark. Rodes's division arrived from Wickliffe Church, moving through ravines and behind the grove at Westwood which concealed the movement of the troops until they were within striking distance of Thoburn's contracted line. Rodes deployed to Wharton's left, his line bending in an arc almost at right angles to the river and the US right flank. About 1800 hours Rodes threw his division forward on a compact front, surprising and crushing the US right.
Thoburn sent the 116th Ohio to reinforce his right as both sides struggled for possession of a stone fence that bisected the wheatfield. A second CS attack drove US forces back to another stone fence along the river bank. There, they held out against a third desperate CS attack that came near to driving them into the river. Three batteries of Union artillery came into play from the heights on the east bank. A division of the VI Corps deployed on the east bank and engaged in sharpshooting, but it was not sent across the river. Three batteries of CS artillery supported Rodes's attack. Colonel Owens, commanding a CS brigade was mortally wounded. The bulk of the almost 850 casualties of the battle occurred at this time and littered the wheatfield.
Cool Spring Battlefield Map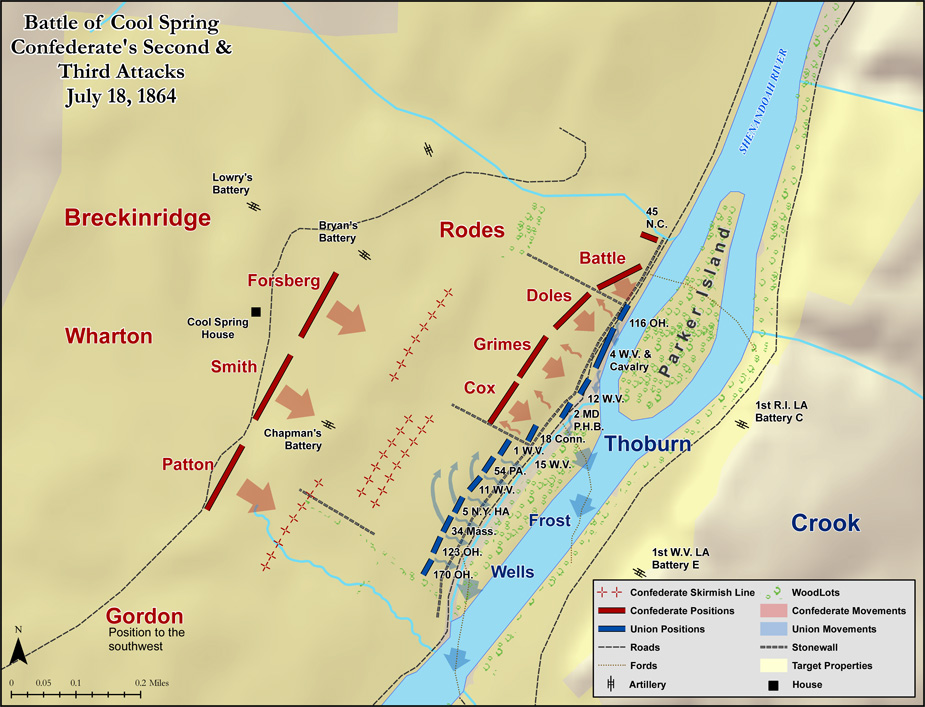 Second and Third Confederate Attacks at Cool Spring
US Withdrawal (18 July): The Union line held out until dark, then began to recross the river unmolested by CS infantry. An artillery duel broke out across the river. US and CS batteries fired at each others' positions, guided by the flashes of discharge and explosion. When US infantry was safely on the east bank, the artillery fire tapered off, ending about 2100 hours. Later CS skirmishers advanced to the river, finding the Union line abandoned. CS units spread out across the field to tend to the wounded of both sides. General Crook was angered that Thoburn's command had been left to their own devices without being reinforced by the VI Corps, which was at hand.
Aftermath: The battle was a Confederate victory. Wright had sent a small force against a well reinforced Confederate position without the aid of cavalry because he mistakenly assumed it was only the pickets of Early's rearguard. Thoburn's force paid dearly for the mistake. Still, Thoburn's judicious use of terrain and lack of coordination on the Confederate side allowed Thoburn to stave off a full routing of his troops and thus was able to minimize his casualties. The following day: both armies remained in the same positions as the night before and engaged in little fighting. Gen. Hunter, however, took the initiative and sent a force out from Harpers Ferry to pressure Early's left from the north. See also: Battle of Cool Spring, Virginia and Shenandoah Valley Campaigns: The Civil War Battles.
Battle of Cool Spring Results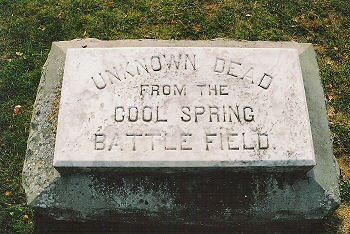 Civil War Cool Spring Battle History
(Sources listed at bottom of page.)
Recommended Reading: The Shenandoah Valley Campaign of 1864 (McFarland & Company). Description: A significant part of the Civil War was fought in the Shenandoah Valley of Virginia, especially in 1864. Books and articles have been written about the fighting that took place there, but they generally cover only a small period of time and focus on a particular battle or campaign. Continued below...
This work covers the entire year of 1864 so that readers can clearly see how one event led to another in the Shenandoah Valley and turned once-peaceful garden spots into gory battlefields. It tells the stories of the great leaders, ordinary men, innocent civilians, and armies large and small taking part in battles at New Market, Chambersburg, Winchester, Fisher's Hill and Cedar Creek, but it primarily tells the stories of the soldiers, Union and Confederate, who were willing to risk their lives for their beliefs. The author has made extensive use of memoirs, letters and reports written by the soldiers of both sides who fought in the Shenandoah Valley in 1864.
Recommended Reading: The Shenandoah Valley Campaign of 1864 (Military Campaigns of the Civil War) (416 pages) (The University of North Carolina Press). Description: The 1864 Shenandoah Valley Campaign is generally regarded as one of the most important Civil War campaigns; it lasted more than four arduous months and claimed more than 25,000 casualties. The massive armies of Generals Philip H. Sheridan and Jubal A. Early had contended for immense stakes... Beyond the agricultural bounty and the boost in morale to be gained with its numerous battles, events in the Valley would affect Abraham Lincoln's chances for reelection in November 1864. Continued below...
The eleven essays in this volume reexamine common assumptions about the campaign, its major figures, and its significance. Taking advantage of the most recent scholarship and a wide range of primary sources, contributors examine strategy and tactics, the performances of key commanders on each side, the campaign's political repercussions, and the experiences of civilians caught in the path of the armies. The authors do not always agree with one another, but, taken together, their essays highlight important connections between the home front and the battlefield, as well as ways in which military affairs, civilian experiences, and politics played off one another during the campaign.
Recommended Reading: Stonewall in the Valley: Thomas J. Stonewall Jackson's Shenandoah Valley Campaign, Spring 1862. Description: The Valley Campaign conducted by Maj. Gen. Thomas J. "Stonewall" Jackson has long fascinated those interested in the American Civil War as well as general students of military history, all of whom still question exactly what Jackson did in the Shenandoah in 1862 and how he did it. Since Robert G. Tanner answered many questions in the first edition of Stonewall in the Valley in 1976, he has continued to research the campaign. This edition offers new insights on the most significant moments of Stonewall's Shenandoah triumph. Continued below…
About the Author: Robert G. Tanner is a graduate of the Virginia Military Institute. Tanner is a native of Southern California, he now lives and practices law in Atlanta, Georgia. He has studied and lectured on the Shenandoah Valley Campaign for more than twenty-five years.
Recommended Reading: Three Days in the Shenandoah: Stonewall Jackson at Front Royal and Winchester (Campaigns and Commanders) (Hardcover). Description: The battles of Front Royal and Winchester are the stuff of Civil War legend. Stonewall Jackson swept away an isolated Union division under the command of Nathaniel Banks and made his presence in the northern Shenandoah Valley so frightful a prospect that it triggered an overreaction from President Lincoln, yielding huge benefits for the Confederacy. Continued below…
Gary Ecelbarger has undertaken a comprehensive reassessment of those battles to show their influence on both war strategy and the continuation of the conflict. Three Days in the Shenandoah answers questions that have perplexed historians for generations. About the Author: Gary Ecelbarger, an independent scholar, is the author of Black Jack Logan: An Extraordinary Life in Peace and War and "We Are in for It!": The First Battle of Kernstown, March 23, 1862.
Recommended Reading: Shenandoah 1862: Stonewall Jackson's Valley Campaign, by Peter Cozzens (Civil War America) (Hardcover). Description: In the spring of 1862, Federal troops under the command of General George B. McClellan launched what was to be a coordinated, two-pronged attack on Richmond in the hope of taking the Confederate capital and bringing a quick end to the Civil War. The Confederate high command tasked Stonewall Jackson with diverting critical Union resources from this drive, a mission Jackson fulfilled by repeatedly defeating much larger enemy forces. His victories elevated him to near iconic status in both the North and the South and signaled a long war ahead. One of the most intriguing and storied episodes of the Civil War, the Valley Campaign has heretofore only been related from the Confederate point of view. Continued below…
With Shenandoah 1862, Peter Cozzens dramatically and conclusively corrects this shortcoming, giving equal attention to both Union and Confederate perspectives. Based on a multitude of primary sources, Cozzens's groundbreaking work offers new interpretations of the campaign and the reasons for Jackson's success. Cozzens also demonstrates instances in which the mythology that has come to shroud the campaign has masked errors on Jackson's part. In addition, Shenandoah 1862 provides the first detailed appraisal of Union leadership in the Valley Campaign, with some surprising conclusions. Moving seamlessly between tactical details and analysis of strategic significance, Cozzens presents the first balanced, comprehensive account of a campaign that has long been romanticized but never fully understood. Includes 13 illustrations and 13 maps. About the Author: Peter Cozzens is an independent scholar and Foreign Service officer with the U.S. Department of State. He is author or editor of nine highly acclaimed Civil War books, including The Darkest Days of the War: The Battles of Iuka and Corinth (from the University of North Carolina Press).
Recommended Reading: Shenandoah Summer: The 1864 Valley Campaign. Description: Jubal A. Early's disastrous battles in the Shenandoah Valley ultimately resulted in his ignominious dismissal. But Early's lesser-known summer campaign of 1864, between his raid on Washington and Phil Sheridan's renowned fall campaign, had a significant impact on the political and military landscape of the time. By focusing on military tactics and battle history in uncovering the facts and events of these little-understood battles, Scott C. Patchan offers a new perspective on Early's contributions to the Confederate war effort—and to Union battle plans and politicking. Patchan details the previously unexplored battles at Rutherford's Farm and Kernstown (a pinnacle of Confederate operations in the Shenandoah Valley) and examines the campaign's influence on President Lincoln's reelection efforts. Continued below…
He also provides insights into the personalities, careers, and roles in Shenandoah of Confederate General John C. Breckinridge, Union general George Crook, and Union colonel James A. Mulligan, with his "fighting Irish" brigade from Chicago. Finally, Patchan reconsiders the ever-colorful and controversial Early himself, whose importance in the Confederate military pantheon this book at last makes clear. About the Author: Scott C. Patchan, a Civil War battlefield guide and historian, is the author of Forgotten Fury: The Battle of Piedmont, Virginia, and a consultant and contributing writer for Shenandoah, 1862.
Review
"The author's descriptions of the battles are very detailed, full or regimental level actions, and individual incidents. He bases the accounts on commendable research in manuscript collections, newspapers, published memoirs and regimental histories, and secondary works. The words of the participants, quoted often by the author, give the narrative an immediacy. . . . A very creditable account of a neglected period."-Jeffry D. Wert, Civil War News (Jeffry D. Wert Civil War News 20070914)
"[Shenandoah Summer] contains excellent diagrams and maps of every battle and is recommended reading for those who have a passion for books on the Civil War."-Waterline (Waterline 20070831)
"The narrative is interesting and readable, with chapters of a digestible length covering many of the battles of the campaign."-Curled Up With a Good Book (Curled Up With a Good Book 20060815)
"Shenandoah Summer provides readers with detailed combat action, colorful character portrayals, and sound strategic analysis. Patchan''s book succeeds in reminding readers that there is still plenty to write about when it comes to the American Civil War."-John Deppen, Blue & Grey Magazine (John Deppen Blue & Grey Magazine 20060508)
"Scott C. Patchan has solidified his position as the leading authority of the 1864 Shenandoah Valley Campaign with his outstanding campaign study, Shenandoah Summer. Mr. Patchan not only unearths this vital portion of the campaign, he has brought it back to life with a crisp and suspenseful narrative. His impeccable scholarship, confident analyses, spellbinding battle scenes, and wonderful character portraits will captivate even the most demanding readers. Shenandoah Summer is a must read for the Civil War aficionado as well as for students and scholars of American military history."-Gary Ecelbarger, author of "We Are in for It!": The First Battle of Kernstown, March 23, 1862 (Gary Ecelbarger 20060903)
"Scott Patchan has given us a definitive account of the 1864 Valley Campaign. In clear prose and vivid detail, he weaves a spellbinding narrative that bristles with detail but never loses sight of the big picture. This is a campaign narrative of the first order."-Gordon C. Rhea, author of The Battle of the Wilderness: May 5-6, 1864 (Gordon C. Rhea )
"[Scott Patchan] is a `boots-on-the-ground' historian, who works not just in archives but also in the sun and the rain and tall grass. Patchan's mastery of the topography and the battlefields of the Valley is what sets him apart and, together with his deep research, gives his analysis of the campaign an unimpeachable authority."-William J. Miller, author of Mapping for Stonewall and Great Maps of the Civil War (William J. Miller)
Try the Search Engine for Related Studies: Battle of Cool Spring Civil War Virginia History Results Battlefield Map Shenandoah Valley Picture Photograph Results Summary Reports Records Maps Island Ford, Parkers Ford, Snickers Ferry Castleman's, Snicker's Gap.
Sources: National Park Service; Official Records of the Union and Confederate Armies; Civil War Trust (civilwar.org); Patchan, Scott C. Shenandoah Summer: The 1864 Valley Campaign. University of Nebraska Press; Lincoln, Ne. 2007; Salmon, John S., The Official Virginia Civil War Battlefield Guide, Stackpole Books, 2001.