Appomattox Court House: The McLean House
The McLean House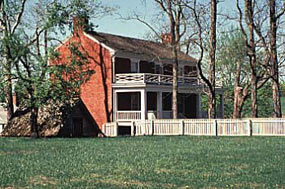 The McLean House. NPS.
The McLean House: The Post War Years History
The McLeans left Appomattox Court House and returned to Mrs. McLean's Prince William County, Virginia, estate in the fall of 1867. When Wilmer McLean defaulted on repayment of loans, the banking house of "Harrison, Goddin, and Apperson" of Richmond, Virginia brought a judgment against him, and the "Surrender House" was sold at public auction on November 29, 1869. The house was purchased by John L. Pascoe and apparently rented to the Ragland family formerly of Richmond.
In 1872 Nathaniel H. Ragland purchased the property for $1250.00. On January 1, 1891, the property was sold by the Widow Ragland for the sum of $10,000 to Captain Myron Dunlap of Niagara Falls, New York. Myron Dunlap and fellow speculators went through two or three plans intending to capitalize on the notoriety of the property, one idea was to dismantle the home and move it to Chicago as an exhibit at the 1893 World's Columbian Exposition.
A later option was to move the house to Washington D.C. and charge entrance fees. Measured drawings including elevations and materials specifications lists were produced, the house was dismantled and packed for shipping, but due to cash flow and legal problems the plan was never brought to fruition. The home sat dismantled in piles prey to vandals, collectors, and the environment for fifty years.
McLean House Map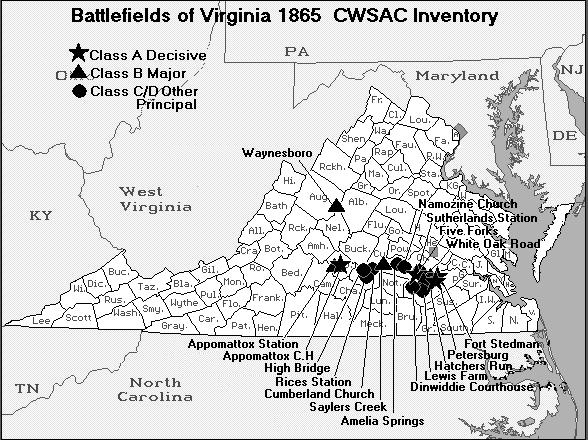 Civil War Appomattox McClean House Map
The Park Service Years - 1940 to Present
On April 10th 1940, Appomattox Court House National Historical Monument was created by Congress to include approximately 970 acres. In February 1941 archeological work was begun at the site, and then overgrown with brush and honeysuckle. Historical data was collected, and architectural working plans were drawn up to begin the meticulous reconstruction process. The whole project was brought to a swift stop on December 7, 1941, with the bombing of Pearl Harbor by Japanese forces causing the United States entry into World War II.
On November 25, 1947, bids for the reconstruction of the McLean House were opened and on April 9th 1949, eighty four years after the historic meeting reuniting the country, the McLean House was opened by the National Park Service for the first time to the public. Major General U. S. Grant and Robert E. Lee IV cut the ribbon at the dedication ceremony on April 16, 1950, after a speech by Pulitzer Prize winning historian Douglas Southall Freeman in front of a crowd of approximately 20,000.
Sources: National Park Service; Appomattox Court House National Historic Park.
Try the Search Engine for Related Studies: Appomattox Court House Virginia, The McLean House Pictures, Surrender Terms Conditions, Details History Surrender Ceremony, Detailed List of Paroled Soldiers, General Robert E Lee U S Grant Parole Events